More Ugly U.S. Housing Market Data, Forget the Bottom and Recovery Hype
Housing-Market
/
US Housing
Mar 19, 2010 - 08:20 AM GMT


Every month, tout TV and mainstream financial sites like Yahoo! Finance and Marketwatch re-print propaganda pieces from the National Association of Realtors (NAR) and other vested interests related to real estate. The headlines are ALWAYS spun to look positive, as comfort is more important than truth. The NAR has been calling the bottom in housing every month since before the top was in! Statistics are twisted and tricks like comparing the current month to the prior month instead of the same month in the prior year are used routinely to baffle, confuse, satiate and/or soothe those who still turn to mainstream media sources for truthful data.
The numbers in housing are becoming surreal. I urge anyone who is interested in the true state of the housing market to check out
this report from Lender Processing Services, Inc
. (their corporate website is
here
). The truth will set you free as they say, though you may not like what you see if you own a home or debt on a home. Some chilling graphics and data points reproduced without permission from this current report below with my comments scribbled on the graphics: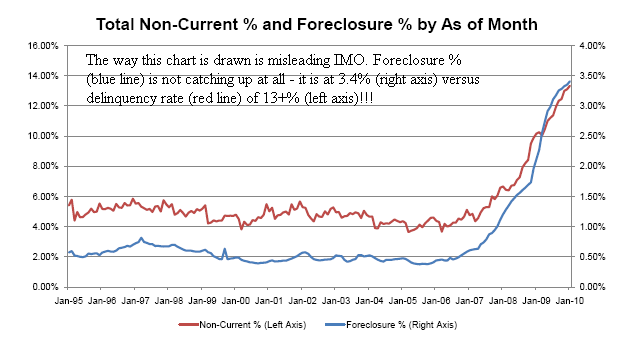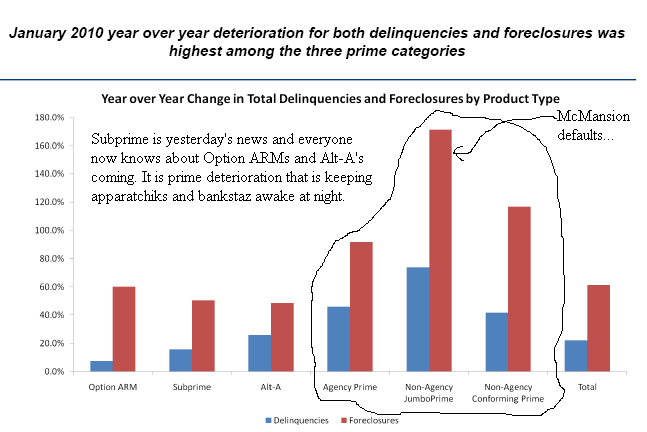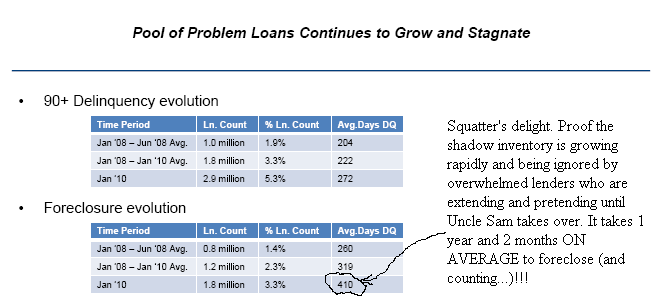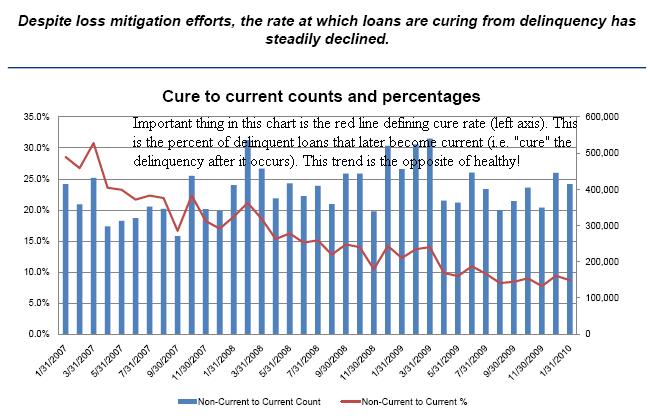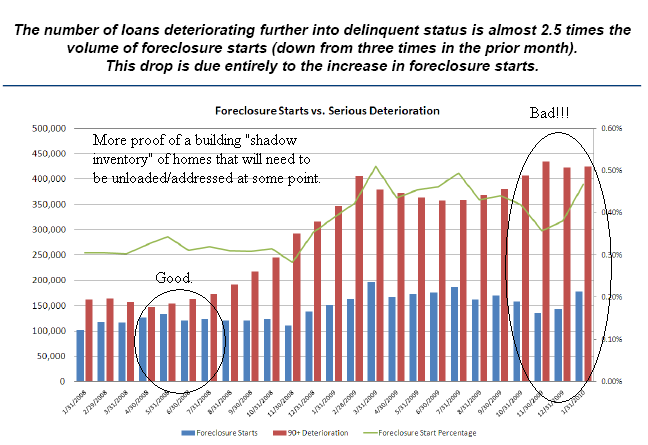 There is more data in the report for those who are interested. This is the data the bankers and apparatchiks are using to make decisions. Add in the commercial real estate disaster and rising delinquencies on other types of consumer debt, and it is easy to see why the banking system of the U.S. is insolvent and why there will be many more bank failures.

There is no recovery in housing coming in the next few years. Things will get much worse, particularly in bubble areas. There will eventually be mass liquidations of blocks of homes in bubble areas for 10-30 cents on the dollar at the wholesale level. Rents will continue to drop, particularly in bubble areas. Don't buy a home right now thinking you are going to make a profit any time soon. There are always exceptional individual opportunities available in any area and housing fulfills a need for long-term basic shelter, which is very different than investing/speculating.

If you are a home renter, be more confident in going "month to month" once your current lease runs out and don't be afraid to ask for rent concessions as often as local conditions allow. Why? Many "investors" are buying homes so they can rent them out. Many "homeowners" who can't sell due to being underwater on their mortgage are trying to rent their vacation/second homes. Many banks would like to get into the rental business to salvage some cash flows from their rapidly growing real estate portfolios. Translation: supply pressure on the rental market will continue and rents should continue to fall.

We are following the route of Japan in the 1990s when it comes to real estate: extend and pretend, cover-ups, and massive government support of zombie banks. This is not a new playbook, it is an old recycled one. It didn't work last time and it won't work now. I forget where I stole this chart from, but it not only shows what we're in store for, but also the fact that there were indeed people who "saw it coming" (notice the final dates on this older chart) before the current mess in real estate started: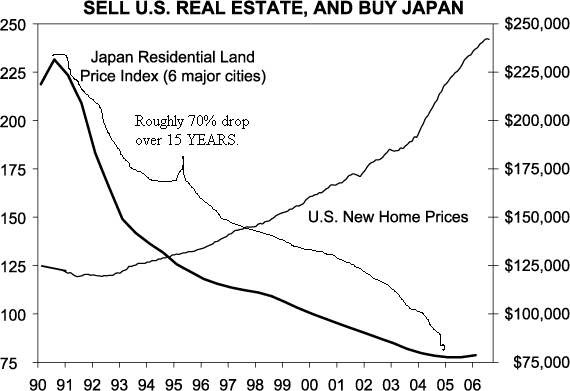 History repeats again. In the inflation-deflation debate, there is absolutely no doubt that the housing market is "in deflation" and this has bankrupted the financial industry in the U.S., which is also deflationary. The only question is how far will "the powers that be" go in trying to destroy the currency to counteract these forces? As the world's biggest debtor (the opposite of Japan in the 1990s), we don't have as much wiggle room for quantitative easing (i.e. counterfeiting money) as Japan did because we rely on external funding. Global capital flows must be taken into account when trying to decide if the Dollar will rise or fall since our own savings are inadequate to support creation of more government debt.

Serious consequences await the real U.S. economy regardless. If we do manage to get additional inflation into the system, it won't flow into housing in any significant way. Inflation moves from asset class to asset class, keeping many people in the dark regarding its pernicious effects. A bubble burst is gone and inflation won't bring it back. Gold will continue to benefit from attempts at monetary inflation that are ongoing at this point in the cycle due to the lack of confidence in the real economy and will act to protect your savings from the financial storm until the Dow to Gold ratio gets to 2 (and we may well go below 1 this cycle).

For those who already own Gold and want to buy a house in the future, here's how to know when to start looking for a house (chart from Adrian Ash at bullionvault.com):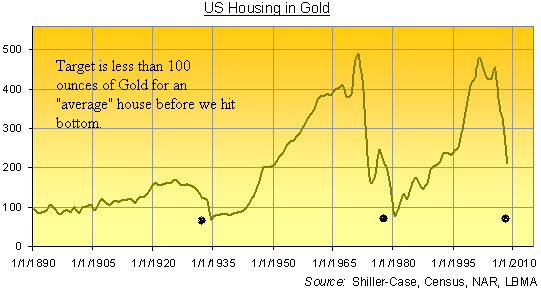 Forget the hype about a bottom and a recovery in housing. Don't worry about catching the bottom. Once we finally hit bottom, we will scrape along the lows for a few years. As in at least 2 years, maybe 5 or 10 (depends on government policies - the more they artificially prop up prices and support the market, the longer it takes to find a real bottom). There is no rush to buy and you won't miss out on the deal of a lifetime by waiting longer when it comes to real estate in the United States. Why buy now when you can buy for less later? This is asset price deflation (and a bubble collapse dynamic) in action and it ain't even close to over yet when it comes to housing.

Visit Adam Brochert's blog: http://goldversuspaper.blogspot.com/
Adam Brochert
abrochert@yahoo.com
http://goldversuspaper.blogspot.com

BIO: Markets and cycles are my new hobby. I've seen the writing on the wall for the U.S. and the global economy and I am seeking financial salvation for myself (and anyone else who cares to listen) while Rome burns around us.
© 2010 Copyright Adam Brochert - All Rights Reserved
Disclaimer: The above is a matter of opinion provided for general information purposes only and is not intended as investment advice. Information and analysis above are derived from sources and utilising methods believed to be reliable, but we cannot accept responsibility for any losses you may incur as a result of this analysis. Individuals should consult with their personal financial advisors.
© 2005-2019 http://www.MarketOracle.co.uk - The Market Oracle is a FREE Daily Financial Markets Analysis & Forecasting online publication.

Only logged in users are allowed to post comments.
Register/ Log in