How to Sell Your House, Lessons for Today's U.S. Housing Market
Housing-Market
/
US Housing
Apr 16, 2010 - 08:44 AM GMT


By now you should know I believe the biggest story for the capital markets is no longer housing. It's interest rates.
But that doesn't mean I'm ignoring the housing market. Far from it. Heck, you could say I'm more interested in housing than ever before for a simple reason: I have a home to sell!
So are my personal experiences lining up with the professional prediction I made back in May 2009 — namely, that the housing market was starting to bottom? Sure looks that way …
In only two weeks, we've had several showings and one potential contract proving that buyers ARE out there if the price is right. The trick is knowing HOW to navigate today's real estate market.
So in the interest of helping you succeed as a seller, I'm going to share some pointers based on both my personal and professional experiences.
Where the Housing Market Stands …
For a long time now, I've been noting the slow but steady emergence of positive housing indicators.
For one thing, the massive 79 percent plunge in housing starts from 2006 through 2009 has helped clear out new home inventory. New home builders only have 236,000 homes on the market looking for buyers now — roughly the lowest level since 1971.
For another thing, the government continues to ramp up efforts to modify loans and avoid foreclosures. That's helping keep many of those "shadow" homes that everyone is so worried about from hitting the market. Some will never show up in the Multiple Listing Service because borrower defaults will be cured.
Recent data from the Mortgage Insurance Companies of America showed 80,758 "cured" loans in February vs. 68,675 new defaults. That's the first time cures topped new delinquencies since March 2006.
As for "official" existing home inventory, it's also falling. Supply peaked at 4.575 million units in July 2008; it's down to 3.589 million units now. We're still oversupplied, but getting steadily less so every month.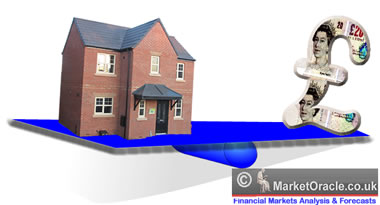 Realistic prices are allowing more people to buy a home.
Something else nobody talks about much: Housing is affordable again!
Thanks to falling prices, key ratios make sense again in many parts of the country. Monthly mortgage payments are competitive with monthly asking rents, while house price-to-income ratios look much better.
Result: Housing prices are beginning to stabilize in some parts of the country — a fact proven by things like the S&P/Case-Shiller home price indices. Another just-released report from MDA DataQuick showed a 14 percent year-over-year INCREASE in home and condo prices in March for Southern California, one of the nuclear meltdown markets.
I still believe they have a bit farther to fall on a nationwide basis. But we're talking a few percentage points, not some fresh 20-30 percent collapse from current levels.
Want to Sell in this Market? Here's How …
That's the market I'm confronting — one that isn't great, but also isn't terrible. So how am I translating the "big picture" backdrop into a successful local selling strategy? What pointers can I offer?
First, closely study local conditions before choosing a listing price and marketing strategy. The amount of inventory in Peoria, Illinois doesn't really matter if you're selling a home in South Florida.
In my case, I know from my inventory tracking that local supply levels are falling, despite some of the worst foreclosure rates this part of Florida has ever seen. How can that be?
Bargain hunters have been snapping up cheap homes, allowing overall supply to shrink despite a continued influx of distressed property.
At the same time, I know that this is a price-driven market. So if I'm going to sell, I have to be realistic. Which brings me to point number two …
Second, make sure you get an agent who knows what he or she is doing — and who is realistic about local market conditions. Even today, there are plenty of pie-in-the-sky agents who won't be realistic with their sellers. They're perfectly content to leave overpriced properties on the market for months and months, either because they're incompetent or they're afraid to offend their sellers.
My agent isn't one of 'em!
I was straightforward with him about wanting to get a quick sale, and he was realistic in sharing his opinion about what it would take to get one. We aren't mucking around — we're pricing for the market we have, not the one we want.
Third, forget about sentimentality and all that stuff. You have to look at any home sale as a business transaction. Too many people get wrapped up in their own personal sentiments about their homes, and that just gets in the way of actually selling.
One neighbor let emotion get the better of her, expressing offense at the low listing price I slapped on my home.
My response to that kind of attitude? Tough luck!
I am being realistic, given current market conditions. That's why my house has already had several nibbles and one bite, while other similar properties have lingered on the market for months.
You must price your home based on the market that exists, not the one you want.
Here's something else to consider: I was able to undercut competitors because I "bought smart" in the first place. I signed the purchase contract in 2003, before the housing market got too nutty. I would have rented if my search began in 2005 when valuations were totally in the stratosphere.
I also put 20 percent down when I bought. And I didn't use some suicide loan. The place was financed with a plain-vanilla 30-year fixed mortgage. Try to do the same thing if you're buying now. That way, if you have to sell due to a change in personal circumstances like I do, you'll be in a position to do so.
Lastly, I've already found out once that a signed contract is no guarantee of a closed sale. Not in this environment of tighter lending standards anyway. So I'm not going crazy and spending any "sale" proceeds before they're "in the bank." I'd recommend you do the same.
Bottom line?
Housing is slowly but surely turning a corner thanks to the plunge in prices. I don't expect a vigorous recovery, but it'll be a recovery nonetheless.
And if you approach selling your home in this market with that knowledge and the right attitude, I believe you can get a deal done. Good luck!
Until next time,
Mike
P.S. I'll be attending the Money Show at Caesars Palace in Las Vegas in early May, and I'd love it if you could join me.
The conference runs from Monday, May 10 through Thursday, May 13. You can register by giving the folks at the Money Show a call at 800-970-4355. Mention the priority code "018207." You can also register online at https://secure.moneyshow.com/..
In Las Vegas, feel free to stop by booth #422 to chat. You can also join me for my presentation, Debts, Deficits and the Great Bond Market Crash of 2010-2011, to be held on May 13 from 10:30am-11:15am in room: Octavius 19-20. I'm looking forward to seeing you there.
This investment news is brought to you by Money and Markets. Money and Markets is a free daily investment newsletter from Martin D. Weiss and Weiss Research analysts offering the latest investing news and financial insights for the stock market, including tips and advice on investing in gold, energy and oil. Dr. Weiss is a leader in the fields of investing, interest rates, financial safety and economic forecasting. To view archives or subscribe, visit http://www.moneyandmarkets.com.
© 2005-2019 http://www.MarketOracle.co.uk - The Market Oracle is a FREE Daily Financial Markets Analysis & Forecasting online publication.

Only logged in users are allowed to post comments.
Register/ Log in