Investing in the Transportation System of the Future
Stock-Markets
/
Investing 2009
Jun 06, 2009 - 05:03 PM GMT


Sean Brodrick writes: President Obama's chief-of-staff says …"You never want a serious crisis to go to waste. What I mean by that is it's an opportunity to do things you think you could not do before." —Rahm Emanuel, November 19, 2008
GM's filing for bankruptcy was a crisis, and an opportunity that the Obama administration should have seized. Instead, we are spending $50 billion to get 60 percent of a company that is going to be reinvented as a smaller version of itself — the mini-me of the auto industry.
After GM gets through shutting half-a-dozen more factories and shedding another 60,000 American workers, it will be ready to compete in the global marketplace, so we are told.
But do we really believe that a new, smaller GM freed of its legacy costs will be able to compete against the Japanese as we all drive smaller cars?
One Missed Opportunity … and One That Might Work
I think Obama has been hit-or-miss on the opportunities that have come his way. An example of a big miss is that he promised to bring change to Washington, yet his policies are only marginally distinguishable from those of George W. Bush.
He appointed Tim Geithner as his Treasury Secretary after Geithner failed dismally in his job as governor of the New York Federal Reserve to regulate the big New York banks.
I sometimes wonder who really won the election. But I shouldn't wonder — the well-heeled, well-connected Wall Street bankers and insurance companies obviously won the election — they're the ones reaping all the benefits.
GM is only one facet of crisis/opportunity Obama is facing. One thing he's doing right is getting funds to fix the railroad system in this country. Amtrak usually gets about $1 billion a year from the Federal government. This year, President Obama is channeling $8 billion from the stimulus plan to improve the railroads, with another $5 billion over the next five years.
I think it's a good first step. Heck, I'm not asking for bullet trains — I just want a public transportation system that wouldn't be a disgrace in Bulgaria.
Billons for Banks, Why Not Billions for Trains?
We always hear that trains can't survive in this country without public subsidy. That may be true. But you can say the same thing about the big banks, can't you?
Personally, I'm wondering how much of a public transportation system we could buy if we took the money we're spending bailing out Wall Street banks — $70 billion on AIG, $52.5 billion for Bank of America, and $50 billion for Citigroup, just to name three — and spent it on passenger rails.
Still, $8 billion isn't much when we're spending $50 billion propping up a single bank. And that's small potatoes compared to the $79 billon spent on highways and bridges in 2008 and the $80.2 billion spent on highways in 2009, not including spending from the stimulus package.
And sure, we drive a lot more than we ride trains, so more should be spent on highways. But public policy has pushed us away from trains and into cars for the past 60 years. If we start funding trains more, people will start riding more trains.
Now for the really bad news: If Amtrak spends that money on new railcars, it's going to have to go shopping outside our borders.
Amtrak only has about 630 usable rail cars. Some are more than 30 years old. Dozens more are worn out or damaged but could be reconditioned and put into service.
But there aren't any U.S. companies that build passenger rail cars. While there are some subway car makers and trolley car makers in the United States, for passenger rail cars you have to buy from Canada's Bombadier, Germany's Siemens or France's Alstom.
Do you think maybe GM could retool and start building passenger trains? Sure, GM knows nothing about building railcars. Well, it didn't know anything about building tanks in World War II, either, and GM learned that pretty quickly. It could always partner with foreign firms — Uncle Sam didn't have a problem forcing Chrysler into a marriage with the Italians.
It's also true that GM's assembly lines are set up to put out cars at a high volume. Well, I'm sure the quarries on Easter Island were designed to turn out Giant Stone Heads as fast as possible — but sometimes, you have to change with the world before the world comes crashing down on you.
Cars Should Be Only Part of GM's Future
It's not like I want GM to stop making cars. I just think GM should probably make a lot fewer automobiles, but much better ones. Anyone who wants to pay the giant stone head tax can still drive a gas-sucking SUV.
But GM can also make small cars, with a focus on quality, good mileage, and multiple power sources. The Japanese, Europeans, Koreans and Chinese will be making these cars, too, so GM will have its work cut out for it.
In fact, I have news for President Obama and GM: Detroit has already lost the battle over who is going to build cars. Check out this chart from Clusterstock, showing the sources of auto production in the United States: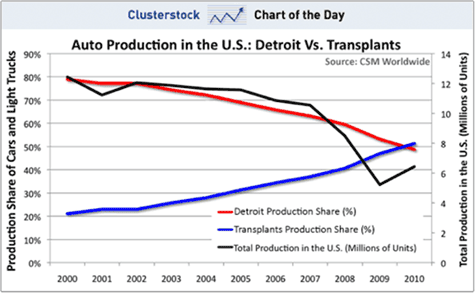 The "transplants" are Toyota, Honda, and Nissan factories here in the United States. They may be called transplants, but they employ American workers, pay U.S. taxes and have plenty of American shareholders.
In 2002, the Detroit Big 3 produced 80 percent of 12 million cars, or 9.6 million vehicles. In 2009, they will build just over 50 percent of a total production of 5 million cars, or roughly 2.6 million vehicles. That is a plunge of about 73 percent in 7 years.
So yes, I think maybe GM should find something else to make besides automobiles.
Start Building the Transportation System of the Future
Do you notice how oil and gasoline prices are going back up again? The recent plunge in oil was short-lived, and we're probably heading for another oil crisis by 2012 at the latest — and maybe by as early as next year.
The United States consumes around 20 million barrels of oil a day and imports roughly 65 percent of it. The amount of oil our country consumes is equal to the output of the world's two largest oil producing nations (Saudi Arabia and Russia) combined. It is absurd for a country that has less than 3 percent of the world's oil reserves to consume 25 percent of the world's produced oil — buying much of it from people who hate us!
At some point, we're going to have to move beyond oil. Maybe electric cars or alternative fuels will be the answer for some people. But trains are a cheap solution for most people.
Yeah, GM's Volt and other electric cars will be rolling off the production line in 2010 (so we're told). In the meantime, how many of Detroit's new muscle cars — the new Chevrolet Camaro, Dodge Challenger and Ford Mustang — will also be rolling off the production line? The Challenger gets 13 mpg in the city, 19 on the highway. That sucks … gas!
I'm not trying to dictate what kind of cars people should drive. I just think gas guzzlers should pay a tax — let's call it the "giant stone head" tax, because when it comes to the energy problem this country faces, gas guzzlers are part of the problem, not the solution.
So for our $60 billion, I'd like to see GM start to build things we really need — passenger rail, as well as electrified streetcars and hybrid streetcars/buses.
Jobs, Jobs, Jobs
It's also true that a factory that makes trains won't employ as many people as a factory that makes cars. Canada's Bombardier employs 34,000 people to make trains.
On the other hand, trains don't run themselves. France's national rail company employs about 200,000 people, and France has only one-fifth the population of the United States in an area the size of Texas. Amtrak has only 18,000 employees. So a push into rail would potentially create a lot of good, middle-class jobs.
Rebuild Infrastructure
Meanwhile, the railroad tracks themselves are a mess. Again, highways are publically funded, railroads aren't. This makes it cost far more to ship things reliably in the United States, since you have to use air or trucks, both of which are very inefficient compared to rail. I think it's time to change that.
A problem with rail is that sharing the tracks with current passenger trains is iffy at best, and virtually impossible with high-speed trains. We need to build new railroads. Building new rail would keep America's steel makers busy.
The railroads and local trolley services will need to be electrified, of course, so we can tell OPEC where they can stick their oily thumbs. Electrification is work that can be done by U.S. companies and U.S. workers.
And there's something else we need to do that will help ALL U.S. manufacturers, including GM …
Fix Health Care
We're told that health care and pension costs sank GM. American pensions are gradually going away (replaced by 401(k)s), but health care costs keep rising.
Obama has proposed a health care "fix" that's pure milquetoast and guaranteed not to offend an important constituency — the parasites in the health insurance industry.
Every other western industrialized country in the world manages to have health care for all at much less than we pay for health care for some.
There are different ways to do it, but the easiest way for US to do it now is to offer Medicare for all. Medicare spends 2 percent on overhead; private insurers typically spend 25 percent to 27 percent for overhead and profit. The cost savings would be enormous. A UC Berkeley study found that a public option like Medicare could result in $1 trillion in national savings over 10 years.
Along with putting a lid on costs, this would lift the burden of health care from American manufacturers like GM, allowing them to compete more effectively in the global market.
Is this expensive? Yes. Make that: Hell, yeah! But it seems like Obama and the Congress are determined to spend the money anyway, so we might as well get something out of it besides fatter profit margins for bankers.
What we need is an act of national will. I'm sick of throwing money into the black holes of the corporate interests that have seized control of our government.
How Can You Profit?
While many focus on the past, you should focus on the future. The next leg of the commodity boom has already begun, and oil, gold, copper and more will go much higher. Their move higher could be supercharged by a falling U.S. dollar.
We're already playing this boom in Red-Hot Commodity ETFs. Most recently, subscribers bagged up to 35 percent gains on the first half of their ProShares Ultra Dow-Jones AIG Crude Oil ETF (UCO). That's an ETF that is leveraged to the price of oil — and just one of the ways we are playing commodities with leveraged ETF funds in Red-Hot Commodity ETFs.
Leveraged funds can be tricky. If you want a fund that tracks oil but isn't leveraged, the United States Oil Fund (USO) may fit the bill. Always check with your investment advisor before buying this or any fund.
Yours for trading profits,
Sean
This investment news is brought to you by Uncommon Wisdom. Uncommon Wisdom is a free daily investment newsletter from Weiss Research analysts offering the latest investing news and financial insights for the stock market, precious metals, natural resources, Asian and South American markets. From time to time, the authors of Uncommon Wisdom also cover other topics they feel can contribute to making you healthy, wealthy and wise. To view archives or subscribe, visit http://www.uncommonwisdomdaily.com.
© 2005-2019 http://www.MarketOracle.co.uk - The Market Oracle is a FREE Daily Financial Markets Analysis & Forecasting online publication.

Only logged in users are allowed to post comments.
Register/ Log in