India: The Easiest Investment You Will Ever Make
Stock-Markets
/
India
May 21, 2009 - 03:47 AM GMT


What if I told you I found an investment opportunity so simple that even a two-year-old could make a fortune?
Would you believe it?
Or, would you say that's impossible. Investing isn't that easy. Investing successfully takes a lot of experience.
Well, either way, there is one investment which should be getting experienced investors and novice investors excited. I consider it one of the easiest ones you'll ever make. It's one which will only get better with time. Best of all, it could be one of the most lucrative investments you ever make.
Sound interesting?
I thought so.
That's why yesterday's news, which sent an entire index up 17% in a single day, didn't really matter much to me. It's just a sign of things to come.
A Shooting Star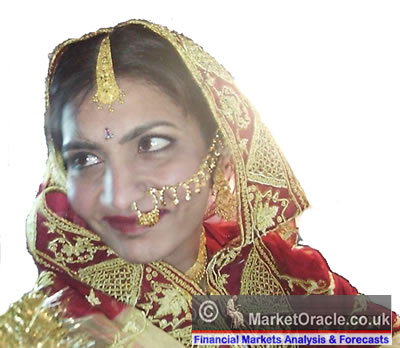 I'm talking about India.
Long-time readers of the Prosperity Dispatch know the India story well by now. India is one of the very few countries which has laid the foundation for a genuine economic boom. I'm talking about the type of boom which could last for decades.
As we looked at back in the winter when we were looking for gifts to give better than U.S. savings bonds (Give the Gift of Prosperity):
India has everything going for it. It has a relatively young population. Its workforce will be growing for decades. It has the government institutions in place to protect property rights to support a capitalist economy.
You see, India is different than all of its BRIC counterparts. India is young.
India is home to more than 500 million people under the age of 25. About half of the country is under 25. About 35% is under the age of 15. They're all young. And in a few years will be entering the workforce.
This is the exact opposite of China, Russia, Western Europe, and the United States where the populations are aging.
This is the most important part of the equation. You see, young people are able to produce more. Once they are done school or training for a specific trade, they can work longer hours, produce more in those hours, and wake up and do it all over again the next day. They're young and versatile.
As a result, there will be plenty of labor in India to have a truly fast growing economy. An entire baby boom is reaching its productive years. There is a lot of growth ahead for India and there will be plenty of young people to fuel that growth.
Demographics Don't Lie
Think of a theoretical town of 10 people (warning: you're going to have to bear with me on this oversimplified example of economic systems from a demographic perspective). They are all young and work. One builds cars, one produces oil and electricity, one farms, and on and on. They all buy and sell each other's goods and services. All is good. Then, two farmers get too old to work. That leaves eight producers and 10 consumers. So everyone, in an economic sense, is poorer. There's less stuff per person.
Then those two people get even older. They now need to be taken care of and one of the bakers has to stop baking and take care of them. Now, there are only seven producers and 10 consumers. Everyone gets even poorer. This is what's going on in the United States and many other more mature countries right now.
Take another 10 person town. Instead of two elderly people, they have two kids. The kids don't produce much either. But they are two mouths to feed. So there are only eight producers (only seven if one is a teacher) and 10 consumers. Again, everyone is poorer.
But young people don't stay young forever. They grow up and become producers so there will be 10 producers in the future. This is where India is now. There are a lot of kids there, which is a net economic cost. But they won't stay kids forever.
That's why India's young population provides a very strong foundation for decades of economic growth ahead. Other economies, which appear to have lots of upside, actually face some strong demographic headwinds. Demographers Richard Jackson and Neil Howe summed the implications of demographic trends on economic growth best when they said, "Today's great powers became affluent before they became ageing societies. China may be the first major country to grow old before it grows rich."
It's not just a young population which will propel India's growth for years and years ahead. They need a free market (or as close as you can get) to unlock all the productive forces of a young population.
Embracing a Free Market
A freer market is where the country is headed too. Earlier this week, India unveiled its recent election results and they were overwhelmingly in favor for Prime Minister Manmohan Singh.
Singh is largely credited with bringing free market principles to a state-directed economy from his role as Finance Minister. His policies allowed direct foreign investment while eliminating other constraints.
Singh's moves allowed the country's leading entrepreneurs to build businesses with little interference from government. It's still not a truly free market, but since Singh's initiatives began in the early 90's, India's GDP has increased 400% and created millions of middle class jobs.
Singh and his free-market principles won in a veritable landslide. Singh and his political party's margin of victory was described by Bloomberg as "the biggest any Indian politician has scored in two decades."
As you might expect, Indian investors loved the news. India's benchmark index soared 17% on the day. It's the equivalent of the Dow closing up 1,400 points today. That's an incredibly strong vote of confidence.
Of course, India isn't perfect. But it has got a lot going for it.
Nowhere But Up
The moves India is making are good, but it's still a long way from becoming an "emerged" market economy.
The country is still in its relative economic infancy. India's 1.1 billion people produce a mere $3.2 trillion GDP in purchasing power parity. That works out to about $2,900 per capita GDP. On the global GDP per capita tables, India sits right in between Nicaragua and Uzbekistan – certainly not economic powerhouses.
Of course, not everyone is making $2,900 a year either. There are many "have not's" which haven't benefited much in the 8.8% annual GDP growth. The World Bank says more than 40% of Indian's live on less than $1.25 a day. The Food & Agriculture Organization claims 231 million Indians don't get enough food.
There is one more big advantage most people haven't realized yet. And it's actually India's infrastructure.
More Money, More Problems
Infrastructure is crucial to the development of an advanced economy. You need water and sewage systems, electrical production facilities and grid networks, roads, ports, and all kinds of other infrastructure projects.
This is no secret. And India's need for more infrastructure is well-publicized. In this case, India's lack of infrastructure is actually an advantage.
That's right, it's an advantage. Just compare the U.S. and India right now.
The U.S. needs infrastructure repairs and improvements and India needs infrastructure desperately.
In the U.S., the Recovery Act earmarks $60 billion for infrastructure projects. That sounds like a lot, but it's not if you look at where it's going. The duck ponds, dog parks, and unnecessary high-speed rail systems, will do nothing to increase economic productivity. That's not even accounting for all the money that will be squandered on planning projects which will never be started. It's easy to see how it will be nearly a complete waste.
India is in a completely different position. Take roads for instance.
The U.S Interstate Highway System took 35 years and about $450 billion (adjusted for inflation) to complete. It was a massive undertaking which even the government would have trouble screwing up. The reason is because the needs were so obvious.
The highway system was built on simplicity.
Would it make sense to build a road from New York to Los Angeles and connect dozens of cities in between? Would it make sense to connect Minneapolis, St. Louis, and Houston?
Of course it would. The need was easy to spot and the highways were built.
India is in the same position. Any highway that connects to any major city would be utilized tremendously. The benefit of a road in India will be an order of magnitude greater than a new highway in the U.S. Any amount of money would be somewhat wisely spent. The needs are just so much more obvious.
That's the difference. In the U.S., commission on top of commission is currently debating whether it needs infrastructure projects like a high-speed rail line from Los Angeles to Las Vegas. Meanwhile, money in India would be put to use on a much more beneficial project.
Here's the Catch
All may sound great, but there's a catch. There's always a catch.
The catch is India is going to take a long while to really pay off.
That's where you'll actually need the discipline and time horizon of a two-year-old to reap the huge rewards here.
My nephew is the perfect example. At the age of two he would be incapable of moving the money in his account. He wouldn't get scared by any conflict with Pakistan. He wouldn't run off if the global markets melt down again. He would be consistently buying because he won't need the money for at least 16 years.
So, in a way, even a two year old would be able to make a fortune in India, but it would take the discipline of being able to "buy and forget" with money you don't need for a long time to take full advantage of India.
I bought India last year. I bought India this year. I will buy India again over the next five, 10, and 15 years. It's tough to think of a better place to put your very long-termmoney than India.
Good investing,
Andrew Mickey
Chief Investment Strategist, Q1 Publishing
Disclosure: Still long Horizon's Betapro Natural Gas Bull Fund (TSX:HNU) from previous drop in natural gas prices.
Q1 Publishing is committed to providing investors with well-researched, level-headed, no-nonsense, analysis and investment advice that will allow you to secure enduring wealth and independence.
© 2009 Copyright Q1 Publishing - All Rights Reserved
Disclaimer: The above is a matter of opinion provided for general information purposes only and is not intended as investment advice. Information and analysis above are derived from sources and utilising methods believed to be reliable, but we cannot accept responsibility for any losses you may incur as a result of this analysis. Individuals should consult with their personal financial advisors.
© 2005-2019 http://www.MarketOracle.co.uk - The Market Oracle is a FREE Daily Financial Markets Analysis & Forecasting online publication.

Only logged in users are allowed to post comments.
Register/ Log in