Defeat the Debt- the TV ad and the American Right
Politics
/
US Debt
Sep 18, 2009 - 02:01 AM GMT

A TV ad that Mr Benjamin A Shobert describes in disturbing detail in Asia Times this week is part of an overall campaign that includes this national television commercial, which is currently airing on Fox News, CNN, MSNBC, and CNBC. Additionally, full-page ads are running in The New York Times, USA Today, The Washington Times, The Washington Examiner, The San Francisco Chronicle, and The Las Vegas Review-Journal. Mr Shobert rightly deduces that for the US, China is the financial bogeyman.
The ad is a product of Employment Policies Institute (EPI) in Washington, DC. EPI's Executive Director is Richard Berman who, as many know, is a leading Washington industry lobbyist who uses numerous non-profit "front groups" to spearhead media campaigns aimed at defeating public policy initiatives unfriendly to his clients. For example, EPI "opposes increasing the minimum wage and promotes the specious concept that an increased minimum wage would drive the poor and uneducated out of the job market", so states Citizens For Responsibility and Ethics in Washington.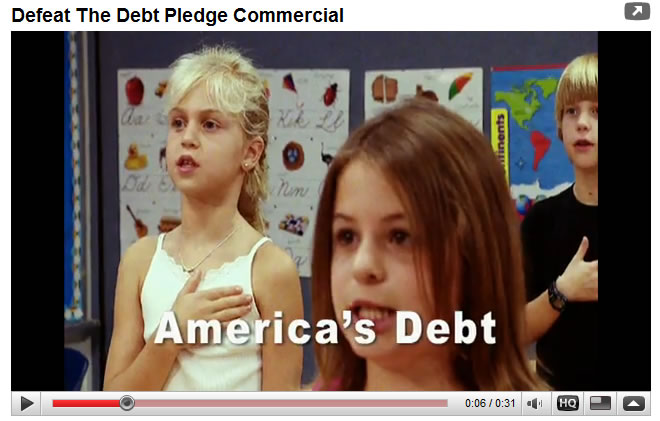 EPI's present TV campaign "Defeat the Debt" postures to "educate the public about the enormous federal deficit", but the defeatthedebt.com web site itself highlights how an inordinate burden of taxation is presently borne by the wealthy (e.g., "In New York City, 1% of taxpayers pay almost 50% of the city's income taxes."; "The top 1% of American earners pay 40% of all federal income taxes."). Mr. Berman's loyalties might not be to "the public" after all, nor to schoolchildren and their future debt burden - they don't pay him and never will - but to industry and the cadre of American oligarchs most threatened by future tax increases needed to service U.S. debt, and by any radical shift in the global economic order. Both threats presently are on the horizon. This is how and why China fits into the commercial.
Insofar as the Dollar is being roundly challenged as the world's reserve currency and China holds the largest share of U.S. Government issued debt, China, among other U.S. creditors, is presented by Berman's TV ad as a potential threat to America. In the words of defeatthedebt.com, "Major foreign holders of US debt have alot to hold over our heads." Of course they do; that is if China and others intend to hold it over our heads. Assume they intend to hold it over our heads, implies the campaign. Therein, the ad and PR platform become a 2009 adaptation of a "Red Scare" in the traditional style of right-wing Republican media blitzes that successfully blazed in the 30's, the 50's, and are blazing across America today. (Of course, why shouldn't they hold it over our heads?)
Wording in advertising and public relations is a most careful craft. One goal of this three word campaign is to further galvanize and incite growing anti-government, anti-Fed and anti-Obama movements against an additional and outside enemy; in this example with appeals toward protecting children from a menace. But from whom, is the question? The ending graphic that shows CHINA on the world globe, of course, provides the answer and returns us to memories of propaganda directed against our Cold War enemy RUSSIA. The flag and Oath of Allegiance are coded to incite patriotic fervor on the one hand, and anger at those who threaten or defile us on the other (in this case, our current creditors; later, it may be anyone).
It could very well have ended showing a graphic of Goldman Sachs, of the top 100 Corporations that outsourced labor to Asia, of consumer Visa cards, of the Pentagon budget, of the cost in lives and money from military wars in the Middle East, of Rupert Murdoch's multi-billion dollar net worth, of WalMart's Chinese supplied inventory, or a picture of EPI Executive Director Richard Berman's $3.3 million house! But it chose China instead.
Campaigns like this and many others are blatantly synchronized strategic vehicles; at some future time one might say they were "pre-war propaganda" devices in hindsight - should it come to that. Somehow, Americans bear no responsibility for borrowing against their future and their children's, for feeding and enabling the rapacious excesses and deceitful practices on Wall Street, for supporting its militarism throughout the world. And should the U.S. fail to repay its obligations and default like Germany did in the last Century, it can be made the fault of others. This is one seed the ad is planting.
In this three-word campaign, the word "Defeat" is chosen ("Defeat the Debt"), as if "the Debt" were a human enemy. One doesn't defeat the mortgage or defeat a car payment or defeat a credit card balance, but pays it down or pays it off. One defeats an opponent (you are the chosen human opponent, China!). The logic of the ad is straightforward and, in my opinion, very disturbing if not threatening.
The most ominous signal (or indication) within the logic of this ad campaign is that America is preparing now for defensive measures against repercussions from its creditors should it declare insolvency. Without financial strength, and in the words of "Defeat the Debt", while "Major foreign holders of US debt have alot to hold over our heads", will America greet its creditors with war?
All in all, anything is possible. All in all, China is being targeted, if not demonized.
Or perhaps, all in all, this too will pass.
By Michael T Bucci
Michael T Bucci is a retired public relations executive from New Jersey presently residing in New England. His essays have appeared at Market Oracle and Global Research. He is the author of nine books on practical spirituality including White Book: Cerithous .
© 2009 Copyright Michael T Bucci - All Rights Reserved Disclaimer: The above is a matter of opinion provided for general information purposes only and is not intended as investment advice. Information and analysis above are derived from sources and utilising methods believed to be reliable, but we cannot accept responsibility for any losses you may incur as a result of this analysis. Individuals should consult with their personal financial advisors.
© 2005-2019 http://www.MarketOracle.co.uk - The Market Oracle is a FREE Daily Financial Markets Analysis & Forecasting online publication.

Only logged in users are allowed to post comments.
Register/ Log in