Is the Stock Market a Leading Economic Indicator?
Stock-Markets
/
Economic Theory
Oct 12, 2009 - 09:23 PM GMT


Inquiring minds are pondering the question "Is the Stock Market a Leading Indicator?"

Please consider the following two charts.
S&P Monthly Chart 1980-1992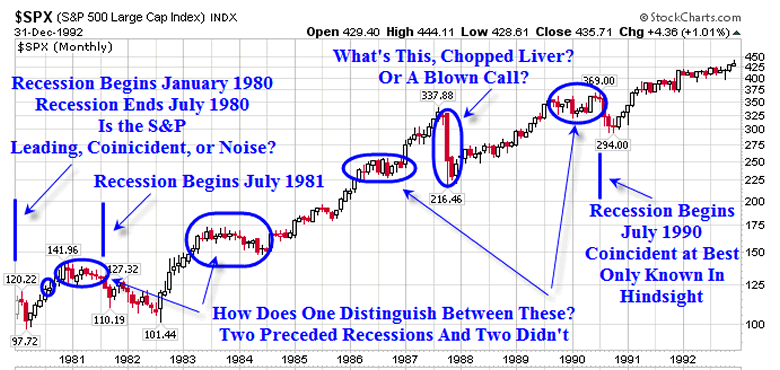 Vertical bars on the chart show when recessions began. There were three recession isn this period, starting January 1980, July 1981, and July 1990 according to
NBER Business Cycle Expansion and Contraction Data
. The NBER is the official determinant of recessions.
Looking at a chart of the S&P it is difficult to suggest the Stock Market is a leading indicator, coincident perhaps but certainly not leading.
Moreover, the biggest decline during the period was a 35.9% drop in 1987, a period in which there was no recession. Furthermore, I circled four areas with very similar patterns in the 1980-1992 timeframe that were recessions following essentially sideways corrections in the S&P 500. Two of them were recessions, two were not.
For the 1981 recession and the 1990 recession, one could only tell there was a recession coming in hindsight. Finally the January 1980 recession vs. the S&P 500 looks like noise. The stock market actually rose at the start of the recession.
S&P Monthly Chart 1998-2009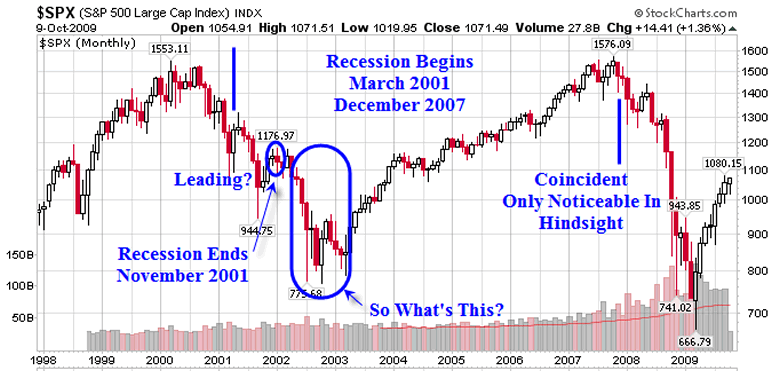 There were two recessions in the 1998 - 2009 timeframe. The clearest case that the stock market is leading came in the recession that began in March 2001. However, the recession ended in November 2001 yet the stock market made a substantial new low mid-2002 with a double bottom test in Spring of 2003.
The stock market declined 34% after the recession was over. Is that a leading indicator? Of what?
For the recession that began in December 2007, the S&P 500 was down only a few percent from its all time high. Is that a leading indicator?
Clearly the answer is no. The S&P 500 was a coincident indicator for the entire recession. The NBER has not yet declared the end of the recession but it will do so and it will be backdated, most likely to Spring of 2009.
If so, the market will have proven to have been a coincident indicator, known only in hindsight.
Conclusion
The stock market is at best a coincident indicator, known only well after the fact. Furthermore, even as a coincident indicator, the stock market gives many false signals, making it totally useless for all practical purposes.
The theory that the stock market is a reliable leading indicator is a myth easily shattered by simple observation of the facts.
For further discussion of leading indicators, please see
Can We Really Trust The Leading Economic Indicators?
By Mike "Mish" Shedlock
http://globaleconomicanalysis.blogspot.com
Click Here To Scroll Thru My Recent Post List
Mike Shedlock / Mish is a registered investment advisor representative for SitkaPacific Capital Management . Sitka Pacific is an asset management firm whose goal is strong performance and low volatility, regardless of market direction.

Visit Sitka Pacific's Account Management Page to learn more about wealth management and capital preservation strategies of Sitka Pacific.
I do weekly podcasts every Thursday on HoweStreet and a brief 7 minute segment on Saturday on CKNW AM 980 in Vancouver.

When not writing about stocks or the economy I spends a great deal of time on photography and in the garden. I have over 80 magazine and book cover credits. Some of my Wisconsin and gardening images can be seen at MichaelShedlock.com .
© 2009 Mike Shedlock, All Rights Reserved
© 2005-2019 http://www.MarketOracle.co.uk - The Market Oracle is a FREE Daily Financial Markets Analysis & Forecasting online publication.
Comments
Jeff McGeorge
13 Oct 09, 00:25
Stock Market a Leading Economic Indicator?


LOL, Mike Shedlock, in one breath, tells us ad-nauseum about

the manipulation shenanigans of markets by the USFED, and then in another breath, tells us markets aren't a leading indicator....Mike, take away the Central banks printing presses and I GUARANTEE the stock market will agaion become a good leading indicator...!!

Kind Regards,

Jeff McGeorge



Dave
14 Oct 09, 02:15
Stock markets are a leading indicator...but about what?


Hello everyone

To Jeff: There is no point in taking away the central banks' printing presses. They are there and will continue printing. If what you mean is that stock markets would go down without the printing of money, then I would agree. But what's the point? We are increasingly in a state controlled economy. It is therefore time to understand that free markets have gone. Princing is also highly a function of state and central banks massive intervention. This fact is there to stay.

To Mike: While stocks may not be a leading indicator of a possible recovery in the economy, I do believe they are a leading indicator of how terrible are the problems affecting our economy. Indeed, stocks markets are dictating the states and central banks the speed of cash injections. Meaning that whenever stock markets are going down, this scares our governments and central banks, which then add even more cash to the system, ending unp in asset classes.

Stock markets is the leading indicator of the current problems and those to come. It is a contrarian indicator of the soundness of the economy. But it is a leading indicator of the speed at which the economy becomes more and more state controlled. In the end, to save a few rich people, most will become poor (the so-called taxpayers).

The stock markets is also a leading indicator of the falling purchains g power of currencies. Stocks have become a partial hedhe against falling currencies. At with stocks there are cashflows, with paper noney, there is only paper.




Only logged in users are allowed to post comments.
Register/ Log in