Central Banks Increasing Gold Reserves
Commodities
/
Gold & Silver 2009
Nov 18, 2009 - 11:19 AM GMT


Since 1991, central banks around the world have collectively reduced their gold holdings by some ten percent. However, it now appears that attitudes are changing.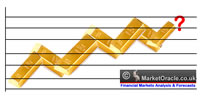 Gold has been hitting new highs in recent weeks, with the US Dollar weakening under loose monetary policy, reversing the gains it made in late 2008. Investors are betting that Asia's emerging economic powers will buy more of the precious metal to diversify their foreign-exchange reserves against a weakening US Dollar.
Earlier this month, the Reserve Bank of India (RBI) announced that it had purchased 200 tonnes of gold from the International Monetary Fund (IMF). This US$6.7 billion transaction was the largest purchase of gold made by a central bank in 30 years.
Several days later, the Central Bank of Sri Lanka (CBSR) announced that it had increased its gold reserves over the past five to six months by an undisclosed amount, speculated by analysts to be around five tonnes. CBSR Governor Ajith Nivard Cabraal stated that gold would be an "important anchor" for its foreign reserves, adding that "...in very volatile circumstance across the world you need to have intrinsic value created in your portfolio."
On November 16, the IMF issued a statement that it had sold two tonnes of gold to the central bank of Mauritius for US$71.7 million.
India, Sri Lanka, and Mauritius have joined China and Russia as being net accumulators of gold.
Russia Continues Increasing Gold Reserves
Russia's central bank has purchased 180 tonnes of the precious metal on the open market since June 2006. More recently, deputy chairman Alexi Ulyukayev stated that Russia's central bank may buy gold from the government's Gokhran repository.
Gokhran, which was established by Tsar Peter the Great in 1719, is the Russian state's reserve of precious metals including gold and palladium as well as gems such as diamonds. The size of Gokhran's stocks is a state secret, disclosure of which is punishable by imprisonment.
This deal would be the first major gold sale by Gokhran since the fall of the Soviet Union in 1991, which kept a veil of secrecy over its sometimes significant foreign sales of precious metals and gems. It is believed that somewhere between 20 and 50 tonnes of gold will be supplied in 2009.
China Adds to Gold Reserves from Domestic Sources
Last year China ranked as the largest producer of gold at 288 metric tonnes, equivalent to 12.2% of global output. China is also quickly gaining on India in becoming the world's largest consumer of gold.
Hu Xiaolian, China's head of the State Administration of Foreign Exchange announced in April this year that China's gold reserves had risen by 454 metric tonnes since 2003 and that the total was being reported to the IMF per the organization's rules. Although Hu did not elaborate on where China had sourced the additional bullion, her comments were interpreted as implying they came from domestic sources and likely included the refining of scrap metal.
This increase makes China the world's fifth-largest holder of gold, just ahead of Switzerland, and among the six nations plus the IMF that have reserves exceeding 1,000 metric tonnes.
When asked during a Reuters interview to comment on RBI's recent purchase, Xia Bin, the chief of China's Financial Department of the Development and Research Centre stated, "India's okay with it, why shouldn't we be? What's the use for so many dollars, whose purchasing power is weakening anyway? With so many foreign reserves in hand, I think China should buy [gold], without doubt."
Changing Attitudes
Central banks began holding massive gold sales beginning in the early 1980s. Prices collapsed from an intraday high of US$878 per ounce on January 21, 1980 to US$252 per ounce on August 25, 1999. The last significant downward pressure on gold was the official announcement made by the United Kingdom to begin selling off a significant portion of its gold reserve on May 7, 1999. That summer gold reached its lowest point in twenty years.
The UK sold approximately 395 tonnes of gold over seventeen auctions from July 1999 to March 2002, at an average price of about US$275 per ounce, raising approximately US$3.5 billion.1
Central banks then agreed to limit the quantity of gold sold through the Washington Agreement on Gold. This agreement, a sui generis among the central bankers, was signed on September 26, 1999.
"Under the agreement, the European Central Bank (ECB), the 11 national central banks of nations then participating in the new European currency, plus those of Sweden, Switzerland and the United Kingdom, agreed that gold should remain an important element of global monetary reserves and to limit their sales to no more than 400 tonnes (12.9 million oz) annually over the five years September 1999 to September 2004, being 2,000 tonnes (64.5 million oz) in all." (Washington Agreement, 1999)
Two similar versions of the agreement were signed for five-year periods on March 8, 2004 and August 19, 2009.
This year is witnessing the world's central banks as being net buyers of gold following almost two decades of selling. Gold is still widely regarded as a safe store of value both among private individuals and governments.
Notes
1 This period is affectionately referred to as the "Brown Bottom" named after the then Chancellor of the Exchequer, Gordon Brown, who made the decision to sell off more than half of Britain's gold at the lowest point in its 20-year bear market.
By Mike Hewitt
http://www.dollardaze.org
Mike Hewitt is the editor of www.DollarDaze.org , a website pertaining to commentary on the instability of the global fiat monetary system and investment strategies on mining companies.
Disclaimer: The opinions expressed above are not intended to be taken as investment advice. It is to be taken as opinion only and I encourage you to complete your own due diligence when making an investment decision.
© 2005-2019 http://www.MarketOracle.co.uk - The Market Oracle is a FREE Daily Financial Markets Analysis & Forecasting online publication.

Only logged in users are allowed to post comments.
Register/ Log in