The Coming Cyclical Collapse of the U.S. Dollar
Currencies
/
US Dollar
Dec 08, 2009 - 10:30 AM GMT

Ask not for whom the bell tolls
We are having our first winter blizzard, the windows were rattling all night. There are knee deep snow drifts in places. When I went out to feed the horse this morning, I found a coyote asleep in the hay. I guess he is a little bit deaf because he didn't jump up until I was on top of him. I don't know who was more scared. It was a most pitiful thing to see. Skin and bones. Mottled patchy fur with a hairless tail, except for a little tuft on the end.
When he tried to run, it ended up being more of a hobble. His joints must have been hurting from the way he limped and pulled up one back leg. In a quiet voice I said, "It's alright, you're safe here." He stop, turned and stood looking at me, then he lower his head. He just stood there. Old, sick, starving, cold, too weak to go on. Alone with nowhere else to go.
Snow blurred my vision and the cold bit at my face and hands but neither of us moved. My mind seemed unable to understand what was before me. Surely it was a spectre, some kind of ghostly thing, it was too sad to except. Images and feelings jump at me from dark places. I remember saying "Don't worry,you'll be ok". Then tears filled my eyes.
The US$ has been under attack from all sides lately. It is on the ropes taking hit after hit but it won't go down. You know what? I don't want it to fall. I don't want to see America fail. When we bet against the dollar, we bet against ourselves and our children. We bet against what is good. A way of life. We bet against hopes and dreams.
Is there cyclical hope for the green back. Let's take a look.
I have two charts to show today of the US$ against the Euro. (note I have inverted a eur/usd chart so the numbers may be a bit confusing). The first shows a fairly reliable 3 year cycle (green lines). Starting in 1990 we see a rising series of 3 year lows until late 2000. Since then it has been lights out, with one lower low after another. Notice a few things. How the top in late 2000 was late (this is called late translation). Then in 2001 when the next low was due, it was not a clear low, it was questionable. I call these compression turns, they are valid but confusing. After that confusing low, we topped less than a year later. That is called early translation and is never a good sign. Notice that the next 3 year low came in a few months late, shifting the cycle slightly. Not bad so far but then look what happened in 2008. The low came in even later and shifted again. Still this is not unusual when the market is trending hard in one direction. Notice also how every one of the fore mentioned lows was open to interpretation. Defining cycle turn points is an art not a science. This is what makes trading solely using cycles so treacherous.
The up part of the cycle out of that 2008 low was bigger than normal. This will come under scrutiny later. Since then we seem to have made a early translation top and have been steadily sagging back toward the lows. The brown dots are 1 1/2 year lows that may be half cycles to the 3 year cycle.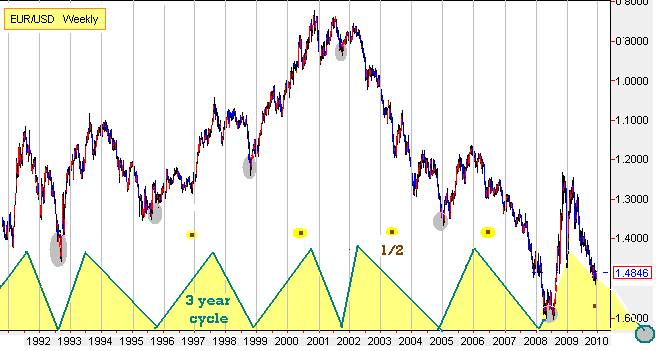 So What now?
Looking at the above chart my theory of relativity (which basically says that smaller cycles are subservient to and revolve around large cycles) is telling us that the sum of all cycles larger than 3 years duration are going down. Before 2001 they were going up.
There is a 1 1/2 year cycle that could be bottoming now (brown Dot). If it is then we may bounce, possibly as high as 1.41 before resuming the down trend. We should make the next 3 year cycle low in early to mid 2011. Simple enough. It looks like lights out.
But wait.
What about the bigger cycle, what is it doing? What is that big bounce in 2008 telling us?
Looking at the monthly chart below going back to 1980 things get a little less certain. In it I have tried to identify the the next larger cycle. I came up with three possibilities. The first is the obvious one. I have used blue to indicate its phasing. It is the next clear low after 1980 and 13 years in duration. It was working perfectly until we got the big bounce in 2008 and it still may be working now. If it is, that would mean very bad things for America. Remember it is a 13 year cycle. We are only four years along on it. We have already topped with early translation. That means nine more years down.
Maybe the big bounce is just an anomaly but any good analysis should look at all possibilities so we don't get blindsided.
I tried to find a cycle that would fit between the 1992 low and the 2008 low and I found one. Notice the span between the highs is 16 years. The span between the 1992 low and the 2008 low is the same duration. I have drawn it in as an orange horizontal bar. It is cyclically possible that the big rally in 2008 is the start of the next 16 year cycle. That it came in early in 1992 instead of 1995 and we are already on our way back up.
I also began the 16 year cycle in 1980 using orange lines. When I did that, it didn't fit with the 1992 low (see red Triangle) but it did with the 1995 low, which could be interpreted as a compression low. If we consider that to be the case then things are still dire but not quite so. The next low would be due in 2011 at the same time as the next 3 year low is due.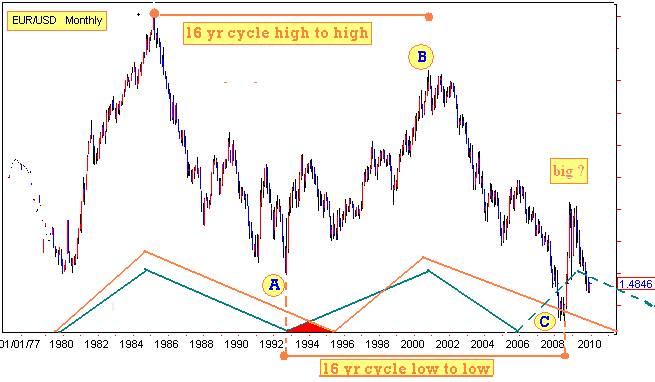 To sum up: At this point we do not know if we are dealing with a 13 year or a 16 year cycle.
2008 may have seen a major low of 16 years duration. The 3 year cycle could still be in its ascendancy and we are about to bottom a 1 1/2 year cycle and bolt higher. The large 2008 rally gives this some validity, as does the fact that the low was an ABC measured move. Plus we have a huge imbalance of bears over bulls. It is a possibility we have to consider. However it does not fit with what gold's cycles are telling us. (see gold, a cyclical recipe for disaster )
Looking at the other 16 year possibility, with a shift at the red triangle. It says when this 1 1/2 year cycle finishes its rally. Then all cycles will be hard down until 2011. This fits with better with what the gold cycles are telling us.
The third option (blue lines) is similar to the second. A rally now. Followed by a nasty clunk into 2011. Then a bounce as the 3 year cycle bottoms. Followed by more collapse. This fits with gold as well.
All the choices seem to point to at least a small rally over the next while. Its size and strength will be telling. Once we establish it as the 1 1/2 year cycle low then its breaking will confirm more down to come.
Is the coyote an metaphor for the U.S.A.? It must have been quite the animal to reach such an old age in the wild. Smart, brave and strong. A beautiful wild thing with a lustrous thick coat, a mantle of prosperity that let it live free, helped it provide for and protect its young. It must have had many adventures, had families, friends.
Now weakness and disease are its companions. The coat and prosperity are gone. Making a living comes hard, it can't even provide for itself. Parasites prey on it now. Old friends can't be trusted, it is isolated. The best days are gone. Now to survive it must turn to the one it trusts the least and fears the most.
As long as it chooses to shelter here is ok with me. I have put out food. There is no way I can let that creature starve in my hay shed.
As I said, I don't want to see America fall. Is it a metaphor? I guess maybe it is.
Bob Clark is a professional trader with over twenty years experience, he also provides real time online trading instruction, publishes a daily email trading advisory and maintains a web blog at www.winningtradingtactics.blogspot.com his email is linesbot@gmail.com.
© 2009 Copyright Bob Clark - All Rights Reserved
Disclaimer: The above is a matter of opinion provided for general information purposes only and is not intended as investment advice. Information and analysis above are derived from sources and utilising methods believed to be reliable, but we cannot accept responsibility for any losses you may incur as a result of this analysis. Individuals should consult with their personal financial advisors.
© 2005-2019 http://www.MarketOracle.co.uk - The Market Oracle is a FREE Daily Financial Markets Analysis & Forecasting online publication.
Comments

09 Dec 09, 07:40
Coming Cyclical Collapse of the U.S. Dollar


Like many Americans, perhaps all too many, I haven't really given the economy much thought through the years. Not having anything to invest, it all seemed so exotic and out there. That is until Lehman Brothers. Since that time I have been diligent in making up for this omission. What I have felt in the ensuing year has outraged, shocked and frustrated me. But not until I read your article have I wept.




Only logged in users are allowed to post comments.
Register/ Log in