Know Your ETF Sponsors, iShares, SSgA, Vanguard, PowerShares, ProShares and Van Eck
Stock-Markets
/
Exchange Traded Funds
Dec 10, 2009 - 09:08 AM GMT


The ETF business is exploding as the many advantages of exchange-traded funds are drawing investors away from individual stocks and old-fashioned mutual funds.
Since you can't know the players without a scorecard, today I'm going to quickly review some of the top ETF sponsors. You've probably heard some of these names. Others may be new to you. And as you'll see, some firms are doing better than others.
iShares Is King of the Mountain
As of the end of November 2009, U.S.–based ETFs held a total of $744 billion in assets. Of this amount, some $361 billion was in funds sponsored by iShares. That's nearly 49 percent of all ETF money.
iShares is the top dog in ETFs.
Obviously, iShares has a dominant position. That's why global asset manager BlackRock just bought the iShares operation from previous owner Barclays. The money management business thrives on scale — and no one operates on the same scale as iShares.
Runners-Up: SSgA and Vanguard
The next biggest sponsor is less than half the asset size of iShares. State Street Global Advisors, or SSgA as they call themselves, has approximately $174 billion in its ETF offerings, giving them a 23 percent market share. They are the firm behind the familiar SPDRS brand name of ETFs.
Next comes Vanguard, which of course has a dominant position in the index mutual fund business. You may not think of Vanguard as an ETF provider, but they have quietly become the #3 player in this arena. Vanguard's ETFs held almost $88 billion at the end of last month. That means they have a 12 percent share of the U.S. ETF market.
Do you see how top-heavy the ETF business is? BlackRock has 49 percent, SSgA 23 percent, and Vanguard 12 percent. That means 84 percent of all ETF assets are managed by one of these three firms. The remaining 16 percent is split among 26 other sponsors.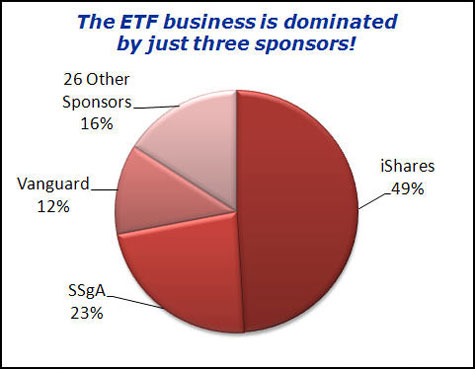 Three Also-Rans: PowerShares, ProShares, Van Eck
A few other familiar names fall just below the top three.
PowerShares, the once-independent firm that was bought by Invesco, runs $41.6 billion. PowerShares was one of the original ETF innovators, pioneering the use of "dynamic" indexes that reconstitute periodically under a defined set of rules.
ProShares, affiliated with the ProFunds mutual fund group, is known for its leveraged and inverse ETFs. These have been very attractive to active traders, drawing $24.7 billion.
Van Eck is another mutual fund player that expanded into the ETF business. Offering specialized ETFs focused on hard assets and neglected emerging markets like Russia has brought $11.9 billion to Van Eck's ETF division.
All the Rest …
In a big business like ETFs, having even a 1 percent market share can be a nicely profitable business. The key is to define a niche and then cover it well. A few smaller players are trying to make a name for themselves. Some of the more interesting ones include …
WisdomTree offers ETFs designed around a unique fundamental-weighting strategy. Stocks with better ratios on dividends, earnings, and so forth get a higher allocation in WisdomTree ETFs. This seems to appeal to many financial advisors and income-oriented investors, who have invested some $6 billion in the firm's ETFs.
PIMCO is a bond-fund behemoth that recently decided to get involved in the ETF space. So far their ETF assets of $465 million are dwarfed by their massive multi-billion-dollar bond funds. Nonetheless, PIMCO seems to see the way the investment business is going, and is hedging its bets with ETFs. Smart move!
Charles Schwab is another giant that is probing the ETF business. I wrote back in November about Schwab's bold move to change the ETF landscape with commission-free trading for its funds. I continue to think Schwab will force some dramatic changes on the competition, even including the top sponsors like iShares. It is only a matter of time.
What about all the much smaller ETF sponsors? Some of them will find a way to survive, others will be gobbled up by stronger competitors, and some will just … disappear.
Right now the battle is still unfolding, and there is plenty of time for smaller players to make a name for themselves. But they don't have forever. And the heated competition only benefits investors.
Best wishes,
Ron
P.S. I'm now on Twitter. Please follow me at http://www.twitter.com/ron_rowland for frequent updates, personal insights and observations about the world of ETFs.
If you don't have a Twitter account, sign up today at http://www.twitter.com/signup and then click on the 'Follow' button from http://www.twitter.com/ron_rowland to receive updates on either your cell phone or Twitter page.
This investment news is brought to you by Money and Markets . Money and Markets is a free daily investment newsletter from Martin D. Weiss and Weiss Research analysts offering the latest investing news and financial insights for the stock market, including tips and advice on investing in gold, energy and oil. Dr. Weiss is a leader in the fields of investing, interest rates, financial safety and economic forecasting. To view archives or subscribe, visit http://www.moneyandmarkets.com .
© 2005-2019 http://www.MarketOracle.co.uk - The Market Oracle is a FREE Daily Financial Markets Analysis & Forecasting online publication.
Comments
Gabe
24 Aug 10, 13:26
ETF


I am creating my own ETF. Do you know anything about actually being able to create my own Target Index in which my fund would closely track? Perhaps you know where I can go for more information on this topic.

Thanks, Gabe




Only logged in users are allowed to post comments.
Register/ Log in