America Must Innovate or Die as China Scientists Lead the World in Research Growth
Economics
/
Technology
Feb 04, 2010 - 12:44 PM GMT

US innovation is plummeting faster than our Financial Markets did during the 2008 financial crisis!
The future of America is presently in peril, not just because of the "banksters'' shadowy ways, but because of a sputtering Innovation Engine that has had the fuel "choked off'. It has now gone "critical" and can no longer be left to only the carping of the academic community.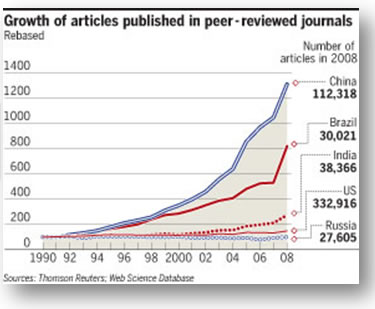 The chart to the right from the Financial Times: "China scientists lead world in research growth" is frightening in its implications. It requires an immediate and serious congressional public policy response. Unfortunately most of those on the front lines are skeptical about Washington's ability to either recognize the gravity of the situation or legislate any meaningful and appropriate response.
President Obama's State-of-the-Union address had one overriding theme – Jobs, Jobs, and Jobs. Consider that 50% of all jobs in America are in small business and 70% of new jobs have been coming from Small Business in recent years, as corporate America 'downsized', 'right-sized' and 'outsourced'.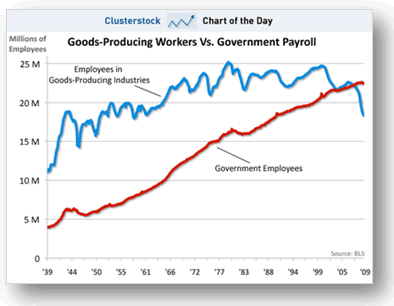 The US has statistically been creating 30 Million new jobs a year to offset 28 Million jobs that disappear through the capitalist system's process of 'creative destruction' (1). The job destruction element continues to advance and we are possibly witnessing even accelerating rates of obsolescence. The jobs creation element however is at a standstill in the US.
The "State-of –the-Union" address coyly spoke of the 2 Million jobs 'saved', because the actual 'new' jobs created was statistically too small and embarrassing to highlight (2)(3) . Recent years have seen job creation in retail, real estate, health care and government which economists consider 'consumption' jobs. Where are our new types of work that are economically considered national 'productivity' jobs and create exportable product or services that others will pay for?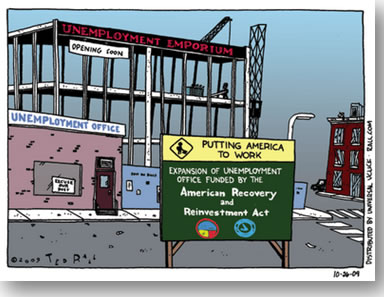 The US is no longer a Manufacturing driven economy, or even a global Service economy. The US has sustained itself since the dot.com bubble implosion as a Financial Economy which is now seriously impaled and faces potentially years of 'rehab' efforts. Future jobs are not going to come from the old "Corporate America" but rather from a new "Small Business America" - new innovation' - creating new types of work. Ten years ago there was no such thing as a 'web master' or an 'E-Bay business'. America must maintain & even challenge itself to step up the pace of innovation. The frank reality is we are falling behind. "The numbers of engineering graduates in China and India far outpace that of the United States. In China, it is 600,000; in India, 350,000; in the United States, 70,000, and many of these are foreign students who, more likely than not, will be returning to their home countries." Senator Edward Kennedy 10-25-05 Testimony - Senate Record
Until recent years, Product Research & Development was typically retained within the US. This is no longer the case as it is increasingly moved offshore as the final unique process within the product development cycle left in America. Product development cycles are now part of more complex, integrated operational research strategies oriented towards reduced cycle time, Six Sigma quality and improved supply chain efficiencies. Foreign governments are eager & financially capable of assisting, granting tax relief, or accelerating academic funding. Meanwhile the US focuses heavily on "Shovel-Ready" jobs?
The government needs to understand this is not the Roosevelt depression era of Labor – construction today is highly automated with minimal labor content & highly productive skilled trades personnel. However, like always, when the government contract ends those jobs will end again!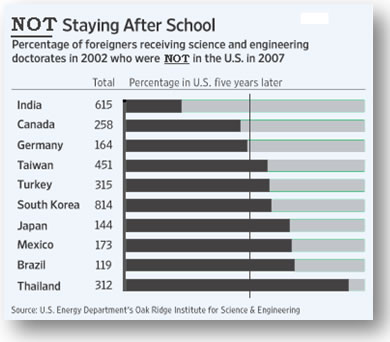 The Financial Times' chart obviously does not bode well for new technology 'start-up's' going forward. But what may be more telling is the Wall Street Journal's January 26th article entitled; "US Keeps Foreign Ph.D's". The article's title completely misses the mark and demonstrates the hubris inherent and hidden within the American problem. We have 'reworked' the recent Wall Street Journal chart by removing China and focusing on how many PhDs were leaving before the financial crisis began in 2007. You get a completely and much more accurate portrait! The chart "Not Staying in School" suggests top technical talent is leaving America. The creators of tomorrow's jobs are 'getting out of Dodge'!
The Wall Street Journal, government agencies and policy makers, base their analysis on data from the US Energy Department's Oak Ridge Institute of Science & Engineering. The seriously outdated data takes PhD's graduating in 2002, when places like China (which we removed) were just beginning to emerge as the WTO (World Trade Organization) trading agreement kicked in. Research facilities in China & India were still under construction. Further the data considers foreign Ph.D's still in the US as of 2007 – the height of employment prior to the financial crisis and the loss of 8 Million jobs. Since the financial crisis universities have been hit hard. These were just some of the reasons we were forced to remove China from the graphic to actually get a better understanding of the reality of what is going on. We simply can't wait until the next study might be done. The problem has truly gone critical.
Post doctoral positions and fellowships are now being taken by candidates that in previous years would already be assistant or associate level professors. Current Ph.D's are being forced to seek employment which is more and more in their home country or emerging market centers where the exiting & funded research is being conducted.
".. analysts see signs that recent foreign grads are increasingly likely to return home, particularly in today's weak job market. "I have no doubt that the 2009 data will show a dramatic shift," said Vivek Wadwha, executive in residence at Duke University's Pratt School of Engineering, who has been warning loudly about the threat that trend would pose to innovation in the U.S. In October 2008, Mr. Wadwha and others used Facebook to question 1,224 foreigners studying at U.S. institutions at all levels. More than half the Indians and 40% of the Chinese said they hoped to return home within five years." 01-26-10 - Foreign Ph.D.s Stay in U.S. After Graduation Wall Street Journal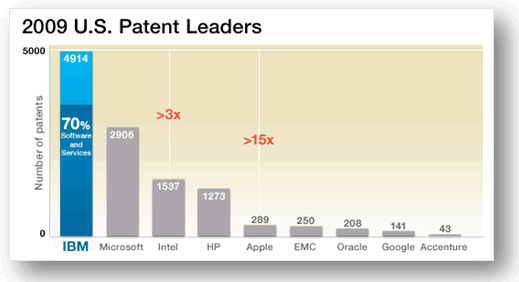 PATENT DEVELOPMENT
Let's consider product Patents to further illustrate the growing problem.
The "2009 US Patent Leaders" graphic, on the surface appears to be a glowing testimonial to IBM & possibly Microsoft, but it begs the real questions.
First: Why are there so few other US corporations with any significant patent activity?
Secondly: Where was the research actually done at IBM or Microsoft?
Former renowned US centers such as Bell Labs, Xerox's Menlo Park and IBM's Thomas Watson Center (US facility) are shells of their former global domination.
Might there be strong likelihood that many of these patents came from the extensive research facilities expanding rapidly around the globe since 2002?
IBM - Global Research Centers

"One of the most important things with an academic background is the work that you do, and is it exciting? … career opportunities, quality-of-life concerns and family ties were major factors. Some 70% of the Chinese and 61% of the Indians said opportunities for professional advancement were better at home." 01-26-10 - Foreign Ph.D.s Stay in U.S. After Graduation Wall Street Journal
"China is out on its own, far ahead of the pack," said James Wilsdon, science policy director at the Royal Society in London. "If anything, China's recent research performance has exceeded even the high expectations of four or five years ago" 01-25-10 - China scientists lead world in research growth Financial Times
"Jonathan Adams, research evaluation director at Thomson Reuters, said China's "awe-inspiring" growth had put it in second place to the US – and if it continues on its trajectory it will be the largest producer of scientific knowledge by 2020" (4)

"In recruiting for Carnegie Mellon, Mr. Zhang, now a research assistant professor at Carnegie Mellon's Silicon Valley campus finds young Chinese less eager to come to the U.S. than those of his generation. "Life in China is getting better. There are research alternatives in China—like Microsoft China," he said. "They can get good mentoring and advice there, instead of coming to the U.S."

01-26-10 - Foreign Ph.D.s Stay in U.S. After Graduation Wall Street Journal
According to James Wilsdon, science policy director at the Royal Society in London, three main factors are driving Chinese research:
First is the government's enormous investment, with funding increases far above the rate of inflation, at all levels of the system from schools to postgraduate research.
Second is the organized flow of knowledge from basic science to commercial applications.
Third is the efficient and flexible way in which China is tapping the expertise of its extensive scientific diaspora in North America and Europe, tempting back mid-career scientists with deals that allow them to spend part of the year working in the west and part in China.
America is currently still the leader in innovation. Time however is rapidly running out if we do not dramatically focus our political capital on this rupturing situation that will spill out the headline news in the future – when like the financial crisis it will be too late.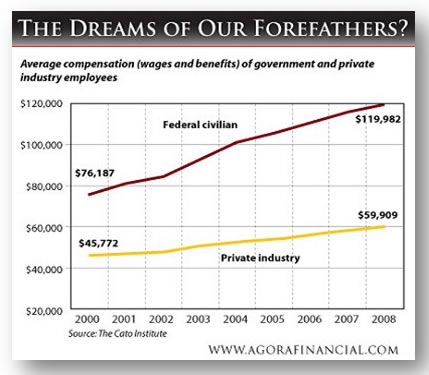 At this very moment, students are making career decisions. If the technology field they are attracted to is being "outsourced", have no research funding and little prospects for work, why would they consider $200,000 in educational costs? They know they likely won't get teaching assistant jobs during their required post graduate work since former students are forced to hang onto them as teaching jobs are being cut? So what are they doing? They consider other fields like Law. This is because there are mountains of work in government, writing new laws & regulations that further burden small business with administrative filing requirements! Government work even pays better! (see: 'The Dreams of Our Fathers?')
Their view is government is one of the growth areas in the US economy that pays the best & what the chart to the right fails to point out – is one of the few employers that still offers a pension plan (and not at 67 either). You don't need a PhD to do the analysis on this one.
Creating old style, 'make work' jobs is like giving the masses fish when they are hungry versus teaching them how to fish. We must do both. We need new types of work based on new Innovation. We can't go back; we must go forward – and urgently!
SOURCES:
(1) 01-30-10 – Steve Forbes, Publisher Forbes Magazine in an FSN Interview 01-30-10
(2) 02-02-10 – Recovery.gov Tracking
(3) 02-01-10 - At Issue: Counting the Jobs Created New York Times
(4) 01-25-10 - China scientists lead world in research growth Financial Times
(5) 01-26-10 - Foreign Ph.D.s Stay in U.S. After Graduation Wall Street Journal
(6) 10-25-05 - Senator Ted Kennedy Testimony - Senate Record Govtracks.US
Gordon T Long gtlong@comcast.net Web: Tipping Points
Mr. Long is a former executive with IBM & Motorola, a principle in a high tech start-up and founder of a private Venture Capital fund. He is presently involved in Private Equity Placements Internationally in addition to proprietary trading that involves the development & application of Chaos Theory and Mandelbrot Generator algorithms.
Gordon T Long is not a registered advisor and does not give investment advice. His comments are an expression of opinion only and should not be construed in any manner whatsoever as recommendations to buy or sell a stock, option, future, bond, commodity or any other financial instrument at any time. While he believes his statements to be true, they always depend on the reliability of his own credible sources. Of course, he recommends that you consult with a qualified investment advisor, one licensed by appropriate regulatory agencies in your legal jurisdiction, before making any investment decisions, and barring that, we encourage you confirm the facts on your own before making important investment commitments.
© Copyright 2010 Gordon T Long. The information herein was obtained from sources which Mr. Long believes reliable, but he does not guarantee its accuracy. None of the information, advertisements, website links, or any opinions expressed constitutes a solicitation of the purchase or sale of any securities or commodities. Please note that Mr. Long may already have invested or may from time to time invest in securities that are recommended or otherwise covered on this website. Mr. Long does not intend to disclose the extent of any current holdings or future transactions with respect to any particular security. You should consider this possibility before investing in any security based upon statements and information contained in any report, post, comment or recommendation you receive from him.
© 2005-2019 http://www.MarketOracle.co.uk - The Market Oracle is a FREE Daily Financial Markets Analysis & Forecasting online publication.
Comments
Asians are superior
30 Jun 11, 17:14
America collapse


America does not even invent or produce anymore, China does. Japan and Korea leads on innovation! the collapse of america is very close!




Only logged in users are allowed to post comments.
Register/ Log in