Penny Mining Shares, U.S. Dollar and Gold
Commodities
/
Gold & Silver Stocks
Mar 05, 2010 - 07:29 AM GMT


Penny mining shares are poised for incredible gains in the next 12 – 18 months. But before we discuss the details we believe it is necessary to lay a foundation with a brief discussion of the U.S. Dollar and gold.
Seems the world is fixated on the U.S. Dollar and many see it going substantially higher. In our opinion, the charts do not support that conclusion and we see the dollar having topped out and now heading lower.
A declining U.S. Dollar normally gives gold a strong under tone and therefore, we see gold now moving up to retest the highs reached in November 2009 of around $1220. This retest will be shorted lived and gold, we believe, will surge to highs of well over $2000 within 12 months.
This monster move in gold will take the junior mining shares substantially higher as well. The missing factor is mass psychology. Remember back in 2006 when gold was hitting $725 the shares were on fire with monster gains being achieved. With gold over $1100 there still has been very little excitement in the mining shares even though some solid gains are being made. We see positive mass psychology moving back into the juniors with the potential for outrageous gains in the entire sector.
Also in looking at the bigger picture and viewing gold priced in Euros, things look even better for gold as it is hitting new highs right now giving us a preview of the action of gold in U.S. Dollars.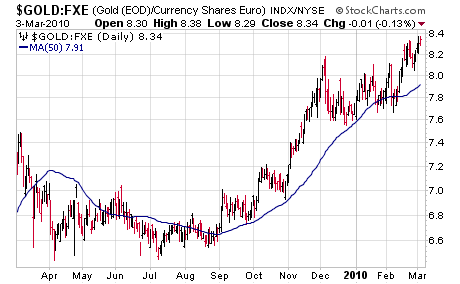 The chart below in gold looks as though we have bottomed and are now hitting higher.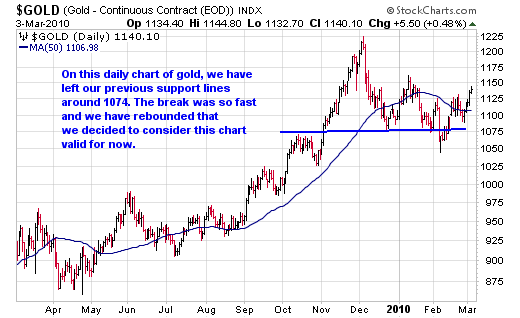 The chart on the U.S. Dollar looks to us as though we have topped out in the 80 to 81 range.
We really like this chart on the Venture Exchange Composite Index which we view as a proxy for the juniors. The last year has been a nice and steady rise with the 50 day moving average pointing the direction. Even with the recent correction phase in gold and the juniors the 50 day moving average has stayed in an up trend indicating to us, great underlying strength.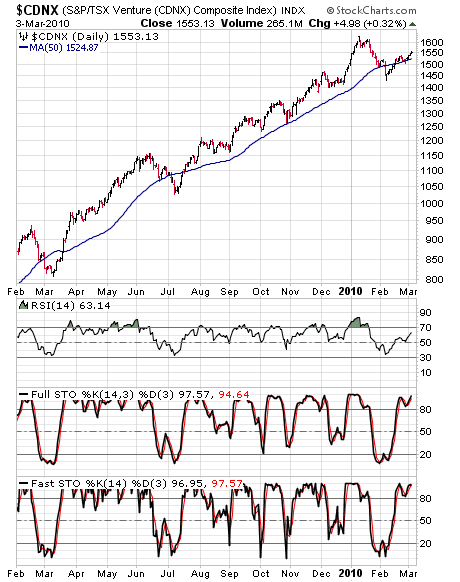 Penny Mining Shares
Having provided you with a brief background above, let's talk about the penny stocks.
I'm sure many of you have invested in some of these penny shares at some time in your life. We see different definitions of a 'penny stock'. Some think a penny stock is one that sells for less than $5. Some say $4 and others say $1.00 or less. For our purposes, we like to keep it simple and say and stock selling for less than $1.00. In the mining sector, there are probably more than 1,000 companies with shares selling for less than $1.00.
The attraction to the penny mining shares is the monster possible gains in the correct investment environment. These penny shares can go up 500% to a 1,000% in the blink of an eye. Yes, there is a high risk associated with this sector but the risk is managed by allocating only a small portion of your investment dollars to this sector.
If we are correct in the potential gains in gold we believe this will translate into a very positive environment for these junior mining shares, the warrants trading on these juniors and penny shares in general.
The Chairman of two major mining companies recently said that he sees a mania phase coming with its epicenter in Asia, China and India specifically.
The question for each of you is:
1. Are you already in the game? If so, great, just be patient.
2. If not, are you preparing to enter 'the game' and buy a basket of these undervalued junior
mining or energy shares or the long-term warrants or LEAPS trading on them?
3. Are you going to wait until prices rise substantially and start to peak before entering 'the
game'?
Yes, most investors will wait and wait and wait and then buy near the top and then complain that they couldn't make any money and they will blame the markets, the penny stocks and everyone in the business before taking responsibility for their own poor judgment and timing.
We are being given the rare possibility of a once-in-a-lifetime-opportunity, what will you do with it?
For those readers unfamiliar with our services:
PreciousMetalsWarrants.com provides an online database for all warrants trading on the natural resource companies in the United States and Canada.
InsidersInsights.com tracks the buying and selling of corporate insiders with a focus on the junior mining and natural resource sectors. Buy and Sell Alerts are issued as deemed relevant based upon our analysis.
We encourage all readers to sign up for our free weekly email.
Dudley Pierce Baker
Guadalajara/Ajijic, Mexico
Email: support@preciousmetalswarrants.com
Website: PreciousMetalsWarrants
Website: InsidersInsights
Dudley Pierce Baker is the owner and editor of Precious Metals Warrants and Insiders Insights. Articles are written by Dudley Baker along with contributing editors, Arnold Bock of Mendoza, Argentina and Lorimer Wilson of Toronto, Canada. PreciousMetalsWarrants provides an online subscription database for all warrants trading on junior mining and natural resource companies in the United States and Canada and a free weekly newsletter. InsidersInsights alerts subscribers when corporate insiders of a limited number of junior mining and natural resource companies are buying and selling.
Disclaimer/Disclosure Statement:PreciousMetalsWarrants.com is not an investment advisor and any reference to specific securities does not constitute a recommendation thereof. The opinions expressed herein are the express personal opinions of Dudley Baker. Neither the information, nor the opinions expressed should be construed as a solicitation to buy any securities mentioned in this Service. Examples given are only intended to make investors aware of the potential rewards of investing in Warrants. Investors are recommended to obtain the advice of a qualified investment advisor before entering into any transactions involving stocks or Warrants.
© 2005-2019 http://www.MarketOracle.co.uk - The Market Oracle is a FREE Daily Financial Markets Analysis & Forecasting online publication.
Comments

18 Aug 10, 08:00
charts


you could update your charts




Only logged in users are allowed to post comments.
Register/ Log in