Stock Market Rally, S&P 500 is on a Mission to Reach 1200 Over the Short-term
/
Stock Markets 2010
Mar 28, 2010 - 07:59 PM GMT

Current Position of the Market
Very Long-term trend - Down! The very-long-term cycles are down and if they make their lows when expected, the bear market which started in October 2007 should continue until 2014.
SPX: Long-term trend - Up! We are in a medium-term bull market, which is a corrective move within a long term bear market. This bull market should last until 2011
SPX: Intermediate trend - The Index continues its uptrend from March 2009. It looks sustainable for another few weeks.
Analysis of the short-term trend is done on a daily basis with the help of hourly charts. It is an important adjunct to the analysis of daily and weekly charts which determines the course of longer market trends.
Daily market analysis of the short term trend is reserved for subscribers. If you would like to sign up for a FREE 4-week trial period of daily comments, please let me know at ajg@cybertrails.com .
Overview:
The S&P 500 is on a mission to reach 1200 over the short-term. The monthly and weekly trends are up with no sign of an immediate reversal. The daily trend is moving within a well-defined channel, and will continue to do so as long as it stays within its parameters.
Recently, the pattern has gravitated from the top half of the channel to the bottom half which is a sign of deceleration and is probably a precursor to a short-term top. Although there has been a strong price regeneration of the trend since the correction which ended at 1044.50, the volume has been tepid -- a signal that investor interest is waning after the extended move from 667 on March 09, 2009, also breadth has begun to lose its upside momentum -- an indication that there is diminished sponsorship.
Long-term cycles will become less favorable as we move further along into the year, and this is another thing to watch for.
These combined factors are giving us advanced warning that this uptrend is reaching another top and that it is time to start paying more attention to the short-term indicators. Some analysts see it continuing until May, and they could be right. We are probably still a few weeks away from an actual top. With the longer term indicators still showing strength, and no perceptible sign of deterioration in the New Highs - New Lows index, it should be a while longer before we can generate an intermediate decline.
We'll let the market decide. We already have a near-term projection, and these have served us well in the past.
Analysis
Chart Pattern and Momentum
Here are the SPX monthly and weekly charts side by side. On the left, the monthly chart is still visibly in an uptrend, which is confirmed by the indicators that are making new highs along with the price and still show no sign of topping.
On this chart, I have traced out a potential course forward for the stock market. This is based on long-term cycles and how they are expected to influence prices in the future. As you can see, I do not expect the mini bull market to come to an end until some time next year.
On the right, weekly prices are moving within the parameters of an Andrews pitchfork, describing a narrow path around its median.
The indicators are still moving up, but are beginning to show potential signs of divergence, especially the MACD, above. However, they will have to turn down before a sell signal is generated.
The Daily chart is next. From its March 2009 low, the SPX has established a pattern which fits within the green uptrend channel, below. Until January 2010, the price structure remained in the top half of the channel. In the last correction, it moved to the bottom of the channel where it also found support from the 200-day EMA, and is now trading in its lower portion. The index will soon reach the mid-channel line which will probably provide resistance and keep it from rising above. I should note that this is the steepest channel. Another, wider channel can be drawn which may contain the uptrend even after this one is broken.
The breadth indicator, at the bottom of the chart, started trending down about two weeks ago, but it has not been able to reverse prices. Now, it has corrected enough from its overbought condition that it could allow an extension of the uptrend, especially since the short-term cycles are about to turn up again. However, there are still probably a couple of days until the indices and indicators actually turn up. We have no evident signs that the correction which started at 1180.69 is over.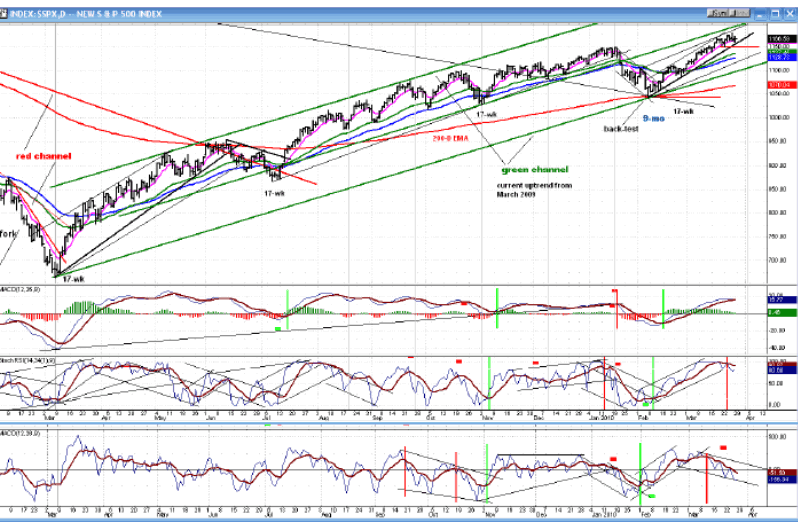 The hourly chart should help determine how close we are to extending the uptrend. Just as the daily prices are traveling in a well-defined "green channel" from their 667 low, so are the hourly prices from their 1440.50 low on February 5.
This miniature replica of the larger channel also has a mid-channel line which was just violated on Friday for the first time since wave 2 started on 2/24. With the cycle expected to make its low (green asterisk) on the 30th or 31st, we could continue to the bottom of the channel and meet the assigned target of 1159. But Friday was marked by some positive divergence in the A/D line. This is reflected in the lower indicator at the bottom of the chart, and it is possible that the price low of the correction has already been made.
The hourly indicators are still in a downtrend and suggest that the correction is not yet over, just as the uptrend is not over until the lower green channel trend line has been broken. If the SPX were to close outside of that channel and subsequently break below the former short-term low (red line), it would still not be enough evidence to conclude that the move from 1040 is over; only that we have entered an extended consolidation.
Cycles
The above chart demonstrates clearly how cycles are helpful to traders and investors. The uptrend from 1040 began when the 9-mo cycle bottomed, and it accelerated after the 17-wk cycle turned up on 2/25. More recently, the purple asterisk represents the low of the 40-td cycle, and the green asterisk which is coming up, will ideally mark the low of the 26-td cycle.
The next important cycle will bottom in July. The 2-year cycle should begin to assert itself gradually over the next few weeks.
In the Fall, the 4-year cycle may bring only moderate weakness because it will be countered by the 2-year upthrust which will have started just a few weeks earlier.
Projections:
"There is a good projection to 1192-2004 once the 1150 top is cleared decisively."
Nothing has changed! On Thursday, the SPX went a point higher than my interim projection of 1179 and is pulling back into the cycle low due about Tuesday/Wednesday.
There is a Point & Figure-based target of 1192 which should next attract prices, and a 1204 Fibonacci measurement which cannot be ignored. This looks like a good level from which to start another short-term correction.
Breadth
By reaching above 1258, the NYSE Summation Index (courtesy of StockCharts.com) has now surpassed its former peak. Although it is still under the September '09 top, thereby retaining the longer-term negative divergence, it may have to diverge from last week's high into a double divergence pattern before it can mark an important top for the market. This means that we may not be all that close to an intermediate peak.
The RSI is overbought and suggests that caution is warranted for the short-term.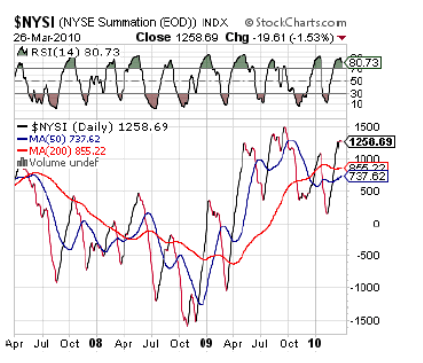 After showing some very minor divergences, my daily breadth indicator corrected an overbought position. When we get to the cycle low next week, it should be in a position to extend its rally. More serious divergence will be required before it signals that a more important top is at hand.

Market Leaders and Sentiment
This week, the long-term sentiment indicator condition (below, courtesy of SentimenTrader) is pretty much in the same position as it was two weeks ago. This adds to the view that is discussed in the opening paragraphs of this letter. There are signs that we are approaching some sort of a correction, but it is not imminent.
The short-term indicator should get a little more bullish if the market correction extends into early next week.
The inconclusive sentiment readings are also supported by the NDX which continues to forge to new highs ahead of the S&P 500. Until we see some relative weakness on the part of the former index, it is unlikely that we have reached the top of the move.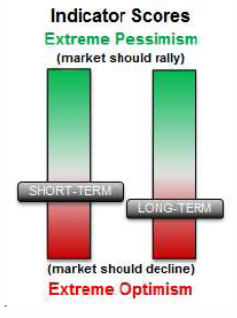 Summary
As we approach the target for this move (1192-1204), signs are beginning to appear which confirm its validity and we should prepare ourselves for a reversal after it has been reached.
However, there is no indication of the top of the move from March 2009 or the beginning of an intermediate decline. From a time perspective, the "final" top may not occur until May!
If precision in market timing is something which is important to you, you should consider a trial subscription to my service. It is free, and you will have four weeks to evaluate the claims made by the following subscribers:
Awesome calls on the market lately. Thank you. D M
Your daily updates have taken my trading to the next level. D
… your service has been invaluable! It's like having a good technical analyst helping me in my trading. SH
I appreciate your spot on work more than you know! M
But don't take their word for it! Find out for yourself with a FREE 4-week trial. Send an email to ajg@cybertrails.com .
By Andre Gratian
MarketTurningPoints.com
A market advisory service should be evaluated on the basis of its forecasting accuracy and cost. At $25.00 per month, this service is probably the best all-around value. Two areas of analysis that are unmatched anywhere else -- cycles (from 2.5-wk to 18-years and longer) and accurate, coordinated Point & Figure and Fibonacci projections -- are combined with other methodologies to bring you weekly reports and frequent daily updates.
"By the Law of Periodical Repetition, everything which has happened once must happen again, and again, and again -- and not capriciously, but at regular periods, and each thing in its own period, not another's, and each obeying its own law … The same Nature which delights in periodical repetition in the sky is the Nature which orders the affairs of the earth. Let us not underrate the value of that hint." -- Mark Twain
You may also want to visit the Market Turning Points website to familiarize yourself with my philosophy and strategy.www.marketurningpoints.com
Disclaimer - The above comments about the financial markets are based purely on what I consider to be sound technical analysis principles uncompromised by fundamental considerations. They represent my own opinion and are not meant to be construed as trading or investment advice, but are offered as an analytical point of view which might be of interest to those who follow stock market cycles and technical analysis.
© 2005-2019 http://www.MarketOracle.co.uk - The Market Oracle is a FREE Daily Financial Markets Analysis & Forecasting online publication.

Only logged in users are allowed to post comments.
Register/ Log in