Gulf Oil Spill Criminal Charges Could Cut BP's Share Price in Half
Companies
/
Oil Companies
May 20, 2010 - 01:40 AM GMT


Fallout from the BP oil spill is spreading. And far from being "cheap" as some pundits suggest, BP's share price could implode if criminal charges are filed.
It's not looking good for British Petroleum... or the Gulf of Mexico. In fact it's looking like an outright disaster, about as bad as we feared.
And BP's stock – which a number of armchair contrarians quickly dubbed as "cheap" in the aftermath of the Deepwater Horizon spill – is at risk of being massacred.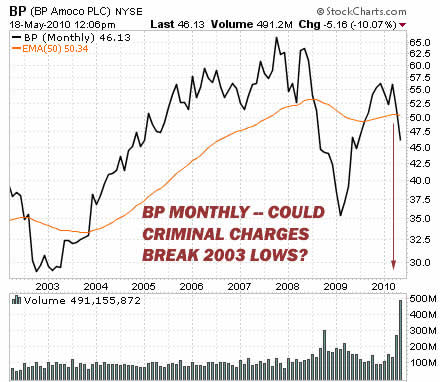 Don't trust the smart-aleck "buy the dip" viewpoints on this one. Not only would investors be unwise to buy call options on British Petroleum at current levels, they may well be better off buying long-dated put options instead... in anticipation of seeing BP's stock price cut in half. Or worse.
We're talking about $50 billion to $100 billion worth of market cap here... at real risk of being wiped out. (That notion might sound wacky. But a lot of folks thought the concept of a "euro crash" was wacky too, when we started pounding the table for it a number of months ago...)
From Bad to Worse
Stepping back for a second, there was a huge outpouring of mail in response to the Taipan Daily May 5 piece, "The BP Oil Spill Is a Game Changer for Alternative Energy."
The vast majority of that mail was supportive, though a small portion was furious. (One North Sea driller argued that your humble editor should be fired on the spot. I'm just calling "em like I see "em, brother!)
It would have been great to dig into that mailbag, but the pace of events simply got away from us. (It's been a rather momentous past few weeks if you haven't noticed.)
But now, with more time for evidence and damage assessment to roll in, we have better optics on the BP oil spill situation. Here are my latest impressions:
BP is at risk of criminal charges in this oil spill.
BP has been lying through its teeth about the scope of the disaster.
Investigative efforts are turning up smoking guns all over the place.
We could be looking at a new Exxon Valdez every four days.
There could be even worse disasters waiting to happen in the Gulf.
Other drilling platforms and even shipping lanes could be affected.
There are no attempts at shock value or hyperbole in the above bullet points.
As originally suspected in these pages, we are witnessing, quite simply, what may be one of the worst examples of negligence and hubris the world has ever seen. And the fallout could well be unprecedented.
Criminal Charges Change Everything
First, let's talk criminal charges.
"Federal investigators are likely to file criminal charges against at least one of the companies involved in the Gulf of Mexico spill," the McClatchy newspaper syndicate reports.
Straight from a Fed insider's mouth: David M. Uhlmann, head of environmental crimes for the U.S. Justice Department under the Bush and Clinton administrations, adds that "There is no question there'll be an enforcement action... and, it's very likely that there will be at least some criminal charges brought."
The Oil Pollution Act of 1990 – basically a sop to big oil lobbyists – placed a $75 million cap on energy company liabilities for environmental damage.
But "there's no cap on criminal penalties," according to McClatchy. "In fact, prosecutors can seek twice the cost of economic and environmental damages resulting from the spill."
If the Feds go after BP (or Transocean, or both) for criminal negligence, they will have one hell of a case. The mounting evidence seems all but indisputable at this point. And as for economic and environmental damage costs... we're talking tens of billions there. At least. With the potential for prosecutors to double that sum, and angry jurors to confirm it.
Goodbye liability cap. Hello criminal backlash.
You should hear what my fellow Taipan Daily editor Adam Lass thinks about crude oil and commodities these days. Sign up now to read his investment commentary.
A New Exxon Valdez – Every Few Days!
The original estimates of the Deepwater Horizon leak pegged the outflow at 5,000 barrels per day. That was the number going around. But it was a bogus number from the start – a lowball estimate, with the lowballing done on purpose. (As we said weeks ago, "Nobody involved has incentive to go "worst case' up front.")
As it turns out, the method used to calculate the oil spill flow rate was not appropriate for deepwater drilling projects. As The New York Times reports [emphasis mine],
The figure of 5,000 barrels a day was hastily produced by government scientists in Seattle. It appears to have been calculated using a method that is specifically not recommended for major oil spills.
Ian R. MacDonald, an oceanographer at Florida State University who is an expert in the analysis of oil slicks, said he had made his own rough calculations using satellite imagery. They suggested that the leak could "easily be four or five times" the government estimate, he said.
Huge oil plumes are showing up in the Gulf of Mexico, the NYT adds, "including one as large as 10 miles long, 3 miles wide and 300 feet thick in spots." Again, we're talking an Exxon Valdez every few days.
According to scientists interviewed by the NYT, the size of the spill is a direct factor in the amount of potential damage it can do. So is it any wonder that BP – and the United States government – wanted us to swallow a grossly misleading estimate?
And is it further any wonder that BP has flat out avoided attempts to get a clearer picture on the underwater flow rate, and thus the size of the spill?
"The answer is no to [further measurement requests]," says BP spokesman Tom Mueller. "We're not going to take any extra efforts now to calculate flow there at this point. It's not relevant to the response effort, and it might even detract from the response effort."
Not relevant to the response effort, maybe... but flow rates could sure be relevant to the uncapped criminal liability case that threatens to buzzsaw BP's stock price in half.
One Man's Testimony
If BP goes down in a court of law, it could be the testimony of Mike Williams, a Deepwater Horizon survivor, that seals the Federal case.
Mike Williams gave his testimony of events – and details of his harrowing escape – in a must-watch 60 Minutesinterview. (Here are the links to watch part one of that interview and part two.)
Mike Williams was the chief electronics technician for the Deepwater Horizon rig, in charge of the electrical and computer systems. On the night of the disaster, everything unfolded like a science fiction movie.
Williams saw his warning lights heat up to the bursting point. He pushed back from his desk as his computer screen exploded. He was pinned to the wall – twice – by six-inch thick steel fire doors torn off their hinges by gas explosions before making it outside. And once outside, bleeding so profusely he could hardly see, Williams discovered that the rig's carefully rehearsed evacuation procedures had been all but abandoned. He was left behind by the lifeboats, and had to jump from a 10-story height (90 to 100 feet) into black oily water to avoid being engulfed by flames.
The truly damning part of Williams' testimony, however, has to do with what happened in the weeks leading up to the Deepwater Horizon disaster. There was clear evidence that the Blowout Preventer, or BOP, was damaged well before the fatal explosion – and that the damage was ignored.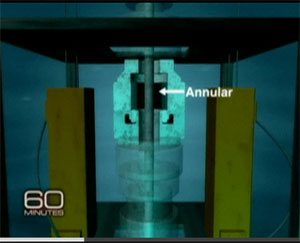 This evidence came in the form of chunks of rubber that were brought up through the pipe. There were just a few handfuls, but enough to show that the seal on the Blowout Preventer – a rubber gasket called an "annular" – had been ruptured in a minor drilling accident, preventing the ability to get accurate reads on the huge pressures building up in the well. (As it turns out, a fellow rig worker had accidentally toggled a joystick at the wrong time, tearing the gasket with unauthorized movement of the pipe.)
When drilling under extreme conditions – and these conditions were the "extreme of extremes" – the Blowout Preventer is what protects you from disaster. When there are signs of malfunction, ANY malfunction, you do not keep going. You stop and address the problem.
The evidence was there. When told that it was no problem, Mike Williams openly wondered how it could be okay to keep going when chunks of rubber stood as clear indication that something was wrong.
Transocean (the rig operator) and BP could have attempted to fix the Blowout Preventer before continuing. But the BOP was 5,000 feet down, far from the reach of human hands. And time was money – on a scale of millions of dollars per day – so BP superiors gave the order to keep going.
There is still more to this story... but it only gets worse for BP, the Gulf of Mexico at large, and quite possibly the entire deepwater drilling industry.
We'll pick up the storyline again next week... but in the meantime think hard about selling, not buying, BP.
Source : http://www.taipanpublishinggroup.com/taipan-daily-051910.html
By Justice Litle
http://www.taipanpublishinggroup.com/
Justice Litle is the Editorial Director of Taipan Publishing Group, Editor of Justice Litle's Macro Trader and Managing Editor to the free investing and trading e-letter Taipan Daily. Justice began his career by pursuing a Ph.D. in literature and philosophy at Oxford University in England, and continued his education at Pulacki University in Olomouc, Czech Republic, and Macquarie University in Sydney, Australia.
Aside from his career in the financial industry, Justice enjoys playing chess and poker; he enjoys scuba diving, snowboarding, hiking and traveling. The Cliffs of Moher in Ireland and Fox Glacier in New Zealand are two of his favorite places in the world, especially for hiking. What he loves most about traveling is the scenery and the friendly locals.
Copyright © 2010, Taipan Publishing Group
© 2005-2019 http://www.MarketOracle.co.uk - The Market Oracle is a FREE Daily Financial Markets Analysis & Forecasting online publication.
Comments
Adam Neira
26 May 10, 23:35
Degree of Difficulty


BP is doing a good job.

The interesting aspect of this accident is that the whole world can log onto the internet and watch proceedings if they want to. BP has been incredibly open and transparent with what they are trying to achieve. Of course as a corporation they are entitled to some level of professional discretion. Let's hope and pray that in the next 24 hours the flow will be stopped.

1435 AEST Thursday 27th May, 2010



Nadeem_Walayat
27 May 10, 04:13
BP


Yeh, its dip below £5 makes the stock very cheap if this catastrophe can be resolved SOON !




Only logged in users are allowed to post comments.
Register/ Log in