Oil Exploration Could Be Revolutionized Worldwide with This New Technology
Commodities
/
Oil Companies
May 26, 2010 - 02:04 PM GMT

A Saskatchewan entrepreneur could revolutionize oil exploration worldwide, with a new technology that uses readily available satellite data to determine if a property has commercial amounts of oil or gas underground.

Robert Fisher, CEO of Leaf and Stone Resonance Services Inc. in Saskatoon, uses a process called "resonance coupling" that he says can tell if there is oil and/or gas on a property, onshore or offshore.


To date, he has mostly used the technology to help find mineral formations; Fisher says it's good for finding gold, and for kimberlite pipes, the geological host for diamonds.
Fisher says his Texas based partner David Carr developed and tested resonance coupling in oil and gas for 21 months in the Permian Basin in Texas. Fisher's Leaf and Stone is a marketing company for the technology. To date, they have had one commercial success with oil – the delineation of a heavy oil field near Lloydminster, Saskatchewan.
The technology costs $100 per acre, and with oil companies paying up to $4,000 per acre in land costs for big resource plays in Canada (Cardium, Bakken etc), it could end up saving companies millions of dollars in exploration.
Resonance coupling is basically matching oil to oil at a molecular level. "Every molecule has a unique resonance," Fisher said in a recent interview. "We figured out how to measure it and how to match it. The hydrogen atom has one electron, in orbit – which puts it off balance. It vibrates in its own unique way.
"Oil has a unique resonance. Since oil is a liquid, it absorbs materials from the surrounding reservoir whereas natural gas does not. Different samples of oil have their own unique resonance whereas gas does not."

Fisher, who hails from Saskatoon, says that he must have a sample of oil from the property to match it with his proprietary technology. He has to get the molecular structure set to find it again in the ground. He explains how the technology works:

"We use data from commercial satellites, as they capture the range of spectrum that we need to do our resonance technology. We are buying regular data; but we don't use the visual light spectrum.

"We determine the land area to be surveyed and then figure out the acquisition cost of data. We quote the client, sign the contract and in six-eight weeks we get the data back from the satellite company. We use the Earth Resource Satellites, which do the earth in 11-14 days, so it can take up to four weeks to get data, and another four weeks to processing data."

Fisher says that client gets a visual picture of the data. Points are plotted along a vector, and each point says no oil, no oil, no oil, oil, oil, no oil, no oil, etc – clients can connect the dots among the many vectors to see the oil pool.

He says energy companies should still use 3D seismic, which shows structures which may contain oil – but 3D can't tell if the oil is there. Fisher says his technology can, but it doesn't show if the reservoir characteristics would be economic.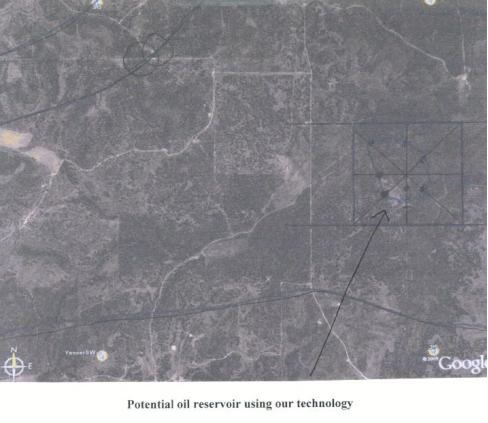 Carr says the technology works best with hydrocarbons to find more in a field that has already been discovered. "You can't use it as pure exploration for new fields," he says. "You need a sample from an existing well to match to a pattern."

Fisher says they also have a scale, going from 1-6, in which they tell the client how much oil is there. "Anything under 2.5 will have oil but not in commercial quantities," Fisher says.

Now, there are a couple ethical issues here – what if I want to see what my neighbour has on his property?

"The technology is so powerful that we have decided not to survey other people's ground," says Fisher. "You have to show us you own the land or have an option to own it. A discussion of the ethics of testing land not owned results in no winners."

But any crown land anywhere in the world is fair, he says. And that opens up A LOT of possibilities for the industry, worldwide.
About Oil & Gas Investments Bulletin
Keith Schaefer, Editor and Publisher of Oil & Gas Investments Bulletin, writes on oil and natural gas markets - and stocks - in a simple, easy to read manner. He uses research reports and trade magazines, interviews industry experts and executives to identify trends in the oil and gas industry - and writes about them in a public blog. He then finds investments that make money based on that information. Company information is shared only with Oil & Gas Investments subscribers in the Bulletin - they see what he's buying, when he buys it, and why.
The Oil & Gas Investments Bulletin subscription service finds, researches and profiles growing oil and gas companies. The Oil and Gas Investments Bulletin is a completely independent service, written to build subscriber loyalty. Companies do not pay in any way to be profiled. For more information about the Bulletin or to subscribe, please visit: www.oilandgas-investments.com.
Legal Disclaimer: Under no circumstances should any Oil and Gas Investments Bulletin material be construed as an offering of securities or investment advice. Readers should consult with his/her professional investment advisor regarding investments in securities referred to herein. It is our opinion that junior public oil and gas companies should be evaluated as speculative investments. The companies on which we focus are typically smaller, early stage, oil and gas producers. Such companies by nature carry a high level of risk. Keith Schaefer is not a registered investment dealer or advisor. No statement or expression of opinion, or any other matter herein, directly or indirectly, is an offer to buy or sell the securities mentioned, or the giving of investment advice. Oil and Gas Investments is a commercial enterprise whose revenue is solely derived from subscription fees. It has been designed to serve as a research portal for subscribers, who must rely on themselves or their investment advisors in determining the suitability of any investment decisions they wish to make. Keith Schaefer does not receive fees directly or indirectly in connection with any comments or opinions expressed in his reports. He bases his investment decisions based on his research, and will state in each instance the shares held by him in each company. The copyright in all material on this site is held or used by permission by us. The contents of this site are provided for informational purposes only and may not, in any form or by any means, be copied or reproduced, summarized, distributed, modified, transmitted, revised or commercially exploited without our prior written permission.
© 2010, Oil & Gas Investments Bulletin
Contact Us:

Email: nichola@oilandgas-investments.com

Customer Service: 1-877-844-8606
www.oilandgas-investments.com
© 2005-2019 http://www.MarketOracle.co.uk - The Market Oracle is a FREE Daily Financial Markets Analysis & Forecasting online publication.

Only logged in users are allowed to post comments.
Register/ Log in