Monday Stock Market Monetary Mark-Up - China Floats the World!
Stock-Markets
/
Stock Markets 2010
Jun 21, 2010 - 12:45 PM GMT


I did not see this coming!

We have a major bump in the futures and I'm trying to decide if it's deserved just because China says they will float the Yuan. Asia came on like gangbusters on the news and Japan was, of course, super thrilled that one of their biggest customers was going to have more buying power (in theory) as were the other Asian countries that export to China.
The Nikkei is up 2.4%, India gained 1.7%, Taiwan jumped 1.9%, South Korea 1.6%, Singapore 1.8% and even Australia picked up 1.3%. In China, the Shanghai and Hang Seng gained 3% as well so it's a win, win, win over in Asia this morning! Europe also seems thrilled with 1.5% gains in general but off about half a point from their gap up opens.
Despite the rhetoric, there was no change in the official Yuan peg (but the currency traded higher) and, of course, the timing of making the announcement right before the G20 meeting (next weekend) is to take the issue off the table as things were really coming to a head with the US on the currency issue.
On the whole, it's a good thing because China needs to slow their growth anyway and this will stall demand for their goods and thus their consumption of commodities while a rising currency will make it cheaper to buy those goods so we can imply better margins at factories--the only question is: How much will it impact sales? Clothing sales are the most vulnerable as Chinese sweat shops must compete with sweat shops in Chinatown as well as Vietnamese, Taiwanese, Korean and even African sweat shops in a business where pennies matter a lot.
It's hard to say how much China's trading partners will ultimately benefit from the move. On the whole, giving the Chinese people more spending power is kind of like raising your kid's allowance from $5 a week to $5.50 - it's really not likely to rock the global economy but, combined with recent wage hikes - it's nothing to sneeze at Unfortunately for the foreign Capitalists who have been exploiting employing Chinese workers to make their cars and IPhones, this comes as a double whammy to their bottom line as worker strikes (and suicides) are driving wages higher and now, having to pay those workers a rising currency adds insult to already injured bottom lines.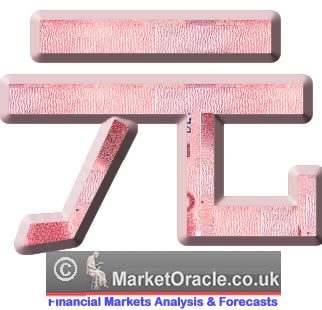 Also, in the big picture, China was letting the Yuan appreciate to the dollar from July 2005 through July 2008 and then stopped (click on image for nice WSJ interactive). That coincides very neatly with our entire market run and, of course, just after they stopped--we crashed. While it certainly can't be the only factor, it's enough of a factor or even a coincidence that we may get some heavy betting that this is going to be great for our markets, whether logical or not.

China's trade surplus in May was a whopping $19.5Bn, up 48% from last year--that pretty much took away any excuse China had to hold their currency down and Shumer threatened a bill sanctioning China just 2 weeks ago. Combine that with their 3.1% CPI in May and this decision is in our (US and China) mutual interest.

This should be Nasdaq positive (now Chinese workers can afford the IPods they make) and is good for commodities. Frankly, there's not much downside to this other than the fact that I was short-term bearish going into the weekend and this gap up (we're up 1.5% in the futures) makes it very difficult to participate in the rally.

Oil is up at $78.50 and the last time China floated their currency oil shot up 12% in a month so a huge gift to that sector - as I mentioned on the weekend, what policy maker can resist the opportunity to make the people who sell 85M barrels of oil per day an extra $20Bn a month ($7.85 increase)? How many bribes would it take to make this happen and how big would they have to be? XOM and BP alone make 10% of that money each--that will pay to clean a lot of pelicans!

So, whatever the motive, it's a nice positive to start the week on and now let's see what holds up. If we hold a gap fill tomorrow, that will be nice and bullish but so will simply holding NYSE 7,000 and the Russell 666 line we have been watching all week. Next stop, if we are heading higher, is our 50 day moving averages: Dow 10,600, S&P 1,140, Nasdaq 2,350, NYSE 7,130, Russell 683, SOX 366 (already over), Transports 2,130, Oil $78 and Gold $1,200 (already over). Of course, those blue 20-day moving averages are a serious concern if breached to the downside: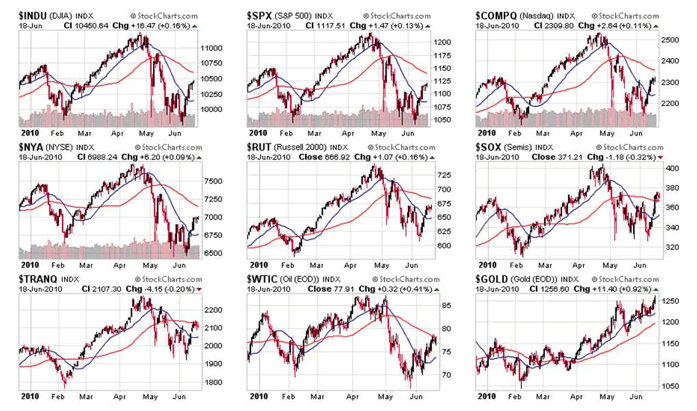 I don't want to be a Gloomy Gus and perhaps I'm a little biased as we went short into the weekend but I think the China news is wallpapering over what is still mainly negative market news:
AMBK stopped insuring a $16Bn worth of CDOs in a deal with banks, this may cause those banks to take big losses.
EU banks are already freaking out over upcoming stress tests.
Wall street reform is entering the final week and lobbyists are freaking out over what issue they can bill for next.
Florida's Pension Fund is so far behind that they want to pull a portion of their $113Bn out of bonds and the market and give the money to hedge funds (note to Florida - give me a call!) in hopes of stopping the bleeding.
California (do we really need a link or is just that word enough to scare you?)
The UK is announcing $45Bn of tax increases and budget cuts.
David Kotok estimates the BP oil spill will wipe out, permanently, 1M jobs in the Gulf Coast.
A dozen US WARships are entering the Persian Gulf (hey, why should we only have on Gulf disaster at a time)?
We have a pretty big data week with Existing Home Sales and the Housing Price Index tomorrow, New Home Sales and the Fed Rate Decision on Wednesday. Thursday gives us Durable good and the usual 450,000 layoffs and Friday we finish the week with Revised Q1 GDP and the Revised Michigan Sentiment for June.

On the earnings front we'll hear from:
Mon: SONC, SCS
Tues: CCL, CMC, GRB, JEF, WAG, ADBE, JBL, RHT
Weds: APP, KMX, RAD, BBBY, CKR, DRI, MLHR, NKE, PAYX
Thurs: CAG, DFS, LEN, MKC, ACN, FLOW, HRB, ORCL, PALM, RIMM
Friday: AZZ, KBH
I liked this one from SA's Stock Talks: Well, to quote Tony Hayward, he's "got his life back."--Rahm Emanuel on This Week after BP's (BP) CEO was seen Saturday watching a yacht race one day after being removed from day-to-day responsibility for the disaster.

We had expected a calm, flat week with a 200-point selloff and a recovery to last week's close, now we are looking at a 200-point open up and we'll have to see if that pops our levels or if we now selloff back to last week's close. I'm dubious that we can hold this as well as hopeful we won't because I'd hate to have to scramble my bearish bets so early in the month (from an options cycle perspective) but China is a good, fundamental reason for us to make a gain and we're sure not going to argue with the technicals!
By Phil
Philip R. Davis is a founder of Phil's Stock World (www.philstockworld.com), a stock and options trading site that teaches the art of options trading to newcomers and devises advanced strategies for expert traders. Mr. Davis is a serial entrepreneur, having founded software company Accu-Title, a real estate title insurance software solution, and is also the President of the Delphi Consulting Corp., an M&A consulting firm that helps large and small companies obtain funding and close deals. He was also the founder of Accu-Search, a property data corporation that was sold to DataTrace in 2004 and Personality Plus, a precursor to eHarmony.com. Phil was a former editor of a UMass/Amherst humor magazine and it shows in his writing -- which is filled with colorful commentary along with very specific ideas on stock option purchases (Phil rarely holds actual stocks). Visit: Phil's Stock World (www.philstockworld.com)
© 2010 Copyright PhilStockWorld - All Rights Reserved Disclaimer: The above is a matter of opinion provided for general information purposes only and is not intended as investment advice. Information and analysis above are derived from sources and utilising methods believed to be reliable, but we cannot accept responsibility for any losses you may incur as a result of this analysis. Individuals should consult with their personal financial advisors.
© 2005-2019 http://www.MarketOracle.co.uk - The Market Oracle is a FREE Daily Financial Markets Analysis & Forecasting online publication.

Only logged in users are allowed to post comments.
Register/ Log in