Stock Market Nasty Reversal!
Stock-Markets
/
Stock Markets 2010
Jun 22, 2010 - 02:28 AM GMT


The stock market indices suffered a very nasty reversal for Monday and closed not far off the session lows. Only a last 15-minute snapback rally brought the indices off the afternoon spike lows.
But damage was done, and the indices closed lower after a very sharp gap-up at the opening, with new rally highs reaching near 1940 on the Nasdaq 100 and 1131 on the S&P 500. At that point they rolled over in the morning in a 5-wave decline, stabilized midday, tried to bounce back, but when the rally failed at earlier resistance highs, the indices rolled over hard, spiking down in the last hour and a half to reach 1885 NDX and 1108 SPX. However, they did manage to bounce 10 points on the NDX and about 5 points on the SPX to close off the lows.
Net on the day, the Dow was down 8.23 at 10,442.41, closing 150 points off its high. The S&P 500 fell 4.31 to 1113.20, closing 18 points off its high, and the Nasdaq 100 was down 17.64 to 1895.84, about 45 points off its high and 10 points off its low.
Advance/declines moved into the negative column at a little less than 3 to 2 negative on New York Stock Exchange and more than 2 to 1 negative on Nasdaq. Up/down volume was 3 to 2 negative on New York with total volume of just over 1 billion. Nasdaq traded over 1.8 billion and had about a nearly 3 to 1 negative ratio.

Our Charts of the Day:
Today I'm going to talk about the Boxer Shorts list. We are going to review the entire list and give you a complete run down of what we're seeing and what they're looking like, particularly in light of the sharp break in the market today.
Aixtron Aktiengesellschaft (AIXG), which topped over a period of several months, broke down in May, snapped back to the declining topsline and lateral price resistance, but with very uninspiring and quite negative technicals. I'm looking for lower levels that get down around the bottom of the channel, down around 20.
Avon Products Inc. (AVP), which formed a big top over the course of the last 8 or 10 months, then broke hard in May, bounced again and made lower lows at the end of May. The snapback it had recently was on fairly uninspired technicals and low volume. As a result, the declining topsline, lateral price resistance, and moving averages were tested today, and this stock reversed negatively. I expect the possibility of a move down to retest the lows, maybe even lower, to test the bottom of the channel down around 24, or maybe even 23, my next trading target.
Beckman Coulter Inc. (BEC) is also in a downtrend, a solid down-channel after topping out over the course of August through March. It broke at the end of March, snapped back, made lower lows, bounced, and now is near the top of the channel. I expect this to roll over, too, as the technical indicators look quite negative. I would expect a test to roll over and at least retest the lows down around 55, perhaps even as low as 53.
Bio-Rad Laboratories, Inc. (BIO) with a big negative reversal in May, then bounced and then morphed into a declining channel, with recent snapback on uninspiring and negative technicals. It indicates to me this stock could go lower, at least to retest the lows, if not down to the low 80s. Beneath that it could do something in the mid 70s.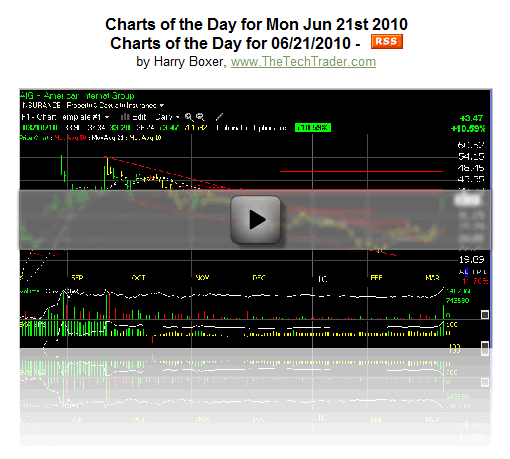 Reviewing our Watchboard:
As a result of the reversal, a lot of stocks on TheTechTrader.com board moved into the negative column after being sharply higher earlier, but several stocks managed to hold onto gains. The leader on our board was Baidu, Inc. (BIDU), up 2.27 at 77.36, which still was more than 2 points off its high earlier. American International Group, Inc. (AIG) managed to gain 85 cents at 38.76, and new portfolio position Research Frontiers Inc. (REFR) was up 55 cents at 4.25. Those were among the leading gainers.
Other than that there were just small fractional gainers.
On the downside there were just a few point-plus losses. Leading the way was Google down 11.47 at 488.57, Dendreon Corp. (DNDN) 1.72 at 36.83, OmniVision Technologies Inc. (OVTI) 1.09 at 22.31, and Cree Inc. (CREE) 1.43 at 67.78.
In addition, Apple Inc. (AAPL) reversed more than 10 points at one point, but closed down 3.90 after being as high as 279.00, a new all-time high, closing at 270.17. Amazon.com Inc. (AMZN) was down 3.28 at 122.55. Those were the point-plus losers.
Ultra-short ETF Direxion Daily Emrg Mkts Bear 3X Shares (EDZ) lost 2.19 to 40.12.
Stepping back and reviewing the hourly chart patterns, the indices gapped up sharply at the opening, hit new rally highs, and then rolled over steadily for the rest of the session, including a spike-down decline late in the day that was pared back only by a late 15-minute bounce into the close in what appeared to be short covering.
The rally may have aborted today and we're left to see if there's any downside extension going forward. We expect some negative action this week, but we'll see how far it extends.
Good trading!
Harry
For more of Harry Boxer, sign up for a FREE 15-Day Trial to his Real-Time Technical Trading Diary. Or sign up for a Free 30-Day Trial to his Top Charts of the Week service.
(c) 2010 AdviceTrade, Inc. All rights reserved. Distributed only by written permission of AdviceTrade and The Technical Trader at info@advicetrade.com . In using any portion of Harry Boxer's content, you agree to the terms and conditions governing the use of the service as described in our disclaimer at http://www.thetechtrader.com
Mr. Boxer's commentaries and index analysis represent his own opinions and should not be relied upon for purposes of effecting securities transactions or other investing strategies, nor should they be construed as an offer or solicitation of an offer to sell or buy any security. You should not interpret Mr. Boxer's opinions as constituting investment advice. Trades mentioned on the site are hypothetical, not actual, positions.
© 2005-2019 http://www.MarketOracle.co.uk - The Market Oracle is a FREE Daily Financial Markets Analysis & Forecasting online publication.

Only logged in users are allowed to post comments.
Register/ Log in