Stock Market Corporate Earnings Forecasts For 2011 Wariness
Stock-Markets
/
Corporate Earnings
Jul 15, 2010 - 11:23 AM GMT

Looking past the initial upbeat Q2 earnings reports, and discounting the optimistic $90+ S&P 500 operating earnings forecasts for 2011, we feel a nagging wariness about 2011 (just 6 months away).
That wariness is based on the enormous tax effect in January, along with the, by then, rising awareness of further tax hikes in subsequent years for national healthcare; and concern about the AMT capturing more families. Those are just federal taxes in the US, but state and local taxes are rising too; and tax rates are or must rise in other indebted countries as well. On top of all that is the backdrop of eventual stimulus withdrawal.
Those factors should weigh heavily on the economy and on stocks.
Readers of this article are information seekers. You probably know and have considered the implications of these changes, but most people, including most investors, are not information seekers and are not fully aware of these changes. They probably have not thought through the consequences. Most people, including most investors, are likely to react to taxation when it is implemented, not when it is announced. That human attribute, gives us pause about 2011. We don't think the full impact is yet discounted in stock prices. What will happen when everybody experiences the tax increases?
The tax changes will reduce the amount of disposable income, which will reduce that part of the economy driven by consumption. That is likely to be adverse to the stock market.
The dividends received will be taxed at 39.6% instead of 15%, taking a huge chunk out of the income of those dependent on stock dividends for living expenses, and reducing the incentive to own dividend paying stocks. That could put retired folks living off of dividends in a double whammy, because their net income from dividends would be reduced by about 30%, and their net interest from bonds would be reduced by about 9% (39.6% from 35%).
Illustration of Impact on Retirees
Our clients are mostly retired. They are not all old, but they are mostly no longer working and are relying on their assets to support their lifestyle. Therefore, we have particular concern about the impact of the new tax regime on that set of investors.
Let's consider retirees with various stock/bond allocations ranging from 60/40 to 20/80. We use the iShares investment grade corporate bond ETF (LQD) and the iShares select dividend stock fund (DVY) in this example (not a recommendation, just a simple illustration).
The tables below show the different allocations, the pre-tax trailing and SEC yields of the two funds and the blended portfolio income; and the after-tax result for the current 2010 federal tax regime and for the 2011 federal tax regime.
60% Stocks / 40% Bonds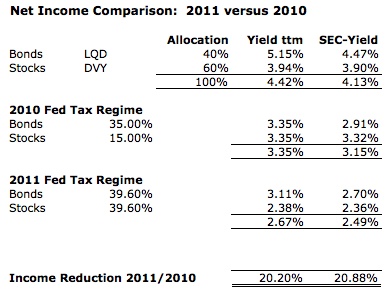 50% Stocks / 50% Bonds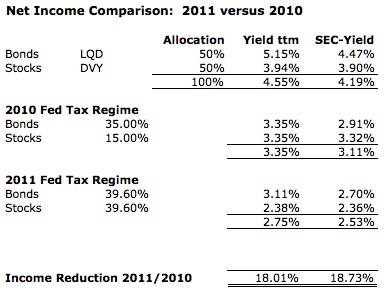 40% Stocks / 60% Bonds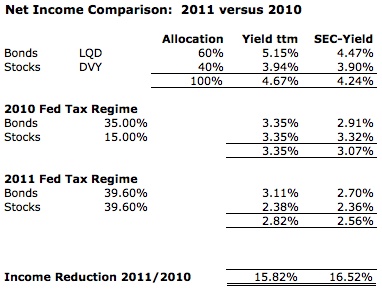 30% Stocks / 70% Bonds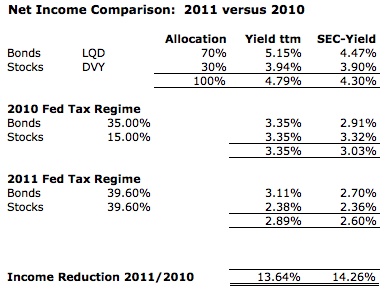 20% Stocks / 80% Bonds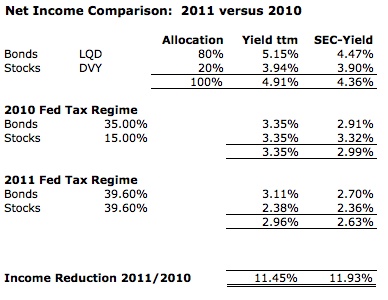 Social Impact
Retires would experience a 14% to 21% "pay cut" from their portfolios.
If the government announced a 14% to 21% Social Security pay cut (sounds like Greece to us), there would be geriatric riots in the streets -- wheelchairs and walkers being hurled at plastic shields of police barricades protecting IRS offices across the country.
Non-investor retirees living out of bank deposits have already been devastated by the massively lower bank account interest rates that are the by-product of rescuing banks (making their CEO's even wealthier). Now retirees who invest will be similarly devastated.
Combine a 14% to 21% pay cut with a 2%inflation rate, and you have the financial equivalent of the healthcare rationing that those same retirees will experience in the near future, while their house property taxes rise unabated as well.
With 2% CPI changes (lower than investor retirees are probably experiencing now), the purchasing power of savings is very much in danger.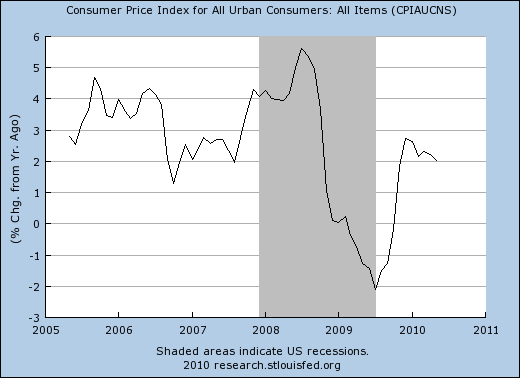 This is going to be a very difficult period for retirees. Retirees dependent on investment income may have a heavier burden to carry than many other demographic sectors in the new world unfolding around us.
Market Impact
Capital gains will be taxed at 20% (up from 15%), but dividends will be taxed at twice that level. Logically, that should reduce the appeal of owning low growth, high yield stocks, while favoring the appeal of high growth, low yield or no-yield stocks. That would cause major shifts in money flow between sectors and individual securities, and increase the volatility of portfolios (just the wrong thing for retirees who are drawing fixed amounts from their portfolios to live).
The increased capital gains tax of about 5% at the federal level (perhaps more in some state and local situations), may encourage many investors to sell their positions in 2010 ahead of the 2011 tax increase (and the possible to probable subsequent tax increases in the years beyond) to minimize ultimate taxes and avoid perceived risk to price levels in 2011. That should increase the risk of a year-end dip in market prices.
The 2011 end to the zero estate tax (rising to 55% federal tax) will increase government coffers, but be a drag on household spending and investment -- also a negative for 2011 stock prices.
While all that is happening in January 2011, the prospect of higher payroll taxes and investment taxes arising from national healthcare will loom. Questions about the dragnet of the AMT capturing more and more families will linger. Political motivation to eliminate the tax-exempt status of municipal bonds will likely increase.
We should be pleased with the positive signs of recovery that are here and there, but cautious about the impact of government taking a much bigger bite out of our incomes (investment income in particular) in 2011. It will hit us like a giant wall of water.
It's hard for us to see how these changes could be anything but negative for stocks in 4Q 2010 and 1Q2011.
Historical Gross Total Return Charts for Dividend Stocks and Investment Grade Bonds
For general perspective, here are total return (price plus yield) charts for the Dow Jones index tracked by DVY (shown in red), and for a Dow Jones investment grade corporate bond index that serves as a reasonable proxy for the bond index tracked by LQD (shown in blue).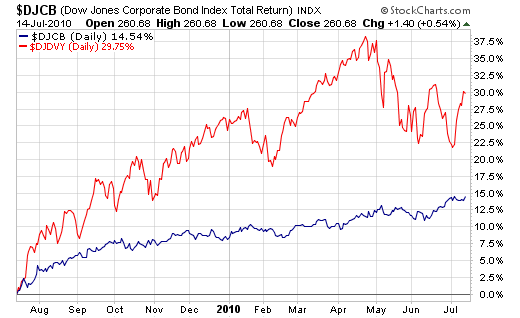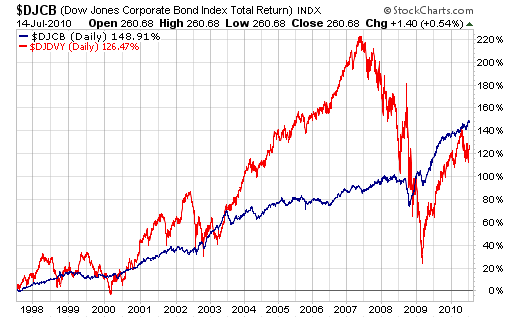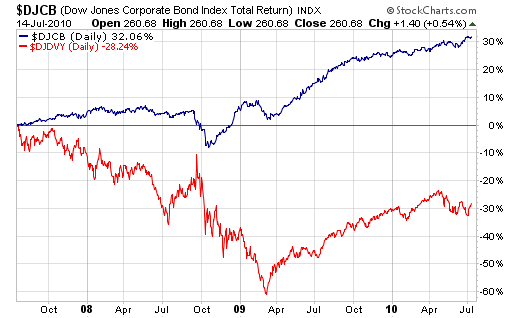 Holdings Disclosure: As of July 14, 2010, we own LQD in some managed portfolios. We do not own any other securities mentioned in this article in any managed accounts.
By Richard Shaw
http://www.qvmgroup.com
Richard Shaw leads the QVM team as President of QVM Group. Richard has extensive investment industry experience including serving on the board of directors of two large investment management companies, including Aberdeen Asset Management (listed London Stock Exchange) and as a charter investor and director of Lending Tree ( download short professional profile ). He provides portfolio design and management services to individual and corporate clients. He also edits the QVM investment blog. His writings are generally republished by SeekingAlpha and Reuters and are linked to sites such as Kiplinger and Yahoo Finance and other sites. He is a 1970 graduate of Dartmouth College.
Copyright 2006-2010 by QVM Group LLC All rights reserved.
Disclaimer: The above is a matter of opinion and is not intended as investment advice. Information and analysis above are derived from sources and utilizing methods believed reliable, but we cannot accept responsibility for any trading losses you may incur as a result of this analysis. Do your own due diligence.
© 2005-2019 http://www.MarketOracle.co.uk - The Market Oracle is a FREE Daily Financial Markets Analysis & Forecasting online publication.

Only logged in users are allowed to post comments.
Register/ Log in