It's a "Stock Picker's Market" in Junior Oil and Gas Market
Companies
/
Oil Companies
Jul 21, 2010 - 02:14 PM GMT


I recently wrote that junior energy stocks were trading like they had an incurable disease; nobody wants to touch them. But now several junior oil stocks are starting to show positive divergence, which means that the momentum of the downward selling pressure is getting less and less.

This is also called "momentum non confirmations", and so far my observations are focused on the short term charts on many of the junior oils; it's too early to tell on most of the longer term, weekly charts.
This means that, in the short term, the stocks are running out of momentum on the downside, and have started to show some signs of upward momentum. This is often a good indicator of a possible change in direction in share price. It also means that good news out of junior oil stocks should once again get recognized by the market.
Here are a few charts that illustrate my points:
WAVEFRONT Technology (WEE-TSXv)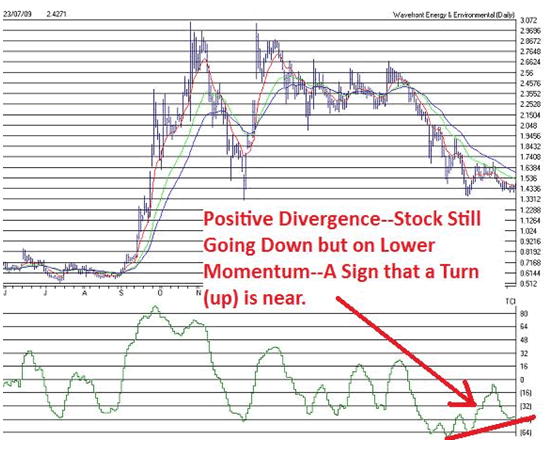 EQUAL ENERGY (EQU-TSX)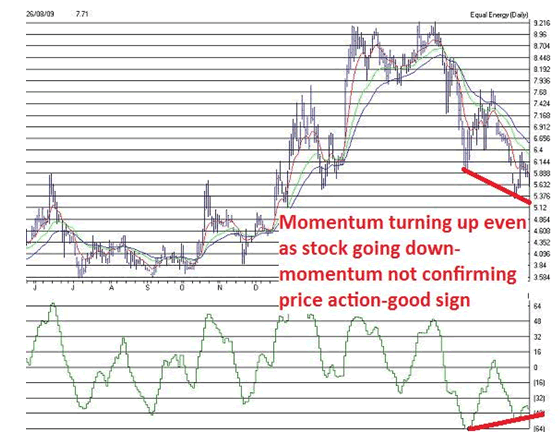 Some short term charts have completely turned, like Bellatrix (BXE-TSX)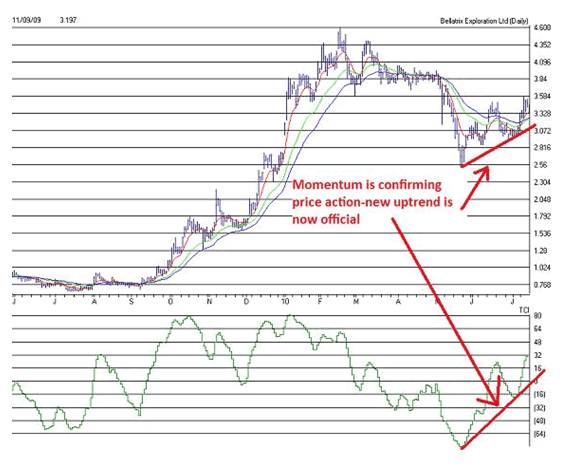 Now, here is one longer term chart that is showing good long term momentum improvement – the 3 year chart on the TSX Energy Index.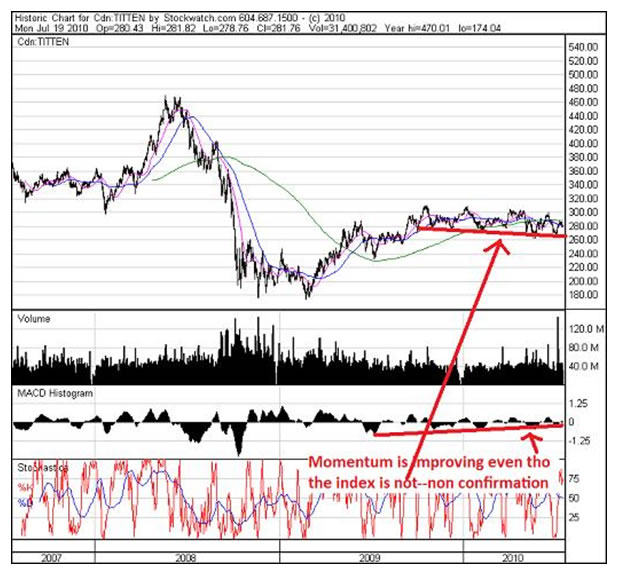 On many longer term charts, the intermediate indicators have now returned to neutral, or slightly oversold, and many have returned to their longer term moving averages. This is a good start, but more base building (prices trading within a certain range, like oil between $70-$90/bbl) may still be required.

Generally speaking, the longer the base, the larger and more sustainable the move up. This extended basing period would provide a larger base for these stocks to launch the next leg up. And of course this all assumes continuing solid fundamentals supporting these stocks such as strong oil prices and positive growth.

We may see another retest of the recent lows, although this isn't necessary for the technicals to turn positive. Like these charts show, it's more important now, in the mid part of a price consolidation, that the market starts to see higher highs and higher lows in momentum, and the prices will follow – if not move in tandem, as I showed on the Bellatrix chart.
But this is only happening on the short term charts. Because the intermediate indicators have not yet shown any signs of basing yet, these charts may back and fill a few times in the near term. Whether the news flow on oil prices and markets is good or bad will dictate how much more time is needed before prices begin another positive price trend.

And that brings up an important point.

You'll recall that after the significant price moves of 2009, price momentum was extremely overbought. And, as I mentioned, it's taken this long to return to slightly oversold on an interim basis.

So there could be a lot of work to do yet on these long term junior oil stock charts.

But that creates what I call a stockpicker's market; and I'll take that. That's where the educated investor can make superior returns, while the average oil and gas investor waits for a sustained uptick in the price of oil.

DISCLOSURE – I own Bellatrix and Equal.
Technology, by its very nature, creates change.
But there's one technology in particular that is causing massive changes in the oil and gas exploration industries.
Now…I can't give it all away right here. But rest assured – "—–ing" is a technology understood by very few.
But at the same time, "—–ing" is about to create explosive short-term profit opportunities for those investors who know where to look.
That's where I come in.
I'll tell you all about "—–ing" – yes, including the actual name – and how you can claim your share of the fortune that's about to be made.
I'm talking about more than a dozen triple-digit profit opportunities over the next 12 months.
Click here to learn more right now.
About Oil & Gas Investments Bulletin
Keith Schaefer, Editor and Publisher of Oil & Gas Investments Bulletin, writes on oil and natural gas markets - and stocks - in a simple, easy to read manner. He uses research reports and trade magazines, interviews industry experts and executives to identify trends in the oil and gas industry - and writes about them in a public blog. He then finds investments that make money based on that information. Company information is shared only with Oil & Gas Investments subscribers in the Bulletin - they see what he's buying, when he buys it, and why.
The Oil & Gas Investments Bulletin subscription service finds, researches and profiles growing oil and gas companies. The Oil and Gas Investments Bulletin is a completely independent service, written to build subscriber loyalty. Companies do not pay in any way to be profiled. For more information about the Bulletin or to subscribe, please visit: www.oilandgas-investments.com.
Legal Disclaimer: Under no circumstances should any Oil and Gas Investments Bulletin material be construed as an offering of securities or investment advice. Readers should consult with his/her professional investment advisor regarding investments in securities referred to herein. It is our opinion that junior public oil and gas companies should be evaluated as speculative investments. The companies on which we focus are typically smaller, early stage, oil and gas producers. Such companies by nature carry a high level of risk. Keith Schaefer is not a registered investment dealer or advisor. No statement or expression of opinion, or any other matter herein, directly or indirectly, is an offer to buy or sell the securities mentioned, or the giving of investment advice. Oil and Gas Investments is a commercial enterprise whose revenue is solely derived from subscription fees. It has been designed to serve as a research portal for subscribers, who must rely on themselves or their investment advisors in determining the suitability of any investment decisions they wish to make. Keith Schaefer does not receive fees directly or indirectly in connection with any comments or opinions expressed in his reports. He bases his investment decisions based on his research, and will state in each instance the shares held by him in each company. The copyright in all material on this site is held or used by permission by us. The contents of this site are provided for informational purposes only and may not, in any form or by any means, be copied or reproduced, summarized, distributed, modified, transmitted, revised or commercially exploited without our prior written permission.
© 2010, Oil & Gas Investments Bulletin
Contact Us:
Email: nichola@oilandgas-investments.com
Customer Service: 1-877-844-8606
www.oilandgas-investments.com
© 2005-2019 http://www.MarketOracle.co.uk - The Market Oracle is a FREE Daily Financial Markets Analysis & Forecasting online publication.

Only logged in users are allowed to post comments.
Register/ Log in