What Next for Gold?
Commodities
/
Gold & Silver
Sep 18, 2007 - 11:14 AM GMT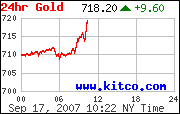 Looks like gold has finally passed the magic 700 an ounce number.
I am sitting at a coffee shop and I look at the counter and notice all the pasties and bread. I think…hmm…the bread of life. And guess what came to my mind. Yes, you guessed it. Gold is the bread and life of the financial world. Gotta have it!
I asked up at the top what happens next in the market. I always think long term, but I can be flexible and talk about the present. And what is special about the present? Gold is firming and the gold bull market is gathering more steam for a yet longer journey down the track. Is the US dollar continuing to sink? Read below and you decide.
"The U.S. dollar stumbled to a record low against the euro…" "Gold rose in Europe " Click
I see so many people walking the downtown streets and sidewalks of Greenville . Those on the ground floor all look oblivious to the world and even whatever crisis may be brewing in the newspaper. But surrounding the sidewalks, streets and coffee shops are 10 and 20 story banking buildings. Greenville has a large banking industry scattered among the downtown river and the homeless walking the streets below.
"Experts say that the gold price will keep rising in the international market for many reasons. First of all, it is because of the weaker greenback." Click
Through the course of the day I see the bankers from their high and lofty perches making sorties down below to catch the fresh air and to grab a fresh cup of coffee at one of the many coffee shops. Their faces look a little different from the common herd. There appears to be a greater look of worry written across their face. The stress level can also be observed via their body language. They remind me of lightening bugs trying to be inconspicuous in the twilight at the end of the day.
"UPDATE 4-Gold stays near 16-month high, dollar slide to help" "…a record low dollar and bullish sentiment might lift the metal towards last year's 26-year peak, analysts said." "A lot of gold's recent moves are dollar related…" "Gold is starting to perform more in its own right rather than being a source of cash and liquidity for people who were selling other assets such as equities, for example. I think it's perfectly possible for gold to hit $730 before the end of the year," he said." Click
These banking officials know the US dollar is dropping. These executives understand the longer term ramifications of the subprime disaster. But for the most part they keep these thoughts and discussions among their selves. Let the common man discover on his own that the bridge is out as he blindly plummets over the side and into the river in the middle of the night.
Do you remember the movie The Wizard of Oz? Remember the scene where Dorothy just touches down and makes contact with that little cute Munchkin Village ? Now try and get the gist of this. This big thing just came spinning out of the sky and landed on their town square. You think maybe one or two of these Munchkin creatures would have the nerve and curiosity to at least pop their heads out and see what this blasted thing is that just wrecked Central Park .
Well, it takes Billy Burke playing the good fairy to tell the little Munchkins to come out, come out where ever you are. And finally the little frightened oddities all came out of hiding.
Well, what I just described is what is happening in the gold market just now. Gold has come crashing through the magic 700 an ounce barrier and yet all gold's investors are hiding under their covers too frightened to come out and to witness this new great phenomena. "Can we come out now?' "Will we be hurt by this new higher price over 700?" "Were afraid!"
Our class structure has changed so much already that the haves and the have nots already sense and feel that impenetrable barrier that separates the rich from the poor. Notice I am not even including the Middle Class? That is because the middle class is quickly becoming an extinct species. Rich and poor. Those who are fighting from pay check to paycheck and those who are debating where to purchase their winter home. The Bahamas or Key West .
And you wonder why we dwell on gold and natural resource equities? Sure, there are those with enough money in their account whose major concern is wealth preservation. And there's nothing wrong with that. But what of the vast majority who would simply wish for a little wealth - period? He knows that will only come via speculation.
That is why these articles and essays are so important. Because if you are astute and serious minded you can make a lot of money in gold equities and natural resource stocks. Now, I'll tell you right up front that most won't make money because they have no buying strategy and zero selling strategy. But there will be a few with common sense who listen to others wisdom and take advantage of it. Just listening to masters such as Doug Casey could determine if you are going to be successful at making a buck or falling into a proverbial sink hole.
Where are we now? Literally and emotionally? I think most investors are tired and gold as well is momentarily tired. It has made the vast leap over 700 an ounce and its calves are sore. Well, we always try to listen to what the experts have to say. Puru Saxena has appeared on CNN, BBC World, CNBC, Bloomberg TV & Radio, NDTV, RTHK Radio 3 and writes for several newspapers and financial journals. I personally think this man knows what he is talking about. What does he say below?
Puru Saxena - "Precious metals are on the verge of a major rally within their ongoing bull-market. After consolidating since May 2006, both gold and silver spent the past 16 months building large bases and now it seems that the much anticipated advance has arrived." "Recently, we have added to our positions in precious metals on the belief that we could witness an explosive run-up over the coming months. Furthermore, from a sentiment perspective (with the majority of investors fearful and bearish), the current conditions seem ideal for the next advance in the ongoing secular bull-market in precious metals." Click
Gold Letter, Inc. reviews gold and other resource stocks under valued and poised to rise in this time of increased demand. Natural resources and related contrarian stocks will only escalate in value as the world continues to experience unprecedented population growth.
Gold Letter's 10 best performing stocks are up over 2,000% and GL's top 55 performing stocks are over 400%. Close to 90% of all Gold Letter's recommendations since inception in January, 2003 are close to 200%. GL charts are computer generated and updated every hour while markets are open. Click here to order Gold Letter
And one last plug for gold below!
"Gold has the upside potential to rally through the $800/ounce level if current imbalances in the global economy and the credit crunch became more severe. Chief executive of specialist precious metals analysts, GFMS, Paul Walker said today on the CNBC Power Lunch with Moneyweb/Mineweb that a gold price over $800/ounce was on the cards if the US sub-prime credit crisis diminished people's confidence in the US dollar and other investment asset classes. "If this unravels dramatically, then the metal at least has the potential to rally through this level" " Walker believes that global imbalances have manifested in the sub-prime crisis and is starting to show itself in the gold price now." "Investment demand for gold will rise in the second half of this year as GFMS believed the US was heading for a recession." Click
"The Worldwatch Institute, an organization that focuses on environmental, social and economic trends, says the current rate of global demand for resources is unsustainable." Click
Send me an email! Tell me what you personally feel about this subprime mess.
By David Vaughn
Gold Letter, Inc.
David4054@charter.net
The publisher and its affiliates, officers, directors and owner may actively trade in investments discussed in this newsletter. They may have positions in the securities recommended and may increase or decrease such positions without notice. The publisher is not a registered investment advisor. Subscribers should not view this publication as offering personalized legal, tax, accounting or investment-related advice. The news and editorial viewpoints, and other information on the investments discussed herein are obtained from sources deemed reliable, but their accuracy is not guaranteed. © Copyright 2007, Gold Letter Inc.
© 2005-2019 http://www.MarketOracle.co.uk - The Market Oracle is a FREE Daily Financial Markets Analysis & Forecasting online publication.

Only logged in users are allowed to post comments.
Register/ Log in