My Favourite Junior Oil Stocks Exposed – the David Pescod Interview
Companies
/
Oil Companies
Aug 19, 2010 - 01:26 PM GMT


This article is a transcript of an interview I did with Canaccord stockbroker David Pescod, one of the best stockpickers in the junior oilpatch I know. I started doing business with Dave in 1998, the middle of the "nuclear winter" of junior mining stocks, because I saw he was making good money in a bad market. I read his daily (and free) Late Edition newsletter every single day to hear what other analysts and executives are saying. He originally sent this article out in early August.
By David Pescod


Sometimes, timing is everything. But it certainly must have taken more than a little nerve to start an investment letter when it looked like the world was ending 18 months ago.

Keith Schaefer (who, like Scott Koyich) has played a big role in the investor relations business, should do quite well in this business where knowing everyone in the business counts…Keith is your basic social workaholic. It was time to catch up with Keith…

Dave: Keith, you've been writing your Oil and Gas Investments Bulletin for 18 months now. Your timing was great, as oil was $40 when you started. Now that oil seems to have found its level, where can investors make money?

Keith: You make money in the growth stories. And then you just watch the charts and buy them on a bad day, believing that the world is not ending – again.

Dave: Well, what growth stories do you like right now?
Keith: There's a few of them. One of my favourites right now is Second Wave Petroleum, symbol SCS on the TSX-V It trades just under $3. They have an oil discovery at Judy Creek in central West Alberta, where they have over 100 sections of land in the Pekisko formation, and can drill 4 wells per section. They are steadily proving out the whole field, and they're a great takeover candidate.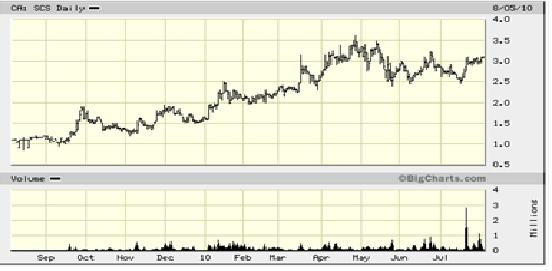 Dave: I own a bit but they're a bit expensive, aren't they?

Keith: Some growth is already factored into their share price, but that's true with most good growth stories – especially the oily names. It means they have strong market backing. You want that in this kind of slow market. Most analysts figure the Pekisko field alone could be worth $7 a share to them. And they have recently been able to more than double production from their wells with a new fracking technology. That hasn't been taken into account yet. And the big upside here is the deeper Beaverhill Lake formation.

Second Wave has almost 100 sections of it about 1000 metres underneath the Pekisko. This is the same formation that took Arcan from $1 – $5 per share this year. Arcan is getting 600 barrels per day of just light oil on some of their wells, just a few miles from Second Wave. Second Wave drills their first well into the Beaverhill Lake sometime in Q3.

If that well hits anything close to Arcan's production rates, I think the stock is a huge win. If it misses, analysts say the Pekisko alone could take the stock to $7. And the controlling shareholder wants to sell the company, so in my mind a buyout is very, very likely.

Dave: What about an international play?

Keith: Coastal Energy, symbol CEN is my favourite right now. It is rocketing production from 10,000 barrels per day to possibly 18,000 barrels a day in just six months, and the stock actually has a lower valuation per flowing barrel than it did a year ago. I think I'll be selling this stock for more than $10 a share.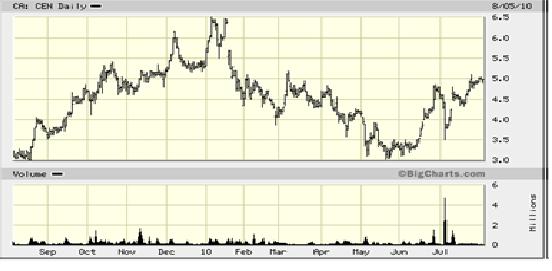 Dave: Two oily picks. What do you see for the price of oil this Christmas?

Keith: Higher – probably $85 – $90 a barrel. Oil use in the US is on the rise, despite their tepid economy. China's growth continues – that's a social phenomenon now that politics nor economics can reverse. Those people want energy and consumption. And investors forget that natural oil declines means millions of barrels a day have to get replaced each year.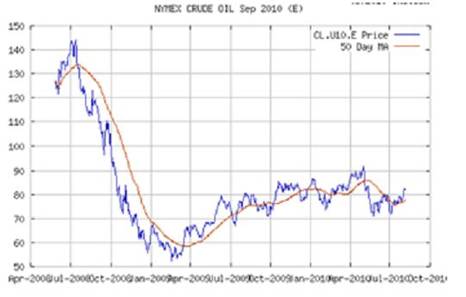 Dave: OK, that's oil, what about gas – where do you think the gas price will be in Christmas – and do you own any gas stocks?

Keith: I'm still bearish on gas, until I see a sign the US shale gas production starts to fall off. Canadian production has been ramping up lately, which is not a good sign. Majors are now hedging under $6 gas. But nearly every year there is a big trade in gas from September to January, so I'll say gas is $4.25 in Canada and $4.75 in the US at Christmas. I like the gas stories that have a lot of wet or liquid rich gas, or oil attached to them. Bellatrix and Vero Energy both have good wet gas ratios, improving the economics a lot on their gas production. And they both have their Cardium oil plays, which comes with no acquisition costs as they already owned the land before the Cardium was hot. I do have a list though for when gas prices turn.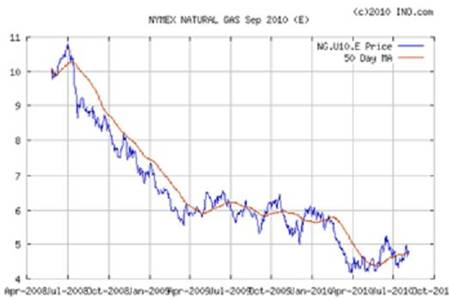 Dave: Tell us about your letter – how has it been going and where do you get most of your investment ideas for your newsletter?

Keith: The letter has taken off really well. Like you said, my timing was good last year and the portfolio has done really well, so that helped get me going. Subscriber feedback has been great – they really like the plain, simple English, and the portfolio results have been there.

Most of my ideas come from all the research reports I get each day. I sift through them early in the morning and see who is making discoveries, where the money flow is going. And a few of my subscribers work in the oil patch, so I'm starting to get some good ideas from them.

Dave: I do enjoy your writing style, and it's refreshing to hear someone speak English around oil and gas. Thank you for your time Keith!

Disclosure: Coastal Energy: Canaccord Genuity covers this stock and has a Speculative Buy rating on it. (Speculative buy: Stocks bear significantly higher risk that typically cannot be valued by normal fundamental criteria. Investments in the stock may result in material loss.)
"—-ing Will Change Everything"
Technology, by its very nature, creates change.
But there's one technology in particular that is causing massive changes in the oil and gas exploration industries.
Now…I can't give it all away right here. But rest assured – "—–ing" is a technology understood by very few.
But at the same time, "—–ing" is about to create explosive short-term profit opportunities for those investors who know where to look.
That's where I come in.
I'll tell you all about "—–ing" – yes, including the actual name – and how you can claim your share of the fortune that's about to be made.
I'm talking about no less than two dozen triple-digit profit opportunities over the next 12 months.
Click here to learn more right now.
About Oil & Gas Investments Bulletin
Keith Schaefer, Editor and Publisher of Oil & Gas Investments Bulletin, writes on oil and natural gas markets - and stocks - in a simple, easy to read manner. He uses research reports and trade magazines, interviews industry experts and executives to identify trends in the oil and gas industry - and writes about them in a public blog. He then finds investments that make money based on that information. Company information is shared only with Oil & Gas Investments subscribers in the Bulletin - they see what he's buying, when he buys it, and why.
The Oil & Gas Investments Bulletin subscription service finds, researches and profiles growing oil and gas companies. The Oil and Gas Investments Bulletin is a completely independent service, written to build subscriber loyalty. Companies do not pay in any way to be profiled. For more information about the Bulletin or to subscribe, please visit: www.oilandgas-investments.com.
Legal Disclaimer: Under no circumstances should any Oil and Gas Investments Bulletin material be construed as an offering of securities or investment advice. Readers should consult with his/her professional investment advisor regarding investments in securities referred to herein. It is our opinion that junior public oil and gas companies should be evaluated as speculative investments. The companies on which we focus are typically smaller, early stage, oil and gas producers. Such companies by nature carry a high level of risk. Keith Schaefer is not a registered investment dealer or advisor. No statement or expression of opinion, or any other matter herein, directly or indirectly, is an offer to buy or sell the securities mentioned, or the giving of investment advice. Oil and Gas Investments is a commercial enterprise whose revenue is solely derived from subscription fees. It has been designed to serve as a research portal for subscribers, who must rely on themselves or their investment advisors in determining the suitability of any investment decisions they wish to make. Keith Schaefer does not receive fees directly or indirectly in connection with any comments or opinions expressed in his reports. He bases his investment decisions based on his research, and will state in each instance the shares held by him in each company. The copyright in all material on this site is held or used by permission by us. The contents of this site are provided for informational purposes only and may not, in any form or by any means, be copied or reproduced, summarized, distributed, modified, transmitted, revised or commercially exploited without our prior written permission.
© 2010, Oil & Gas Investments Bulletin
Contact Us:
Email: nichola@oilandgas-investments.com


Customer Service: 1-877-844-8606
www.oilandgas-investments.com
© 2005-2019 http://www.MarketOracle.co.uk - The Market Oracle is a FREE Daily Financial Markets Analysis & Forecasting online publication.

Only logged in users are allowed to post comments.
Register/ Log in