Gold Push to New Highs Evaporates, Temporary Top
Commodities
/
Gold and Silver 2010
Sep 12, 2010 - 01:25 PM GMT


Tuesday there was hope gold would push into new highs but that seems to have evaporated for now. It looks like a temporary top so we will just have to wait a little longer for the next new high.
GOLD : LONG TERM
From the long term perspective we are still far from any reversal of trend. We could have short or intermediate term reversals but as far as the long term is concerned, it's quite solid right now.
Gold continues to trade well above its positive sloping long term moving average line. The long term momentum indicator remains well entrenched in its positive zone although it has just dropped below its still positive sloping trigger line. The volume indicator is just starting to turn downwards from its all time highs but remains above its positive trigger line. On the long term the rating remains BULLISH.
INTERMEDIATE TERM
On the intermediate term things are also still quite comfortable but getting close to some minor changes. Gold remains well above its positive moving average line. The momentum indicator remains in its positive zone although here too the indicator has dropped below its trigger line with the trigger just having turned to the down side. The volume indicator remains in a positive mode above its positive trigger line. All in all the intermediate term remains BULLISH but may be getting closer to some revision in the near future should the down trend continue. The rating is confirmed by the short term moving average line remaining well above the intermediate term line.
SHORT TERM
Things are a little more advanced toward a turn around in the short term charts. The most significant pattern is that of the Merv's Bearish Decelerating FAN Lines. The breaking of the second line is a reversal notification while the breaking of the third line is a reversal confirmation. So, according to my FAN Line criteria we are now confirmed in a short term reversal to the bear side. But let's see what the normal indicators are telling us.
We see negative divergences in both the short term momentum and Stochastic Oscillator. Although gold did not make a new high this past week it came pretty close to it. The momentum indicator was far from its previous high and its previous high was even lower than its prior high so we have a series of lower momentum readings as gold was making new highs (or almost new highs). This has been a continuing warning of a short term reversal ahead, ands that seems to be what we have going on this week. The Stochastic Oscillator, being a more aggressive indicator, has been showing a negative divergence these past two weeks as gold was moving into higher ground versus a few weeks back.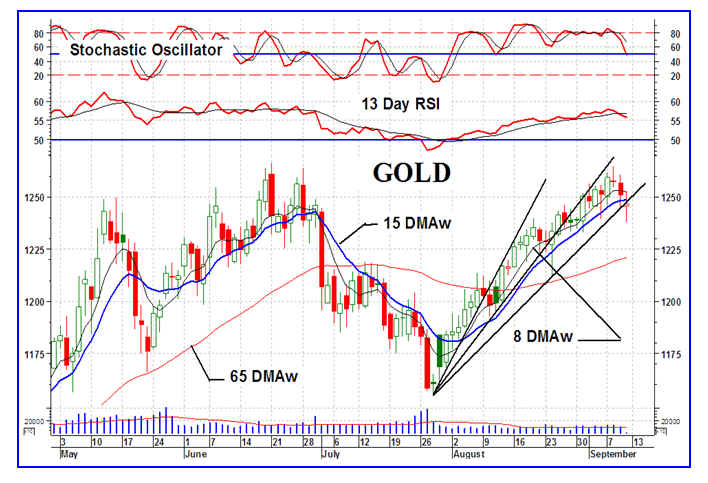 So, we have the warnings, now what are the indicators telling us as to where we are at the present time from a short term perspective.
Gold dropped below its short term moving average line on Friday, however, the line still has a slight positive slope. The short term momentum indicator is still in its positive zone but has now dropped below its trigger line and the trigger has just turned to the down side. The daily volume action remains low and has remained low during the two month bull move. The indicators have not yet turned bearish but have started the process. The rating is now + NEUTRAL, one step below a full bull. The very short term moving average line has turned downward but is still above the short term line for confirmation of the positive but not fully bullish rating.
As for the immediate direction of least resistance, that would be now to the down side. The breaking of the third FAN Trend line, the Stochastic Oscillator having entered its negative zone and the very short term moving average line turning downward all suggest the negative direction as the one in progress.
SILVER
If you look back at the P&F chart shown last week we had a resistance level that went back to 2008. That resistance was broken this past week but so far the price has not gone anywhere. It just might be due to the general malaise in the precious metals and will go away shortly. Although silver has not gained much ground after breaking through resistance it has not yet reversed its direction as far as the P&F chart is concerned. It does have the same daily action as gold and does look to be topping out temporarily. How far this topping will go is still to be determined. The technical indicators and ratings for silver are slightly better than those for gold but the final ratings for each time period remain the same, BULLISH, per the Table below.
Silver is still performing slightly better than gold recently although it did decline during the week very slightly more than gold. This performance hides the fact that there is a real disconnect between the higher "quality" silver stocks, those ten components of my Merv's Qual-Silver Index, and the more speculative silver stocks, those 25 components of my Merv's Spec-Silver Index. Since the bottom of 2008 the Qual-Silver Index gained 212% but is still below its previous early 2010 high and far below its 2008 high. The Spec-Silver Index gained 436% during the same period and is well into all time high territory. So, for those silver stock speculators who wish to profit from the silver moves, they should be looking at the more speculative silver stocks in general.
PRECIOUS METAL STOCKS
Earlier this week I had updated my Merv's Penny Arcade component list. As one can imagine, these stocks are very volatile and could have their day in short order and then disappear. This Index gets updated far more often than my other Indices for this reason. No use keeping gambling stocks in the list if they are no longer meeting the need for good gambling variety risks. When new stocks get included in the Index I try to have their initial price below the $0.25 level so as to give them plenty of room for upside moves. Percentage wise they could just as easily have large % moves on the down side (a move from $0.10 to $0.05 may only be a $0.05 move but it reflects a loss of 50%). Six stocks were replaced this past week giving the Index even more vigor. The chart this week reflects the Index performance since its bottom in late 2008 to the present. The Index is up 1174% since its bottom in late 2008. That represents an average performance of the 30 component stocks.
My one view of the performance of these penny stocks is that as long as the pennies are performing on the up side then speculators are interested in these stocks and that means that the speculators are still bullish on precious metals. The overall bull market in the precious metal stocks is still in good hands. When these speculators (those who can move prices) start to dump their pennies they are then showing their loss of interest in risk which would mean the general precious metal stocks are in trouble, or will be shortly ahead. For now that is not the case and all is still well for the precious metal stocks per this criteria.
This past week was generally weak as far as the stocks were concerned. All major North American Indices were lower by the Friday close while half of the Merv's Indices were on the up side. The overall universe of 160 stocks was ahead 0.6% while the gambling variety stocks, Merv's Penny Arcade Index, was ahead by 8.0%. The Merv's Gamb-Gold Index was ahead by 2.5% so it looks like the more speculative stocks were doing okay while the more "quality" issues were taking a breather. Although the speculative and gambling variety of stocks seem to be in favor right now one should not forget that the sentiment could change over night and one should maintain a consistent exit strategy to protect their capital.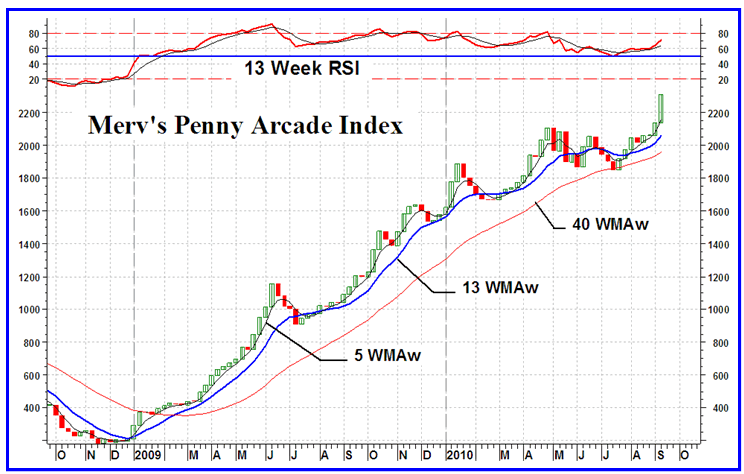 Merv's Precious Metals Indices Table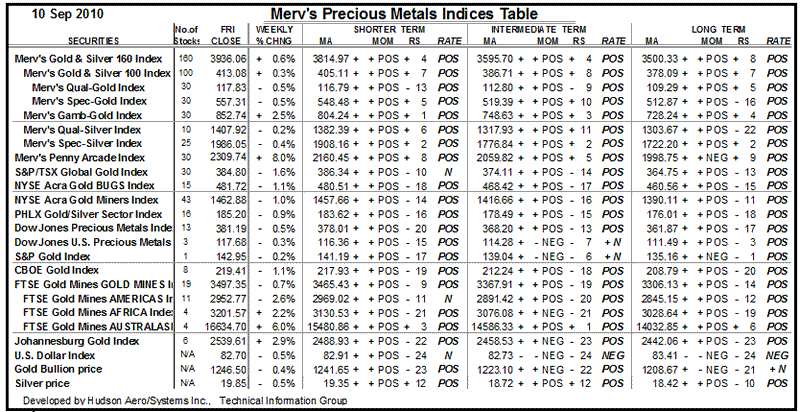 Well, that's it for another week.
By Merv Burak, CMT
Hudson Aero/Systems Inc.
Technical Information Group
for Merv's Precious Metals Central
For DAILY Uranium stock commentary and WEEKLY Uranium market update check out my new Technically Uranium with Merv blog at http://techuranium.blogspot.com .
During the day Merv practices his engineering profession as a Consulting Aerospace Engineer. Once the sun goes down and night descends upon the earth Merv dons his other hat as a Chartered Market Technician ( CMT ) and tries to decipher what's going on in the securities markets. As an underground surveyor in the gold mines of Canada 's Northwest Territories in his youth, Merv has a soft spot for the gold industry and has developed several Gold Indices reflecting different aspects of the industry. As a basically lazy individual Merv's driving focus is to KEEP IT SIMPLE .
To find out more about Merv's various Gold Indices and component stocks, please visit http://preciousmetalscentral.com . There you will find samples of the Indices and their component stocks plus other publications of interest to gold investors.
Before you invest, Always check your market timing with a Qualified Professional Market Technician
© 2005-2019 http://www.MarketOracle.co.uk - The Market Oracle is a FREE Daily Financial Markets Analysis & Forecasting online publication.

Only logged in users are allowed to post comments.
Register/ Log in