Blatant Price Capping of Precious Metals, The Silver Bullet
Commodities
/
Gold and Silver 2010
Sep 13, 2010 - 10:58 AM GMT

The blatant price capping of precious metals over the past few days while the larger equity complex was jammed higher with the help of the bureaucracy's price managers shows two things. First it shows how important gold and silver are in terms of being signals, where it was deemed necessary top hold them back. And second, we are at important resistance (which we will show below), where once exceeded, substantial gains should be expected in signaling another acceleration in quantitative easing (QE). Because that's exactly what needs to be done if our fiat masters, The Boys From Brazil, are to maintain the illusion. It's either that or settle the ongoing inflation / deflation debate with a collapse in asset prices and our fiat currency economy.
So by deduction then, one does not need be a 'rocket scientist' to figure our out that Da Boyz will need to let the inflation genie out of the bottle sooner than later in order to avoid catastrophe (loss of power), which should also involve precious metals breaking higher too in spite of efforts on their part to hide all this inflation. Of course allowing precious metals to burst higher from here would cause a different set of problems, potentially leading to a hyperinflationary episode, with a crash in credit markets at center. And once the credit markets are lost it's all over – all over for the ruling elite and bureaucracy – all over for the Fed. This is why price managers took the S&P 500 (SPX) down 15-points yesterday, because gold and silver wouldn't sell-off, so pressure was applied.
And this also naturally provides justification for taking the metals down after hours, because of the deflationary message provided by stocks yesterday. This is the routine pattern during the seasonally strong period for precious metals, where equities are taken down early in the week to contain gold, silver, and commodity prices, and then propped going into the weekends to encourage consumption and not panic the markets. So this week will be telling in terms of what to expect moving forward in that with precious metals prices so firm despite equity weakness yesterday and overnight, what this suggests is price managers will have to let stocks get creamed this week in order to quell demand for gold and silver.
Will the bureaucracy's price managers push for such an outcome? Not in front of Labor Day weekend in my opinion. With prospects for a deteriorating Employment Report on the surface in the market, in my opinion stocks are being taken down into month's end to lessen the impact of bad data and enable a 'jam job' on a 'better than expected' release. If this is true, then expect traditional pressuring of precious metals pricing until the Employment report is out of the way past the long weekend, but then, expect some catch-up assuming stocks do not collapse. As Gene Arenzberg ably points out in his latest, something changed in the silver market last week, and that something is the market sniffing out the eventuality of accelerating inflation possibly leading to hyperinflation under such conditions.
And remember, silver will lead when it's perceived inflation is accelerating, and gold in the alternative, which is why the Gold / Silver Ratio is threatening to break lower.
Why is this so important at this point? Answer: Because it's on the cusp of breaking down from significant (longer-term) structural support, where once falling, it should make a b-line for the 47 area. This is of course why the price managers are so blatantly sitting their fat asses on gold right now, because as in the reverse, when the focus is holding gold down (during slower monetary growth periods), silver is sat on more aggressively. But now, now that everybody knows QE must be accelerated, with the silver bullet threatening to break out like a rocket, which could potentially do enough damage to put the fractional reserve pricing mechanisms (COMEX and LBMA) in trouble, meaning they might default on physical deliveries, gold is being sat on aggressively in the hopes of affecting perception regarding its counterpart.
I don't know how long this act on the part of the Fed and company will last considering the physical constraints in the market, noting that gold was in backwardation for the latter part of last week and lease rates are pivoting higher, both providing evidence the physical market(s) is strained; however again, we might find out as early as this week. All we need to confirm a substantial and lasting move is beginning for precious metals is a break of indicted support on the Gold / Silver Ratio plot displayed below, where again, the silver bullet would lead gains against gold by a healthy margin (2 to 1) until it reaches an intermediate-term target in the 47 area. From there expect a bounce; however don't expect it to last as long as the last one off of 2008 lows. No – this time, as silver's monetary role in the larger economy / monetary system reasserts itself, expect the silver bullet to return to it's natural ratio to gold in the ground (and hence exploitation cost), that being under a ratio of 20. (See Figure 1)
Figure 1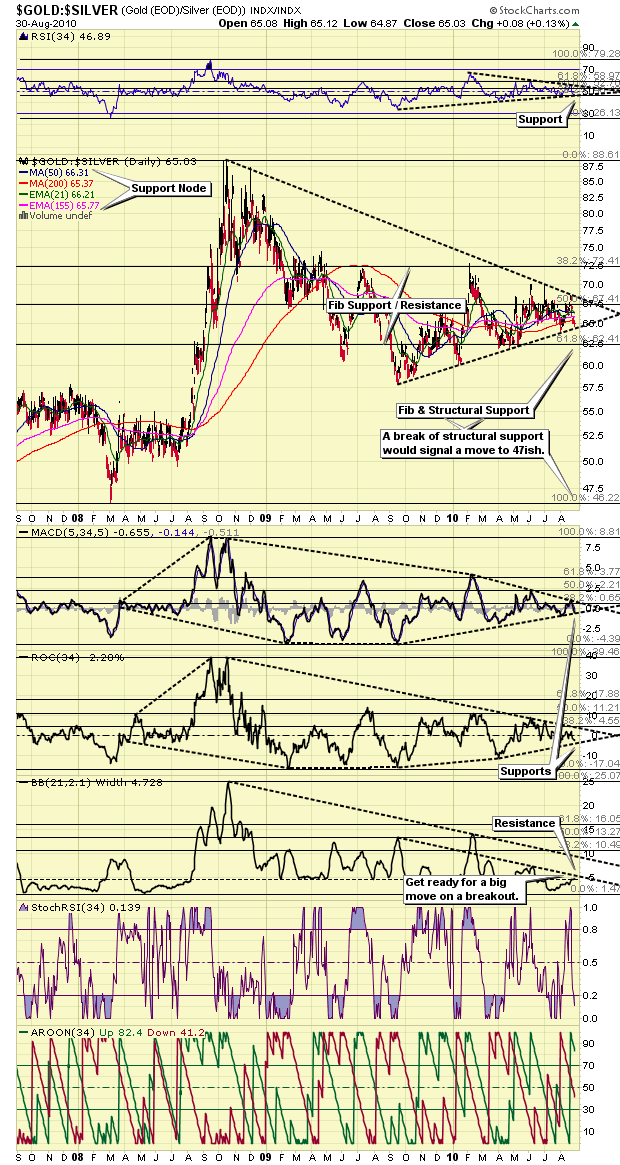 The demonetization of silver was initiated in Germany back in the 1880's and was fully adopted in the West with the removal of silver in US coinage beginning in 1965. Prior to that all US coinage held at minimum 80% silver content. Does this mean such a silver standard will return? No, unfortunately insufficient above ground silver stockpiles exist for such a system to be reintroduced, however for those who invest in silver bullion while it's still available the returns could be substantial simply as a result of speculation in this regard, never mind an actual silver standard ever being reintroduced. Instead, expect increasing varieties of commodities to act as currencies, aimed at wealth preservation, along with gold brought back into it's traditional role in anchoring new specie.
Unfortunately we cannot carry on past this point, as the remainder of this analysis is reserved for our subscribers. Of course if the above is the kind of analysis you are looking for this is easily remedied by visiting our web site to discover more about how our service can help you in not only this regard, but also in achieving your financial goals. As you will find, our recently reconstructed site includes such improvements as automated subscriptions, improvements to trend identifying / professionally annotated charts, to the more detailed quote pages exclusively designed for independent investors who like to stay on top of things. Here, in addition to improving our advisory service, our aim is to also provide a resource center, one where you have access to well presented 'key' information concerning the markets we cover.
And if you are interested in finding out more about how our advisory service would have kept you on the right side of the equity and precious metals markets these past years, please take some time to review a publicly available and extensive archive located here, where you will find our track record speaks for itself.
Naturally if you have any questions, comments, or criticisms regarding the above, please feel free to drop us a line. We very much enjoy hearing from you on these matters.
Good investing all.
By Captain Hook
http://www.treasurechestsinfo.com/
Treasure Chests is a market timing service specializing in value-based position trading in the precious metals and equity markets with an orientation geared to identifying intermediate-term swing trading opportunities. Specific opportunities are identified utilizing a combination of fundamental, technical, and inter-market analysis. This style of investing has proven very successful for wealthy and sophisticated investors, as it reduces risk and enhances returns when the methodology is applied effectively. Those interested in discovering more about how the strategies described above can enhance your wealth should visit our web site at Treasure Chests
Disclaimer: The above is a matter of opinion and is not intended as investment advice. Information and analysis above are derived from sources and utilizing methods believed reliable, but we cannot accept responsibility for any trading losses you may incur as a result of this analysis. Comments within the text should not be construed as specific recommendations to buy or sell securities. Individuals should consult with their broker and personal financial advisors before engaging in any trading activities, as we are not registered brokers or advisors. Certain statements included herein may constitute "forward-looking statements" with the meaning of certain securities legislative measures. Such forward-looking statements involve known and unknown risks, uncertainties and other factors that may cause the actual results, performance or achievements of the above mentioned companies, and / or industry results, to be materially different from any future results, performance or achievements expressed or implied by such forward-looking statements. Do your own due diligence.
Copyright © 2010 treasurechests.info Inc. All rights reserved.
Unless otherwise indicated, all materials on these pages are copyrighted by treasurechests.info Inc. No part of these pages, either text or image may be used for any purpose other than personal use. Therefore, reproduction, modification, storage in a retrieval system or retransmission, in any form or by any means, electronic, mechanical or otherwise, for reasons other than personal use, is strictly prohibited without prior written permission.
© 2005-2019 http://www.MarketOracle.co.uk - The Market Oracle is a FREE Daily Financial Markets Analysis & Forecasting online publication.

Only logged in users are allowed to post comments.
Register/ Log in