Investing In Gold Can Make You Rich!
Commodities
/
Gold & Silver
Sep 27, 2007 - 01:37 AM GMT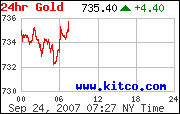 Gold is unstoppable. Hope you haven't sold your quality gold shares.
Well, gold is settling comfortably above 700 an ounce – what now? If you're stupid you'll be selling all your gold shares because you fear gold dropping back to 640. If you have any common sense you will notice this upward move is more than a short term rally.
Gold firmly over 700 – now what? First of all hold on to your quality gold mining shares. Do some house cleaning if necessary, but it is not the time yet to sell those companies with the best long term potential.
"Today, more than any before, its imperative that we open our minds and become aware that jobs are a system for income creation, not wealth creation." "What does it mean to be wealthy – I mean truly wealthy?" Burke Hedges
The time may be ripe to acquire additional mining shares that newsletter writers proclaim as under valued. As the sub prime mess grows and the US dollar continues to find new lows what additional fact is being discovered?
"Wealth is having enough money and enough time to do what you want, when you want." Burke Hedges
Gold continues to find its place in more and more professional portfolios. I say professional because they are discovering the need for gold investments before the common Joe or Jane on the street. Inflation is now a serious factor as never before.
"The only way to create true wealth is to leverage your time, money, and efforts so that 10 hours of work equals 100 hours of pay…or even a 1,000." "That's the way the rich get rich and stay rich…" Burke Hedges
Governmental and Federal Reserve policies are now guarantying that inflation will only grow and blossom as never before. And as inflation grows it takes tangible assets to rise, keep up with, and to climb higher than the curse of inflation. And gold, historically, is the best asset that makes money in the shadow of inflation. Do you want to beat the disease of inflation and even profit by it during the next few years? Then invest in gold mining companies.
"…the momentum is still calling the market higher," said Zachary Oxman, a senior trader at Wisdom Financial. "Gold is focusing on easier monetary policy, which will attract gold demand." "While consolidation is likely we believe gold will again reach $800-plus prices by year-end." "Gold prices will continue to draw support from the recent decline in the dollar to record lows, high oil prices and increasing concern about the health of the world's largest economy, O'Byrne said. Indeed, "given the dollar's continued losses and the strength in the energy sector, it looks as if gold will find further upside momentum in the coming sessions, potentially targeting $765 before more significant profit-taking is seen," said James Moore, analyst at TheBullionDesk.com , in a research note." Click
Gold and resource stocks, historically, have presented the highest rate of returns. Gold Letter, Inc. reviews gold and other resource stocks under valued and poised to rise in this time of increased demand. Natural resources and related contrarian stocks will only escalate in value as the world continues to experience unprecedented population growth. Gold Letter's 10 best performing stocks are up over 2,000% and GL's top 55 performing stocks are over 400%. Close to 90% of all Gold Letter's recommendations since inception in January, 2003 are close to 200%. GL charts are computer generated and updated every hour while markets are open.
Click here to order Gold Letter
Send me an email and your comments.
By David Vaughn
Gold Letter, Inc.
David4054@charter.net
"The Worldwatch Institute, an organization that focuses on environmental, social and economic trends, says the current rate of global demand for resources is unsustainable."
The publisher and its affiliates, officers, directors and owner may actively trade in investments discussed in this newsletter. They may have positions in the securities recommended and may increase or decrease such positions without notice. The publisher is not a registered investment advisor. Subscribers should not view this publication as offering personalized legal, tax, accounting or investment-related advice. The news and editorial viewpoints, and other information on the investments discussed herein are obtained from sources deemed reliable, but their accuracy is not guaranteed. © Copyright 2007, Gold Letter Inc.
© 2005-2019 http://www.MarketOracle.co.uk - The Market Oracle is a FREE Daily Financial Markets Analysis & Forecasting online publication.

Only logged in users are allowed to post comments.
Register/ Log in