Gold at the Foothills of a Market Mania
Commodities
/
Gold and Silver 2010
Oct 25, 2010 - 03:41 AM GMT


The connotation of "foothills" is a perfect way of stating precisely where we are at in the collapse of the US Dollar based global financial system and the return of the king, gold, as money. It is perfect because while we are certainly seeing a movement towards a mania, with gold hitting fresh all-time highs in US Dollar terms on almost a daily basis throughout September and much of October, we are still far from reaching the top of the mountain.
We have begun a) to enter into the mania stage but b) we are still a long away from reaching its peak. Here are arguments and proof for both statements.
Indications that the beginning of a Mania Has Started
We borrowed the following illustration (below) from Dr. John Paul Rodrigue of Hofstra University because we thought it gave an excellent depiction of the progression of most manias. It should be pointed out, however, that we don't necessarily see gold as being in a "typical bull market". What we believe we are witnessing is the return to gold as money after decades of suppression. However, we believe that the mania phase of this progression will transpire. The part of this graph that does not make sense in terms of gold is the part after the "New Paradigm" is reached.

It is our belief that once we reach the new paradigm, it actually will be the new paradigm. There will not be any denial nor "return to normal" because returning gold to functioning as money is in itself a return to normal. That is not to say that certainly gold will likely overshoot, by a great amount, its "true" value at the height of the collapse of the US Dollar based global financial system in terms of its value in comparison to other goods. And there will be a time when it will make sense to sell some or all of your gold in favor of other assets. But for our purposes lets use this chart to try to approximate where we currently are in the mania stage of gold.

In our opinion the "Stealth phase" was the phase between 2001-2004 when absolutely no one but a few, such as The Dollar Vigilante's all-star Senior Analyst, Ed Bugos, were pounding the tables to buy gold and gold stocks - but no one listened.

For those that have been invested in this sector since 2004, you will recognize the period from 2004-2009 as being the awareness phase. Many junior precious metals stocks, such as Osisko Mining (T.OSK) and literally hundreds of others were all of a sudden going from $0.25 to $5 and doing massive $50 million+ financings with savvy institutional investors.

And, for those of you who lived through the brutal sell-off of 2008, you will recognize that as being the "first sell off / bear trap" on the chart below.

And that brings us to August of 2010, which began the very first baby-steps into the mania phase. You can see all the signs of it around us now. Gold is mentioned more and more in the media and it has begun to start making all-time highs on a regular basis.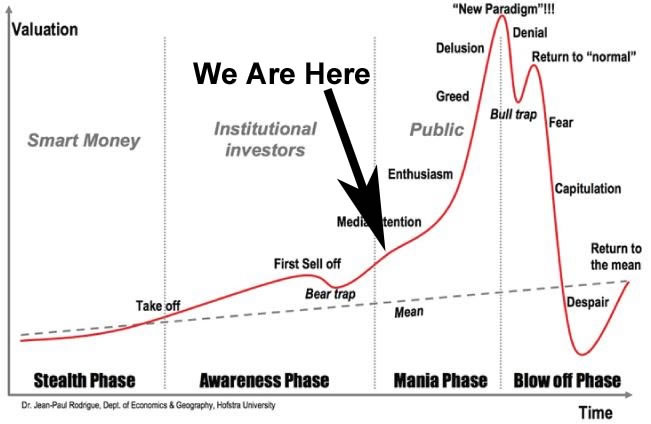 The dumb money, governments and central banks, are finally starting to catch on to what is happening. The central bank of Bangladesh bought 10 metric tonnes of gold from the IMF last month. This is on top of 212 tons of gold the IMF sold last year to the Reserve Bank of India, the Bank of Mauritius, and the central bank of Sri Lanka. And Saudi Arabia, Russia and the Philippines have recently announced big additions to their gold reserves.

Even Jim Cramer now likes gold. If that isn't proof we have begun the mania phase we don't know what is.
Gold No Where Near Peak
But how can we be sure that we aren't very close to the peak in the precious metals market? Nothing is certain in life but there are numerous indications that we are still early on in the mania phase.
First, Nick Laird who runs the superb gold-data website, Sharelynx.com, and is a subscriber to The Dollar Vigilante, gave us permission to use a chart he put together comparing gold & silver at its current levels to 50 historical bubbles.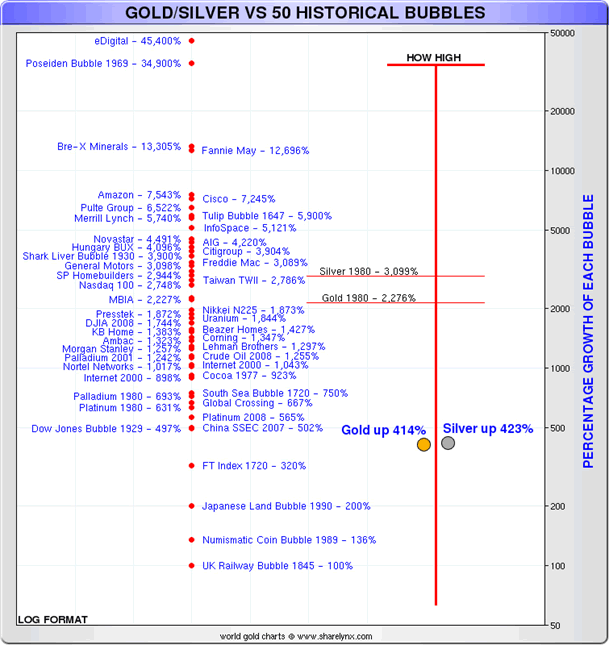 As you can see, if we are near the top then this was one of the most disappointing bull markets in bubble history! In fact, just to match the gold & silver bull market of the early 1980s gold would have to quadruple in price from here to $5,200 per ounce. And we think this bull market will be much stronger than the 1980 bull market.
What Will "The End" of the Bull Market Look Like?
We dug up a copy of the front page of Canada's Globe & Mail Newspaper from January 4th 1980. You can view it here. This is what the end of the last bull market in gold looked like. The news story features countless stories of line-ups starting very early in the morning with many people even admitting to having called in sick to work just to line up to try to buy gold coins. And from Toronto to London to Paris they were all sold out and there was an "absence of sellers."

That is what the end of a mania looks like.

Now, take a look at this headline from the Calgary Herald on September 14th. "Calgarians Rush to SELL Gold After Record High Hit". They were lining up to sell gold! Nothing could make us feel more content in our position on gold than headlines such as this. When we start seeing headlines that Calgarians are lining up to buy gold, then we may start to look around for an exit. But it's obvious we are a long way from that.
Gold Slowly Returning As Money
There are almost daily stories now from around the world of small movements towards using gold & silver once again as money.

In Mayalysia, gold Dinar and silver Dirham coins were introduced in early August by an opposition Islamic political party. Umar Ibrahim Vadillo, an officer with Kelantan Golden Trade, revealed that the first batch of gold and silver coins worth two million Ringgit (US$625k) were sold out in less than a month. The response apparently has been enormous in Malaysia. In Kelantan, businesses from garage owners and taxi drivers are using the gold and silver coins. Even civil servants in Kelantan are paid up to 25% of their salary in Dinars and Dirhams, if desired.

As well, in neighboring Indonesia, we featured a video in a blog posting entitled, "Indonesians Get It" where it shows that slowly gold Dinar and silver Dirham are returning to circulation in that large muslim country.

Even in Michigan this news story, "Competing Currency Being Accepted Across Mid-Michigan" shows gold, silver and even copper have begun to slowly be used as money. Notice, however, how the American article treats gold & silver as being a possible "novelty" and make ridiculous statements such as this when referring to gold & silver coins, "They sound like real money and look like real money."

Sadly, Americans have been so repressed, even having private gold ownership outlawed for a good portion of the 20th century that they are much slower than the Malaysians, Indonesians, Chinese and others to even realize what is "real money" anymore.
Subscribe to The Dollar Vigilante to keep abreast of all aspects of the ongoing US dollar financial system collapse and how to protect and grow your assets during this time of great turmoil.
The Dollar Vigilante is a free-market financial newsletter focused on covering all aspects of the ongoing financial collapse. The newsletter has news, information and analysis on investments for safety and for profit during the collapse including investments in gold, silver, energy and agriculture commodities and publicly traded stocks. As well, the newsletter covers other aspects including expatriation, both financially and physically and news and info on health, safety and other ways to survive the coming collapse of the US Dollar safely and comfortably. The Dollar Vigilante offers a free newsletter at
DollarVigilante.com
.
© 2010 Copyright Jeff Berwick - All Rights Reserved

Disclaimer: The above is a matter of opinion provided for general information purposes only and is not intended as investment advice. Information and analysis above are derived from sources and utilising methods believed to be reliable, but we cannot accept responsibility for any losses you may incur as a result of this analysis. Individuals should consult with their personal financial advisors.
© 2005-2019 http://www.MarketOracle.co.uk - The Market Oracle is a FREE Daily Financial Markets Analysis & Forecasting online publication.

Only logged in users are allowed to post comments.
Register/ Log in