Gold Tertiary Trend Headed Higher as Gold Consolidates at Higher Levels
Commodities
/
Gold and Silver 2011
Dec 28, 2010 - 10:17 AM GMT

I have been watching recent developments around the world with considerable interest. There are renewed riots in Greece, new demonstrations in Italy, a growing divide between citizens and government in Ireland while tensions in Spain and Portugal increase daily. Also there are new developments in Belgium, Hungary and Poland as the debt disease spreads its own deadly version of the famous "green shuts" that have yet to materialize in the United States.
When the debt crisis first broke out, and that's what it is, a debt crisis, people generally didn't pay much attention to it. They assumed that it would be "handled" just like the Mexican, Asian, Russian and 9/11 crises that came before. That's no longer the case. With each passing bailout, now called quantitative easing, it becomes more apparent that this is the crisis that will not go away. Massive injections of capital are not reaching the man on the street and he has become irritated. That irritation is now manifesting itself as civil disobedience, and you'd better get used to it because you're going to see a lot more of it.
We'll never know how much has been spent to date because we are on a need to know bases and the US Federal Reserve Chairman, Ben Bernanke, has already said we don't need to know. What's more he went on CBS's "60 Minutes" and said he wasn't printing money so that speaks volumes as to the Fed's mindset and where you fit into the food chain. Here is a chart of the US money supply and the vertical lift-off you see on the right hand side is Mr. Bernanke's handiwork: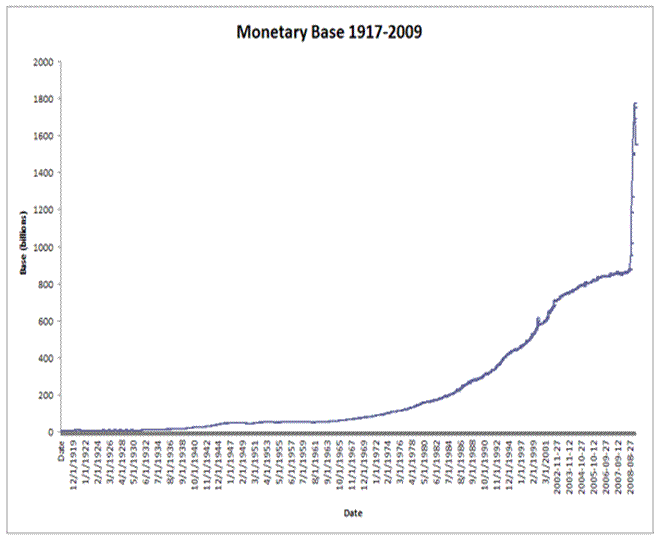 I have read estimates that put QE1, and we have to number them now, at US $2 trillion while QE2 is supposed to total US $ 1 trillion. Just to cover all the bases, the idea of a QE3 and QE4 has already been run up the flagpole.
The rest of the world is not quite as gullible as we are so they've accelerated their exit from the US dollar as you can see below: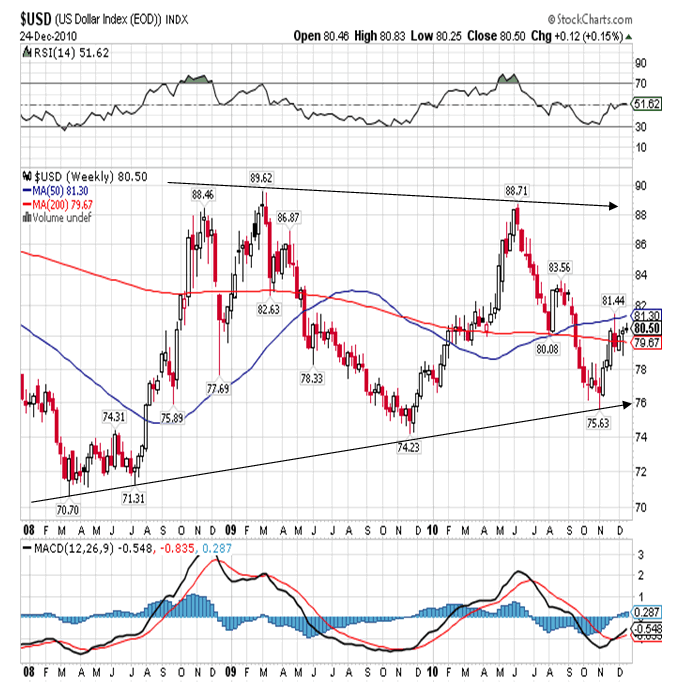 You can see that the dollar has worked its way lower since the May highs when it was first announced that quantitative easing would become a part of our future. Strangely enough the dollar has received some support from a declining Euro as they decided to jump onto the printing bandwagon. As a result there have been very few fiat winners, but the one that sticks out is the Swiss Franc: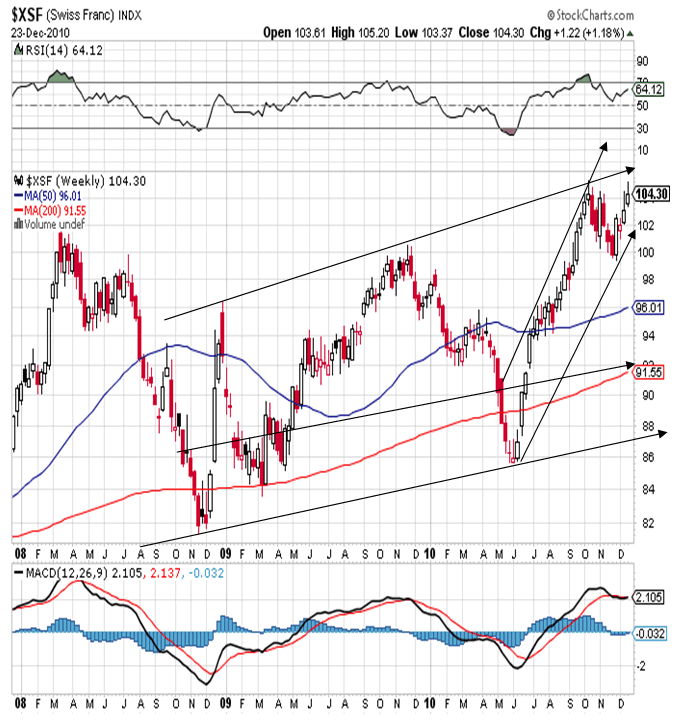 What's more the Swiss Franc is not only rising against the US dollar, it's rising against every major currency in the world. Why is that? The Swiss Franc is as always a flight to safety!
For those of you who don't follow the markets all that closely, there is something even better than the Swiss Franc. Thanks to Asia in general and China in particular, we are living a transformation from a fixation on paper assets to a preference for tangible assets, and there is nothing more tangible than gold! The yellow metal has been on a run for eleven years and yet your neighbors don't even know it exists. Your neighbors also don't know that gold is the most manipulated market on the planet earth, but that hasn't stopped the yellow metal from grinding higher over the last year as you can see here: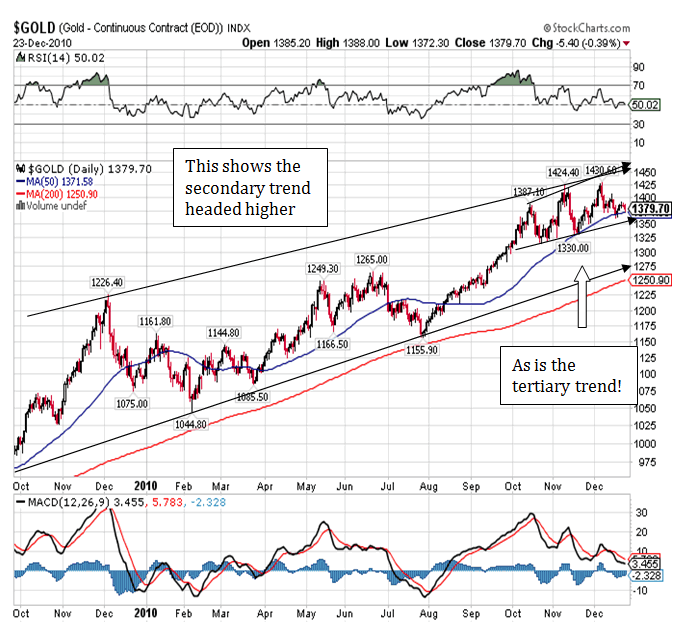 Gold has been on the move higher since October 2009 as the secondary trend confirms above and we have the tertiary trend headed higher as it consolidates at higher levels. If you're long gold, and I am, you have to see this consolidation as a bullish development. Right now gold is holding above the last rung of what was critical resistance, and now support, at 1,372.80 and has put in a series of higher highs and higher lows in the process. I am convinced that all of this is in preparation for a move up to and through the next level of critical resistance at 1,447.50 and we will see that this month. Finally, I don't think gold will stop there either.
Lately gold has been receiving a lot of support from the HUI as well as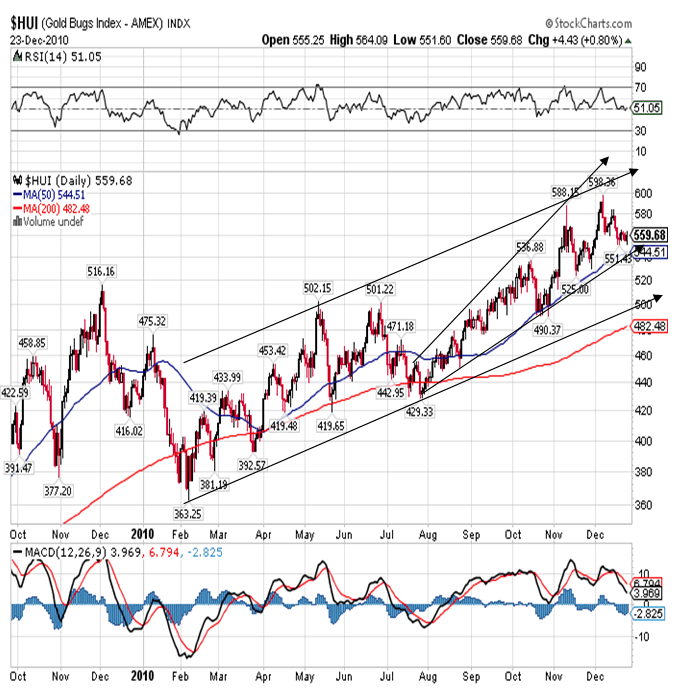 from the silver market, and in particular the HUI has been quite reluctant to give up any ground. Its tertiary trend is actually much stronger than that of physical gold and that tells me we have a lot more upside to go. As far as resistance is concerned the HUI will encounter stiff Fibonacci resistance at 580.22 and then nothing until it hits 640.76. Below I have posted the major Fibonacci support/resistance levels for gold, the HUI and silver so you can follow along: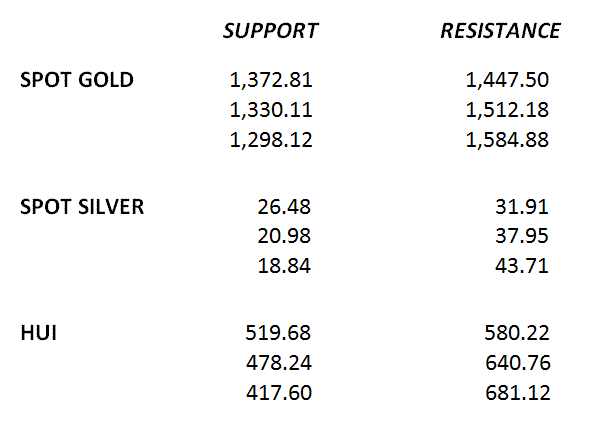 Finally I want to close with a few comments on what constitutes a bull market. With respect to gold the yellow metal is about to post its eleventh consecutive year of gains and that is significant time wise. That makes this a major bull move and we know they come in three phases:
• The first phase is where the so-called smart money takes a position and that occurred from US $252.00 to US $485.00.
• The second phase is where institutions jump in and take a position and that phase is still going on today.
• The third phase is where the general public jumps into the fray and drives the price up almost vertically to levels almost no one thought possible.
In spite of the fact that all major bull markets experience a third phase, you still have well-known analysts trying to call an end to the bull market in gold. They should know better and you have to wonder just what or who motivates them.
I am convinced we will see a third phase and prices will rise to levels not thought possible, but that will more than likely occur after the next significant reaction. When will the next reaction occur? All I can do is guess and my best guess is that gold will run out of steam some-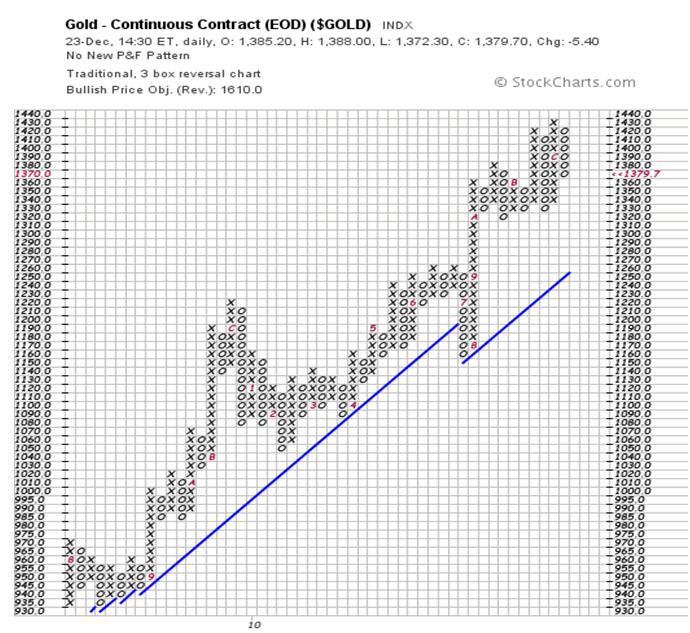 where between $1,500.00 and $1,600.00 and as support I offer gold's Point & Figure chart with its bullish price target of $1,610.00. I would be willing to bet on it, but I would not bet against it under any circumstances. The reason I would never bet against it goes back to the quote that opens this article. Right now we have politics without principles, pleasures without conscience, wealth without work, knowledge without character and industry without morality. I can't speak about science without humanity or worship without sacrifice because I am not a scientist or a particularly religious man. This combination produces an atmosphere tailor made for gold!


Anthony J. Stills
analyst@theablespeculator.com
© 2010 Copyright Anthony J. Stills - All Rights Reserved
Disclaimer: The above is a matter of opinion provided for general information purposes only and is not intended as investment advice. Information and analysis above are derived from sources and utilising methods believed to be reliable, but we cannot accept responsibility for any losses you may incur as a result of this analysis. Individuals should consult with their personal financial advisors.
© 2005-2019 http://www.MarketOracle.co.uk - The Market Oracle is a FREE Daily Financial Markets Analysis & Forecasting online publication.

Only logged in users are allowed to post comments.
Register/ Log in