OIl Targets $100 As Clashes Between Turkey and PKK Continue and Gold Remains a Safehaven
Commodities
/
Gold & Silver
Oct 22, 2007 - 03:56 PM GMT

Gold
Gold was down 30 cents in New York on Friday from $763.90 to $763.60 but rose 1.9% for the week. It moved sharply higher when it opened in Asia this morning, trading as high as $768.10 before selling off in volatile trade. It was trading at $756.00/ 756.50 at 1200 GMT.

The euro hit a new record high of $1.4350 in early Asian trade on Monday as the dollar stayed under selling pressure on concerns over the slowing U.S. economy, while G7 officials ended a weekend meeting without offering verbal support for the battered U.S. currency. Caterpillar's cutting its profit forecast and warning on the state of the U.S. economy and assertion that it will be "near to, or even in, recession" next year shows how the credit and housing crisis is beginning to affect the U.S. economy seriously. This may lead the Federal Reserve to cutting interest rates again this year, putting the dollar under even more pressure and boosting the appeal of gold as safe haven asset.

Oil prices remain near elevated levels and the increasing tension between Iraqi Kurdistan and Turkey (the crisis escalated with clashes and fatalities between Turkey and the Kurdish PKK rebels) and another kidnapping of oil workers in Nigeria should further bolster prices. The Wall Street Journal reports that there is increasing speculation that oil will reach $100 a barrel. Oil prices are more likely to head toward $100 than $80 in the next month, according to the number of bets placed by options traders on the New York Mercantile Exchange. The large number of options held to buy crude at $100 a barrel could also act as a pull on prices toward that level.

Uncertainty and falling stock markets will lead to further increased risk aversion and safe haven demand for gold.

There is a relatively light economic calendar. There are no data releases scheduled for today in the U.S. or in any of the major economies. The most important data to be released this week is the new home sales data on Thursday that will give further indications as to the severity of the U.S. housing decline.

• Bloomberg's weekly survey of gold traders showed that traders, investors and analysts believe gold will continue to rally. Twenty of 29 traders, investors and analysts surveyed from Sydney to Chicago on Oct. 18 and Oct. 19 advised buying gold. One said to sell, and eight were neutral. A majority of analysts surveyed Oct. 11 and Oct. 12 anticipated last week's gain. The survey has accurately forecast the direction of prices in 112 of 182 weeks, or 62 percent.

• China Business News reports that China's consumption and imports of gold is to continue increasing. Zhang Weixing, an industry expert said gold in the Chinese market will be scarce next year due to investment and collection fever. Zhang predicted the general civil gold reserve has reached 4,000 tons, while reserves at People's Bank of China total about 600 tons.

"Average gold consumption in China is still much lower than international levels, although consumption has increased from 0.16 grams in 2002 to the current 0.35 grams," said Zhang. Zhang said the price of gold has been pushed higher by a weakened U.S. dollar, geopolitical concerns, and record high price. In China, more people are shifting to buying gold products on news of rising CPI and stock fever. Huang Hanju, president of Xihanzhi Gold Co Ltd, said the rising gold price provides a stable investment channel for ordinary people.

With their legendary affinity for gold, a display of hard-earned riches or a hedge against harder times, China's new, wealthier consumers are affecting international prices for the precious metal.

International companies surveying the massive, relatively untouched consumer market can resist dreaming of the possible gains if everyone in China buys just one of their product line. Jewellery companies are salivating at the thoughts of selling billions of gold necklaces, rings etc. Gold, mostly transformed into jewellery, is one of the few items almost all Chinese will purchase if they can afford to. With annual inflation exceeding 20 percent in China's major cities, concerns of currency depreciation lingering, and few investment alternatives available to the man in the street, gold does not require much marketing. Especially in this auspicious year of the Golden Pig. The year of the Golden Pig is deemed to be auspicious for marriages, births and gold purchases.

Many smart investors, including Mr. Marc Faber, believe that investing in gold is an interesting and secure way for investors to play China. "If people are truly bullish on China's opening and its development into the world's largest economy, gold is a good play". The Swiss financier who predicted the Wall Street Crash in 1987 and founder and managing director of Hong Kong-based Marc Faber Ltd, editor and publisher of the "Gloom, Boom & Doom Report," has said. "When China reaches a level where consumption hits 2 grams per head, it will take up the world's total annual production today."

China's appetite for gold continues to increase. According to the China Gold Association, China became the third biggest consumer of gold in the world earlier this year. However, the per capita lifetime gold consumption in China is a lowly 0.2 grams. That is only 20% of India's 1 gram per capita consumption. Middle Eastern per capita consumption is even higher and United Arab Emirates demand alone is 30 grams or 150 times that of China. The increased demand for gold from China in the coming years is likely to lead to higher gold prices.

• The FT reports that poor quarterly results from banks across the U.S. over the past two weeks suggest credit problems once confined to high-risk mortgage borrowers are spreading across the consumer landscape, posing new risks to the economy and weighing heavily on the markets. U.S. banks have raised reserves for loan losses by at least $6bn over the second quarter and by even larger amounts from last year, indicating financial executives believe consumers will be increasingly unable to make payments on a variety of loans. Banks are adding to reserves not just for defaults on mortgages, but also on home equity loans, car loans and credit cards.

• The New York Times reports that for all the pain in the mortgage market, investors who hold bonds backed by risky home loans have continued to receive their monthly interest payments — until now. Collateralized debt obligations — made up of bonds backed by thousands of subprime home loans — are starting to shut off cash payments to investors in lower-rated bonds as credit-rating agencies downgrade the securities they own, according to analysts and industry executives. Cutting off the cash flow, which is governed by rules and mathematical formulas that vary by security, is expected to accelerate in the months ahead. Such a cut-off would be the latest blow to financial markets as investors try to anticipate the next problem that might shake confidence.

• Gold's Performance as a Safe Haven Asset
There was a lot of misguided and uninformed comment in the early stages of the credit crunch when gold fell in price briefly along with global stock markets. At the time we pointed out that this was a knee jerk short term phenomenon and that gold would reassert its safe haven credentials over the medium and long term. It has done just that and is now up by more than 15% since the start of the credit crisis and 27% since the start of the year.

An example of gold's historic role as a safe haven asset is seen in the table above. The industry performance of Physical Gold Versus the S&P 500 during eleven stock market declines of 15% or more in the Post-War period (since 1946).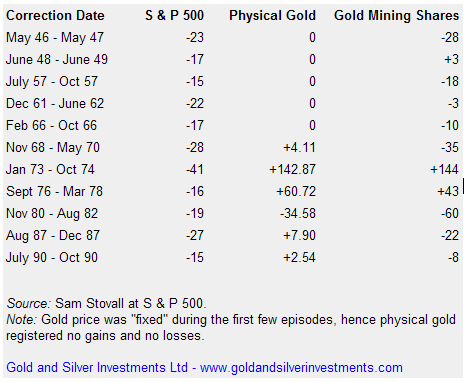 Forex and Gold
The USD fell to new lows against the euro (1.435) and is trading at 1.428 and 2.042 against the EUR and the GBP respectively.

The U.S. Dollar Index also fell to new record lows this morning at 77.093. It has since bounced somewhat and is up to 77.398. Support is now at today's all time record low at 77.093. Previous support has been breached and the dollar will likely fall to the psychological level of 75.00. At some stage selling may become more aggressive as sellers rush for the exits causing a run on the currency. This possibility is not as outlandish as more sanguine analysts might assume, especially after the appalling Treasury report last week.

Silver
Spot silver was trading at $13.31/13.33 (1200 GMT).

PGMs
Platinum was trading at $1426/1431 (1200 GMT).
Platinum should remain elevated due to the continuing concerns regarding supplies from South Africa and continuing strong global demand.
Spot palladium was trading at $356/361 an ounce (1200 GMT).

Oil
World oil prices remained at record peaks on Monday. Light, sweet crude for November delivery lost 88 cents to US$87.76 a barrel in electronic trading on the New York Mercantile Exchange. Unrest in crude producers Nigeria and Iraq could further stretch global supplies, which are already stretched.

Mission Statement
Gold and Silver Investments Limited hope to inform our clientele of important financial and economic developments and thus help our clientele and prospective clientele understand our rapidly changing global economy and the implications for their livelihoods and wealth.
We focus on the medium and long term global macroeconomic trends and how they pertain to the precious metal markets and our clienteles savings, investments and livelihoods. We emphasise prudence, safety and security as they are of paramount importance in the preservation of wealth.
Financial Regulation: Gold & Silver Investments Limited trading as Gold Investments is regulated by the Financial Regulator as a multi-agency intermediary. Our Financial Regulator Reference Number is 39656. Gold Investments is registered in the Companies Registration Office under Company number 377252 . Registered for VAT under number 6397252A . Codes of Conduct are imposed by the Financial Regulator and can be accessed at www.financialregulator.ie or from the Financial Regulator at PO Box 9138, College Green, Dublin 2, Ireland. Property, Commodities and Precious Metals are not regulated by the Financial Regulator
Disclaimer: The information in this document has been obtained from sources, which we believe to be reliable. We cannot guarantee its accuracy or completeness. It does not constitute a solicitation for the purchase or sale of any investment. Any person acting on the information contained in this document does so at their own risk. Recommendations in this document may not be suitable for all investors. Individual circumstances should be considered before a decision to invest is taken. Investors should note the following: The value of investments may fall or rise against investors' interests. Income levels from investments may fluctuate. Changes in exchange rates may have an adverse effect on the value of, or income from, investments denominated in foreign currencies. Past experience is not necessarily a guide to future performance.

All the opinions expressed herein are solely those of Gold & Silver Investments Limited and not those of the Perth Mint. They do not reflect the views of the Perth Mint and the Perth Mint accepts no legal liability or responsibility for any claims made or opinions expressed herein.

Fair Use Notice: This newsletter contains copyrighted material the use of which has not always been specifically authorized by the copyright owner. We are making such material available in our efforts to advance understanding of issues of financial and economic significance. At all times we credit and attribute the copywrite owner and publication.
We believe this constitutes a 'fair use' of any such copyrighted material as provided for in Copyright Law. The material on this site is distributed without profit to those who have expressed a prior interest in receiving the included information for economic research purposes. If you wish to use copyrighted material from this site for purposes of your own that go beyond 'fair use', you must obtain permission from the copyright owner.

© 2005-2019 http://www.MarketOracle.co.uk - The Market Oracle is a FREE Daily Financial Markets Analysis & Forecasting online publication.

Only logged in users are allowed to post comments.
Register/ Log in