Another Look at Dow Theory and Cycles
InvestorEducation
/
Cycles Analysis
Jan 24, 2007 - 07:09 PM GMT

I continue to receive e-mails asking about the 4-year cycle and the ongoing Dow theory non-confirmation. In order to address this topic I have decided that it would be best to simply use a piece that I wrote before.
I have virtually every scrap of material written by Charles H. Dow, William Peter Hamilton and Robert Rhea and I want to confirm that cycles are definitely not a part of the Dow theory. I'll also add that head and shoulder formations, rising wedges, symmetric triangles and other technical patterns are not a part of the Dow theory. The McClellan oscillator, stochastics, RSI nor any other oscillator, for that matter, is a part of the Dow theory. Nor is gold, the dollar, bonds or individual stock analysis a part of the Dow theory.
My use of cycles simply allows me to quantify the moves within the broad context or framework of Dow theory. On page 42 of The Stock Market Barometer, William Peter Hamilton gives the dates and directions of the "Primary Trend." These dates correspond exactly with the price action of the "4-year cycle." In The Story of the Averages, Robert Rhea quantifies each "Primary Swing" and "Secondary Reaction" throughout this entire 200 page document. These dates also correspond with 4-year, seasonal and 22-week cycle highs and lows. So, regardless of the label we pin on these movements, these price movements are one in the same. The cycles work is simply another, completely separate, discipline that allows me to quantify the movements regardless of their names. Cycles allow for the development of expectations based on the quantification of prior moves of the same degree. Cycles allow one to look at the market in several dimensions and apply the historical quantifications in order to develop future expectations.
For the record, Dow, Hamilton and Rhea also spoke of the market having "three well defined movements" or dimensions. Hamilton said, "There are three movements of the averages, all of which may be in progress at one and the same time. The first, and most important, is the primary trend: the broad upward or downward movements known as bull or bear markets, which may be of several years' duration. The second, and most deceptive movement, is the secondary reaction: an important decline in a primary bull market or a rally in a primary bear market. These reactions usually last from three weeks to as many months. The third, and usually unimportant, movement is the daily fluctuation." Cycles are simply another way of looking at these movements.
As an example, the diagram below was taken from The Story of the Averages by Robert Rhea. Notice that Mr. Rhea labels the move from Point A to Point J as the Primary Bull Market and the move from Point J down to Point Q as a Primary Bear Market. From a cyclical perspective, the move from Point A to Point J was the move from the 4-year cycle low to the 4-year cycle top. The move from Point J down to Point Q was the move from the 4-year cycle top into the 4-year cycle low and the complete move from Point A to Point Q was one complete 4-year cycle. From a cyclical perspective the moves from Points A to C and from C to E were the movements of the short term trading cycle. Movement G to I was a 22-week cycle while the movement from Point E to Point I constituted one complete seasonal cycle.
Rhea labels the movement H to I as a "Secondary Reaction" in the Bull market. If I put my cycles hat on, that same movement becomes the downside piece of both a 22-week and a seasonal cycle. Movements from Point K to Point L and M to N were both "Secondary Reactions" in the Bear market. I might add that this advance from K to L topped out in only 3 months and there was a slight Dow theory non-confirmation at this top. From a Dow theory perspective, this non-confirmation was a warning and when the movement from Point L to M violated the Point K lows, the bear market was confirmed. Through my eyes as a cycles analyst, the upside piece of this move from Point K to L was both a 22-week and a seasonal cycle advance that topped in on 3 months. My work with cycles tells me that any seasonal cycle that tops out in 6 months or less has a 73% probability of moving below the previous seasonal cycle low. This same cycles work tells me that the average decline for all seasonal cycles topping in 6 months or less and that failed to move above their previous seasonal cycle high (in this case Point J) is 26.59%. In this case the decline that followed into the 4-year and seasonal cycle low, Point Q, was 45.22%. Dow theory does not tell us these things. Statistics such as these only come from cyclical quantifications.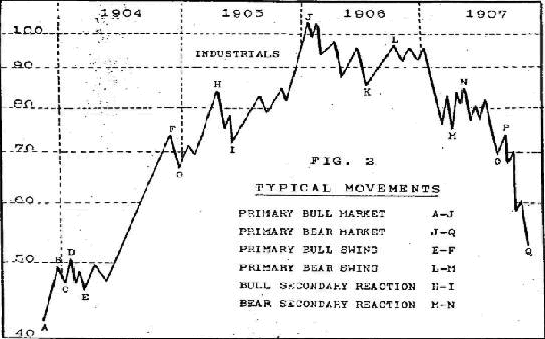 Cycles work is nothing more than a means of trend quantification and it can be used to confirm and complement Dow Theory. I could go on and on with each of these points, but there is really no need as my point should be clear. Cycles are not a part of the Dow theory. Cycles simply offer us another way of looking at the same movement, but through different eyes. If we have a working knowledge of both disciplines, we can use them together to confirm each other. As in the example above, once the move failed in only 3 months, the cycles work was warning us based on the quantifications of previous cycles. At the same time the Dow theory was warning with its non-confirmation. A Dow theory "Sell Spot" then developed as the Industrials formed a "line" into early January 1907. The trigger to sell was then hit with the downside break of this "line." The cycles work confirmed the break and offered a price target, which in this case proved to be conservative. Then, with the violation of Point K, Dow theory confirmed the bear market. As you should be able to see in this simple example, both disciplines have their place and can be used as separate tools to confirm and complement each other.
As an example, it was cycle theory that allowed me in the summer of 2001 to forecast a decline below 7,400 in the DJIA in 2002. But, it was the Dow theory that first gave its warnings in September 1999. It was cycle theory that allowed me to forecast the bottom in gold in 2001. It was cycle theory that allowed me to call the 2002 bottom in the CRB. It was cycle theory that allowed me to call the dollar top in 2002 as well as the low in December 2004. It was cycle theory that warned me of the May 2006 high in gold. It is cycle theory that told me in late July that unleaded gasoline should begin moving lower and that in October it had made an intermediate-term low. It was cycle theory and my Cycle Turn Indicator that identified the September intermediate-term top in bonds as well as the intermediate-term low in October.
It is the Dow theory that provides the backdrop of the overall Big Picture. It is the Dow theory that provides the understanding of bull and bear market phasing and where we are in this Big Picture. It is the Dow theory that provides important non-confirmations at most major cyclical turn points. It is the Dow theory that provides us with the setups at "Buy and Sell Spots."
It is the use of the two theories that complement each other, which in turn aids in the overall market analysis. At present, both cycle theory and my work with the Dow theory are telling me we are entering a window of great market risk. I continue to hear many saying that the 4-year cycle low was made in June/July. I also continue to hear that the 4-year cycle is no longer even relevant. According to my cycle quantifications, this is incorrect and as I said before, the market has a surprise or two up its sleeve in regard to the phasing of the 4-year cycle. One such surprise is that this advance has served to make most people think that the 4-year cycle low has been made.
By Tim Wood
Cyclesman.com
Tim Wood specialises in Dow Theory and Cycles Analysis - If you are interested in a statistical and technical based source that also utilizes Dow theory and provides statistical probabilities as to what should occur, then Cycles News & Views may be for you. I also provide web-based updates giving short and intermediate-term turn points on the stock market, gold, bonds and the dollar, utilizing my Trend and Cycle turn Indictors. A subscription also includes short-term updates three nights a week. Please see www.cyclesman.com/testimonials.htm
© 2005-2019 http://www.MarketOracle.co.uk - The Market Oracle is a FREE Daily Financial Markets Analysis & Forecasting online publication.

Only logged in users are allowed to post comments.
Register/ Log in