Gold and Silver Correction Has Begun
Commodities
/
Gold & Silver
Oct 23, 2007 - 02:13 PM GMT

Sam Kirtley writes: Gold and gold stocks have been doing incredibly well over the last couple of months, but nothing goes up in a straight line, and we believe that a correction in gold and gold stocks is imminent, and yesterdays trading could have signalled the beginning of the pullback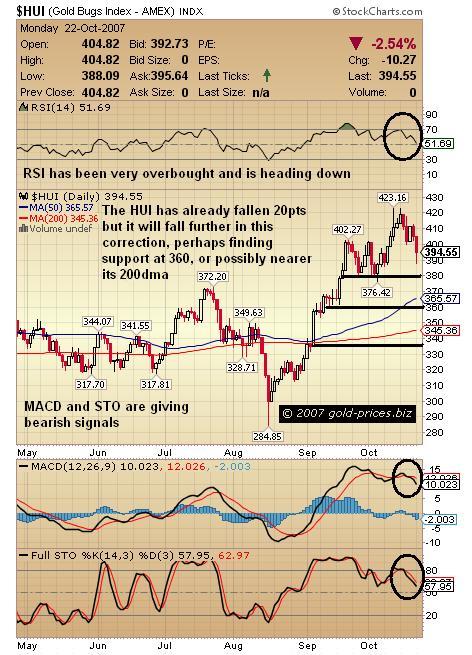 Readers of The Gold Prices Newsletter will know that on August 16th we wrote in an article entitled " Buying Opportunity in Gold Stocks " that "A great buying opportunity in gold stocks is rapidly approaching, if it is not already here." That was the day that most gold stocks hit a bottom, and from there many gold stocks have risen 40% or mor e.
Then on the 22nd of August , we told our readers that gold stocks were very oversold , as the HUI/Gold ratio was at one of its lowest points in two years, and therefore it was a great buying opportunity.
Those who followed what we were saying are now sitting on some very substantial returns, in a relatively short space of time. However we told our subscribers that gold and gold stocks were preparing to correct roughly a week ago. We changed all of our stocks in our free gold and silver portfolio' s from BUY to HOLD in anticipation of this coming correction.
From the HUI chart above we can see that the correction has begun, and the index has fallen below 400. We feel that the HUI and gold stocks have more to fall, and we could see the HUI going to 360 or lower before the correction finds a bottom and we can continue with the gold bull that we believe is taking gold prices to $1000 and eventually we see no reason why gold prices could not go to $3000/ounce. However for the moment we have locked in some profits and sold some of our gold stocks, whilst maintaining a strong core position that will remain in place throughout the ups and downs of the precious metals bull market.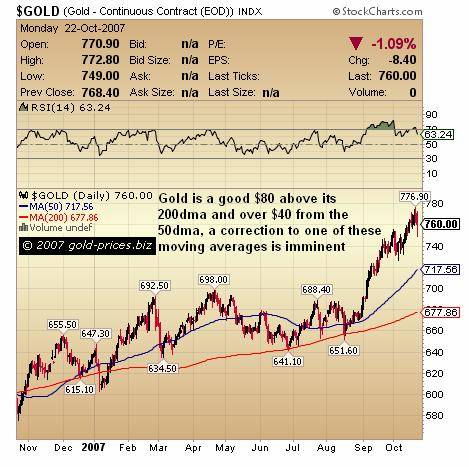 The chart above clearly shows gold precariously high above its moving averages, and so a correction to at least the 50dma is to be expected. In our opinion one of the most important technical indications at the moment for gold is the RSI (Relative Strength Index). In our opinion this is too high and looking back through the charts of gold in the past, usually when the RSI is this high, gold corrects.
Therefore we are waiting for this correction to play out, which has already begun, and will resume buying gold stocks when they have corrected to a more reasonable price.
Silver prices appear to have found resistance at the $14.00 level and one could argue that the silver chart below shows a double top formation in silver prices.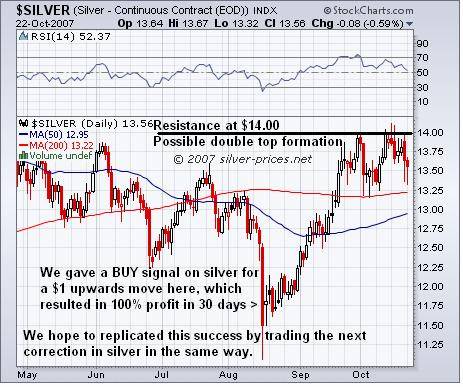 A double top formation means that a correction is due, and could signify that this coming correction in silver prices could be perhaps more severe than previously thought .
We think that a $1.00 drop in silver prices should be expected, which on the chart above would take silver down to $12.50. If one takes a look back at the trading patterns of silver, one notices that when silver corrects, it corrects hard and fast, usually within a few trading sessions. We could see silver correct very quickly in trading this week, do not rule anything out. The correction could be over in just one day, so if you intend to trade this market, make sure you closely monitor what's going on in silver each day. In august, silver prices dropped over $1.00 in just one day and it was shortly after this that we signalled a short term BUY on silver for a upwards move of $1.00. Details of the trade can be found on a website www.silver-prices.net but we traded silver via spread betting on the futures price and made 100% profit in 30 days . We intend to perform a similar trade after this coming drop, buying silver for another move up.
However the question we have at the moment is whether or not we short silver at this point. We are in no doubt that silver will correct very soon and so it looks ripe for a short. Silver could fall below $13.00 in the next week or so, therefore on the safe side we could short silver with a stop at $14.25 and a limit at $13.00, which would return roughly 60% in profits if successful. There is only one thing stopping us.
Precious metals can soar upwards sharply without warning. A significant geopolitical event could send silver and gold up sharply in a matter of minutes, which would not allow us enough time to close our trade. For example, Turkey has now massed over 100,000 troops on the border on Iraq , ready for military intervention in the Kurdish rebel strongholds. Although that area does not posses a great deal of oil, significant oil pipelines run through Turkey and if these are disrupted, gold and silver would spike up very quickly, wiping out our short position.
Therefore we are going to watch silver drop, and purchase more silver stocks and perhaps a futures position when we feel the correction is over, in order to profit from the next leg up. In the meantime we have maintained a core position in gold and silver stocks with some cash on the sidelines to add to our positions after the correction.
Keep updated on the silver market and silver stocks , what we are buying and when we buy it by subscribing to The Silver Prices Newsletter at www.silver-prices.biz completely free of charge.
Stay informed about gold stocks and the gold market by going to www.gold-prices.biz and subscribing to the FREE Gold Prices Newsletter
By Sam Kirtley
For ideas on which gold stocks to invest in, subscribe to the Gold Prices newsletter at Gold-Prices.biz completely free of charge.
DISCLAIMER : Gold Prices makes no guarantee or warranty on the accuracy or completeness of the data provided on this site. Nothing contained herein is intended or shall be deemed to be investment advice, implied or otherwise. This website represents our views and nothing more than that. Always consult your registered advisor to assist you with your investments. We accept no liability for any loss arising from the use of the data contained on this website. We may or may not hold a position in these securities at any given time and reserve the right to buy and sell as we think fit.
© 2005-2019 http://www.MarketOracle.co.uk - The Market Oracle is a FREE Daily Financial Markets Analysis & Forecasting online publication.

Only logged in users are allowed to post comments.
Register/ Log in