A Breakfast Buffet of Profits From Agricultural Commodities
Commodities
/
Agricultural Commodities
Oct 24, 2007 - 11:34 AM GMT

Sean Brodrick writes : When I was learning this business, I sometimes used to have breakfast with an old trader. During a big selloff, he would always remind me that great stocks get dumped along with the stocks that deserve it.
My old mentor has since gone up to the great trading floor in the sky. Meanwhile, I've noticed breakfast has gotten a lot more expensive over the last few years.
And that's why I suggest using the market's recent pullback to scoop up beaten-down bargains in the agricultural sector. More on what companies to target in a moment. First, let's talk about the fact that …
Prices Are Sizzling Like Bacon In a Hot Cast-Iron Pan!
I've been telling you about the massive forces lining up to drive agriculture prices higher. And by all measures, those forces keep getting more intense. The proof is in your grocer's cereal aisle … your local coffee shop's drink list … and breakfast menus all across the country: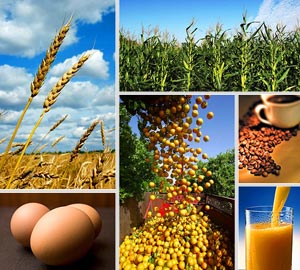 Just about every item on your breakfast table is rising in price!
#1. The price of orange juice is up 19% in 12 months. It's only going to get worse, as the incoming Florida harvest is way too small. Florida growers will collect 168 million boxes of oranges this season while analysts were expecting a crop of 177 million to 183 million boxes.
#2. Corn costs 15% more than it did last year, and 40% more than it did four years ago. It looks ready to go even higher because corn is now used as a substitute for wheat in feed grain. Why?
#3. Wheat is up a whopping 61.7% since last year! Plus, there's plenty more upside because Russia is likely to limit exports by increasing a tax on overseas shipments. Why would the Russians do that? Because their citizens are also grumbling over high wheat prices.
#4. Other breakfast prices are soaring across the board. Everywhere I look, I see costs skyrocketing …
The price of eggs is up a brain-scrambling 33.7% in the past 12 months!
Milk is up 21% over the same period!
And higher grain prices should jack up the price of meats, including bacon and ham!
By the way, even though American farmers just harvested a record 13.3 billion bushels of corn, the reserve supply of feed grains probably fell 18% through October 1, according to government figures. That means supplies would be the lowest since 1979!
The Table Is Becoming Crowded: Why Our Food Is Getting So Expensive
All over China and India, people are elbowing their way toward our breakfast tables. Let me explain …
World Grain Production
Consumption & Balance

Year
Production
(million tons)
Consumption
(million tons)
Surplus or Deficit
(million tons)

1996

1,873

1,808

64

1997

1,876

1,820

58

1998

1,876

1,834

41

1999

1,872

1,853

19

2000

1,842

1,857

-14

2001

1,874

1,900

-26

2002

1,821

1,910

-89

2003

1,862

1,935

-73

2004

2,043

1,990

54

2005

2,009

2,014

-5

2006

1,967

2,040

-72

Source: Earth Policy Institute
As the U.S. dollar falls, the prices of U.S.-produced staples like wheat, corn, and milk skyrocket. But for people buying them in other currencies, prices don't go up nearly as much.
The people in India and China — 40% of the world's population — traditionally eat simple, vegetarian breakfasts, but they're learning to LOVE American food.
End result: Meat demand in China has quadrupled since 1980. In India, milk and egg products are becoming increasingly popular.
Booming economic growth in both of these countries is only fueling their appetites. China's economy is expanding at 11% or so, and India's per-capita income has the potential to double within ten years. In other words, more and more people can afford good, hearty breakfasts.
Another weighty matter to consider …
Americans consume an average of 3,900 calories per day. Compare that to people in India, who, according to the latest data from the UN's Food and Agriculture Organization, consume an average of just 2,440 calories per day. That means, on average, we eat 59% more per person than people in India!
Speaking as one of those Americans who could stand to skip a meal or two (or three), I won't begrudge the people in India a bigger breakfast. But it worries me to see the price of food so high and going higher!
As commodities guru Jim Rogers points out: The world is now consuming more food than it produces — the first time in recorded history this has happened!
Rogers has also said that soft commodities are where the biggest gains will be made over the next five to 10 years. As an investor, you can sit idly by and watch all this happen, or you can make sure you have your seat at the table …
How to Harvest This Bumper Crop of Profit Potential
I'm looking at the recent pullback in stocks like Deere & Co., a maker of farm equipment, with amazement. This is a stock that is going to reap a pile of profits as soaring commodity prices allow farmers to buy bigger and better tractors, combines, and reapers.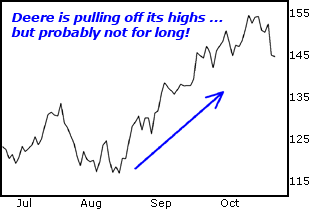 This stock is way off its highs — but probably not for long. And I think it's a fine way to play the agriculture boom. Of course, I have another farm equipment company that I think is an even better choice!
The farm company I've found may not be the biggest maker of equipment in the U.S., but it's growing fast and has global reach.
Now for the better news — this stock is still cheap — trading at a big discount to the S&P 500's price-to-earnings ratio. Moreover, its cash flow just hit a nine-year high … its margins are improving … and it recently beat the Street's sales and earnings expectations.
Looking forward, it raised its full-year revenue and profit forecasts, but I believe they are still too conservative. And I expect its earnings to DOUBLE in the next year!
It's just one of the picks I talk about in my new agriculture report, " 6 Stocks and 1 ETF to Ride the Agriculture Boom ." All told, I've found six stocks and one ETF that could pile up profits along with rising food prices.
To be sure, there are plenty of great beaten-down investments out there right now. So whatever you do, please take a look at the agriculture sector right now. After all, a little seed money invested now could lead to a bushel of profits come harvest time.
Yours for trading profits,
Sean
P.S. You can buy my agriculture report right now — and get it TODAY — for $198. What's more, I'm throwing in three follow-ups to tell you when to sell and perhaps when to buy more. To get your copy right now, call 1-800-291-8545 or click here .
This investment news is brought to you by Money and Markets . Money and Markets is a free daily investment newsletter from Martin D. Weiss and Weiss Research analysts offering the latest investing news and financial insights for the stock market, including tips and advice on investing in gold, energy and oil. Dr. Weiss is a leader in the fields of investing, interest rates, financial safety and economic forecasting. To view archives or subscribe, visit http://www.moneyandmarkets.com .
© 2005-2019 http://www.MarketOracle.co.uk - The Market Oracle is a FREE Daily Financial Markets Analysis & Forecasting online publication.

Only logged in users are allowed to post comments.
Register/ Log in