Where Does Gold Go From Here?
Commodities
/
Gold & Silver
Oct 24, 2007 - 01:33 PM GMT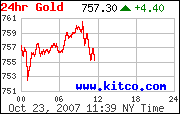 A picture of gold's price action Tuesday shows it bouncing up and down. This is normal and to be expected in a classic bull market.
So, where to from now? And maybe we should ask where we presently are at the moment? Gold remains strong and staying well above 700.
"A perfect storm of market forces could push this precious metal, already at a 27-year high, toward $1,000 an ounce." "Gold has been in a long-term upswing, rising more than $500 an ounce since 2001. However, few investors seemed to notice. But it's hard to miss the tear gold has been on since August. The metal closed at $760.20 an ounce on October 16, up $3.10 from the previous day's close. That's up some 16% since its August low and not too far below an all-time high of $850, set in January 1980." "The stock market's volatility and continued uncertainty about how last summer's credit crunch ultimately will play out, heightened fears of inflation and an ever-weakening dollar are combining to send investors straight to gold…" Kiplinger
Yet, the juniors have yet to move as well as the seniors. What gives?
"But what explains the apparent disconnect between the spot price of gold and gold equities?" "Canaccord points to short-term liquidity concerns in the ABCP and related markets…" "If this assumption is in the ballpark then we suggest investors rethink this approach as holding gold equities, in our view, is not a bad hedge at all against the risks within the broad market, and in particular, the risks associated with the potential for further declines in the U.S. dollar –at least over the next several months," Canaccord said." Financial Post
I believe mom and pop speculators remain in denial that gold has shifted gears and is now in forward drive. But no worry, generally with every momentous change in society it takes a while for the general population to get on board.
"Crude prices briefly touched $89 a barrel Wednesday, a record not adjusted for inflation, before settling at $87.40." USATODAY
But mark my words as the general population will get on board. They have no choice as they see there 401K eroding from the effects of inflation. Everything across the board is rising in price.
They observe oil climbing to 90 dollars a barrel. They see a housing crisis that is still unfolding and not yet at its peak and damaging an entire economy. And how goes the housing market and the subprime mess?
" WASHINGTON - Construction of new homes plunged to the lowest level in 14 years in September as turmoil in credit markets intensified the problems in the housing industry." "The decline was more than double the 4.2 percent drop that analysts had been expecting and it pushed activity down to the lowest level since March 1993." "…the housing downturn, already the worst in 16 years, may be headed for bigger troubles. Housing activity is now 30.8 percent below the level of a year ago." "Both Federal Reserve Chairman Ben Bernanke and Treasury Secretary Henry Paulson warned this week that the housing downturn was likely to persist longer than had been expected." "Builders are in a panic mode and are trying to catch up with a rapidly falling market," said Mark Zandi, chief economist at Moody's Economy.com." Associated Press
Where do you go from here except to invest in gold. This is what gold was designed for. To shine forth in moments of extreme need.
"The massive cut in ratings created uneasiness among investors that mortgage sector problems are still getting worse…" "The uneasiness spurred Treasury prices higher as well, as people flocked to safer investments." "…loans have gone delinquent and into default at soaring rates in recent months." Bloomberg News
And if you cannot see "extreme need" at the moment then you really do have blinders on your head. Remember the old term stay the course? I know that does not sound exciting but that is what you must do now.
"…Dundee Securities analyst Jean-Francois Gagnon thinks the recent rally for gold stock has more staying power than those that came earlier in the year. One reason is because gold has historically proven to outperform most commodities in times of liquidity and credit crunches." Financial Post
Gold may be moving ahead of the juniors at the moment but the juniors will catch up. Sometimes to wait patiently for a situation to change and improve is the hardest thing to do. But that is what the moment calls for. Hold on to those quality gold shares. If you have listened to quality analysts then you are holding the correct stocks worth holding for the longer term.
"Dave, You are mighty right. For those of us who are paying attention history is happening right in front of our eyes, the alien age stands out and is so apparent that none but few see, and those that see are the ones that READ!" "Gold is history and history is Gold." "What is said here is good news for us the believers that have held this metal now for more than a few years. Good words & the best. WL"
Our world is really in transition now. I'm not sure what the final shift will look like but it will be very different. And in this new change I believe the world of economic behavior will be turned on its end. That's really where the role of gold comes in. As the world changes direction gold will remain a firmer anchor more so tomorrow than today.
"…bulls, including Larkin and Citigroup's John Hill, see gold making a run at $1,000 an ounce or higher within a couple of years -- not so outlandish a forecast when you consider that in inflation-adjusted terms, gold's 1980 all-time peak would translate into $1,700 an ounce today." Kiplinger
Gold and resource stocks, historically, have presented the highest rate of returns. Gold Letter, Inc. reviews gold and other resource stocks under valued and poised to rise in this time of increased demand. Natural resources and related contrarian stocks will only escalate in value as the world continues to experience unprecedented population growth. Gold Letter's 10 best performing stocks are up over 2,000% and GL's top 55 performing stocks are over 400%. Close to 90% of all Gold Letter's recommendations since inception in January, 2003 are close to 200%. GL charts are computer generated and updated every hour while markets are open.
Click here to order Gold Letter
"The Worldwatch Institute, an organization that focuses on environmental, social and economic trends, says the current rate of global demand for resources is unsustainable."
Email me if you have the time.
By David Vaughn
Gold Letter, Inc.
David4054@charter.net
© Copyright 2007, Gold Letter Inc.
"The Worldwatch Institute, an organization that focuses on environmental, social and economic trends, says the current rate of global demand for resources is unsustainable."
The publisher and its affiliates, officers, directors and owner may actively trade in investments discussed in this newsletter. They may have positions in the securities recommended and may increase or decrease such positions without notice. The publisher is not a registered investment advisor. Subscribers should not view this publication as offering personalized legal, tax, accounting or investment-related advice. The news and editorial viewpoints, and other information on the investments discussed herein are obtained from sources deemed reliable, but their accuracy is not guaranteed. © Copyright 2007, Gold Letter Inc.
© 2005-2019 http://www.MarketOracle.co.uk - The Market Oracle is a FREE Daily Financial Markets Analysis & Forecasting online publication.

Only logged in users are allowed to post comments.
Register/ Log in