Oil hits $92.22! Gold up $16.50! Emergency Strategy Update
Commodities
/
Resources Investing
Oct 28, 2007 - 02:22 AM GMT

Earlier this week, when Larry and I called an Emergency Strategy Update to alert you to a new, even more dramatic surge in gold and oil … and in nearly every resource under the sun …
When we told you about stocks that can leverage these rises by many times …
And when we told you about urgent steps to take to multiply your money as these markets surge …
Some investors must have wondered:
"What's the big emergency? Why the urgency?"
Now they know.
Just in the last 48 hours, these markets have already skyrocketed higher, gained still greater momentum, and made prompt-acting investors instantly richer.
In fact, just yesterday …

December crude oil , on a tear that's virtually unstoppable, hit $92.27 per barrel, ending the day at $91.86. Now crude is already at all-time highs and within a hair of triple-digit levels. Larry told you this day was coming. Now it's here.



December gold , driven by a growing tidal wave of international money fleeing the plunging dollar, jumped $16.50 per ounce … closing at $787.50 … within a stone's throw of its all-time record high made in the wild days of early 1980. Larry told you this day was coming. Now it's here.

January platinum surged $15.40 to $1,469.10. Hard to believe, but true: Just one ounce of platinum — worth nearly $1,500! When Larry first pegged platinum at this level five years ago, Wall Street said Larry was "dreaming." But they're the ones that were fast asleep.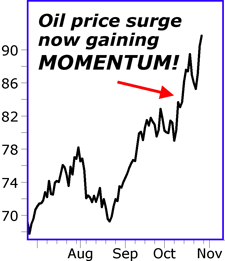 From heating oil to jet fuel … copper to sugar … uranium to aluminum … coffee to corn … the world's natural resources are no longer just surging.
They're gaining momentum!
And they're being driven FAR higher by forces that no authority or country on Earth is either able or willing to stop:
First and foremost …
Natural Resource Markets Are Being Driven Inexorably Higher by a U.S. Dollar That's Literally Fallen off a Cliff!
Just a few weeks ago, the greenback was still trading above its all-time, 230-year low — an eyelash above 78.19.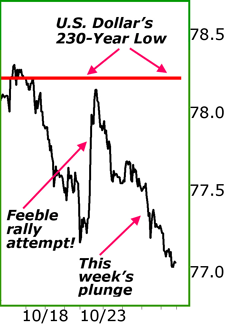 At that point, many investors around the world still harbored lingering hopes that, somehow, the worst could be avoided.
But then it happened: The dollar fell below its all-time low into new, unchartered territory.
The dam was breached. The tidal wave of dollar selling began.
A few days ago, the dollar staged a feeble attempt to rally. But it never quite made it back up to its old 230-day low … turned right around … got creamed again this week … and busted through to another new, all-time low on Friday.
Now, with the Fed printing money like there's no tomorrow … with foreign investors distancing themselves from the dollar … and with all key support on the charts blown away … there's no limit to how far the dollar will fall in the weeks ahead. And, by definition, that means there's no limit to how high oil, gold and other natural resources — and their shares — could rise!
Second, but equally powerful …
The Great Economic Explosion in China and Other Emerging Nations Is Accelerating!
Just this week, we learned that China's economy grew by 11.5% for the third quarter in a row — FASTER than its norm … and nearly six times faster than the U.S.
The situation is similar wherever you look around the globe: Emerging nations throughout Asia … across Eastern Europe … and in Latin America are growing as fast as ever — and generating massive new demand for critical resources.
Third and potentially explosive …
Geopolitical Threats to Supplies Are Rearing Their Ugly Head Again!
We have new impending sanctions against Iran — and Iran's reaction to them.
We have Turkey on the brink of invading Iraq.
We have gunmen threatening oil supplies in Nigeria.
And we have a world that's giving investors every reason possible to rush into tangible assets.
But …
It's Not Too Late To Attend Our Emergency Strategy Update ! And It's Also Not Too Late to Go for Massive, Triple-Digit Profits.
If you've already attended, great!
If not, it's NOT too late! Just click here now and you can watch the entire event online —before it goes offline.
In this historic event, Larry and I show you what you must do now to harness this great resource price explosion and go for massive, triple digit gains!
Just click " Play " to discover …
Precisely which natural resource prices can double, which ones can triple, and which can go up by three, four, even ten times in the months ahead.
The invisible but utterly irreversible forces that virtually guarantee global demand for tangible assets — natural resources and commodities — will accelerate wildly in 2007, 2008 and beyond …
Why the world's supply of key commodities is shrinking faster than almost anyone suspects …
Why insiders in the world's fastest-growing consumer nations and the world's largest producing nations are worried sick that severe shortages and skyrocketing prices are just ahead …
The often-overlooked natural resources that are making investors the most money right now …
Three investment vehicles that give you the power to harness this locked-in, long-term trend for gains of up to 1,894% in the months ahead …
Simple strategies that strictly limit your risk while offering you unlimited upside potential …
And much, much more!
Fair Warning : I cannot keep this urgent and extremely timely information online for long. So if you don't take advantage of it immediately , you could miss out on the money making insights we reveal!
That would be a terrible mistake — whatever you do, do not invest another dollar until you get this crucial information! Just turn your speakers on and click here .
Good luck and God bless!
Martin
This investment news is brought to you by Money and Markets . Money and Markets is a free daily investment newsletter from Martin D. Weiss and Weiss Research analysts offering the latest investing news and financial insights for the stock market, including tips and advice on investing in gold, energy and oil. Dr. Weiss is a leader in the fields of investing, interest rates, financial safety and economic forecasting. To view archives or subscribe, visit http://www.moneyandmarkets.com .
© 2005-2019 http://www.MarketOracle.co.uk - The Market Oracle is a FREE Daily Financial Markets Analysis & Forecasting online publication.

Only logged in users are allowed to post comments.
Register/ Log in