Impact of Immigration on Economic Growth Jobs and Housing
Economics
/
Immigration
Nov 15, 2007 - 01:20 PM GMT

The charge that immigration destroys jobs is a common economic fallacy. On the surface it appears as an obvious truism that if a country has a high level of unemployment then increasing immigration can only cause more unemployment. Obvious but false. This fallacy is based on the lump-of-labour fallacy that assumes a fixed amount of work. The same fallacy lies behind the belief that technology causes unemployment.


For immigration to merely expand unemployment in a free market instead of output, all wants would have to be fully and continuously satisfied, including those of the immigrants, without any further need of production or there must be insufficient land and capital to employ additional labour. In the latter case the population would have to be literally living at a subsistence level, a level barely enough to keep one alive. Economic logic tells us quite forcefully that so long as human wants go unsatisfied and the means of satisfying them are available there will never be a shortage of work.
So how do high levels of persistent unemployment emerge? Because labour has been priced out of work. When labour's gross wage (wages plus oncosts) exceeds the value of its services then part of the labour supply will be rendered unemployed. To order an employer to pay a gross wage of $700 a week when consumers only value the services at $650 is to order him to dismiss part of his work force. But this is exactly what trade unions and their political allies do. Immigration has nothing to do with it.
Unfortunately, what some economists have to say on the effects of immigration is simply wrong or grossly misleading. For example, some years ago economist Steve Dowrick claimed: 'The biggest single reason for economic growth in Australia is the rapid rise in population'. Now this is an extreme view of a position that is probably held to varying degrees by the majority of economists. And it is wrong.
Economic growth means increasing the amount of capital per head of the population. Increasing the population in itself does nothing to aid this process. If investment is a mere function of population growth then all that any country need do to accelerate capital accumulation is to accelerate population growth. This, unfortunately, is not so. Investment is fuelled by savings and not an expanding population. This does not mean that population and national income are unrelated. If capital accumulation expands at a rate where it exceeds the population's ability to maximise its income, i.e., the population level is suboptimal, then increasing the population through immigration will actually raise total incomes by allowing the capital structure to be more fully utilised.
Of course, the flow of immigration can reach a level where the population once again becomes suboptimal, meaning that real incomes will fall as population growth outstrips the rate of capital accumulation, despite the fact that total output rises. The real question, therefore, is whether increased immigration will cause a decline in real wages rather than an increase in unemployment. I noted earlier that so long as there is sufficient land and capital there will be sufficient work. Now land plays a particularly important role in Australia's case.
To an economist land also means resources, fertility, etc., not just its quantity or location; hence, oil, minerals and so on are classified as land. Therefore, given the size of Australia's resources and huge potential for investment it would seem that the country is underpopulated (suboptimal), regardless of what misanthropic greens and smug conservatives assert. It would seem that those who advance the view that an expanding the population would raise living standards by stimulating mass production, economies of scale and greater specialisation have the better argument.
However, critics point to 'an inadequate infra structure', 'environmental degradation', 'severe water restrictions' and the 'relentless rise in housing costs' as evidence that wear are already overpopulated. What these critics have overlooked is that these are economic arguments. Whether they like it or not ' and they don't ' the free market is the best friend the environment could have. If these people think, for example, that trees need the protection of the state, then the same logic applies to cattle, sheep, chickens, etc., It is simply not understood that in a free market trees become capital.
Those who favour greater immigration have done themselves no favours by pushing the fallacy that immigration increase demand, i.e., they promote economic growth. Any of the old economists could have told them that immigrants only increase demand in the sense of Say's law, according to which Immigrants would expand demand when they find employment, meaning that their products create demand for other products.
A little reflection clearly reveals that this is not growth and that if the population started to outstrip the material means of production GDP would still rise but per capita GDP would fall. During what has been called 'the great Ellis Island influx in the first two decades of the 20th century' annual real wage growth was slashed from the 1.27 per cent rate that prevailed from 1855-1895 to 0.55 per cent for 1896-1916. I think it is clear that this 57 per drop in wages was caused by a massive amount of immigration that caused the workforce to expand relative to the growth in capital accumulation. The chart below illustrates this point.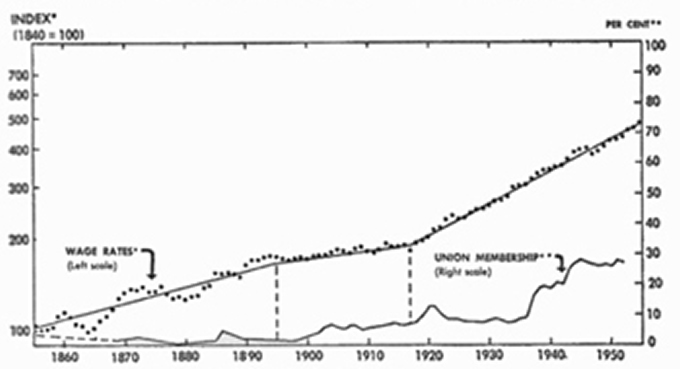 The Tucker series converted to hourly rates and adjusted to the cost of
living, Employment and Wages in the United States by TW. S. Woytinsky
and Associates (New York: The Twentieth Century Fund, 1953)
To claim that our infrastructure is crumbling is a bit rich seeing how state government's are responsible for maintaining most of it. That is why we have water shortages: state governments have refused to build dams. This is a perverse situation. Whenever shortages appear in the private sector companies scramble to increase output while instinct of government is to impose rationing and fines. For instance, the current government-created 'water shortage' has dense politicians telling us to tighten our belts, gird our loins, be responsible and have only one shower a month whether we need one or not. This is the same lot of economic illiterates who have been dissipating capital on the building of grossly inefficient and horribly expensive wind mills to generate electricity.
The housing situation is another government mess. The Reserve Bank's criminally loose monetary policy has given the biggest real estate boom in our history and not a single member of the commentariat or our political class appears capable have fingering the guilty party. In addition, state government's have severely aggravated the situation with a barrage of planning laws the insidious costs of which are causing considerable harm to many of the less fortunate among
By Gerard Jackson
BrookesNews.Com
Gerard Jackson is Brookes' economics editor.
© 2005-2019 http://www.MarketOracle.co.uk - The Market Oracle is a FREE Daily Financial Markets Analysis & Forecasting online publication.
Comments
Dave Gardner
23 Nov 07, 08:22
Economic Growth


Mr. Jackson seems to assume that economic growth is a goal. I would submit that quality of life and sutainability should be higher on our list. So in addressing the amount of land and resources in a nation, the real question should be, "Is the current population liquidating our natural captial today?" If it is, then adding additional population will simply speed you to the day you must declare bankruptcy of natural resources.

Dave Gardner

Producer/Director

Hooked on Growth: Our Misguided Quest for Prosperity

www.growthbusters.com




Only logged in users are allowed to post comments.
Register/ Log in