Gold and the Dead Cat U.S. Dollar Bounce
Currencies
/
US Dollar
May 11, 2011 - 02:11 AM GMT

This is a classic dead cat bounce by the US Dollar as it appears to fight desperately to avoid dropping below the much watched '72′ level. We say fight, but the real situation is not a fight at all, its a managed decline by the United States to lower the value of their currency and ultimately inflate away the mountain of debt that it realizes is impossible to ever re-pay.


The difficulty in getting the value down is that just about all of the other major currencies are in the same race and are also hoping to inflate away their debts. The penetration of '72′ lies just ahead of us and once a meaningful break through has been achieved, then the fall will be calamitous to say the least, as those who are holding dollars will battle to get through the exit with great haste. However, the 'managed' downward trend will resume shortly. Also of note on the chart above is that after only two days of trading, the dollar rose from an oversold position, where the RSI was sitting at sub '30′ just days ago, to stand at 52.18 today. In our humble opinion those who are calling for a dollar bounce of some significance and going to be rather disappointed. The political will to do the hard yards is just nowhere in sight as the pressure mounts to raise the debt ceiling a tad in order to keep things sweet.

It is said that nothing goes down in a straight line and as we can see with the bounce by the USD it is also capable of generating small rallies from time to time, which is quite normal. We can also observe this behavior in the way that silver prices rose dramatically and then corrected severely. Again this correction is normal and short term corrections are par for the course in a bull market.

The main beneficiaries of weaker currencies are both gold and silver, both of which cannot be printed and therefore the supply is limited by the skills of the mining sector to find and mine these precious metals. Now, as a form of exposure to precious metals the mining sector offers the possibility of leverage to the underlying product. So let us take a quick look at the gold bugs index, the HUI, which consists of 14 major gold mining companies which mostly do not forward sell their product and as such offer exposure to metal prices.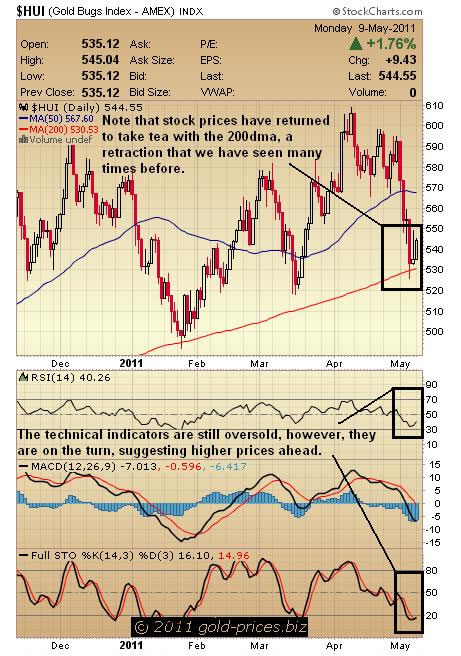 Note that stock prices have returned to take tea with the 200dma, a correction that we have seen many times before. This recent pull back in the mining sector has taken around 80 points off the HUI or about 8.5% of its value, which is pretty good haircut. The technical indicators are still oversold, however, they are on the turn, suggesting higher prices ahead. With gold at $1500/oz and silver at $35/oz, the quality miners are in clover, as evidenced by the results which are headlining with record production, record profits, etc. They are operating in the right sector at the right time and as new all time highs are made by both gold and silver we should see this index take off in spectacular fashion. Why it hasn't done so already remains a bit of a puzzle, however, there are other distractions for the investment dollar such as the metal itself, the ETFs, futures trading and options trading. And so the tug of war continues.

One day a government with its head screwed on will turn their backs on the fiat currency system and convert to an asset backed currency whereby its paper is exchangeable for some sort of hard asset. It could be a mixture of gold, silver, oil, uranium, etc, the details are anyone's guess. However, if the currency is big enough, the Chinese Yuan for example, then the rush would be on for one and all, to trade in that currency. Implausible! Well cast your mind back to the start of the banking crisis, just when all the European banks were trying to hold the line, Ireland stepped up and guaranteed bank deposits. This action saw billions of Euros emigrate to Irish banks in a matter of hours, forcing the rest of the banks to also guarantee their deposits. A case of the tail wagging the dog and China is longer a small time player, it is getting bigger and stronger by the day and they are capable of going it alone. However, as they hold the thick end of three trillion dollars in their reserves, they will no doubt do everything they can to transfer out of dollars and into the hard assets before contemplating such a move.

For now we can only conclude that we will stick with gold, silver, a few quality producers and some well thought out options trades. We will try hard to avoid the blather and the white noise that accompanies every event regardless of its importance or magnitude.

The year will end with much higher gold and silver prices, so will the year after and the year after that, so get into position and hold on tight it will be a white knuckle ride.

RIP: USD.
To stay updated on our market commentary, which gold stocks we are buying and why, please subscribe to The Gold Prices Newsletter, completely FREE of charge. Simply click here and enter your email address. (Winners of the GoldDrivers Stock Picking Competition 2007)
For those readers who are also interested in the silver bull market that is currently unfolding, you may want to subscribe to our Free Silver Prices Newsletter.
DISCLAIMER : Gold Prices makes no guarantee or warranty on the accuracy or completeness of the data provided on this site. Nothing contained herein is intended or shall be deemed to be investment advice, implied or otherwise. This website represents our views and nothing more than that. Always consult your registered advisor to assist you with your investments. We accept no liability for any loss arising from the use of the data contained on this website. We may or may not hold a position in these securities at any given time and reserve the right to buy and sell as we think fit.
© 2005-2019 http://www.MarketOracle.co.uk - The Market Oracle is a FREE Daily Financial Markets Analysis & Forecasting online publication.

Only logged in users are allowed to post comments.
Register/ Log in