The Krill Oil Stocks Boom is Real
Commodities
/
Oil Companies
May 31, 2011 - 05:04 AM GMT


There's a new type of oil that's causing a major stir in the markets.
This oil boom has nothing to do with crude oil or energy though. But it still has the potential to be just as profitable.
I'm talking about krill oil.

Krill are tiny shrimp-like crustaceans. They are usually between one and five centimeters long. They are found in extremely cold water like the frigid waters of the northern Pacific and offshore Antarctica.
The tiny creatures produce a unique kind of oil that has proven to have numerous medicinal benefits.
Krill oil supplements have proven to reduce cholesterol, relieve arthritis pain, attention deficit disorder, and other chronic problems. And krill oil-based drugs in development have proven effective in the same areas.
Now, I'm not a doctor. But I do know what makes an extremely successful product. And krill oil has it all.
Krill oil has a small, loyal, and quickly growing following. Krill oil is cheaper alternative to many high-priced prescription drugs. And it has attracted the interest of a few major food and medicine companies. They have already started exploring the idea of incorporating krill oil into their well-established brands.
The combination is quickly coming together to create a sizeable opportunity rivaling some of the
few remaining major investment opportunities
for investors looking into the krill boom now.
Krill Oil Stocks Hit New Highs
To be honest, I laughed the first time I heard about krill oil a few months ago.
Frankly, krill oil sounded like something best suited for a late night infomercial than a serious, widely-used nutritional supplement.
But once your editor put skeptical bias aside and researched what was really going on in krill oil, it was clear to see the fundamentals are in place for a big boom. And a couple of krill oil-related stocks are starting to move.
For example, Amarin (NASDAQ:AMRN) is a krill oil-related biotech company. Its key drug contains eicosapentaenoic acid, an Omega-3 fatty acid found in dense quantities in krill oil.
Amarin's shares soared to new all-time highs in April when results of a clinical trial were released. The trial confirmed Amarin's drug was highly effective at reducing cholesterol levels with minimal side effects.
Amarin's market value doubled from $1.1 billion to $2.2 following the news. Better yet, its shares have held onto initial gains and added another 15% since then.
Also, Neptune Technologies (NASDAQ:NEPT or TSX-V:NTB), which has a patented krill oil extraction methodology, is following closely behind Amarin. Neptune's krill oil supplements are already on the market. Its proprietary krill oil-based drugs are showing promise in early stage trials as well.
Neptune's shares too hit a new all-time high on Friday.
A lot of investors get scared of new all-time highs. It's completely counter to the buy low/sell high mantra. However, in small cap stocks like Amarin and Neptune that are focused on a market that's still in its relative infancy, new highs are more often an indication the big money is waking up to the story.
That's why krill oil is positioned to be a big winner in the years ahead. If nothing else, krill oil is in the "sweet spot" of its lifecycle.
Three Elements of a Successful Product
Krill oil, as a product, has all the essential elements to become an extremely successful, widely-consumed product.
Over the years we've seen a lot of better mousetraps in all fields of telecommunications, technology, and medicine. Only a handful of them, however, have ever been remotely successful.
It takes a lot more than just a better product to be successful. Krill oil has attained all three of those critical elements to big growth.
Better/Cheaper Alternative
One key to a successful product is its value proposition.
Krill oil is a direct competitor with fish oils. The total market for fish oils surpassed $1 billion 2008. It's expected to grow to as high as $1.6 billion in 2013.
Krill oil has the same benefits of fish oil. But krill oil could be far superior because it's more concentrated.
Krill oil's ability to steal market share from fish oil will be based on its value proposition. Since krill oil is like fish oil, but more potent, it is priced a little higher. Its cost/benefit ratio is proving to be substantially higher.
In short, krill oil stands to be a better value in the growing fish oil market.
Established, Satisfied, and Loyal Customer Base
Infomercial king Ron Popeil used to offer a deal to customers. He would offer extra knives, food dehydrator components, or something else as long as customers promised "to tell at least one friend" about the product.
He understood that an essential element to a product's success is positive word-of-mouth reviews. He knew the early adopters became the "opinion makers" and satisfied customers would be the best sales team he could ever assemble.
A quick analysis of reviews of Neptune's krill oil supplements posted at Amazon.com reveal a lot about its early adopters' satisfaction levels.
Of the 100 reviews of Neptune Krill Oil posted on Amazon:
70% gave it a perfect five out of five stars
Only four reviews were the lowest one star
The average rating was 4.44 stars
The excerpts below are from a few of the reviews customers found most helpful and illustrate how strong following krill oil has already started to build:
I tried this product for a week only and found it to be amazing......I had terrible knee pain and couldn't get rid of the pain…I now take this Neptune Krill oil every day and have found myself telling everyone I know about this. It has really changed the way I look at my day now.
This was recommended to me for arthritis pain. Both my spouse and I noticed a significant improvement in our pain level.
I haven't had the nagging pains in my joints lately. It takes about 10 days or so to experience the pain-free results. I would recommend this product as a relatively inexpensive "must have" supplement.
Clearly, krill oil works (or is at least perceived to work) in most cases and "word-of-mouth" potential is very strong.
Major Customers
Finally, any new product must "Cross the Chasm" to reach the mainstream consumer market.
In his timeless book Crossing the Chasm: Marketing and Selling High-Tech Products to Mainstream Customers (
a must read for any growth stock or technology investor
), author Geoffrey Moore pinpoints the make-or-break point for many new products.
Moore breaks it down in the life-cycle of new products developments and the types of customers who will buy them: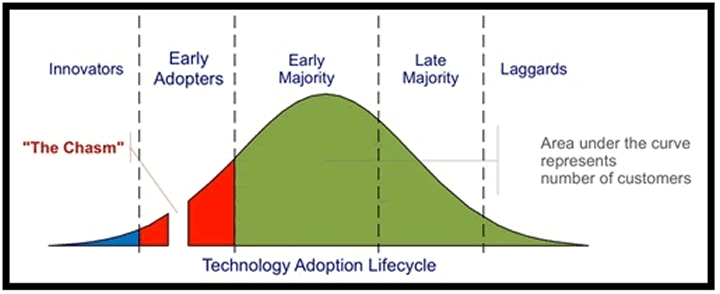 A product crosses the chasm when it gets its first major customer.

Basically, only a few adventurous customers want to go first. But once a big company or leading personality backs it, it's got a chance to cross the chasm and hit the widespread, mainstream market.

Neptune has been pushing its krill oil across the chasm. It has inked deals with Bayer, Yoplait (50% owned by food giant General Mills), and Nestle over the past couple of years. The first product to be released from these deals is rumored to be in mid-2011 with Nestle. Of course, only time will tell. But it's a very good sign to see Neptune focused on pushing krill oil across the chasm with multiple mainstream consumer products companies.

The Krill Boom Playbook

The krill oil boom is here. Everything is in place for it to grow steadily for years into the future.

The market for fish oil dietary supplements is large and growing. The concentrated benefits of krill oil make it a better value to many potential customers than most fish oil supplements.

There are thousands of satisfied customers to spread the word. Their reviews are overwhelmingly positive. They're only more astonishing considering dissatisfied customers are much more likely to post a negative review than satisfied customers are to post a positive one.

One of the early movers in the krill oil industry, Neptune, has been actively pushing it "across the chasm." This is a mistake that has befallen so many better mousetraps before. Neptune's focus will go a long way to preventing it from never getting truly off the ground.

Finally, as a new product in a tough economy, krill oil is well situated to survive and thrive throughout the recession.

The aging populations of the western world faced with higher healthcare costs will increasingly be looking for cheaper alternative treatments to their increasingly chronic health issues. The most common health issues will be those krill oil has been shown to be effective at dealing with. They include high cholesterol, arthritis and attention deficit disorder.

The krill oil boom is going to take a long while to play out for sure. But there's a lot more upside potential than downside risk. And that makes for an intriguing investment opportunity regardless of how ridiculous it may sound at first.

The krill oil boom is just one of many seemingly small investment opportunities yet to be uncovered. Better yet, it's poised for steady growth regardless of the overall economy. And that's something we always look for here at the Prosperity Dispatch (Sign up here, it's 100% free).
Good investing,
Andrew Mickey

Chief Investment Strategist, Q1 Publishing
Disclosure: Author currently holds a long position in Silvercorp Metals (SVM), physical silver, and no position in any of the other companies mentioned.
Q1 Publishing is committed to providing investors with well-researched, level-headed, no-nonsense, analysis and investment advice that will allow you to secure enduring wealth and independence.
© 2011 Copyright Q1 Publishing - All Rights Reserved
Disclaimer: The above is a matter of opinion provided for general information purposes only and is not intended as investment advice. Information and analysis above are derived from sources and utilising methods believed to be reliable, but we cannot accept responsibility for any losses you may incur as a result of this analysis. Individuals should consult with their personal financial advisors.
© 2005-2019 http://www.MarketOracle.co.uk - The Market Oracle is a FREE Daily Financial Markets Analysis & Forecasting online publication.

Only logged in users are allowed to post comments.
Register/ Log in