Agri-Food's Impacted by U.S. Treasury Sucking $245 Billion Out of Financial Markets
Commodities
/
Agricultural Commodities
Aug 15, 2011 - 12:24 PM GMT


Since last Tuesday, when the U.S. Congress delivered a sugar-coated pig in a blanket sandwich rather than a deficit reduction plan, the Obama regime has been on a wild spending spree. Thus far, the U.S. Treasury, in little more than a week, has sucked $245 billion out of financial markets through the sale of U.S. government debt. Little else need be known to explain the collapse of financial markets.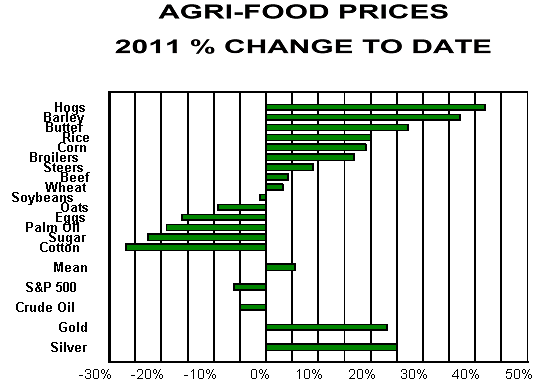 Equity markets, as measured by the S&P 500, are in the early part of another Bernanke bear market. While only down 14% from the high, plunging below major resistance and the 200-day moving average may be sufficient evidence for that appraisal. While equity bulls are being slaughtered and bears are gorging themselves on their remains, some continue living high on the hog.
Above chart is of the year-to-date percentage change of a selection of important Agri-Food commodities, and some other prices of interest. While not wanting to become the modern day Les Nessman of WKRP fame, hog prices continue to amaze. Chinese imports of U.S. pork are up 81% from a year ago. Year-to-date U.S. pork exports are 14% above last year. That type of growth might have been too exciting for Nessman to report, especially with the backdrop of the overwhelming and ongoing Obama induced recession. Again, investors should be investigating pork plays such as, but not limited to, SFD, FEED, and HOGS. Another, more broad possibility for participating in the Agri-Food Super Cycle is BARN.
Corn prices continue somewhat strong as traders bet the weekly weather reports and game the USDA WASDE. That report, World Agriculture Supply & Demand Estimates, was released this past week. Forecast for corn crop now in the ground had been too high given the abnormally high temperatures in North America this Summer. The per acre production estimate was cut, and is now probably too low. In any event, reality will dictate matters in about a month when the pickers hit the fields in the Northern Hemisphere. Wheat prices may be a more important influence on corn prices than the weather as the risk of the price of that grain moving lower rises.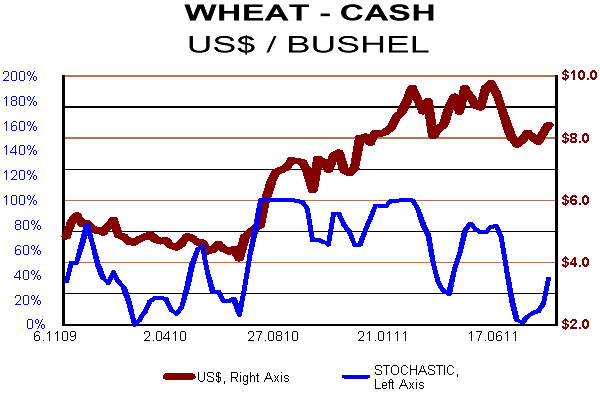 Wheat, as we have noted several times, is where the most recent market cycle started last year. At that time dry weather in Western Asia, Russia and those states around its western border, ceased exporting wheat. Price rose dramatically. Now those exports are flowing again to important customers in the Middle East. Most Middle Eastern nations could not feed their people without Russian wheat and high-priced oil.
Current crop year for U.S. wheat began 1 June. U.S. wheat exports thus far in the crop year are up about 25%. Last year they were up 30-50% after the Russian wheat export embargo. Problem developing is that U.S. wheat exports sales, which is wheat to be exported, are down 12% from a year ago. Outlook would have to be that U.S. wheat exports will continue to weaken, and that has negative ramifications for U.S. price of wheat and those grains functionally connected to it.
In thinking about this remember that Agri-Food commodity markets do have some individuality, but they are also functionally connected. Agri-Food commodity prices are best described as being much like a Rubik's Cube. When wheat prices went higher, some switched to feeding corn and other grains. That pushed up those prices. Now, with wheat prices likely to move lower, feeding will shift away from corn and other grains. Further, ethanol in the coming year will become a demand constraint on corn. That all said, three years from now all could be "twice" their current prices.
5th U.S. Agricultural Land As An Investment Portfolio Consideration, 2011 is expected to be available by Labor Day. This report is the definitive annual study of returns earned on U.S. agricultural land. Includes analysis of both crop land and pasture land for important agricultural states, identifying the best current investment opportunities. This unique, though dry and boring, statistical analysis is intended for sophisticated investors. Obtain it at: www.agrifoodvalueview.com/AgriLandAnnual Mention web site on which you read this article, receive 15% refund.
By Ned W Schmidt CFA, CEBS
AGRI-FOOD THOUGHTS is from Ned W. Schmidt,CFA,CEBS, publisher of The Agri-Food Value View, a monthly exploration of the Agri-Food grand cycle being created by China, India, and Eco-energy. To contract Ned or to learn more, use this link: www.agrifoodvalueview.com.
Copyright © 2010 Ned W. Schmidt - All Rights Reserved
© 2005-2019 http://www.MarketOracle.co.uk - The Market Oracle is a FREE Daily Financial Markets Analysis & Forecasting online publication.

Only logged in users are allowed to post comments.
Register/ Log in