Investing in Latin American Rich Resources
Commodities
/
Resources Investing
Jan 15, 2008 - 01:05 PM GMT

Martin Weiss. and Rudy Martin write: I've been going back and forth to South America almost every year since I was six years old.
My first trip was in 1952 on Moore-McCormack's SS Brasil and took us about eight days. My last trip was two weeks ago on Brazil's TAM Airlines and took us about eight hours.
But the sweeping changes in the past half century go far beyond the speed of travel.
Back in the 1950s, the U.S. economy was the strongest in the world; its dollar, the kingpin. Economies like Brazil's were precarious, their currencies on the verge of massive declines.
Back then, the U.S. had a robust trade surplus, and virtually every country in the world, developed or undeveloped, craved its high-quality manufactured products. Brazil's products, by comparison, were often shoddy.
Back then, America's oil and refining industries were the envy of the globe; Brazil's, nearly non-existent.
In those days, America's railroad, highway and riverine transportation networks were unsurpassed. In Brazil, by contrast, once you left the coast and drove a short distance inland, roads literally turned to dust. There were virtually no paved highways, no gas stations, few services.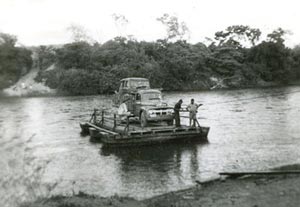 On a trek to Brazil's central plateau in 1953, for example, our jeep broke down. But there was no such thing as a tow truck. And the nearest repair shop was a couple hundred miles away.
So some sharecroppers mounted the jeep on a big pick-up — and the truck, in turn, had to be ported onto a barge to cross a major river along the way. The only road had no bridge.
Today, all that has not only changed ... it's actually in the process of reversing:
Now, it's the U.S. economy that's perched precariously on a precipice — the housing bust deepening ... the credit crunch spreading ... consumer confidence plunging ... unemployment surging ... double-digit inflation stirring ... recession threatening to strike hard and fast.

In contrast, as we'll explain in a moment, Brazil's economy is leaping forward.

Today, it's the U.S. that has the big trade deficit — the largest in the world. Indeed, on Friday, the Commerce Department announced that November's deficit rose to the highest level in 14 months.

The main reason: America spent a record amount on imported oil. In contrast, Brazil now leads the world in developing and discovering new energy sources. (More on this below.)

The U.S. dollar is now among the weakest in the world; Brazil's real, among the strongest.

America's domestic transportation network is in a state of chronic deterioration and disrepair; in developing countries like Brazil, we see the opposite trend.
Certainly, the United States is still far richer in almost all respects. But in terms of the direction of change , the contrast could not be greater.
Naysayers of Brazil Proven Wrong
Early last year, the skeptics said Brazil's economy would flop. Instead, its growth doubled, exceeding even the rosiest of the government's own projections.
Naysayers also warned of accelerated inflation. Instead, Brazil's CPI ended the year up a modest 4.3%, less than the government's own target.
Naysayers also warned that the huge cost of better labor benefits would hamper job growth. Again, Brazil surprised everyone, adding two million new registered jobs in 2007, with many more unregistered new jobs.
Result: Brazil's stock market soared, and iShares MSCI Brazil (EWZ) — the ETF representing Brazil's blue-chips that we've been highlighting here continually — rose a whopping 72% for the year.
That's more than fourteen times better than performance of the Dow Jones Industrials or the S&P 500.
And over the past two years, the contrast is similar:
The Brazil ETF is up 275%, compared to just 26% on the Dow.
On a day-to-day basis, it may appear that Brazil's stock market follows ours.
So with ours falling in anticipation of a deep U.S. recession, don't be surprised if Brazil's does the same — for a while.
But in reality, last year's fourteen-fold outperformance by Brazil demonstrates that these markets are on two separate, independent tracks.
Why?
Rudy Martin, who is providing independent research to Money and Markets about profit opportunities in Latin American , explains it in a brand new 55-page report we are issuing today!
Here are the highlights ...

Resources and Riches in Latin America
by Rudy Martin
Who is the world's richest man? Warren Buffett? Bill Gates? Or Carlos Slim of Mexico?
As unbelievable as it may appear at first blush, the correct answer is Carlos Slim. With an estimated net worth of $68 billion, his wealth exceeds Gates' $59 billion and Buffett's $54 billion.
How is this possible?
Because Latin American stocks are now enjoying their greatest boom in history — and that boom has dramatically boosted the value of Slim's net worth.
And right now, three powerful megatrends are powering the boom:
Megatrend #1. Population Explosion
Within the next decade, Brazil and Mexico's combined population will exceed that of the United States.
Already, with 180 billion, Brazil is the fifth most populous country in the world. And already, for each U.S. citizen or resident in the United States, there are 1.9 Latin Americans.
Latin America has five cities — Mexico City, São Paulo, Buenos Aires, Rio de Janeiro and Lima — with over eight million people.
And this shift is generating a whole new array of business opportunities.
Some factoids:
eBay recently went public with its Latin American version, MercadoLibre. The stock surged 60% in less than two months.
There's a burgeoning new market for financial services, with millions opening bank accounts for the first time. In response, Wal-Mart is opening bank branches in 1,000 locations throughout Mexico.
Overall, there are now more than 2,600 U.S. companies with operations in Mexico.
Whole new industries and profit-making opportunities are emerging to fill the needs of a new, more powerful middle class, driving demand for more consumer goods, more cars, and more roads.
Megatrend #2. A New Energy Boom
About 300 miles off its southern coast, Brazil has made one of the largest oil discoveries of all time.
The oil is imprisoned below three miles of water, three miles of rock and three miles of a crust of salt. So it's not going to be pouring forth from day one. But Brazil's Petrobras is among the world's leaders in deep-sea oil exploration. And with it, Brazil is now on its way to becoming a major oil exporter.
More importantly, estimates of find's size keep growing. Initially, it was thought to be 5 to 8 billion barrels, and that was the largest find since a 12-billion barrel discovery in Kazakhstan seven years ago.
But a Credit Suisse study released on January 3 estimates that the total potential find could be as much as 46.5 billion barrels. If confirmed, this new alone would boost Brazil's total reserves to close to the 60-billion-barrel level — rivaling that of Russia, one of the world's leading energy exporters.
Meanwhile, Brazil continues to make major headway in developing renewable sources of energy. Its production of sugar-based ethanol grew 13% in 2007 and should grow another 10% in the crop year beginning March.
The country's first in line to supply ethanol to the U.S. to meet the requirements of new energy legislation recently approved by Congress. And Congress estimates that, by 2022, 15 billion liters of ethanol will have to come from sources other than corn. Brazil is one of the few countries that can provide it.
Plus, Brazil is on the verge of another major breakthrough: Its geneticists are close to completing a unique genome project — to map the DNA of the yeast used in fermenting cane into ethanol. Once that's completed, expect substantially improved yeasts and major new efficiencies.
End result: Energy self-sufficiency. Plus, not too far down the road, major new surpluses driven by energy exports.
Megatrend #3. The Boom in Metals and Materials
Growing global demand for metals has rekindled intense interest in South America's mineral wealth. The region holds some of the world's largest and most competitive deposits of alumina, bauxite, copper, iron ore, nickel and zinc.
That's an enviable position, given the soaring prices for each of these commodities.
Take a look at copper, for example. Supplies are limited and in the hands of a small number of producers with the capital and distribution clout to ship to the most important markets.
And demand is surging. The U.S. used to be the largest consumer of copper. But no more. Now China has leaped ahead, reducing the potential impact of a U.S. recession on worldwide copper prices.
Ditto for iron ore, where Brazil is the world's largest producer and Asian steel producers are the biggest consumers.
Overall, these megatrends explain why and how the stock markets of Brazil and other Latin American countries are following a new and impendent path.
They cannot entirely avoid the impact of any sharp declines in U.S. stocks. But any setbacks in Latin American stocks should be jumped on as buying opportunities.
Note: Rudy Martin's full 55-page report, "Resources and Riches in Latin America: How to Invest in This Expanding Economic Miracle," is being released today .
It includes 5 urgent stock recommendations aiming for immediate profits plus 2 ETFs for instant diversification. It comes with four follow-up action alerts throughout 2008, and a 100% money-back guarantee. To be among the first to get it, call 866-633-3024, or click here .
Best wishes,
Martin D. Weiss Ph.D. and Rudy Martin
This investment news is brought to you by Money and Markets . Money and Markets is a free daily investment newsletter from Martin D. Weiss and Weiss Research analysts offering the latest investing news and financial insights for the stock market, including tips and advice on investing in gold, energy and oil. Dr. Weiss is a leader in the fields of investing, interest rates, financial safety and economic forecasting. To view archives or subscribe, visit http://www.moneyandmarkets.com .
© 2005-2019 http://www.MarketOracle.co.uk - The Market Oracle is a FREE Daily Financial Markets Analysis & Forecasting online publication.

Only logged in users are allowed to post comments.
Register/ Log in