The Global Infrastructure Investment Deficit
Stock-Markets
/
Infrastructure
Aug 31, 2012 - 02:44 PM GMT


Infrastructure is the physical systems – the roads, power transmission lines and towers, airports, dams, buses, subways, rail links, ports and bridges, power plants, water delivery systems, hospitals, sewage treatment, etc. – that are the building blocks, the Legos, that fuel a countries, a cities or a community's economical, social and financial development.
There is an undeniable, an unarguable connection between the quality of a countries economic competitiveness and its infrastructure. Yet study after study shows the global economy running an infrastructure deficit of anywhere from US$ 40 trillion to $70 trillion.
Booz Allen Hamilton, in a 2007 report, estimated that investment needed to "modernize obsolescent systems and meet expanding demand" for infrastructure worldwide between 2005 and 2030 was around US$ 41 trillion.
Infrastructure spending geographically:
Middle East $0.9 trillion
Africa $1.1 trillion
US/Canada $6.5 trillion
South America/Latin America $7.4 trillion
Europe $9.1 trillion
Asia/Oceania $15.8 trillion
Infrastructure spending by sector:
Water and wastewater $22.6 trillion
Power $9.0 trillion
Road and rail $7.8 trillion
Airports/seaports $1.6 trillion
CIBC World Markets, in 2009, quoted estimates of up to $35 trillion in public works spending over the period from 2010-2030.
The Organization for Economic Co-operation and Development (OECD) estimated total new spending over the next 20 years could be as high as to $71 trillion.
"Increased mobility is a driver which is key in both developed and in emerging markets: In developed markets, big parts of the transportation networks were planned and built decades ago and no longer meet the requirements of increasing numbers of commuters. Enhancements and improvements hence take the lion's share of transportation infrastructure in developed markets. In emerging markets, an ever-increasing number of people can afford cars – car sales in China for example recently surpassed US car sales. As a result, significant developments in the transportation infrastructure are needed." Credit Suisse Group AG
The World Economic Forum's Positive Infrastructure Report finds that the world faces a global infrastructure deficit of $2 trillion per year over the next 20 years.
According to a prediction made by Norman Anderson, chief executive of Washington DC-based CG/LA Infrastructure, the OECD's estimated $71 trillion of needed infrastructure spending thorough 2030 is likely to be met with only $24tn spend by the world's leading economies - a shortfall falling somewhere between $16 to $47 trillion.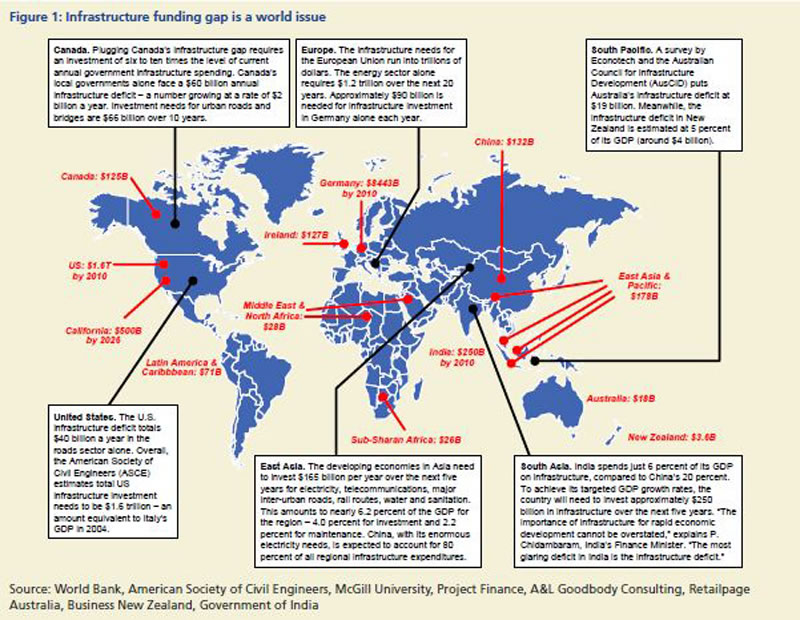 Deloitte & Touche LLP.
Infrastructure, like everything, has a lifespan, in many areas infrastructure is simply too old.
"The drought of 2006 in London, the worst in a century, will be remembered for the dirty little secret it exposed. Hundreds of thousands of liters of water — enough to fill 10 million bathtubs — were leaking every day from the city's old and rotted pipes, some of which dated back to the Victorian era.
Around the same time, 3,000 miles away, a blackout in the New York City borough of Queens left nearly 100,000 people without electricity for nine days. Local officials were at a loss to explain the failure. Customers later learned that this borough, with more than 2 million residents and 15 percent population growth since 2000, gets its electricity through utility feeder cables that are 30 to 60 years old. These narrow and corroding conductors were not only unable to keep up with rising demand; they had also made it difficult for engineers to diagnose the breakdown.
Cairo, Los Angeles, Beijing, Paris, Moscow, Mumbai, Tokyo, Washington, Sao Paulo: Each major city has its own story of electricity, transportation, or water systems in crisis. Although the circumstances vary from one urban area to the next, they all have one thing in common: The critical infrastructure that is taken for granted by both their citizens and their government leaders is technologically outdated, woefully inadequate, increasingly fragile, or all of the above. In some cities, the quality of water, power, and transportation infrastructure is noticeably declining. In others, it was never very good to begin with. And few cities have enough of it to meet future needs." Lights! Water! Motion!, strategy-business.com
The American Society of Civil Engineers (ASCE) 2009 Report Card for America's Infrastructure graded the U.S. infrastructure with a "D."
The Society has recently published three Failure to Act reports, studies on surface transportation and water were released in 2011:
"ASCE's economic report on surface transportation, released in July 2011, found that our deteriorating infrastructure will cost the American economy more than 876,000 jobs and suppress the growth of our GDP by $897 billion by the year 2020. We are facing a funding gap of about $94 billion a year with our current spending levels.
Our nation's drinking water and wastewater infrastructure is aging and overburdened, and that investment is not keeping up with the need. However, a modest increase in investment in drinking water, wastewater, and wet weather water quality measures can prevent future economic losses.
Making this small investment in infrastructure will:
• Protect $416B in GDP • Protect almost 700,000 jobs • Avoid personal income losses of $541B"
The ASCE report on electricity infrastructure was released in April of 2012:
"Based on current investment trends, the national electricity infrastructure gap is estimated to be $107B by 2020, or just over $11B per year. By 2020, shortfalls in grid investments are expected to account for almost 90% of the investment gap with nearly $95B in additional dollars needed to modernize the grid. Closing the electricity investment gap would lead to fewer brownouts and blackouts and save US businesses $126 billion, prevent the loss of 529,000 jobs and $656 billion in personal income losses for American families."
The air and sea ports report will be released in the fall of 2012 - a final Failure to Act summary report will be released winter 2012/13.
Conclusion
Global deficit hawks are driving forward with their austerity programs, they don't get it – private firms, despite having piles of cash, will not let go of the purse strings if we fail to make adequate infrastructure investments.
In the US, the impact of economic growth of infrastructure spending worth one percent of GDP is more than double the impact of tax cuts (because consumers might spend tax cuts on imported goods or increase their savings).
The road not taken… "Fiscal stimuli programmes around the world structured in response to the financial and economic crisis of 2008-2009 provide an unprecedented opportunity to address this infrastructure deficit." World Economic Forum's Positive Infrastructure Report
The global infrastructure deficit, the road not yet taken, and the investment opportunities presented, should be on all our radar screens. Are they on yours?
If not, maybe they should be.
By Richard (Rick) Mills
If you're interested in learning more about the junior resource and bio-med sectors please come and visit us at www.aheadoftheherd.com
Site membership is free. No credit card or personal information is asked for.
Richard is host of Aheadoftheherd.com and invests in the junior resource sector.
His articles have been published on over 400 websites, including: Wall Street Journal, Market Oracle, SafeHaven , USAToday, National Post, Stockhouse, Lewrockwell, Pinnacledigest, Uranium Miner, Beforeitsnews, SeekingAlpha, MontrealGazette, Casey Research, 24hgold, Vancouver Sun, CBSnews, SilverBearCafe, Infomine, Huffington Post, Mineweb, 321Gold, Kitco, Gold-Eagle, The Gold/Energy Reports, Calgary Herald, Resource Investor, Mining.com, Forbes, FNArena, Uraniumseek, Financial Sense, Goldseek, Dallasnews, Vantagewire, Resourceclips and the Association of Mining Analysts.
Copyright © 2012 Richard (Rick) Mills - All Rights Reserved
Legal Notice / Disclaimer: This document is not and should not be construed as an offer to sell or the solicitation of an offer to purchase or subscribe for any investment. Richard Mills has based this document on information obtained from sources he believes to be reliable but which has not been independently verified; Richard Mills makes no guarantee, representation or warranty and accepts no responsibility or liability as to its accuracy or completeness. Expressions of opinion are those of Richard Mills only and are subject to change without notice. Richard Mills assumes no warranty, liability or guarantee for the current relevance, correctness or completeness of any information provided within this Report and will not be held liable for the consequence of reliance upon any opinion or statement contained herein or any omission. Furthermore, I, Richard Mills, assume no liability for any direct or indirect loss or damage or, in particular, for lost profit, which you may incur as a result of the use and existence of the information provided within this Report.
© 2005-2019 http://www.MarketOracle.co.uk - The Market Oracle is a FREE Daily Financial Markets Analysis & Forecasting online publication.

Only logged in users are allowed to post comments.
Register/ Log in