Counterfeit Economies Facing Waves of Insolvency, Bonds the Ultimate Malinvestment
Interest-Rates
/
Global Debt Crisis 2012
Oct 26, 2012 - 08:03 AM GMT

The Mayan calendar points to the end of the world coming in December. It may not end on that date but major disruptions can be anticipated. CENTRAL banks have fully uncorked the printing presses to meet the waves of insolvency set to STRIKE the banksters, public servants and the elites. Transferring your wealth to themselves and their something for nothing societies to PAY for their moral and fiscal insolvencies.
There is an incredible number potential crisis in the short term (3 to 6 months); any one could spark a major financial, economic and political crisis by themselves. Taken together they practically GUARANTEE it. Fat tails and black swans loom. They really are only black swans and fat tails to Keynesian economists, for those of the Austrian camp they are PREDICTABLE and INEVITABLE! Look at this litany of UNFOLDING CATASTROPHES from a recent Financial Times:

Collapsing economies, capital flight from weak to the strong (target 2 sends the funds right back to the failing central banks), planned tax increases and mandatory spending cuts, and chronic current account and BUDGET deficits. You must understand that the US fiscal cliff was the ONLY answer for politicians who need someone else to blame for what MUST come to pass. So they did the deal and now can point to each other with no one specific to blame. My opinion: the spending cuts need to be retained and all government spending must be frozen. The government does not need any more money for INVESTMENTS (spending).
"Nothing in government happens by accident, if it happens you can be certain it was planned that way."
--Franklin Delano Roosevelt
Now let's look at the greatest BLACK swan of them all, one far from the headlines but the HEART of the currency and financial system EXTINCTION event (courtesy of www.zerohedge):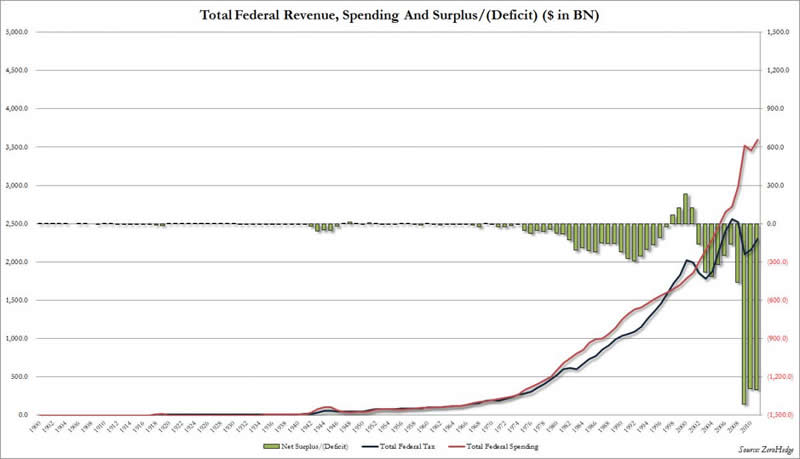 The JAWS OF DEATH! This is the FINGERPRINTS of the COLLAPSING US economy. This is a death, debt and deficit SPIRAL. This is what central planning and PROGRESSIVE government has done. Regulations have INCREASED 25% in 3.5 short years, debt has climbed about 60% ($6 Trillion Plus). If you think that sets the table for ECONOMIC and JOB growth: VOTE DEMOCRAT. The only thing that can fill those holes that BIG is the printing press. So you can expect counterfeit money creating counterfeit growth.
Now we know why QE infinity is REQUIRED: complete and total INSOLVENCY of the government of the United States and of course this is just today. The debt of the United States is approximately 60 to 70% of the RESERVES of ALL central banks around the world. When they go to zero so does every other central bank in the world. Any keen observer of US treasury auctions KNOWS that they are mostly bought by the Federal Reserve and other central banks to preserve the purchasing power they have left. They then call them assets. It is check kiting on the grandest scale in history.
Based on Harvard studies by Lawrence Kolikof, the GAAP (Generally accepted accounting principles), the total outstanding liabilities TOTAL $222 TRILLION dollars up $11 trillion dollars SINCE LAST YEAR. Previous issues of this newsletter have outlined how the US economy in REAL terms is about $11 trillion (not the $15 trillion plus that is posted by the government) when you back out IMPUTED phantom growth. So debt and future obligations in the United States are now compounding at approximately 100% PER YEAR of GDP!
As the FINAL chapter in money printing FOLLIES roars into life with UNLIMITED Quantitative Easing now the official policy of the BANKRUPT WELFARE STATES of the developed world in anticipation of financial system asset and Sovereign bond failures. Central bank balance sheets as TOXIC waste dumps!
This is the face of TOXIC assets being financed by central banks, $10 trillion dollars since 2006, a doubling or tripling to follow!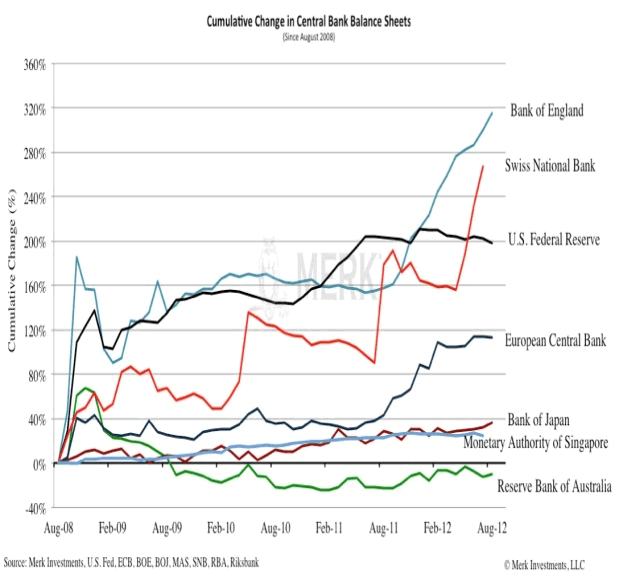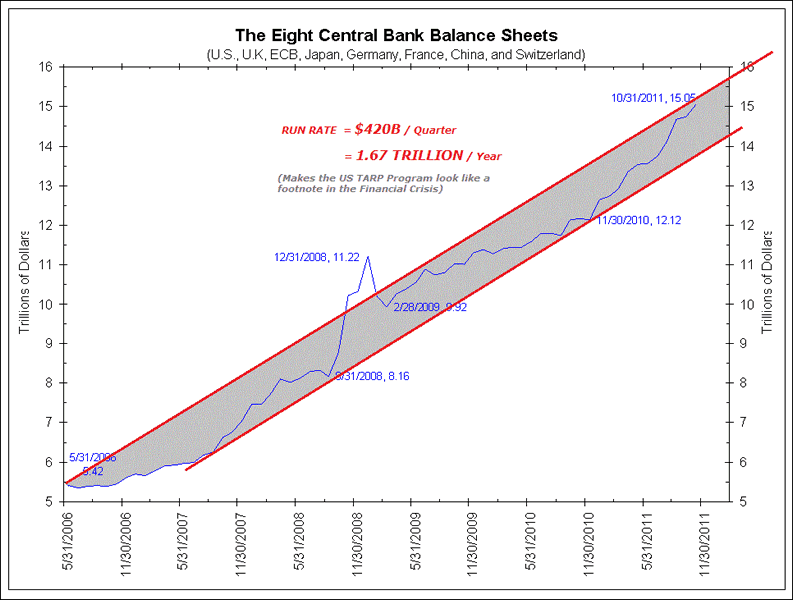 This is the face of central bank balance sheets BEFORE QE to infinity, the pace is now set to explode higher. Globally most major economies are in FREE Fall so Central bank cannons (money printing out of thin air) are fully engaged in the US, Eurozone, Japan, Switzerland and the UK. Battles are raging between Bankrupt financial systems and their elite owners versus Mother Nature, Darwin, and history.
In the developed world economies are in free-fall in REAL terms. As income, wealth creation and tax receipts crumble under the socialist governments in power policies, the printing press is being substituted. The public is told it is to protect them and revive the economies when it is actually the greatest theft in history as elites use the main stream media, misinformed citizens and a printing press to transfer wealth from the public to themselves via financial repression in so many ways.
"If the outlook for the labor market does not improve substantially, the Committee will continue its purchases of agency mortgage-backed securities, Undertake additional asset purchases, and employ its other policy tools as appropriate until such improvement is achieved in a context of price stability."
--Ben Bernanke September FOMC
You must understand that they have created a hurdle: LOWERING UNEMPLOYMENT. Which money printing and asset purchases will NEVER yield to: so the money printing will never end. Take a look at this chart for the Harvard business school's "PROSPERITY AT RISK" study from January 2012: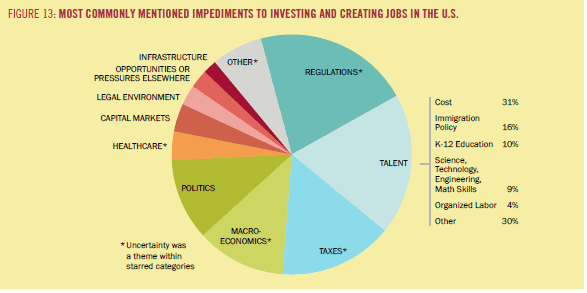 Do you see lack of funding, liquidity or loans stopping business expansion? NO. The impediments are: REGULATIONS, LACK of TALENT from a public school system that no longer teaches, TAXES, POLITICS and MACRO economics as a result of the FAILURE of CENTRAL PLANNING out of WASHINGTON DC. Do you see anyone in government willing to reduce regulations taxation and the control of others which they have sold to the special interests which support them?
(This is an extremely interesting detailed analysis document and can be accessed at http://www.hbs.edu/competitiveness/pdf/hbscompsurvey.pdf the survey is of real heavyweight businessmen). It pins the blame on WASHINGTON DC. NO SURPRISE as the progressives attack all virtuous behavior and rewards poor behavior. These CORRUPT public serpents within the BELTWAY and their crony capitalist and bankster masters are the cause not the solution of the problem.
"Respondents point to America's tax code, political system, K-12 education system, macroeconomic policies, legal framework, regulations, infrastructure, and workforce skills as the greatest current or emerging weaknesses in the U.S. business environment."
--Prosperity at risk, Harvard 2012
Notice that the government is IN CHARGE of the areas of greatest concern? Look at the deep overview these business leaders gave into the various impediments to growth created by the public serpents and their CRONY CAPITALIST masters have created in the United States.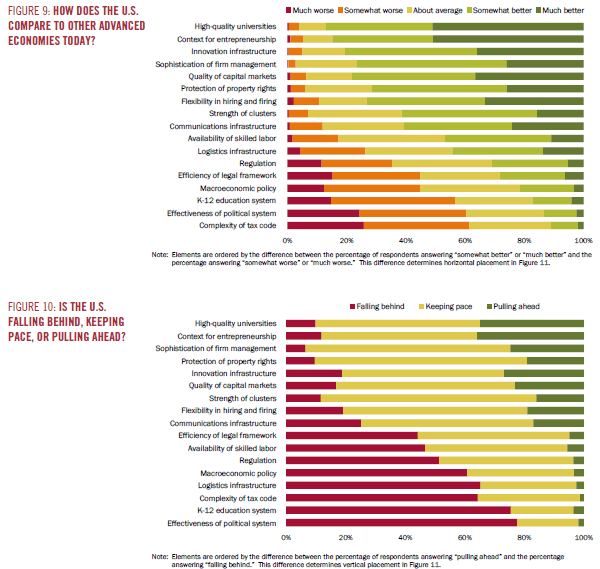 Wow, what an indictment of the political vacuum and poor leadership from the fraudsters inside the beltway and in progressive state capitols. This study provides a roadmap to government and economic REFORM, wealth and job creation. So it's a candidate for the trash can inside the beltway.
QE3 has NOTHING TO DO with ECONOMIC STIMULUS. That is what they tell the useful idiots (dumbed down citizens) to get them to buy into the program of robbery: WITH THEM AS THE VICTIM, but they don't know it.
This is a BANKING, FINANCIAL system and insolvent US government rescue and nothing more. They will pay for it by stealing the purchasing power right out of your money while it SITS in the BANK. Your balance stays the same but EVERY DAY it BUYS LESS.
This misery has just begun, kicking into a newer higher gear of FINANCIAL repression as the powers that be have now embraced inflating their way out of debt. They will fail and destroy us all in the attempt.
Fiat currency and credit systems die in waves of insolvency and the global central banks see a tsunami of insolvency on the horizon. So they have positioned themselves to guarantee the unpayable and inextinguishable debts of bankrupt financial systems, elites and their sovereign partners. Transferring the wealth of the public to themselves. It will work for a while until the public WAKES UP which they will do sooner or later and abandons the paper FAKE money. Then from the ashes of the asset market crash a "Crack-up Boom" will APPEAR!
CURRENCY wars are in full bloom as each Central bank tries to devalue faster than the other. At the World Bank and IMF meetings In Japan Helicopter Ben promised them they will be defeated at the hands of the FED. Give up he said and let your currencies rise against the dollar. After that speech I am sure they called the printing rooms in their countries and planned to crank them up as the battle is joined.
Bankers now RULE the world as they control the money and as the insolvencies unfold they will gather MORE POLITICAL power in exchange for money printed out of thin air or by a keystroke. Just ask Mariano Rajoy in Spain who huffs and puffs about no conditionality for a rescue of the banking system and the morally and fiscally insolvent sovereign. The world for him and them is constantly shrinking. Waiting for stupid PRIVATE sector lenders to COMPLETELY REFUSE to buy the unpayable and inextinguishable debt.
"Let us control the money of a country, and we care not who makes the laws."
-- Amschel Rothschild, original head of the House of Rothschild.
The ECB is another one of his children's possessions and Mario Draghli is his EMPLOYEE in his role as a director of the Bank of international settlements (central bank to central banks). The conversion developed world's citizens from FREE MEN to as DEBT SLAVES continues to unfold.
"Not since the days of slavery have there been so many people who feel entitled to what other people have produced as there are in the modern welfare state, whether in Western Europe or on this side of the Atlantic."
-- Thomas Sowell
The Spanish government will surrender to the money printers or be torn apart by their constituent something for nothing citizenry. As for the Eurozone the warblers in the press are reporting the preparations being made to RESCUE Spain and Italy once they have surrendered sovereignty through a memorandum of understanding with European commission in Brussels, IMF and the ECB. Spain and Italy are in the financial emergency room with euro 550 billion PLUS in new debt and old that must roll by the end of 2013. Chance of this happening without ECB support? NONE!
Their financial death is assured and the ECB and European commission is trying to figure out the maximum amount of HOT AIR that can be deployed to substitute for REAL money. The money to fund the Spanish Bank bailout was only an illusion. No money was being sent, just more promises to pay known as BOMBs…er…bonds. More unpayable promises to pay to replenish imaginary reserves with more imaginary reserves.
Illusions on top of illusions, Unpayable and inextinguishable debts piled on top of each other, IOU's denominated IOU's and called assets and wealth. When the PUBLIC WAKES UP the real crisis BEGINS. The crisis of an epidemic of insolvency. Met heads up by the printing money "OUT OF THIN", now to infinity!
Now the whole deal is off the table as the AAA core of Germany, Finland, Belgium, France etc., are now reneging of the July summit agreement to RESCUE the Spanish banking system. Look at the most recent report on Non-performing loans in the Spanish banking system courtesy of www.zerohedge.com: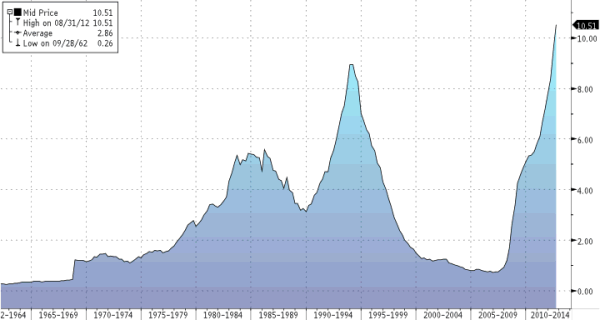 Wow, a runaway BULL market in BAD DEBT! 10.5% of all outstanding loans, a record 178.6 billion EUROS. The ECB and Spanish authority's and independent auditor Oliver Wyman put the bailout amount at 60 million euros, just 1/3rd the amount needed to rescue the banking system and the losses on NON performing loans just keep on RISING. Who do you believe? The ECB, Spanish finance ministry and European commission or YOUR LYING EYES? KEEP IN MIND, Italy's banking system is approximately 6.8% nonperforming loans so it is not far behind (12 months at the maximum).
It's strange that this is not in the press as the demise of the Spanish and Italian banking systems will rip apart the Euro and European Union banking systems. The target two Imbalances, bank runs and capital flight alone assure the death of the core and peripheral banking systems. All the European commission and ECB need to do is WAIT, and they will conquer Spain, Italy, Portugal, Greece and Ireland with a printing press rather than at the point of a gun.
(Author's note: This is NOT Doom and GLOOM, it is the greatest opportunity in HISTORY. Invest properly for this outcome and Prosper, invest looking in the REARVIEW mirror and your wealth will be irreparably DAMAGED. Volatility is opportunity for the prepared investor. As it is priced in and markets ZOOM higher or LOWER to price in collapsing economies and money printing huge opportunities are created. Is your portfolio structured to thrive? The greatest transfer of wealth from those that hold it in paper and financial assets to those that don't is UNDERWAY. Restoring fiat currencies to sound money and absolute return alternative investments with the potential to thrive in all market (up, down and sideways) conditions is what I do. If you have an interest in learning more and working with Ty: CLICK HERE).
Canary's in the COAL mine. Please take notice that George Soros, Jacob Rothschild and John Paulsen have recently made huge new purchases of GOLD while at the same time they have taken profits on a lot of their equity positions. What do they know that we don't? What would their ACTIONS rather than their words SIGNAL? Can you say the big boys are out at the top (stocks) and in at the bottom (GOLD)? PROBABLY. Now add Bill Gross at Pimco and Ray Dalio at Bridgewater associates singing the praises of GOLD. Every major hedgie in the world is looking at themselves and saying: DO I HAVE GOLD IN THE PORTFOLIO? Do you smell something about to happen? Look at this BULL MARKET in central bank's gold holdings: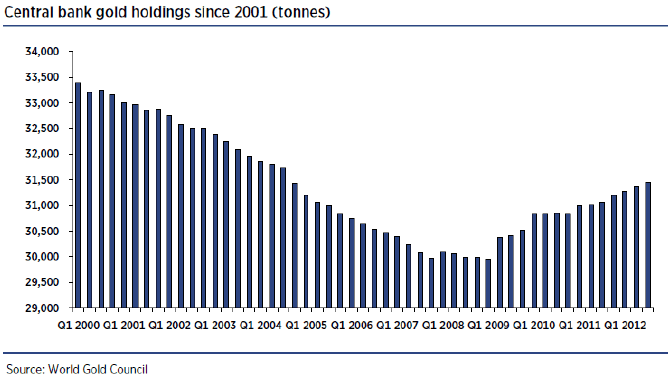 Wow, can you say under accumulation? Do you think GOLD can go down much in the face of this and private sector demand? With negative interest rates, unlimited QE which projects to at least $10 Trillion dollars (all developed world central banks combined) in the near term, and a wonderful LONG TERM correction BEHIND US. Buy the dips…
Another canary is the legendary Warren Buffet who has also taken a lot of equity gains off the table, while at the same time EXITING the muni bond insurance business with a big loss! Meredith Whitney may be reviled for blowing the whistle early on the coming muni bond bust but the facts remain the same. After three California municipal bankruptcies, one in Birmingham AL and Harrisburg Pa things are heating up. The State of Illinois and city of Chicago insolvencies are looming bigger and BIGGER. These are but the tips of the iceberg of the coming state and municipal bankruptcies. HI HO, HI HO it's off to the printing press they will GO!
The powers that be now have given up on reviving their economies through policy changes to revive their economies. Entrenched bureaucrats and special interest elites (bankster, crony capitalists, and unions) prohibit the changes that must be made. Now they are just trying to preserve and expand leviathan government at all costs. Confiscating the parts of the private sector that have escaped previous confiscation. Most are resorting to 5 dollars of new taxes versus 1 dollars' worth of FAKE spending cuts. And the public is RECOILING in HORROR as they have little left to give.
Preludes to the next leg down in the REAL economy, look no further than FRANCE for the socialist recipe for failure. I can hear the explosions in the near future as that economy implodes under socialist savior Francois Hollande. Exactly the opposite of what must occur, which is lower regulation, lower taxes, rewards for saving and investment and the restoration of PRIVATE property.
"A man who is used to acting in one way never changes: he must come to ruin when the times, in changing, no longer are in harmony with his ways"
-- Machiavelli
This statement is the death knell for socialists throughout the developed world. Current leaders are DOOMED to FAILURE. Socialists who are doing what they always have done throughout history: SPREADING MISERY WIDELY as their policies destroy the incentives to produce, save, and create wealth. Punishing those that do so and rewarding those that don't in exchange for political support in exchange for theft and redistribution of the property of others at the end of a government gun. IT IS A TIME TESTED RECIPE for FAILURE and evolving dictatorships as market economies collapse. See Cloward PIVEN strategy, google it, read it and weep. This is what is being done THROUGHOUT the developed world, dictatorships loom.
"Poverty is the parent of revolution and crime."
-- Aristotle
Mother Nature is demanding that the developed world RETURN to creating wealth rather than consuming and destroying it. Survival of the fittest as Charles Darwin observed, whether we like it or not the spoils of success go to those that are the strongest/fittest: mentally, militarily and economically. The developed world is weak in those respects and ignore the lessons of history. So they are doomed to repeat it.
It was how the developed world was built prior the Bretton woods II, now we must return to that economic model. An economic plan based on the production of wealth rather than the consumption of it. Producing wealth produces demand. Just ask the Chinese or the Germans who produce wealth and increase demand by doing so. In order for wealth creation to happen the crisis must escalate in pain to the point that the powers that be will FORCED to embrace freedom rather than control over others.
Leaving humans free to build and accumulate wealth that they can keep. Just ask Deng Xiao Ping how that works after he had an epiphany "To get rich is Glorious" China has risen from a backwater to the world's second largest economy in just two short decades!
Nothing is more upsetting to me than the rush into the Bomb…er…Bond markets and cash by global investors. These ARE NOT the safe havens that are perceived to be. They believe money is still a store of value, no it is:
A medium of exchange

A promise to pay, also known as an IOU of fiscally and morally bankrupt politicians & central banks

Redeemable in NOTHING, now add: printed endlessly

Worth no more than the paper on which it is printed
In order for a bond to be paid the borrower must have INCOME that is stable at least stable or rising. In fact, in real terms the Developed world's economies are in FREEFALL. Subtract GDP from government spending financed by borrowing and you will see the true picture: economies declining at an annual rate of 3 to 9% compounding annually while their debts compound at approximately the same rate.
Remember
* Gold is the currency of kings
* Silver is the currency of merchants
* Credit is the currency of slaves
* Credit is not money
These poor souls are and will be the true victims of the currency and financial system extinction event as it unfolds around us. Let's look at the rush into a FOOL's gold: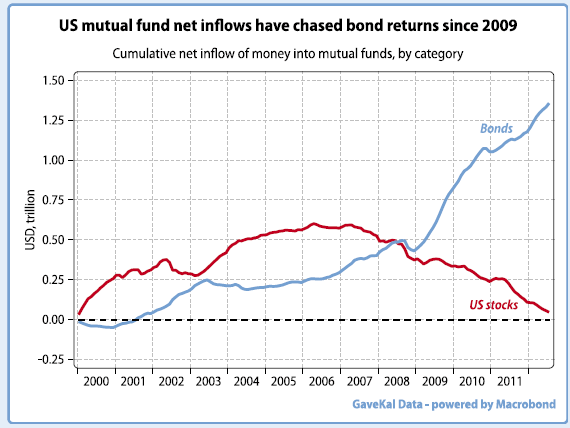 "Insanity in individuals is something rare – but in groups, parties, nations and epochs, it is the rule."
-- Friedrich Nietzche
LET ME BE CLEAR: you cannot store wealth in paper for the foreseeable future. In real terms the DELEVERAGING has barely occurred. Sure there are small pockets that have begun the deleveraging process but the REAL market clearing event of BAD DEBT is in the future. That is why QE to infinity is now official policy. As I said earlier a Tsunami of bad debt is about to strike.
And credit markets are the most net long they have been since 2008 (chart courtesy of www.zerohedge.com):

Bond market sentiment is euphoric and at levels which precede denouements. Everybody is RECORD long bonds since 2008 at a point of deep insolvencies within the banking and sovereign financial systems.
"US government debt is a safe haven the way Pearl Harbor was a safe haven in 1941."
-- Niall Ferguson
Now let's look at the leading indicator for when the slaughter of the innocents will begin and it is the velocity of money from a previous edition of TedBits: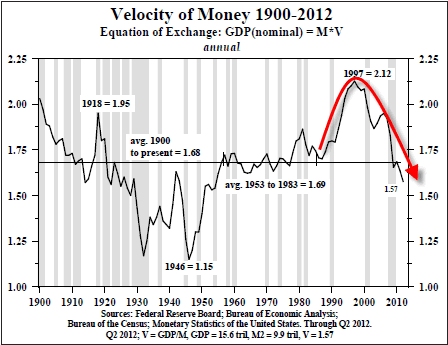 It is at FIVE decade lows and dropping FAST. With lots of room to FALL bringing global business to a crawl like in previous DEPRESSIONS, which we are in one now. Money is moving to the sidelines faster than the central banks can print it, banks can deploy it and governments can spend it to prop up their economies. This is the face of fear. FEAR of GOVERNMENT < FEAR OF THE FUTURE < FEAR OF UNPREDICTABLE SOCIALISTS IN POWER < FEAR OF SOMETHING FOR NOTHING SOCIETIES! FEAR drove this money to the sidelines and soon it will DRIVE IT OFF!
Now that developed world central banks are GARANTEEING ALL SOVEREIGN DEBT AND TOXIC BANK ASSETS with their printing presses it is only a MATTER of TIME till the PUBLIC WAKES UP! When they do you can expect a crash UP in Velocity. It is just as if you had a gun put to your head. Would you DUCK or take the BULLET? The holders of cash or bonds will DUCK as they wake up to the fact that they are storing their wealth in something that will be printed and issued WITHOUT LIMIT! This awakening looms in the near future…
Remember there is no final payment with a bomb…er…bond, they are IOU's denominated in IOU's. If one creditor doesn't get, you the other one will. For example, you may hold a bond in Johnson and Johnson, Intel, Microsoft or any international behemoth with stable cash flow, international diversification and customer bases, seemingly a very safe asset. Abracadabra, Presto-chango: trillions of dollars, euros, yen or pounds are printed and the purchasing power of the investment is vaporized leaving you with a bond denominated in NOTHING, which will be the value of your safe investment. THIS DAY IS LOOMING! It is right on the HORIZON!
"There are decades where nothing happens; and there are weeks where decades happen."
-- Vladimir Lenin
This moment approaches…
In closing: The decision to inflate their way out of the bad debt and toxic assets HAS BEEN MADE. Now it is only a question of how much to print and which toxic assets should be sent to the TOXIC WASTE DUMPS now known as CENTRAL BANKS balance sheets FIRST. The list will begin small and expand rapidly as toxic waste and bad debt goes to die. The bomb…er…bond markets are under direct ATTACK as the insolvent governments and the banks take the route of the soft default of the printing press. With the public IN AT THE TOP of a 3 decade mega BULL.
Many people believe Romney will stop the printing press. NO WAY, we are below the event horizon, withdraw the monetization and the insolvencies will make Lehman brothers a walk in the park. In fact, any REAL accounting of the bad debt in the financial system would instantly VAPORIZE the balance sheets of the biggest banks in the world.
Complacency reigns in many markets; volatility is at levels that have preceded MAJOR attitude adjustments/corrections among investors. Take a look at this look at stock, commodity and currency volatility:
Near RECORD LOWS across the board! Notice the difference from previous QE episodes? QE normally is applied when blood is running in the streets. Now it is being applied during a relatively quiet period. Obviously BLOOD is spilling (or about to be spilled or both) but WE can't see it but the Federal Reserve and other central banks CAN. Please notice that low volatility is always followed by high volatility. It has always been so and always will, it is the nature of markets and human nature. Now we see that the net longs in the stock market (courtesy of www.zerohedge.com) are at levels seen prior to market crashes as investors lean on the central bank puts protection with superhuman belief: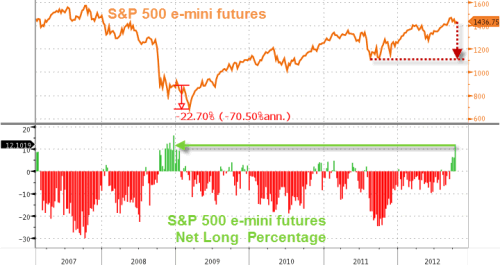 And the hedge funds (courtesy of www.zerohedge.com) are similarly complacent and UBER BULLISH: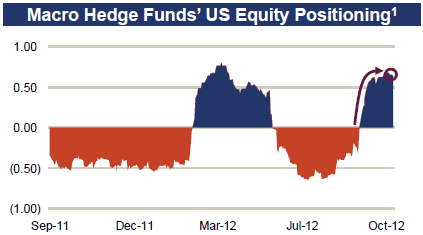 This is a classic battle between Mother Nature and Darwin versus the most powerful people on the earth (Barack Obama, Ben Bernanke, Francois Hollande, Mario Draghli, Mervyn King, Juan Manuel Barroso, Herman Van Rompuy, Angela Merkel, Bank of international settlements, etc.), GOD and Mother Nature versus MAN. These men think of themselves as GODs who have power over nature. THEY DON'T! They think they can DICTATE reality and beat the markets. They will learn the lessons that politically correct is not practically correct and no substitute for it.
The central banks are applying leverage at the top of recent ranges to underpin the asset prices which form the asset bases of Commercial and private banks, insurance companies, other central banks, pensions, institutional investors and the public. Trying to force the public into these overpriced RISK assets known as MALINVESTMENTS to us Austrians. They may succeed for a while but ultimately they will fail when the PUBLIC wakes up. The stampede will crush them when they do.
(Author's note: This is NOT Doom and GLOOM, it is the greatest opportunity in HISTORY. Invest properly for these outcomes and Prosper, invest looking in the REARVIEW mirror and your wealth will be irreparably DAMAGED. Volatility is opportunity for the prepared investor. As it is priced in and markets ZOOM higher or LOWER to price in collapsing economies and money printing huge opportunities are created. Is your portfolio structured to thrive? The greatest transfer of wealth from those that hold it in paper and financial assets to those that don't is UNDERWAY. Restoring fiat currencies to sound money and absolute return alternative investments with the potential to thrive in all market (up, down and sideways) conditions is what I do. If you have an interest in learning more and working with Ty: CLICK HERE).
Public servants in the United States, UK and Japan need not do the structural changes (reduce regulations, taxes, money printing and restore private property) required in the PROSPERITY AT RISK study since the central banks will print the money without them doing the reforms to Restart growth. Draghli will fold before it's over, the STRUCTURAL reforms will never be implemented except in main street media headlines. Look no further than this excerpt from A RECENT SPEECH BY Richard Fisher of the Dallas Federal from Senator Chuck Schumer speaking to Ben Bernanke at a recent finance and banking committee meeting:
"Chuck Schumer, told Chairman Bernanke, "You are the only game in town." I thought the chairman showed admirable restraint in his response. I would have immediately answered, "No, senator, you and your colleagues are the only game in town. For you and your colleagues, Democrat and Republican alike, have encumbered our nation with debt, sold our children down the river and sorely failed our nation. Sober up. Get your act together. Illegitimum non carborundum; get on with it. Sacrifice your political ambition for the good of our country--for the good of our children and grandchildren. For unless you do so, all the monetary policy accommodation the Federal Reserve can muster will be for naught."
Well said Mr. Fisher! The despicable senator from New York, nothing more than a Benedict Arnold to our country and our futures. The prosperity at risk study outlines the demise of the United States economy and competitiveness. In every category businesses are TURNING AWAY from the United States and choosing our competition. Capital is VOTING with its FEET (either leaving the US or not coming here), and it does not augur well for future economic growth.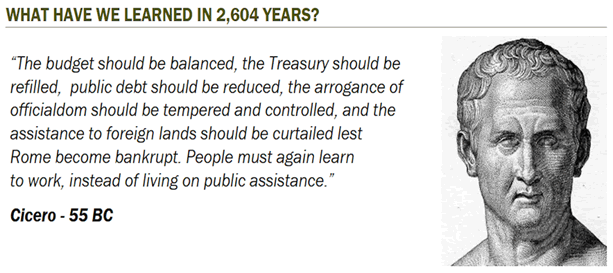 So the demise of REAL wealth creation will accelerate. In the Eurozone some of the countries have surrendered their financial sovereignty and many are resisting, but the vise of insolvency marches along. Don't worry THEY WILL PRINT THE MONEY! Some will pay by surrendering freedom, others will get the FRESH cash for FREE.
Thank you for reading TedBits. If you enjoyed it...
Subscribe, it is free:
Send it to a friend:
For greater insight into the philosophy behind Tedbits, have a look at the Tedbits Overview - To help understand our mission in serving you, the TedBits Overview gives a broad description of what's unfolding globally and what you can expect from Tedbits as a regular reader.
By Ty Andros
TraderView
Copyright © 2012 Ty Andros
Hi, my name is Ty Andros and I would like the chance to show you how to capture the opportunities discussed in this commentary. Click here and I will prepare a complimentary, no-obligation, custom-tailored set of portfolio recommendations designed to specifically meet your investment needs . Thank you. Ty can be reached at: tyandros@TraderView.com or at +1.312.338.7800
Tedbits is authored by Theodore "Ty" Andros , and is registered with TraderView, a registered CTA (Commodity Trading Advisor) and Global Asset Advisors (Introducing Broker). TraderView is a managed futures and alternative investment boutique. Mr. Andros began his commodity career in the early 1980's and became a managed futures specialist beginning in 1985. Mr. Andros duties include marketing, sales, and portfolio selection and monitoring, customer relations and all aspects required in building a successful managed futures and alternative investment brokerage service. Mr. Andros attended the University of San Di ego , and the University of Miami , majoring in Marketing, Economics and Business Administration. He began his career as a broker in 1983, and has worked his way to the creation of TraderView. Mr. Andros is active in Economic analysis and brings this information and analysis to his clients on a regular basis, creating investment portfolios designed to capture these unfolding opportunities as the emerge. Ty prides himself on his personal preparation for the markets as they unfold and his ability to take this information and build professionally managed portfolios. Developing a loyal clientele.
Disclaimer - This report may include information obtained from sources believed to be reliable and accurate as of the date of this publication, but no independent verification has been made to ensure its accuracy or completeness. Opinions expressed are subject to change without notice. This report is not a request to engage in any transaction involving the purchase or sale of futures contracts or options on futures. There is a substantial risk of loss associated with trading futures, foreign exchange, and options on futures. This letter is not intended as investment advice, and its use in any respect is entirely the responsibility of the user. Past performance is never a guarantee of future results.
© 2005-2019 http://www.MarketOracle.co.uk - The Market Oracle is a FREE Daily Financial Markets Analysis & Forecasting online publication.

Only logged in users are allowed to post comments.
Register/ Log in