Stock Market Dow Theory Positive Developments But no Buy Signal
Stock-Markets
/
Dow Theory
Apr 06, 2008 - 02:59 PM GMT

In today's update I want to look at the market from a couple of different perspectives. Recently, I have heard it said that the Dow Theory is now giving a "Buy Signal." This is not exactly true. In order to explain where we are from a Dow Theory perspective, I first have to explain where we have been.


In looking at the chart below you can see that both averages last made joint highs back in July. In Dow Theory terms, this was known as a "secondary high point" in which both averages confirmed one another. From those highs, both averages moved into their August "secondary low points." It was the rally out of that low in which things began to deteriorate. As the Industrials pressed higher into their October highs, the Transports lagged and in doing so failed to confirm the Industrials. This created a Dow Theory non-confirmation at the October secondary high points and is illustrated by the blue trend lines on the chart below. I wrote about this at the time and explained that upside non-confirmations served as warnings that something was wrong.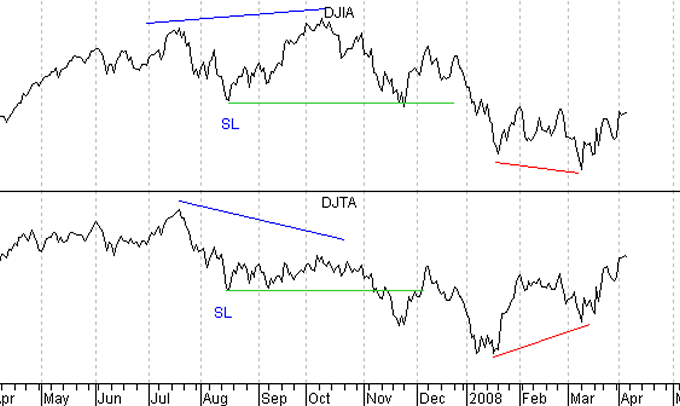 Now I want to talk briefly about cycles, but first let me clarify that cycles have absolutely nothing to do with Dow Theory. Cycles are a completely separate discipline. As the markets rolled over into the summer lows in 2006, many proclaimed that as having marked the 4-year cycle low. Then when the August lows were reached in 2007 others proclaimed those lows as having marked the 4-year cycle low. All the while, I maintained that the 4-year cycle was stretching and that neither the 2006 nor the 2007 low marked the 4-year cycle low. I want to add here that 81% of all 4-year cycles have topped in conjunction with a Dow Theory non-confirmation just like what occurred at the October 2007 high in the Industrials.
There were no non-confirmations present at either the May 2006 high or the February 2007 high, which serves as one of the many statistical facts that I used to guide me. The decline into the 2006 low was a mere 8.32% and the decline into the 2007 low was 10.72%, while the decline into the recent January low brought the Industrials down 18.05%. So, it should now be obvious to all that the decline from the October 2007 highs has been a much more significant decline. Also, my statistical data surrounding the 4-year cycle has now all been proven correct once again as we were indeed dealing with an extended 4-year cycle that in fact has stretched into 2008. Now, the question on many people's minds is whether or not we have seen the 4-year cycle bottom. This is a topic I am watching closely and that I am covering in my newsletter and the short-term updates as they development. The key indicator here is the behavior of my Cycle Turn Indicator. Confirmation of cycles is a process and there are various tests and levels of confirmation that have to occur in a progressive manner.
Now, let's go back to the Dow Theory. From the October 2007 non-confirmation the averages faded lower and on November 21, 2007 both averages moved below their August 2007 secondary low points, which is illustrated in green on the chart above. In doing so, this break served to confirm that the primary trend, in accordance to Dow theory, turned bearish. In accordance with Dow Theory, once the primary trend is established, that trend is considered to still be intact until it is reversed by the signal of another primary trend change. I am seeing some writings suggesting that this has happened. However, this is not the case. The primary trend is still considered bearish because it has not yet been reversed.
This is however, not to say that there haven't been some positive developments. The price action during the month of March served to create a legitimate downside Dow Theory non-confirmation. Again, non-confirmations serve as warnings that the prevailing trend may be changing, not that the trend has changed. Bullish confirmation of the primary trend specifically requires joint movement above the previous secondary high points and to date that has not occurred.
The current non-confirmation does have a bullish hint to it, but until a higher secondary high point is established, the Dow theory suggests that the primary trend is still bearish. But, let me make it perfectly clear that this non-confirmation does suggest that we may now be in a transitional phase between bullish and bearish. In fact, according to Dow theory, any price action between previous secondary high and low points is not considered to be of forecasting value. In other words, this is a period of indecisiveness and of possible transition. From a Dow theory perspective, further confirmation is required in spite of these positive developments.
I have begun doing free Friday market commentary that is available at
www.cyclesman.com/Articles.htm so please begin joining me there. Should you be interested in more in depth analysis that provides intermediate-term turn points utilizing the Cycle Turn Indicator, which has done a fabulous job, on stock market, the dollar, bonds, gold, silver, oil, gasoline, and more, those details are available in the newsletter and short-term updates. A subscription includes access to the monthly issues of Cycles News & Views covering the Dow theory, and very detailed statistical based analysis plus updates 3 times a week.
By Tim Wood
Cyclesman.com
© 2008 Cycles News & Views; All Rights Reserved
Tim Wood specialises in Dow Theory and Cycles Analysis - Should you be interested in analysis that provides intermediate-term turn points utilizing the Cycle Turn Indicator as well as coverage on the Dow theory, other price quantification methods and all the statistical data surrounding the 4-year cycle, then please visit www.cyclesman.com for more details. A subscription includes access to the monthly issues of Cycles News & Views covering the stock market, the dollar, bonds and gold. I also cover other areas of interest at important turn points such as gasoline, oil, silver, the XAU and recently I have even covered corn. I also provide updates 3 times a week plus additional weekend updates on the Cycle Turn Indicator on most all areas of concern. I also give specific expectations for turn points of the short, intermediate and longer-term cycles based on historical quantification.
© 2005-2019 http://www.MarketOracle.co.uk - The Market Oracle is a FREE Daily Financial Markets Analysis & Forecasting online publication.

Only logged in users are allowed to post comments.
Register/ Log in