Two Great Market Bubble Threats, One Great Investor Opportunity
Stock-Markets
/
Financial Markets 2013
Nov 23, 2013 - 04:00 PM GMT


"I am very cautious on equities today, This market could easily have a big drop. Very simplistically put, a lot of the earnings are a mirage. They are not coming because the companies are well run but because of low interest rates." 11/18/13 - Carl Icahn
Very smart Investor Carl Icahn is right to call "a lot of" corporate earnings a "mirage" because by reducing borrowing costs via ongoing QE, The Fed has artificially elevated earnings.
Thus Corporate Earnings are yet another Dangerous Fed-created Asset Bubble.
With Janet Yellen's appointment as Fed Chairman nearly a Slam Dunk (albeit a Bad One) we can expect Easy Money Policies including Bond Buying via QE to continue indefinitely.
This will likely keep rates on the 10 year below 3% for a little while more but cannot keep them from rising indefinitely. There is simply too much Fed-created Hot Money in the System. Hot Money Bubbles are inflating because Fed QE suppresses interest rates, which lowers borrowing costs, which artificially elevates corporate Earnings. These earnings are thus Hot, i.e., artificially created, money. Remove or lessen the QE and the Bubble Bursts. Carl Icahn is therefore correct to call corporate earnings "a mirage." And such a Mirage is a Dangerous Bubble!
"It is almost comical watching stocks soaring into the stratosphere negating one negative technical warning after another and reaching levels that defy rational thinking, yet here we are.

"The investing world has been perfectly conditioned by the Central Bankers to buy every single dip, throw caution to the wind, make the word "risk" archaic, and continue to shove stocks higher and higher and higher with no end in sight. It is absolutely astonishing to watch this thing unfold.

"Apparently all that is needed to make the very concept of a bear market in stocks obsolete is for endless money printing. There appears to be no consequences whatsoever to this madness as it is now the new normal.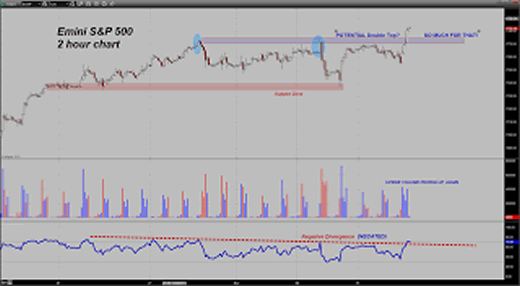 "Maybe we will see 1800 in the S&P 500 before the month is out. Who knows? As a trader you have to go with the money flow and the chart but as an observer with a sense of history, you have to shake your head in both bewilderment and sadness. Bewilderment that so many otherwise intelligent individuals see nothing wrong with a near-permanent money creation scheme and sadness, that so many can be herded into something which has no rational basis other than the fact that it is going up.

"I do need to make one quick comment - I have stated that the broad universe of investors see no inflation signs whatsoever. Yet, one thing should be very evident - the stock market is a perfect picture of near runaway inflation but in paper assets."
"The Bubble Keeps Getting Bigger," Dan Norcini
traderdannorcini.blogspot.com, 11/13/2013
But this Bubble creates a Great Opportunity, as we explain.
Prospectively, the Fundamental pressure (via the increasing amounts of Hot Money) for higher rates will eventually overwhelm Fed action therefore, we expect rates to continue to rise slowly, then very rapidly suddenly (see our Timing Forecasts). That is because at some point ongoing Hot Money creation crashes the Purchasing Power of the $US. Clearly, China is already working to displace the $US with a Gold-Backed Yuan as the New World Reserve Currency. When Investors and Sovereigns see this clearly there will be a Massive Flight from the $US.
As well, ongoing Fed QE not only creates an ever-more-Dangerous Bubble in the Equities Market, but also a Great Bubble in the artificially elevated Bond Market (resulting, for the past few years in artificially suppressed interest rates). This Bubble too will break. So where to turn for Profit and Protection?
In a Non-Manipulated Market, The Massive Monetary Inflation generated by ongoing QE would generate Great Price Increases in non-Fiat (i.e., Real) Money – Gold and Silver.
But as regular Readers already know, Fed and other Central Banks, i.e., The Cartel (Note 1) have for years been conducting ongoing suppression of Paper Gold and Silver Prices, creating a Reverse Bubble, if you will.
But this Suppression is creating a Great Opportunity to buy Physical Gold and Silver at Bargain Prices. But one should invest with one's eyes open as to the likely course and timing and results of Cartel Intervention attempts.
Consider that 'James Mc,' writing at LeMetropoleCafe, has become depressed because at the very likely prospect of a Takedown, but we see it as an Opportunity.
"I now see a period coming up having extremely high odds of further cartel smashes. Judging by the past 2 years of in-your-face, no regulation, blatant to extreme manipulation I'd say the odds exceed 95%... I'm issuing a severe cartel intervention warning from Friday, November 22 to Friday, December 6th. Cartel interventions and flash crashes during this period have a history of producing severe financial damage to long-based derivative portfolios. The timing of the severe cartel warning is as follows:
"Friday 11/22: Pre-option expiration Friday.
"Monday 11/25: Dec. gold and silver option expirations.
"Friday 11/29: Illiquid Thanksgiving holiday trade
"and Dec. gold, silver first notice days.
"Friday 12/6: Non-farm payroll Friday.
"If recent history is any guide they will be gunning for this period. I'd rather stick my hand into a pile of burning coal embers rather than take a long position ahead of this period."
But even if that Prospective Takedown occurs, the Great Opportunity to buy Physical is enhanced. This is because stockpiles of Physical available for Delivery are rapidly depleting.
Indeed, Gold shipped from Hong Kong to the Mainland nearly tripled to 855 tonnes in this year to September. And that is just one entry point to Mainland China.
Looking ahead, the Prospects for The Great Launch Up beginning soon are increasingly bolstered by the fact that Physical Bullion Supplies available for Delivery continue to Deplete – A recent report from the Comex shows the Registered (Physical Available for Delivery) has shrunk to about 630,000 ounces. If only 2% of "longs" stand for Delivery, Comex Physical would be exhausted.
And India is starving for Physical Gold
"Indian ex-duty premiums: AM $157.40, PM 155.90, with worth gold at $1243.48 and $1242.85. Far above legal imports point: India continues to starve for gold. At the PM reading local Indian gold was 24.28% above would gold (Thursday24.14%)."
"Early GJ: Cheerful Chinese?," John Brimelow
In sum, soon (see our Forecasts) we expect The Great Launch UP (of Both Bullion and the Mining Shares) to begin soon.
In sum, these Bubble-Threats and Opportunities are the result of The Private, For-Profit Fed's self-interested policy of protecting their Owners/Mega-Bank Clients above all.
Thus it is no surprise that former Director of the OMB, David Stockman recently said (11/14/13) that the "lunatic" policies of The Fed were engineering a global "collapse".
But that Prospective Collapse begets a Great Opportunity.
Best regards,
www.deepcaster.com

DEEPCASTER FORTRESS ASSETS LETTER

DEEPCASTER HIGH POTENTIAL SPECULATOR

Wealth Preservation Wealth Enhancement
© 2013 Copyright DeepCaster LLC - All Rights Reserved

Disclaimer: The above is a matter of opinion provided for general information purposes only and is not intended as investment advice. Information and analysis above are derived from sources and utilising methods believed to be reliable, but we cannot accept responsibility for any losses you may incur as a result of this analysis. Individuals should consult with their personal financial advisors.
© 2005-2019 http://www.MarketOracle.co.uk - The Market Oracle is a FREE Daily Financial Markets Analysis & Forecasting online publication.

Only logged in users are allowed to post comments.
Register/ Log in