Stock Market Final Friday of 2013 – No Worries?
Stock-Markets
/
Stock Markets 2013
Dec 27, 2013 - 03:56 PM GMT


1.3M US Citizens get cut off tomorrow.
That's right, we're finally pulling the plug on those lazy, unemployed leeches that have been draining $300M a week from us job creators (though, obviously, we didn't create jobs for them!). That's $15.6Bn a year – enough money to pay for 3 nuclear submarines! And what's more important to America – feeding 1.3M families (1% of the workforce) the week after Christmas or having 1% more submarines in our fleet? The choices couldn't be more clear for our Congress!
This is a real, substantial victory for our Repbulican way of life. Clearly a lack of jobs is not the fault of the system that has exported over 3M jobs overseas in the last decade alone but a failure of the weak, who didn't work hard enough or pray hard enough to make the cut. Come on, we all know one of them, the so-called "unemployed," who have been sucking at the Government teat for too long, when all they have to do is get off the couch and go back to work!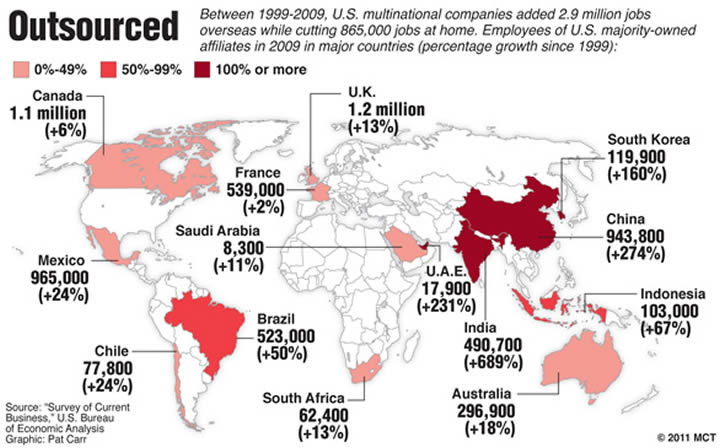 As the great and powerful Ronald Reagan once said: "Unemployment insurance is a pre-paid vacation for freeloaders." Moderate Republicans urged Boehner and House Majority Leader Eric Cantor (R-Va.) to rescue jobless benefits for the longterm unemployed earlier in December, saying the issue was "important to many American families." But Boehner would only consider the proposal if cuts were made elsewhere and job growth guaranteed, and the measure ultimately did not make it into Sen. Patty Murray (D-Wash.) and Rep. Paul Ryan's (R-Wis.) budget deal.
"Speaker Boehner and fellow Washington Republicans are hopelessly out-of-touch, and their decision to Scrooge over a million unemployed Americans three days after Christmas is the latest and among the worst examples of it," Jeremy Funk, communications director of Americans United for Change, said. "All these struggling Americans got from the GOP for Christmas was a 'Get Employed Soon' card."
Funk warned cuts to jobless benefits for the long-term unemployed would only put more Americans out of work, and bring a chain reaction of economic fallout in 2014. And, of course, there's nothing to be done about it now, Congress left for vacation without extending the benefits – there's nothing to be done about it now.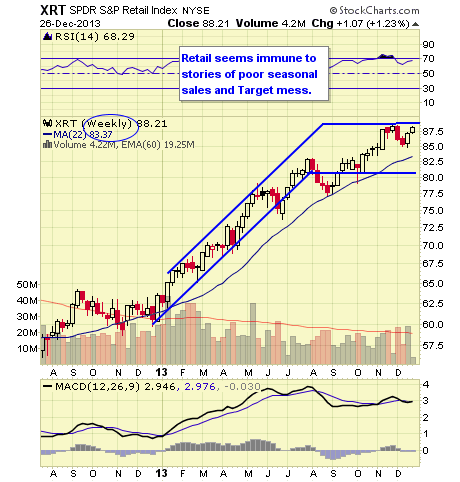 XRT WEEKLYThe good news is, this will drop our unemployment rate down below 6% as these freeloaders will no longer be counted as unemployed – problem solved! And every week, more and more people will lose their benefits – it's the gift that will keep on giving in 2014 and one of the reasons we've been a bit skeptical of this rally, even as we make record highs into the year's end.
As you can see from Dave Fry's XRT chart (we're short), no amount of bad news is going to knock back these indexes as we move into the last few days of the year – the numbers next year's sales brochures will be based on, so the investment advisers can reel in the next batch of suckers who want to chase this year's performance.
The retail sector is up 28% this year, about what the rest of the market is seeing, and the fact that earnings are not even up 5% doesn't seem to bother anyone. After all, what's a little 23%+ multiple expansion between friends? Of couse, when you can buy the stocks with monopoly money printed fresh by the Fed every month – you can expect to pay a little extra for stocks based on your declining Dollars.
UUP WEEKLYJust this morning, in fact, the Dollar crashed 1%, to 79.82, falling below that key support on Dave's UUP chart. Logically, a declining Dollar makes for a stronger Yen and that should hurt the Nikkei (we're short), but no such luck. It should raise the price of gold (we're long), but no luck there either and it should raise the levels of the Dollar-priced indexes (we're short) but those are flat. Interesting times indeed!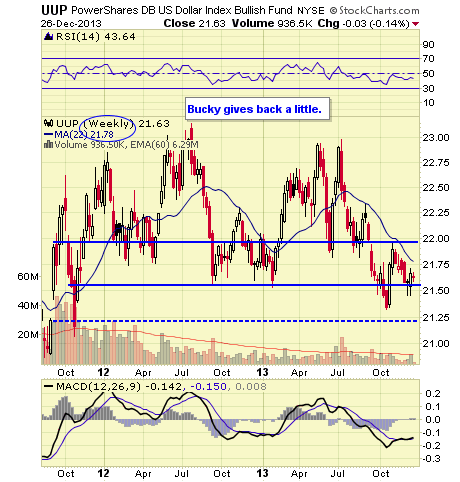 Of course the weak Dollar is pushing 10-year notes up over 3%, causing 30-year mortgage rates to tip over the 4.5% line, up from 3.35% a year ago – another 23%+ expansion (34%, actually)! If you, like our Fed, believe that 34% annual jumps in Mortgage Rates and Treasury yields are non-inflationary, then TBills are certainly the way to go!
In July 2012, the 10-year yield was 1.38%, less than 1/2 of the current rate, we finished last year at 1.78%, so up 68% in the past 12 months. Keep in mind this is DESPITE the Fed pouring over $1Tn into the market in a specifically targeted program with the stated goal of keeping long-term rates DOWN!
Dave's TLT chart indicates a floor at around $102 on TLT and that held up yesterday but we're down 16% since June and people who have been that badly burned by the bond market are going to be slow to return. Of course, that is also part of the Fed's plan as investors are given no alternative but to invest in US equities and, as I often say, that is the entire extent of our long-term bullish premise.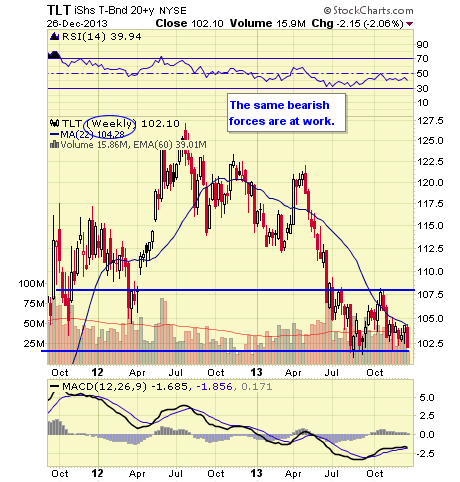 Short-term, we have been stunned by the lack of even a small correction as the S&P has climbed 10% since October, outpaced by the Nasdaq, which is now just under 4,200, up 27% from 3,300 in June and up 15% from 3,650 in October.
Certainly we can get used to our indexes making 15% per quarter. According to the MSM, this is not an indication of a bubble, merely a strong, healthy market in a non-inflationary environment. Why would we worry that this kind of growth is unsustainable, especially when GDP is growing 1% per quarter, this all makes perfect sense, I suppose. The Investors "Intelligence" Survey shows us just how exuberant we're getting: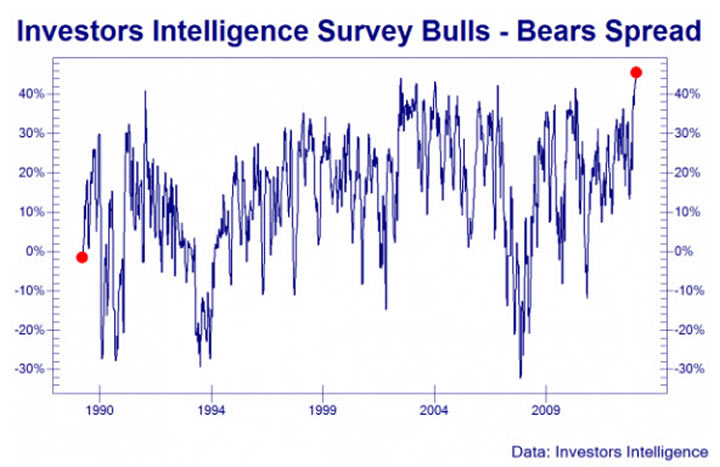 Wow, almost 20% more so than 1999 and cracking over 2007 with ease as well. Clearly bears are in season and we'll have to wait just a little while until the last of them are hunted down and killed. In fact, the VIX hit 11.69 overnight, it's lowest level since early 2007. That's making it very cheap to buy puts (and destroying the value of any puts you do own) but, then again, what kind of fool would want to buy a put in a bull market – especially one that's about to cut 1.3M losers off the befefit rolls?
Have a great weekend,
- Phil
Philip R. Davis is a founder of Phil's Stock World (www.philstockworld.com), a stock and options trading site that teaches the art of options trading to newcomers and devises advanced strategies for expert traders. Mr. Davis is a serial entrepreneur, having founded software company Accu-Title, a real estate title insurance software solution, and is also the President of the Delphi Consulting Corp., an M&A consulting firm that helps large and small companies obtain funding and close deals. He was also the founder of Accu-Search, a property data corporation that was sold to DataTrace in 2004 and Personality Plus, a precursor to eHarmony.com. Phil was a former editor of a UMass/Amherst humor magazine and it shows in his writing -- which is filled with colorful commentary along with very specific ideas on stock option purchases (Phil rarely holds actual stocks). Visit: Phil's Stock World (www.philstockworld.com)
© 2013 Copyright PhilStockWorld - All Rights Reserved Disclaimer: The above is a matter of opinion provided for general information purposes only and is not intended as investment advice. Information and analysis above are derived from sources and utilising methods believed to be reliable, but we cannot accept responsibility for any losses you may incur as a result of this analysis. Individuals should consult with their personal financial advisors.
© 2005-2019 http://www.MarketOracle.co.uk - The Market Oracle is a FREE Daily Financial Markets Analysis & Forecasting online publication.

Only logged in users are allowed to post comments.
Register/ Log in