Gold And Silver - The US Dollar Does Not Exist, Part II
Commodities
/
Gold and Silver 2015
Jul 25, 2015 - 04:15 PM GMT

Truth does not exist in the world of politics.
It is reasons such as these, below, that drives the importance of owning and holding physical silver and gold. The fundamental reasons everyone already knows exists but do not apply are important, but the power of the elites to rule over all [at least Western] governments, write the laws, deceive everyone, and now with the evidence of how much influence the bankers can exert over the manipulation of PM prices, is why you need to protect yourself from the evil nature of their control.
The elites want to destroy your belief in the value of owning golf and silver, and they have re-enforcing price down despite the overwhelming demand for both. That should embolden your resolve even more. For how much longer this can go on, no one knows. What you can know with a great amount of certainty is that Newton's 3rd Law of Physics will kick in: for every action, there is an equal and opposite reaction.
This assures you that the distorted action to the downside will reward the faithful with an equally distorted reaction in the opposite direction. It is a matter of time.
"All the perplexities, confusions, and distresses in America arise not from the Constitution or confederation, not from want of honor or virtue, as much from the downright ignorance of the nature of coin, credit, and circulation." John Adams, 2nd President of the United States
Section 16 of the Federal Reserve Act of 1913 at 38 Stat., 265, will not be found doing a simple search. What the federal corporate government does, over time, is make changes, often changing words ass "surplus," which actually hides what the government does not want you to see or know. A search will send you to Title 12 section 411, and even that has been "cleansed" of a damning admission, a similar but different story for another time.
What one must learn is that the government uses terms for words that most take as used in everyday life. When a word is used as a term, its definition is clearly explained, and the term definition will not be what is understood as every day usage. A bit off topic, but it illustrates how important words and spelling are used by the federal government.
"Person" is a TERM and is a word of art and does not pertain to Man. Man is never referenced in any tax code; only "person" who is a Man that has taken on the artificial character of a legal entity subject to the tax. That Man is an artificial person and to define him as such they use the term of art "natural person" to separate him from a paper corporation such as IBM who could never be a "natural person", just a "person" as defined in the 7701(a) definition. So, now the man who is not a taxpayer, in the sense we know, actually makes the IRS presumption stick when declaring he is a "natural person." Remember, in law, and nowhere else, the word "person" means a legal entity of artificial character. So you state you are a "natural" artificial (person) compared to a fictional corporation (person)." The Informer.
Back to 38 Stat, 265, which states: [Pat attention to what is capitalized for all references to the Federal Reserve and notes/Notes.]
NOTE ISSUES
" SEC 16. Federal reserve notes, [observe: small "r" reserve, small 'n"note] to be issued at the discretion of the Federal Reserve Board for the purpose of making advances to Federal reserve banks through the Federal reserve agents as hereinafter set forth, and for no other purpose, are hereby authorized, [emphasis added]. The said notes shall be obligations of the United States and shall be receivable by all national and member banks and for all taxes, customs, and other public dues. They shall be redeemed in gold on demand at the Treasury Department of the United States, in the city of Washington, District of Columbia, or in gold or lawful money at any Federal reserve bank."
Pay close attention to what is authorized: Federal reserve notes of the small "r" in reserve and small "n" in notes. Further, they are to be issued at the discretion of the Federal Reserve Board, NOT by Congress or any banking institution. The notes are issued for one purpose only, making advances to Federal reserve banks...and for no other purpose."
These notes were NOT issued for general public circulation, and the only notes authorized were Federal reserve notes.
It was in 1933 when Federal Reserve notes were first made legal tender. Now you see Reserve has a capital "R" as distinguished from the 1913 Act that authorized Federal reserve notes, small "r."
From the 73rd session of Congress, June 5, 6, 1933, [HJR -192]:
"All coins and currencies of the United States [including Federal Reserve notes and circulating notes of Federal Reserve banks and national banking associations] heretofore or hereafter coined or issued, shall be legal tender for all debts, public and private, public charges, taxes, duties, and dues, except that gold coins, when below the standard weight and limit of tolerance provided by law for the single piece, shall be legal tender only at valuation in proportion to their actual weight."
The above comes from a Resolution to amend a statute known as the Agricultural Adjustment Act of 1933. Interestingly, in BUTLER V U S, 296 US 1, [1936], the Agricultural Adjustment Act of 1933 was declared unconstitutional and void.
Prior to the Act of 1933, there was no such "legal tender status" for Federal Reserve notes of the "R" type. The deception is more apparent when you consider that coins minted by the US were already lawful money, via the Coinage Act of 1792, so there was no need to confer the unnecessary "legal tender" status upon them.
Here is where the deception is less clear. HJR-192 [House Joint Resolution] included the statement that Federal Reserve notes shall be legal tender for all debts public and private..." If you look at any fiat Federal Reserve Note, [FRN], you will see those same words included on the face of the fiat. That wording comes from a Resolution that has already been declared unconstitutional and void, so where is there any authorization for any of the fiat FRNs in circulation, today?
In 1982, Congress re-codified 31 USC 5103 to redefine what is legal tender of the US:
"§5103. Legal tender
"United States coins and currency (including Federal reserve notes and circulating notes of Federal reserve banks and national banks) are legal tender for all debts, public charges, taxes, and dues. Foreign gold or silver coins are not legal tender for debts."
Source: Article on FRNs by Clarity
If you click on the link for Title 31, above, you will see "Historical Revisions And Notes" as examples of how lawmakers make words disappear and often change the meaning of the current, altered Title.
What Tile 31, section 5103 does is re-establish Federal reserve notes, the ones not issued in general circulation, as the only authorized form of legal tender in the US, current. That means any other form of "notes" or even "Notes" issued by the US are unauthorized, or, in a word, fraud. There is no lawful, not even legal, authorization for those FEDERAL RESERVES NOTES in circulation, none, zip.
Has anyone from the private corporation Federal Reserve or corporate federal government ever informed the public of this fraud? Of course not! Neither will ever admit to the largest Ponzi scheme ever devised by the elite's banking cartel. They do not care that you do not know. They do not even care if you DO know.
ALL Federal Reserve Notes in circulation are commercial debt instruments. We have already covered the fact that they are NOT money. [See previous article, MONEY DOES NOT EXIST, paragraphs 7 and 8.]
Here is another deception found in HJR-192:
"Whereas the existing emergency has disclosed that provisions of obligations which purport to give the obligee a right to require payment in gold or a particular kind of coin or currency of the United States, or in an amount of money of the United States measured thereby, obstruct the power of Congress to regulate the value of the money of the United States, and are inconsistent with the declared policy of the Congress to maintain at all times the equal power of every dollar, coined or issued by the United States, in the markets and in the payment of debts."
Article 1, section 8 of the Constitution says, in pertinent part: Congress shall have the power:
"To coin money, regulate the value thereof, and of foreign coin, and fix the standard of weights and measures;"
Why has HJR-192 clearly misstated what the Constitution explicitly provides? Nowhere does that sentence in section 8 say Congress has the power to regulate money. It says, "To coin money, regulate the value thereof..."
What people fail to understand about the non-existent Constitution they claim to value and protect is, Congress only had the power to coin money, and regulate the value thereof. The only money that is current as the money of account of the United States, to this day, are coins of gold and silver, as expressed on dollars, [Coinage Act of 1792, section 20]. In order to regulate the value thereof, it meant Congress had to ensure the coins were of the specified weight, and nothing else.
Where does it say Congress will at all times maintain at all times the equal power of every dollar, coined or issued by the United States. Utter nonsense! That means the value of a $5 gold piece, issued by the United States, should equal the "value" of a [worthless] fiat $5 Federal Reserve Note.
What was written in HJR-192 was written by the elites in control of the government and fully written to deceive a public willing to be deceived, to this day. ALL, repeat, ALL FRNs are a worthless scrip issued by a private international banking cartel.
We bring this to no pointed conclusion because few, if anyone, will change their habits and or beliefs about using imaginary money, despite the fraud. Too inconvenient.
Without natural predators, the stupid are far outnumbering the more intelligent, not just here, but in every country.
We had a now resolved issue not being able to receive e-mails since 18 July. If anyone sent an e-mail that was returned, it is okay to now resend. Apologies. mn
Despite another so-called "smash down" of gold and silver, having an awareness of the direction of the trend, as we have been advocating for the past few years, one cannot be surprised by the drop as much as one can be verily surprised by the extent to which the central bankers have had such a relentless stranglehold on gold and silver, and it appears that they have not yet finished playing their manipulated hand.
All anyone can do is to stay with common sense and not be led astray in their thinking by the uncommon willingness of those in control to go to whatever extremes necessary to ultimately fail in their perverted agenda of trying to save an unsaveable, worthless fiat.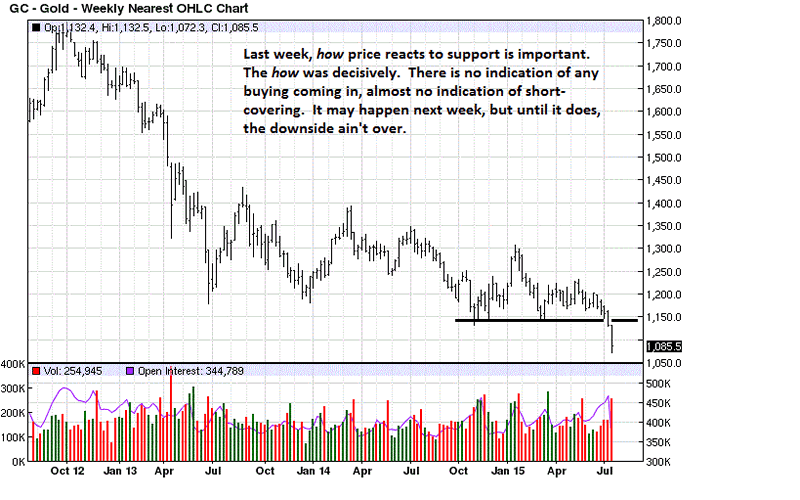 While not apparent on the weekly, the daily chart does show a degree of short covering, especially on Thursday and Friday, even Monday's wide range slam lower. To alleviate one's anxiety level, do not expect a quick recovery. We are inclined to say even until the end of the year, but that would presume we know something no one can know. All anyone can do is let the market, and the central bankers, run their course. Gold will not turn around a day sooner than the day it does make a turn, and even after that day, it will require more time to confirm a bottom is in place.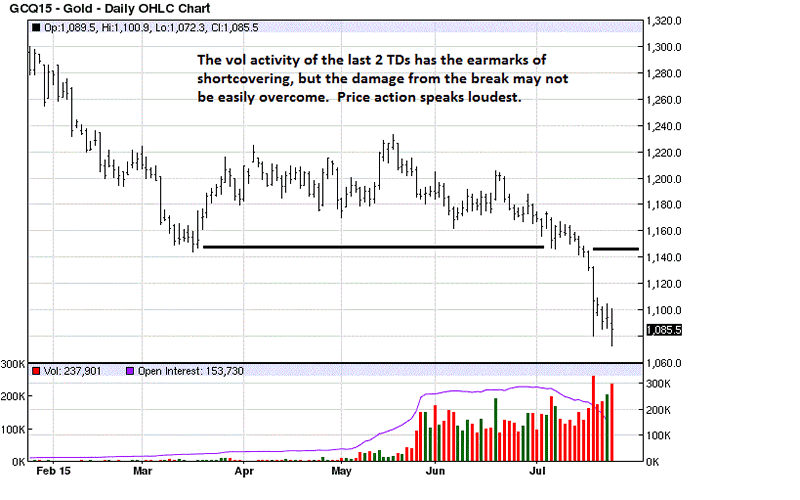 Many people have little patience with simple aphorisms, like respecting the trend as the most important piece of market information one can have, for it puts price direction into a context that can prevent undue losses by not going against the trend. We have made this point several times, and one should never take it as a trite expression.
For those wanting to be on the long side of the paper market, the trend has been very trying of one's patience, granted. From all appearances, expect more of the same.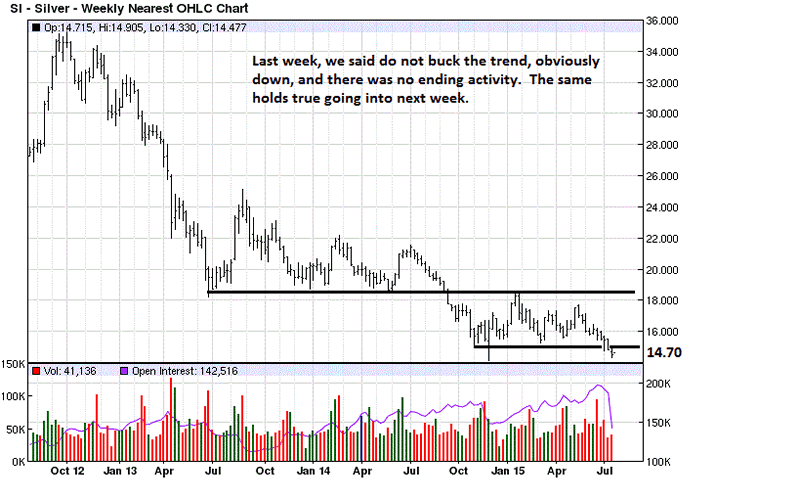 Can silver still go lower? Yes, it can. The probability of lower prices remains higher than not going lower. We keep repeating to trust your eyes in what you see in the charts and to not listen to the hype about silver being ready for a huge upside breakout. It is a well intended sentiment by some, and a wanting to be first to call a bottom by many others, but the net effect is very misleading to the obvious and unfair to those who may believe the hype.
We have no qualms about buying physical gold and silver, at any price, and especially at these exaggerated lower price levels. Once a bottom is formed, given the negative character of how price has been so severely repressed against an historic and unabated demand for the physical, it may become incredibly difficult to buy physical as price starts to turn, whenever it does, and what may be available will be at prices much higher than now.
Stay away from being long anything in paper. Be patient. You have no other choice.
The central bankers have more than made their case about keeping price suppressed.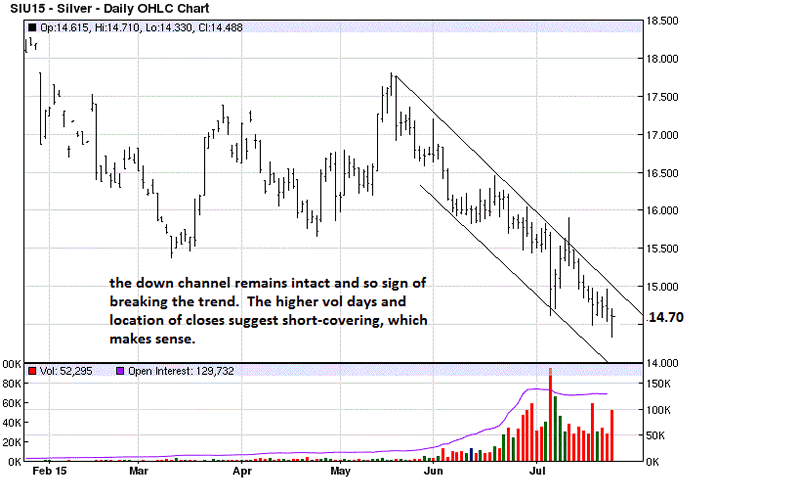 By Michael Noonan
Michael Noonan, mn@edgetraderplus.com, is a Chicago-based trader with over 30 years in the business. His sole approach to analysis is derived from developing market pattern behavior, found in the form of Price, Volume, and Time, and it is generated from the best source possible, the market itself.
© 2015 Copyright Michael Noonan - All Rights Reserved Disclaimer: The above is a matter of opinion provided for general information purposes only and is not intended as investment advice. Information and analysis above are derived from sources and utilising methods believed to be reliable, but we cannot accept responsibility for any losses you may incur as a result of this analysis. Individuals should consult with their personal financial advisors.
© 2005-2019 http://www.MarketOracle.co.uk - The Market Oracle is a FREE Daily Financial Markets Analysis & Forecasting online publication.

Only logged in users are allowed to post comments.
Register/ Log in