14 Signs the World Is on the Verge of Generational Chaos
Politics
/
Social Issues
Jun 30, 2016 - 12:39 PM GMT


It is one of the great ironies of life that each generation believes its experiences are unique. The reality is that we have seen this movie before—with different actors, plot twists, and technological advancements.
The basic plot seems to push along a hauntingly familiar path.
In 1997, Neil Howe and William Strauss introduced the concept of Fourth Turning. They divided the population into four generational archetypes: Hero, Artist, Prophet, and Nomad. (read more about the archetypes and their characteristics here)
Each generation consists of people who were born and came of age at the same period in history. They had similar experiences and thus gravitated toward similar attitudes.
The change of control from one generation to the next is called a "turning" in the Strauss/Howe scheme. On a Fourth Turning, the cycle repeats, sparking a generational crisis.
When Howe uses that word, he doesn't mean a short period of difficulty. He means an existential crisis—one in which society's strongest institutions collapse (or are severely challenged and stressed) and national survival is in serious doubt.
By Neil Howe's timeline, we are today about halfway through the Fourth Turning's Crisis phase. If this Fourth Turning is like previous ones, here is what we should see.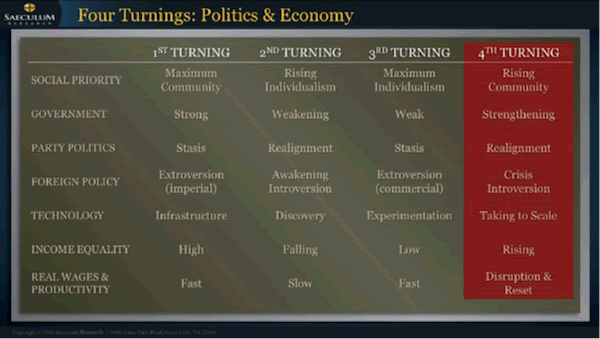 See how the following Fourth Turning characteristics match today's landscape…
Rising community
Notice in the Orlando shooting coverage how often people use the word community to designate the different groups with which people identify.
Following the tragic nightclub events, Orlando's communities drew together to support their members and each other. We see the same behavior in other stressful events. "Je suis Charlie," the motto that emerged from the January 2015 Paris shootings, comes to mind.
Think of all the other disasters we have seen in recent times, and the public response to them. I am not suggesting that community comes to the fore only during a Fourth Turning—far from it. But it does gain strength during such periods.
Strengthening government
Small-government conservatives like me, and possibly you, are on the defensive. We live in a time when most voters would rather enlarge government than shrink it. We can expect to see stronger government action regardless of who wins this year's presidential election.
Party realignment
Donald Trump is obviously changing the Republican Party into something quite different than it was just four years ago. Bernie Sanders may have done the same to the Democrats. I don't think this is over yet. We will see a lot of shifting and movement between the two parties as they redefine themselves.
I am really quite taken with an interview that Trump did a few weeks ago where he talked about his vision that the Republican Party would be a "workers' party" within four to eight years.
You spring that on me four years ago, and I smile indulgently. Now, within the framework of the Protected versus the Unprotected, I wonder…
Introverted foreign policy
Fifteen years on, the US is increasingly tired of the War on Terror. Donald Trump and Bernie Sanders both gained traction in the primaries with a less aggressive approach to foreign engagement.
Technology to scale
The Internet has outgrown its adolescence and entered adulthood. The technology industry now views the Internet as a platform on which to build new capabilities: virtual reality, home automation, and more.
Rising income Equality
The years of ZIRP and QE served mainly to drive up asset prices, enriching those who are already wealthy and doing little for everyone else. Now a backlash is building against wealth concentration.
We may see attempts to raise taxes on the wealthy, higher working-class wages, and other measures intended to "level the playing field."
Wage disruption
We've seen major retailers hike hourly pay in the last year; $15/hour minimum wages passed in California and elsewhere; and there are growing calls for labor to get a bigger piece of the pie.
Fertility bust
Birth rates are now near or even significantly below replacement rate throughout the developed world. Much of the Millennial Generation feels financially or otherwise unprepared for parenthood.
Falling immigration
Both the US and Europe are trying to control immigrant flows. Refugees from the Middle East are the exception in an otherwise less migratory world.
Falling crime
Criminal activity varies tremendously depending on where you are, but overall rates are down considerably from the 1980s and 1990s.
Strengthening family
This one may seem counterintuitive with birth rates down and young people reluctant to marry. My observations are that people delay marriage today precisely because they respect it so much.
They want to do it right or not at all. And once they do have kids, they take parenting very seriously. My Millennial Generation children and their friends, Howe's Hero archetype, are amazingly protective of their children.
They seemingly script every moment of their children's lives. My three-year-old granddaughter just started school, for God's sake. My generation just didn't approach child rearing like that.
Practical culture
The financial crisis has set a new standard of frugality, which has evolved into the "sharing" economy… think Uber and Airbnb. We even see the trend in fashion: Millennials have little interest in prestige labels and much prefer the low-priced "fast fashion" they can buy at Zara or H&M.
Rediscovered norms
The Fourth Turning is a time when people rediscover values and norms. That process can take many shapes, of course, but we may again see the "all-together" ethos that brought the US through the Depression and World War II.
Overprotective parenting
My Baby Boomer peers and I love to recall the unsupervised play and relative independence of our childhood years. Growing up as a country boy on the edge of a small West Texas city, I roamed the woods and ranches of our neighbors.
The barbed wire fences were built to keep the cattle in, but they didn't keep the kids out. We knew which fields had the bulls we wanted to steer clear of. We explored quarries and lakes and rivers, clambered down into caves, and in general did things that would scare the pants off of today's younger parents.
Today's cautious parents won't let children out of their sight—and often with good reason. As the crisis unfolds, we should see growing concern for protecting children from harm.
The worst is yet to come
So after Neil Howe explained all this at the conference, it was time for questions. Naturally, I voiced the question that we all want to know the answer to: "Will the crisis be over soon?"
Neil's answer was succinct and not encouraging. He thinks we are only halfway through; and if the next few years play out like past Fourth Turnings, the worst is yet to come.
The message is, make sure you're ready. The good news is that we still have some time (even if we don't know how much time). We can prepare our portfolios and lives to deal with the coming changes.
© 2005-2019 http://www.MarketOracle.co.uk - The Market Oracle is a FREE Daily Financial Markets Analysis & Forecasting online publication.

Only logged in users are allowed to post comments.
Register/ Log in