The Epidemic of Bad Ideas
Politics
/
Social Issues
Jan 22, 2017 - 02:46 PM GMT


Dear Parader,
This week's missive tackles a big topic. One of the biggest.
That's because it touches virtually every corner of society: politics, the economy, investments, social order, innovation. People live or die because of it.
The topic is education.
Our education begins within a few minutes of arriving on planet Earth. That's when we begin to learn that crying and carrying on is rewarded with coddling and nourishment.
That particular lesson stays with us throughout our lives, more so with some people than others. I especially love watching red-faced yuppies trying to argue canceled airline flights back into service.
We also are educated by the physical world. Running barefoot and stepping on a tack/bee/piece of glass/thorn/etc. teaches us the importance of protective garments. As does our first time staying out too long shirtless in the sun.
Of course, our family members and friends also play an important role, teaching us the difference between wrong and right. Of course, as often as not, those concepts are subjective. Is it really "wrong" to question your elders? Or "right" to fall to your knees in prayer to an invisible superhuman at bedtime?
Maybe, maybe not. But not being privy to the hard data proving either point in our formative years, we are expected to take these various ideas on board without questioning. And, for the most part, we do.
It is also clear that having a poor role model can have long-term deleterious results. A single mother on welfare who is addicted to crack is unlikely to instill in Junior a strong moral compass or the work ethic needed to get ahead in a competitive world.
Regardless, while still in the proverbial short pants, we are one day bundled up and sent off to begin our formal education. This is where things get interesting.
Moving along, it seems appropriate to drop the virtual needle on Pink Floyd's classic, Another Brick in the Wall.
And while I'm at it, I would like to mention that one of the ways to get ahead financially is to subscribe to our value investing advisory, Compelling Investments Quantified.
One of our portfolio stocks, a deeply undervalued consumer staple company, has already gained 29% since we recommended it last September. You have a full six months to try it—if it's not for you, simply cancel within that time for a prompt and courteous refund. Click here for the details.
Bricks in the Wall
Once our parents hand the keys to our brains to professional teachers, any number of factors come to play in our education.
For starters, every graduating class of future teachers contains those who sit in the front and those who hide at the back. If you're lucky, your formative years won't be shaped by a guy with "Dopey" as a college nickname.
And that's not the worst roll of the dice. In my early schooling, I had a perennially pissed-off teacher by the name of Mr. Hirata. That I still remember his name is the direct result of his pulling a handful of my hair out by the roots in front of the class. My crime? Tossing a small glob of rice at another student during lunch break.
Likewise, in the education of my own children, there was an intensely passive-aggressive female teacher (at least I think she was female) who clearly disliked boys. Not the best setting for my son, and another brick in the wall that ultimately led my wife and me to homeschool the kids.
But stupidity, an excess of emotions, or gender bias are not the worst traits an educator might possess. While those may affect a subset of the student body, leaving them with a poor opinion of their educational experience, the real threat comes from bad ideas accepted by academics as good ideas.
I subscribe to the theory that ideas are like living viruses: a strong idea, once released into the ether, will take hold and gain currency. The stronger the idea, the more likely it is to spread.
Unfortunately, even terrible ideas can spread virulently. The classic of the genre being Karl Marx's "From each according to his ability, to each according to his needs."
That particular idea has literally cost millions of lives. Incredibly, despite having been proven false time and again since its first utterance, it continues to spread.
Violence as Policy and Other Insanities
Throughout history, bad ideas such as those espoused by Marx have taken hold in the public arena and become institutionalized. This despite the inherent violence required by a system where individuals are forced to be subservient to the state.
The iconic socialist revolutionary, Che Guevara, made the case that in a true socialist revolution, large swaths of the population had to die.
"Is it possible or not, given the present conditions in [the Americas] to achieve socialist power by peaceful means? We emphatically answer that, in the great majority of cases, this is not possible. The most that could be achieved would be the formal takeover of the bourgeois superstructure of power and the transition to socialism of that government that, under the established bourgeois legal system, having achieved formal power will still have to wage a very violent struggle against all who attempt, in one way or another, to check its progress toward new social structures."
—Che Guevara, Tactics and Strategy of the Latin American Revolution, 1962
You may recognize that doctrine being applied eight years after it was written in Pol Pot's regime. More than 20% of the population died horribly in the reeducation camps where they were sent to learn how to think correctly. Or die. Actually, mainly die.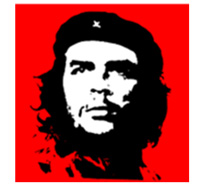 If mass murder as policy isn't about as bad an idea as ever stalked the land, I don't know what is. Yet, there is still a large demand among the clamoring masses for T-shirts and posters emblazoned with Che's beret-bedecked cabeza. You know, because he's sooo cool.
But I drift.
The point I am laboring toward is that once bad ideas infest the educational system, they invariably jump the intellectual barriers and end up in the political system.
It is thus that the low-information processors have so tightly embraced the Chicken Little idea that the sky is falling due to the degradation of the environment, and that the governments of the world have responded by spending hundreds of billions of dollars fighting a fiction.
This despite all the flashing fluorescent signs that the idea holds no water. If it did, why the pivot from "global warming" to the catch-all broader notion of "climate change"? And why is there a steadfast refusal by leading climate alarmists to publicly debate scientists who dispute the theory?
But that is just one small example of a long list of bad ideas that have crossed the blood-brain barrier.
Here's another. Not all that long ago, some bright light decided that voluntarism should be injected into the schools. For example, making it a class project to read to old folks or play with stray dogs down at the local animal shelter. Harmless enough activities designed to "teach" the young to be more civic-minded. Well, that idea has morphed from a one-off activity to being mandatory for graduation.
And rather than providing the simple lesson that people can do a bit of good in their local community by volunteering, it has become indoctrination to advance Marx's mantra.
We know a nice enough family back in the States that can never just go on vacation. Rather, they feel compelled to head off to some backwater to do good works, paying for their "holidays" with donations dunned from friends and family members.
The Epidemic of Bad Ideas
Slapping together an abbreviated list of the bad ideas now sweeping aside intelligent thought across the land—both in the US and in most countries where people have too much time on their hands, we come up with:
Mother Earth Is Dying. What a dismal and stupid perspective. And doubly stupid because the same morose idea has infested the human imagination time and time again over the millennia. In the past, Gaia's purported assassins have taken the form of overpopulation, a new ice age, air pollution, swine flu, holes in ozone layers, dying bees, or whatever the hell.

Speaking as someone who has visited all points of the compass on planet Earth, if there's a problem humanity faces, it is underpopulation. Case in point, my partner Olivier Garret's sainted mother lives in the countryside about 20 minutes from Paris. Despite the area being populated since men and apes were dating, there are rolling green hills and forests as far as the eye can see.

Dear readers in England might get a kick out of this illustrative quote from Paul Ehrlich, the dimwitted father of modern doomsday predictions:

"By the year 2000 the United Kingdom will be simply a small group of impoverished islands, inhabited by some 70 million hungry people ... If I were a gambler, I would take even money that England will not exist in the year 2000."
—Speech at British Institute for Biology, September 1971

Proving how hard it is to kill off bad ideas, to this day Ehrlich remains the president of Stanford University's Center for Conservation Biology.

All Cultures Are Good. You have to be naive in the extreme to accept this notion as true. Is an Islamic theocracy on par with living in a secular democracy where, for example, women have basic rights? Is African tribalism as an organizing system as valuable as one based on the rights of the individual to pursue life, liberty, and happiness? Is the Indian caste system really okay?

In my opinion, the idea that individual cultures should be preserved like museum pieces is one of the most dangerous ideas afflicting modern man. That which separates us does not make us stronger.

Capitalism Is Bad. Wake up and smell the Starbucks! Or some other brand determined to unseat Starbucks by offering better coffee at a better price. Though far from perfect—and, sorry to break it to you, but like Santa Claus, there is no such thing as a perfect economic system—minimizing government interference in the free exchange of goods and services works best at elevating the quality of life for the greatest number of people.

Conversely, despite Marx's quip, the systems that work worst are invariably based on some group of elites using the cover of "public good" to pull the levers on a command economy.

Political Correctness. Talk about a slippery slope. Today, virtually any action or word can be seen to "micro-aggress" against some sensitive soul. In response, universities and governments feel compelled to take active measures to protect those same souls.

The end result has to be a Gordian knot of soul-draining policies, regulations, and other complexities. Oh wait, why should it be a Gordian knot? Why not Gordiana or some other gender-neutral name? Sexist bastards!

White People Are Bad and a Dying Breed. And that goes double for white men, eeeww! Sorry toots, but in the US 75% of the population is Caucasian, and just under half of that number are men. And it's not just in the US that whites make up the demographic majority, by a wide margin. That is also the case in Canada, Australia, the UK, Europe, Russia, and many other countries. It may surprise you to learn that here in Argentina, the number is closer to 90%, and it's even higher than that in Costa Rica, among many others.

The idea that white people will effectively fade away anytime soon crashes and burns in the face of demographic facts. Regardless, focusing on the color of a person's skin in making policy is, per my comments above, looking for ways to separate us humans, and so I am 100% against it. As far as the notion that white people are somehow bad, that's just naked racism.

I could go on. However, as the sun is high in the sky, it is time to move on to other tasks.
As I slide toward the exit, I will sum up by expressing my concern that parts of the world, in particular the United States, are now cartwheeling down the slippery slope toward disaster. A disaster caused by the epidemic of bad ideas that have germinated in the educational system and subsequently taken root in the halls of political power.
Of course, not everyone has been equally infected. Individuals with common sense and an inclination toward facts and the scientific method are largely immune and can only view with alarm the zombie-like madness caused by bad ideas.
With the body politic so deeply divided, I really don't see how a serious sociopolitical crisis can be avoided.
Trump's inauguration, happening today, very well may serve as a starter pistol in unleashing the physical manifestation of the extraordinary conflict in the ideas held by approximately equal contingents of the population.
I will watch this particular parade closely and with deep concern, but very definitely from afar, here in the warm and pacific climes of the Argentine outback.
Don't forget to duck.
(For those of you who want to read a scholarly dissertation about the takeover of the US educational system by socialists and progressives—two sides of the same coin—the National Association of Scholars recently released a comprehensive study entitled, "Making Citizens—How American Universities Teach Civics." It's long, but worth a scan.)
Here Come the Clowns
Mother, May I? Our clowny entry this week provides additional support for the contention that an epidemic of bad ideas has spread across the land.
In the United Kingdom where the bureaucrats have, at least until recently, seemed keen to pattern their regulatory regime to achieve a society that rhymes with Orwell's 1984, a woman was called to the bench and made to pay a fine of £80 (US$98) for the offense of pouring a cup of coffee down the drain.
One can only hope that, with Brexit, the dogma-blinded cretins in the bureaucracy there will be chased back into the shadows.
With that, and thanking you for showing up at the Parade for yet another installment, I will bid you a warm farewell. That goes double for ex-President Obama. It's been fun, but don't let the door hit you on the way out.
David Galland
Managing Editor, The Passing Parade
Garret/Galland Research provides private investors and financial service professionals with original research on compelling investments uncovered by our team. Sign up for one or both of our free weekly e-letters. The Passing Parade offers fast-paced, entertaining, and always interesting observations on the global economy, markets, and more. Sign up now… it's free!
© 2016 David Galland - All Rights Reserved

Disclaimer: The above is a matter of opinion provided for general information purposes only and is not intended as investment advice. Information and analysis above are derived from sources and utilising methods believed to be reliable, but we cannot accept responsibility for any losses you may incur as a result of this analysis. Individuals should consult with their personal financial advisors.
© 2005-2019 http://www.MarketOracle.co.uk - The Market Oracle is a FREE Daily Financial Markets Analysis & Forecasting online publication.

Only logged in users are allowed to post comments.
Register/ Log in