Gold's Breakout And The US Dollar
Commodities
/
Gold & Silver 2019
Jul 15, 2019 - 04:28 PM GMT

If you are bullish on gold prices right now, you are running with the crowd. That is perfectly fine, unless the crowd is running in the wrong direction. Or, maybe the race hasn't started yet.
With all of the talk about fundamentals for gold, it would be nice if someone could set their emotions aside and look at some facts that might bring some clarity to the subject.
Nearly every recent article about gold includes some reference to one or more of the following items: interest rates, trade wars, Indian gold demand, slowing economy, recession fears, the stock market, housing starts, another world war, terrorism, social unrest, etc., etc.
None of these things have anything to do with gold prices. That is right. The price of gold is not correlated with, nor influenced by, any of the items listed above. In fact, if you see an item not listed above that is mentioned in a similar regard as to its effect or impact on gold prices, ignore it, too; except for one thing.
That one thing is the US dollar. The price of gold is a reflection of what is happening to the US dollar. The century-long decline in the purchasing power of the US dollar has resulted in gold prices that are sixty times higher than they were one hundred years ago.
During periods of strength or relative stabilization in the value of the US dollar, gold prices reflect that by moving lower; or simply not going higher to any appreciable degree.
Some analysts refer to the US dollar's long-term decline as "one of the fundamentals" that will lead to higher gold prices. The implication is usually that there are several things that could take gold prices higher, and the US dollar is just one of them. However, that misses the point.
Some have even said that there is a possibility of higher gold prices without a declining dollar because other fundamentals for gold are much stronger. That is simply wrong.
The price of gold cannot go higher to any measurable degree over time, without a correspondingly lower value of the US dollar. Anything else does not matter.
So, what is happening to the US dollar right now? Not much. Here is a chart showing a 10 year history of DXY, the US dollar index (courtesy of BigCharts.com).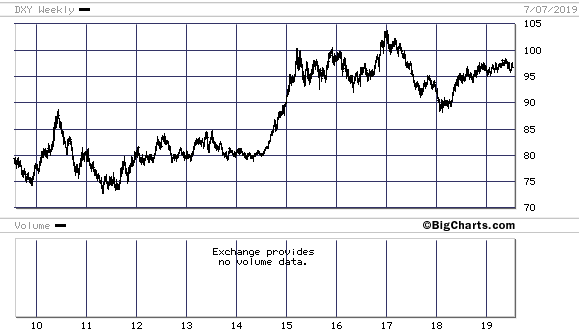 As you can see, the US dollar remains firmly entrenched in the upper half of the trading range it has occupied for the past four and one-half years. It certainly isn't showing any indications of confirming the recent short-term increase in gold's price.
And, that is exactly the point. One of two things has to happen, and will likely happen soon. Either the US dollar will ratify gold's price increase by collapsing in earnest or the price of gold will fall back.
Both gold and the US dollar move together, inversely. Investors and analysts could make things simpler by ignoring gold and focusing on the US dollar. Everything else is just noise when it comes to expectations for the price of gold.
What about inflation? Some say that higher inflation leads to higher gold prices. Isn't that why gold prices are higher and isn't the threat of inflation fueling that rise in prices?
There is a relationship between higher gold prices and inflation, but the two are not directly related. The confusion results from misunderstandings about inflation and its effects.
Inflation is the debasement of money by government. The inflation is accomplished via the expansion of the supply of money and credit. It is intentional and ongoing. All governments inflate and destroy their own currencies.
The debasement (inflation) leads to a cheapening of the value of the money in circulation, which results in a loss in purchasing power. The loss in purchasing power translates into higher prices generally, over time.
What people usually mean when they refer to inflation, or higher inflation, is another matter. For most people, inflation simply means higher prices.
The higher prices, however, are an effect of inflation. The effects of inflation are cumulative and unpredictable. This makes it difficult to rely on simple financial and economic statistics, complicates ordinary business decisions, distorts financial planning projections, and skews the economic cycle.
The unpredictability of inflation's effects is one of the primary reasons that the runaway higher prices expected after the Fed's QE in 2008-09 didn't happen. On the other hand, those higher prices did show up in the dramatically higher asset prices for stocks, bonds, and real estate.
The price for gold increased, too. Up to a point. Part of the move higher in gold's price was the completion of a decade-long increase to bring its price back in line with the drop in the US dollar's value that had occurred over the previous twenty years between 1980 and 2000, and which continued until very close to the time that gold peaked in price in 2011.
Since gold's reached a peak price of just under $1900.00 per ounce, it has declined and then stabilized at a value that is reflective of ongoing strength and stabilization in the US dollar.
It is not that gold can't go higher. It could. And it might. But any move higher in gold of any significance cannot be sustained unless the US dollar heads much lower. Right now, the US dollar shows no signs of doing so.
By Kelsey Williams
http://www.kelseywilliamsgold.com
Kelsey Williams is a retired financial professional living in Southern Utah. His website, Kelsey's Gold Facts, contains self-authored articles written for the purpose of educating others about Gold within an historical context.
© 2019 Copyright Kelsey Williams - All Rights Reserved Disclaimer: The above is a matter of opinion provided for general information purposes only and is not intended as investment advice. Information and analysis above are derived from sources and utilising methods believed to be reliable, but we cannot accept responsibility for any losses you may incur as a result of this analysis. Individuals should consult with their personal financial advisors.
© 2005-2019 http://www.MarketOracle.co.uk - The Market Oracle is a FREE Daily Financial Markets Analysis & Forecasting online publication.

Only logged in users are allowed to post comments.
Register/ Log in