US Economic Growth and Corporate Earnings Growth Expectations
Companies
/
Corporate Earnings
Apr 06, 2007 - 11:28 AM GMT

Investors who wish to beat the market should have a good understanding of the market's earnings expectations. The U.S. economy is slowing and the market has lower earnings expectations for 2007. This will limit the expectations for potential growth in the stock market as investors take a more cautious near-term view. However, global growth in the emerging and BRIC countries should help global companies grow their earnings helping to offset the impact of lower earnings in the U.S.
Many of the large U.S. based companies derive more than 50% of their revenues and earnings from outside the U.S. This could set the stage for a change in the current bull market trend. Joe Ellis has written an excellent book on how to predict macro moves in the market called Ahead of the Curve: A Commonsense Guide to Forecasting Business and Market Cycles
.
U.S. Economic Growth Expectations
Let's start with the US economy. Real Gross Domestic Product (GDP) in the US was 2.0% in the third quarter of 2006 and 2.2% in the fourth quarter. Expectations are for this trend of slower economic growth to continue through the first half of 2007. This slower growth translates into slower earnings growth from US based operations, as well.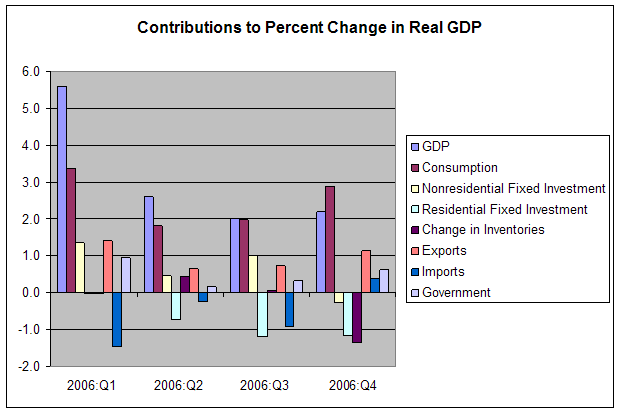 Corporate Earnings Expectations
Second, corporate earnings for U.S. based companies are likely to hold steady at best, and margins might even decline some. It seems that global competitive pressures are keeping pricing power down and wage gains under control. Slower growth revenue growth creates a difficult situation to grow earnings. As shown in the chart below the market is beginning to recognize the reality of this situation, as earnings estimates are guiding lower. It looks like the fourteen straight quarters of year over year double digit gains are likely over as companies are expected to report single digit gains over the next several quarters at best.
As noted in the chart earnings estimates for the first quarter of 2007 are down to around 5% from over 8% two months ago. Second and third quarter estimates also have fallen to the same area. However, fourth quarter 2007 estimates remain much higher. As usual the Wall Street analysts always tend to overestimate future earnings and look for the hockey stick like return to double digit earnings. I expect these estimates to come down some as the year wears on.
Q1 2007
Q2 2007
Q3 2007
Q4 2007
Current
--S&P
5.3%
6.3%
3.5%
15.6%
--First Call
4.3%
4.4%
6.6%
Previous
--One Month Ago (1)
6%
7%
7%
16%
--Two Months Ago (2)
8.2%
8.5%
5.2%
16.2%
(1) Combination of First Call and S&P estimates. (2) First Call forecasts
In the past few years, investors have grown accustom to companies routinely exceeding earnings estimates. In the past few quarters earnings have exceeded estimates by 3 to 5%. With the slow down in the US economy, we can expect more companies to fail to exceed their earnings estimates. As the slower economic growth hits company's revenues, we should expect more earnings warnings and fewer companies beating their estimates. It is even possible the 5% or so current growth in earnings will come down.
The problems with the sub-prime mortgage industry have the potential to slow the economy further. If consumers slow their spending due to inability to generate additional spending money from the refinancing of their mortgages, then we could see some more problems. However, notice that Consumption has been climbing since the second quarter even while residential fixed investment (housing) has stayed negative for three quarters. This is an indication that consumers are not that dependent on the mortgage industry to poser their consumption.
So while the housing and mortgage industries go through a much needed shakeout to remove the excesses they generated, the reset of the economy is holding its own. Many countries in the global economy are continuing to grow at significantly faster rates than the U.S. China is still expected to grow at 8% for 2007, and with their focus on the 2008 Summer Olympics, we should expect them to continue to spend to improve their infrastructure to show the world they are a global player. India continues to benefit from their growth initiatives as well. Other emerging countries are also expected to continue to grow their economies. This growth will have a positive impact on the results of many companies that have significant global operations. This business should mitigate the impact of the U.S. slow down and could even create a few surprises to the up side.
The market is not overvalued at this point. The P/E ration for the S&P 500 is 17 for as reported earnings. This is quite close to the average, so a bear market is not expected for now. Further, interest rates are expected to remain stable, though there will be much speculation on whether the Fed will lower interest rates soon. At this point, my view is they will continue to hold them steady, as they are worried that inflation is higher than their target.
Valuations
Valuations are reasonable at this point. Using the 5% earnings growth expected for the next two quarters the forward looking operating earnings yield on stocks is 6.6%. This is nicely above the ten year rate of 4.55% on the 10-year bond. This implies that stocks are 30% undervalued. However, a 5% earnings growth is likely to limit the up side for stocks. This may keep gains in the market under control through the traditionally slower spring and summer.
But remember we are not feeling the affects of the global economy more than ever. WE could see new earnings gains that provide a nice upside surprise. We also should remember that in 2004 and 2005 and to a lesser extent in 2006, the market was lower in the first half of each of these years, only to end up with gains on the year due to a nice year-end rally. We could see a similar pattern again.
The Bottom Line
This creates a limited earnings growth outlook for the first and second quarters of 2007. However, we could see a nice economic rebound that helps power the market to solid gains in the second half of the year. As always we need to monitor what happens to see if our thinking is correct. For now I do not see a strong bear case. I do see further market volatility as the market tries to figure out what the economy and corporate earnings will be in 2007.
By Hans Wagner
tradingonlinemarkets.com
My Name is Hans Wagner and as a long time investor, I was fortunate to retire at 55. I believe you can employ simple investment principles to find and evaluate companies before committing one's hard earned money. Recently, after my children and their friends graduated from college, I found my self helping them to learn about the stock market and investing in stocks. As a result I created a website that provides a growing set of information on many investing topics along with sample portfolios that consistently beat the market at http://www.tradingonlinemarkets.com/
© 2005-2019 http://www.MarketOracle.co.uk - The Market Oracle is a FREE Daily Financial Markets Analysis & Forecasting online publication.

Only logged in users are allowed to post comments.
Register/ Log in