Silver Mining 101 and the Imminent Rush to Precious Metals
Commodities
/
Gold & Silver 2009
Jan 17, 2009 - 07:09 PM GMT

Silver mining 101
The cure for low silver prices
Silver supply growth slowing
Currency supply exploding
For a treat this year my family and I went to Mexico over the holidays.
It just so happened that we were vacationing near the heart of Mexico's silver mining country. So I just couldn't resist. Before I left for the trip I sent emails to several of the mining executives I had previously met to see if I could get a tour.
I ended up finding out several things on this trip that will be of interest to silver investors.
Is anybody home?
I did get a tour, but it wasn't easy.
These low metal prices are really affecting the mining companies. The companies I contacted used to have robust operations in this region when they were going full bore, either exploring for silver deposits or actively mining it. Back then they were eager to show off their mines to newsletter writers... but now....
Because of the current low price of silver many of the mining companies I contacted had curtailed their schedules. One company had dismissed their exploration staff in October.
This is just one of the factors why the supply growth of silver is being slowed to the market (which is positive for future price prospects of silver).
More about how this is affecting the supply growth of silver later in this report (and it is).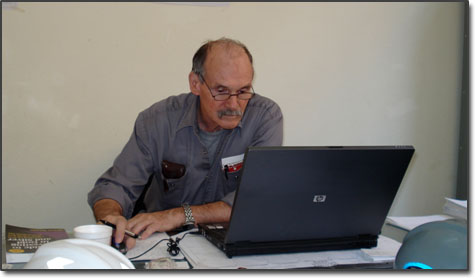 Silver Mining 101
My host: Endeavor Silver
A company that was still operating and did give me a tour was Endeavor Silver . Endeavor is a Canadian company with silver mining operations in Mexico. It is a company specialized in silver as their primary metal (most silver mined is a by-product of mining another metal).
Full disclosure: I have owned stock in Endeavour Silver (and several other mining companies) for several years and still hold it to this day.
My tour started at 7:00am when I met the mine manager Fern Rondeau. I had never met Fern before but he is one of those people that is just so passionate about his work that he almost glows. His faint French accent hints at his Quebec roots but he has spent most of his life working and managing mines around the world from Africa to Venezuela.
After I was given safety gear and a safety briefing we headed off to the mine.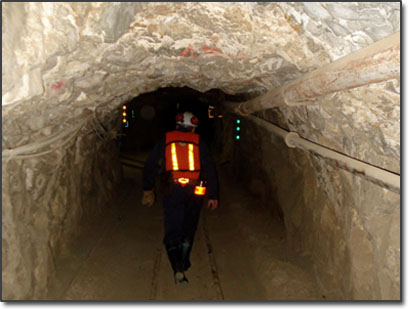 Following Fern into the mine entrance. Notice the large compressed air pipe and the smaller water pipe on the right as well as the electric cables on the left of the entrance. Also notice the rail tracks on the ground.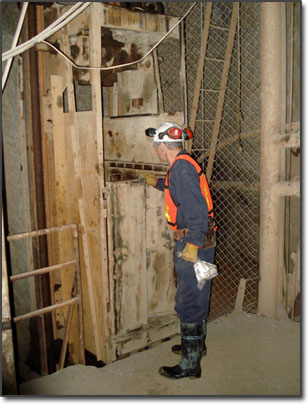 Opening the door to the cage elevator.
Initially the headroom was low but as we went further the tunnel started to open up. After some walking we came to a much larger room and the mine elevator. Two of the miners joined us for the elevator ride down to level 84 (84 meters, or approx. 252 feet) beneath the surface level).
An Underground City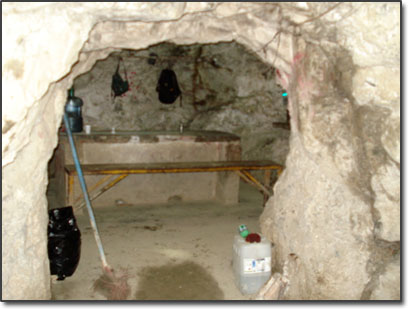 Once we got down to level 84 I found the miners had "carved out" a pretty comfortable life for themselves. Off to the side of one of tunnels they had literally hammered out a lunch room.
Complete with a tortilla warmer at one end.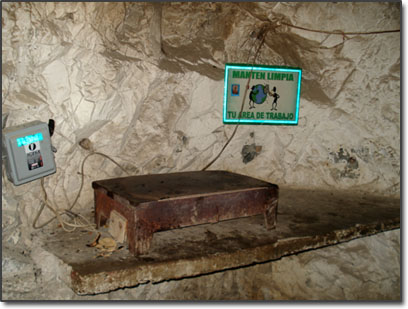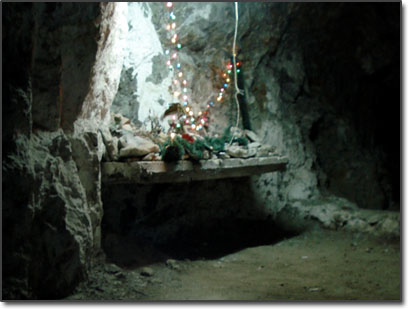 Further down there was a Catholic alter. It was decorated for Christmas with the Christmas lights flashing in time to Christmas music.
Not sure where to find the part of the mine you are looking for in the maze of mine tunnels? Just follow the many road signs.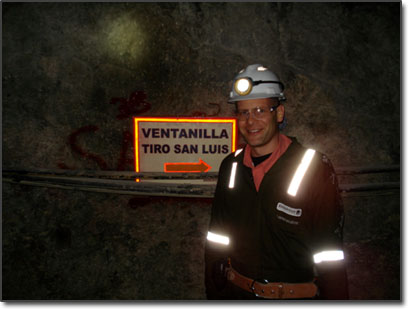 After some walking we came to where the miners were drilling into the ore face.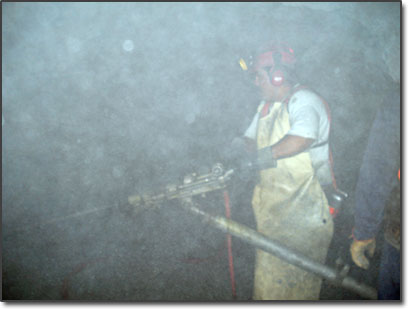 The ore is loaded onto these battery-powered railcars and removed from the mine.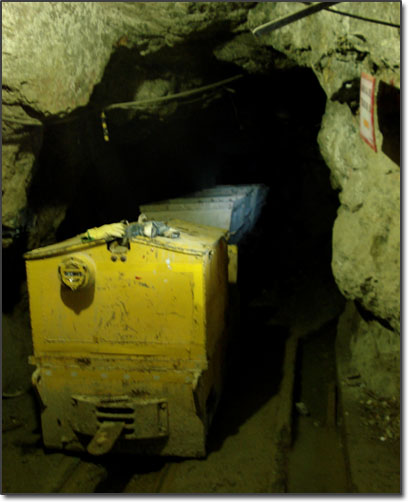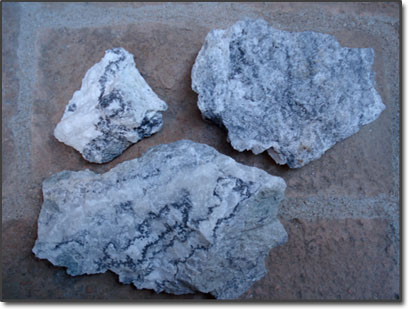 Here is what the silver ore looks like. The dark part has the highest concentration of silver. The white part is a quartz calcite mixture.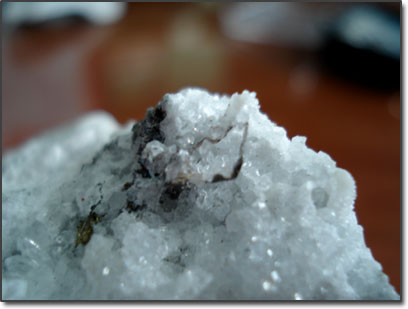 See the thin dark "wires" sticking out of this sample? That was formed when the molten magma was forced through the quartz crystal matrix. This magma was so rich in silver that it actually formed wire as it extruded:
Here are some of the "wires" pulled out of ore samples: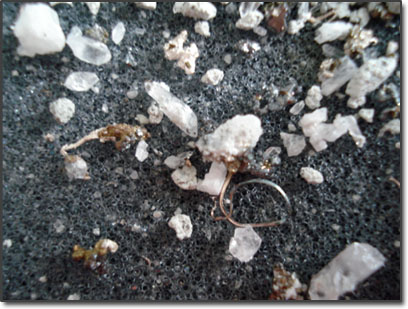 With ore this rich it is one of the reasons these guys are still in production when others are shutting their doors.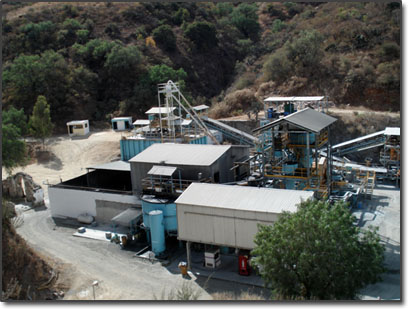 The ore is then processed in this facility where it is ground into a "concentrate" and sent to a furnace.
The Cure to Low Prices is... Low Prices
However, even Endeavor is running on a reduced schedule at their Guanacevi operation (not at this one). Even with the rich ore and efficient mining team, it appears Endeavor and all other silver mines are fighting a tough battle to stay in production because of the low prices of metal.
Here is a quote from a recent Endeavor Press Release.
"...our decision in September to slow production growth so long as the silver price remains depressed. Management is of the belief that the silver price will rebound in 2009..."
And here is a quote from the November, 2008 GFMS (Gold Field Mineral Survey) Interim Silver Market Review, (a research company hired by the Silver Institute.)
"Total [silver] supply is forecast to decline by around 4% this year [2008]. Only modest growth in supply is now expected in 2009, contrary to previous expectations of a substantial mine production-led jump."
Even though this makes it tough for silver miners today long term the fact that silver supply growth is slowing down is actually a good sign for precious metals investors (and eventually silver miners) long term.
And even more importantly as Michael Maloney points out in his book RichDad's Advisors Guide to Investing in Gold and Silver , "...about 75% of the supply of newly minted silver originates as a by-product of mining other metals." These other metals have been pushed down more than gold and silver causing those that mine these other metals to reduce output. This is also reducing the silver supply growth. David Morgan of www.silver-investor.com pointed out that this is happening in a October 31, 2008 update:
"The point is, with the current low prices for all of the base metals, many companies that produce them are slowing, closing, or stopping projects. The result is obvious: the overall production of silver from base metal and even gold mining is going to be reduced because of current economic conditions."
But at the same time that silver supply growth is down the currency supply is exploding!
Here is a graph of base money straight from the Federal Reserve. This is an update to the graph that Michael Maloney had in his last newsletter The Greatest Wealth Transfer Ever . Here is what Mike had to say about this chart last month:
"[This is] a chart of the monetary base (all paper dollars and coinage in existence). It took 200-years for the monetary base to go from $0 to $800 billion, but in just the past 3-months it has grown from around $800 billion to $1.5 trillion, and by the time you read this it will probably be surpassing $1.6 trillion. That's double the number of paper dollars in existence since last summer!"
Actually, Mike's guess for the future numbers was close, but now that we have these numbers we know his guess was actually a little... low! The latest Federal Reserve release shows base money at 1.7 trillion! And look at the chart, the line shows no sign of stopping its vertical takeoff!
In Mike's book he shows how past precious metals bull market have continued until the value of the gold ounces held by the government rises in price to equal the value of the currency supply at the time. And this has not even come close to happening yet.
What he said last month in the newsletter:
"But this time, for history to repeat, and for gold to do what it did in 1980, 1934, and hundreds of times throughout the world going all the way back to Athens in 407 BC, it will require a gold price of over $10,000 per ounce... And that's if they turn off the printing presses today!"
And it could happen very quickly. No one knows exactly how this will play out.
A Christmas Gift
The gift of this formula is that there has always been a delay between the currency creation and the time gold and silver finish revaluing themselves (they started this cycle around 2001).
This delay gives people an opportunity to position themselves for what history shows is the inevitable rush out of currencies that are being abused (by being printed in stunning quantities) and into precious metals.
By Brent Harmes
Subscribe or Manage Your Newsletter Subscription Here | Buy Gold and Silver Online
Copyright © 2009 Brent Harmes
GoldSilver.com offers vault storage accounts at Brinks Security in Salt Lake City, Utah. The minimum investment required for vault storage account is 20 ounces of gold or 1,000 ounces of silver. For more information call us at: 702-799-9000
Disclaimer : All claims made by GoldSilver.com should be verified by the reader. Investing is not suitable for everyone and readers are urged to consult with their own independent financial advisors before making a decision. Past performance is not necessarily indicative of future results. GoldSilver.com will not be liable for any loss or damage caused by a reader's reliance on information obtained in any of our newsletters, special reports, email correspondence, or on our website. Our readers are solely responsible for their own investment decisions.
© 2005-2019 http://www.MarketOracle.co.uk - The Market Oracle is a FREE Daily Financial Markets Analysis & Forecasting online publication.

Only logged in users are allowed to post comments.
Register/ Log in