Dirty Clothes are Big Business, Whirlpool and Mastercard
Companies
/
China Economy
May 18, 2007 - 12:13 AM GMT

Long regarded as the world's growth engine the U.S. economy is currently experiencing a rough patch. This was highlighted by first quarter GDP of 1.3% down from an annualized rate of 2.5% in fourth quarter 2006. Anticipating the slow down, Wall Street analysts lowered first quarter S&P 500 earnings from 8.7% in January to 3.3% by the first of April. However, after all is said and done it appears as though Wall Street's concerns were for naught. Earnings will be closer to 9%, better than the historic average. How could this be?


Whirlpool was amongst the first reporting companies to highlight that international sales were offsetting declining U.S. demand. Afterwards, many multinational companies echoed similar sentiments. Low and behold, the U.S. had sneezed and the rest of the world hadn't caught a cold. This gave the talking heads something new to talk about. Head after head began repeating the global growth theme. Every CNBC viewer should now know that there is a high probability that large caps will outperform small caps due to their exposure to international growth as well as the currency benefit. A lower dollar relative to foreign currencies translates into increased revenue for U.S. based companies selling products overseas.
Fortunately, I was reading and listening to the right people and have been leveraging this theme for the past three years. Initially by purchasing suppliers of natural resources such as copper, aluminum and iron ore - the least common denominator of infrastructure projects like highways and bridges. Over time the portfolios have expanded to include other supporting companies like heavy equipment manufacturers and engineering companies ( see latest portfolios ).
The industrializing countries are starting to reap the rewards of their investments. Millions of people in countries such as China and India are moving, for the first time, into houses with running water and indoor plumbing. Imagine the demand created for basic household appliances like refrigerators and washing machines.
Merrill Lynch in a report released on April 20 identified five key trends in the Chinese economy from 2007-2010. The first and most relevant to this article is an anticipated boom in consumption. "Income growth has been accelerating slowly but steadily, providing solid support for retail sales growth in China. Consumer credit will become popular." Merrill Lynch has obviously been paying close attention to companies such as Whirlpool and MasterCard.
Whirlpool:
On April 24, Jeff M. Fettig, chairman and chief executive of Whirlpool, said "Each of our international businesses reported strong sales growth and operating profit for the quarter." Sales grew 29% in Latin America representing almost a fifth of the company's revenue demonstrating the high contribution of international sales.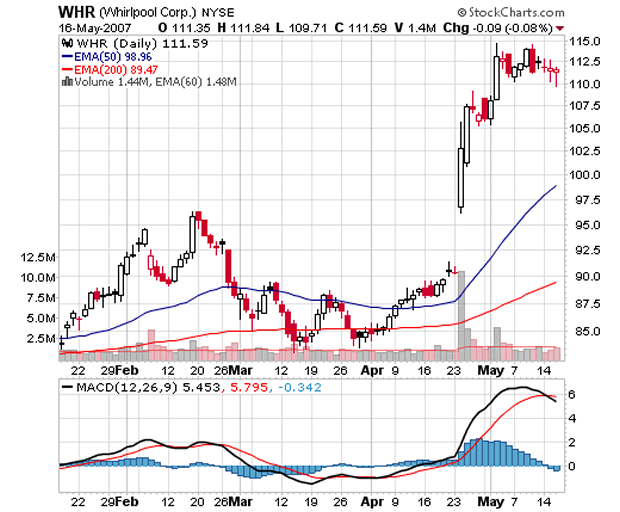 MasterCard:
On May 2, Chris McWilton, MasterCard's chief financial officer, said "There is a U.S. perception that everyone has credit cards, but that's not true in international markets like Singapore, Asia Pacific, Latin America and the Middle East." He said those regions prefer "cash to plastic," and that it represents an opportunity to expand MasterCard's business.
As themes evolve, we as traders must evolve to continue profiting. The proverbial "money burning a hole in ones pocket" appears to be a universal concept. A May 15 Bloomberg report, " China Retail Sales Rise 15.5% as Wages Grow ," drives home this point.
It looks like it is time to revitalize the old global growth portfolio by including some of the MasterCards and Whirlpools of the world.
By Michael K Dawson
http://www.thetimeandmoneygroup.com/
Copyright © 2007 Michael K Dawson
Michael K Dawson founded the Time and Money Group with the aim of educating and sharing 20 years of experience on how to reach financial freedom. "Financial Freedom is freedom to focus on what is truly important to you and your family without having to trade time for a wage. It is enabled by a portfolio of income producing assets, managed by you, which generates sufficient income to cover your yearly expenses on an ongoing basis. It provides both time and money". The intent of his website is to become a repository of information to put you on the fast track to becoming financially free. For further infromation visit http://www.thetimeandmoneygroup.com/
© 2005-2019 http://www.MarketOracle.co.uk - The Market Oracle is a FREE Daily Financial Markets Analysis & Forecasting online publication.

Only logged in users are allowed to post comments.
Register/ Log in