Gold looking great! Plus Titanium another Hot Market!
Commodities
/
Metals & Mining
Jun 07, 2007 - 04:55 PM GMT

Larry Edelson writes: Gold's looking great! After a brief pullback earlier last week, the yellow metal jumped almost $10 an ounce to well above its recent strong uptrend line that dates back to October of last year.
And while gold's not out of the woods yet, my indicators tell me that once it closes above $682 — a new leg up will begin, and gold will soar to new record highs, well above $732 an ounce, and probably over $800!
Got your gold shares lined up? If not, consider buying one of my favorite gold funds — the Tocqueville Gold Fund (TGLDX) and the U.S. Global Investors Gold Shares Fund (USERX).
Ditto for other natural resources, which remain in very positive and strong bull markets.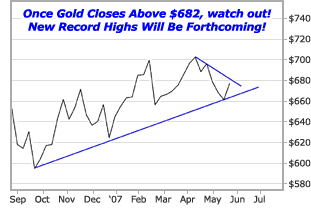 Apart from the occasional price dip, I believe virtually all natural resource markets are headed much higher. From oil to gas to aluminum to nickel and more.
Demand continues to outpace supplies as world economic growth — despite the pathetic performance of the U.S. economy — continues to surge ahead.
And, just as I showed you last week , central bankers around the world continue to pump out money and credit like there's no tomorrow. According to latest stats, U.S. money supply growth appears to be in excess of 13% per annum, implying an inflation rate of 10% or more on the horizon!
Naturally, the dollar is also weak, vulnerable to another whopping decline at any time. So, again, hedge those dollars with gold and other real assets!
In fact, right now I want to tell you about another hot natural resource: Titanium, atomic number 22, atomic symbol, Ti. Titanium is a metal for the 21st century — non-toxic, light, strong (40 times stronger than steel) and extremely corrosion resistant.
What's more, according to a recent Merrill Lynch report, "titanium demand is almost unfathomable." Chief reason?
Titanium Is Seeing Rising Demand From New Aircraft Construction
Both military and civilian aircraft are being built in droves. That's why the airline industry was largely responsible for 124 metric tonnes of titanium demand in 2006 … a number that has doubled in just five years.
Boeing's new 737, for example, uses 20,000 pounds of titanium in its airframe, while the new 787 uses 250,000 pounds. And when it comes to military aircraft, each new F-15 contains 50,000 pounds of titanium!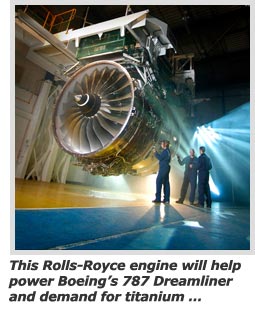 Aerospace engineers compare the shift away from aluminum and to the lighter, stronger titanium to the shift from wood and canvas back in the early 20th century.
Demand for titanium is expanding rapidly in North America, Europe and, especially, Asia. Since 2003, China's appetite for titanium has more than doubled! And it will undoubtedly double again as China adds some 2,880 commercial aircraft to its fleets over the next 20 years. To give you a sense of the scope of this undertaking, these new airplanes will triple the size of China's fleet.
Plus …
There Are Plenty of Other Important Uses for This Unique Metal …
Due to its high corrosion resistance to seawater, titanium is used extensively in the marine industries, to make everything from propeller shafts to ocean desalination plants.
Titanium is also widely used in the chemical and petrochemical industries, in automotive applications, and more recently, in the construction of high-rise buildings.
And because titanium is non-toxic and is not rejected by the body, it's being widely used in medical applications — surgical implements and implants, joint replacements, and dental implants.
As you can imagine …
The Price of Titanium Is Going Bonkers to the Upside!
Historically, the price of titanium has been pretty stable. At least, it was … until 2003. Since then, the price has exploded 400% from $7 a kilogram to over $28.
And because of its limited supply and huge growing demand, I have no doubt that the price of titanium will continue to explode higher. It would not be far-fetched to see titanium hit new record levels in the next couple of years.
How can you profit from this metal? Well, there are at least four companies you can investigate on your own:
Titanium Metals (TIE)
Aluminum Corp. of China (ACH)
Allegheny Technologies (ATI)
RTI International Metals (RTI)
I can't give you specific recommendations, or buy and sell signals, in Money & Markets. I reserve those for my Real Wealth Report subscribers. However, each of these four companies deals with titanium, so they could be good ways to ride a continued bull market in the metal.
Now, I also want to give you …
A Brief Update on the Oil and Gas Markets
Like gold and other natural resources, oil and gas prices are headed much higher . I see no reason to expect otherwise. All the fundamentals remain exceptionally bullish and all my technical indicators are screaming higher prices are forthcoming. Of course, we are now entering hurricane season, too. Even the slightest storm in the Gulf of Mexico could send prices soaring higher.
And then there's Iran. As quiet as it seems on that front right now, don't kid yourself. The Iran situation is going to end only when the U.S. or Israel takes out the country's nuclear facilities.
Unfortunately, that would lead to a wider war in the Middle East, and higher prices for virtually all natural resources. So, hold the fort and stay tuned!
Best wishes,
by Larry Edelson
This investment news is brought to you by Money and Markets . Money and Markets is a free daily investment newsletter from Martin D. Weiss and Weiss Research analysts offering the latest investing news and financial insights for the stock market, including tips and advice on investing in gold, energy and oil. Dr. Weiss is a leader in the fields of investing, interest rates, financial safety and economic forecasting. To view archives or subscribe, visit http://www.moneyandmarkets.com .
© 2005-2019 http://www.MarketOracle.co.uk - The Market Oracle is a FREE Daily Financial Markets Analysis & Forecasting online publication.
Comments
Kooler
16 Jul 07, 01:02
Price of Titanium Is Going Bonkers to the Upside!


There is an undiscovered Titanium company with one of the largest titanium proven reserves in the world.

The company is Tiomin Resources and it is listed on the Toronto Stock Exchange.

I would highly recommend that you add this to the list of companies that one should investigate further.




Only logged in users are allowed to post comments.
Register/ Log in