U.S. Housing Market Winds Shifting, Investor Flexibility Breeds Opportunity
Housing-Market
/
US Housing
Aug 01, 2009 - 01:41 AM GMT


If there's one thing you learn fast in this business, its flexibility. If you stay rigid, unwavering, and unyielding in the face of a mounting pile of contrary technical and fundamental evidence, you're not being disciplined. You're being inflexible. And you're going to go broke pretty darn quick!
Why do I bring this up? Because I get the sense that many investors have a hard time embracing change. They suffer tunnel vision and fall in love with investment themes and stocks that fit them. So they end up sticking with losing investments too long … and they miss the profit opportunities that they could have capitalized on by shifting gears.
Let me give you a prime case study …
When the Housing Winds Shift, You Have to React
Starting several months ago, many of my on-the-ground, local, and national indicators suggested that the housing market was starting to stabilize. New home inventories were peaking. Sales rates in many of the "canary in the coal mine" markets were starting to increase as prices plunged. The "tone" of the activity out there was improving.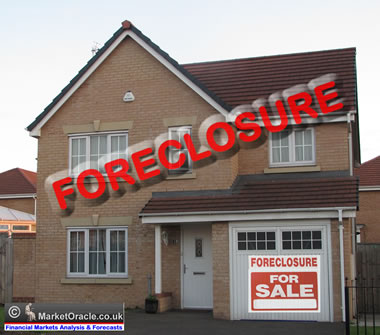 I didn't buy the Greenspan, Bernanke and Paulson fairytale that the mortgage collapse would only impact the subprime market.
Now, here's the thing: I've been wildly bearish on housing for YEARS. I didn't buy the whole Alan Greenspan verdict on housing, namely that it wasn't a bubble, just some localized "froth." I didn't agree with Ben Bernanke or Henry Paulson that the mortgage collapse would stay "contained" in the subprime market.
Instead, I warned anyone who would listen that the market was going to collapse and that the mortgage industry as we knew it was going to implode. I named the stocks that wouldn't just "correct" I said they were going to be crushed! You can judge for yourself whether the analysis you got from Washington was more accurate than what you heard from Weiss Research.
But as the evidence began to mount that the freefalling Armageddon-phase in housing was coming to a close, I shifted gears. I didn't just bury my head in the sand and ignore it …
I told you on May 8, almost three months ago, that A) Conditions were changing, and B) Your investment approach in the sector had to change, too. My very specific comments here in Money and Markets:
"I still believe home prices have further downside. That's because we remain oversupplied, with approximately 1 million "excess" housing units for sale in this country. More foreclosure inventory will likely hit the markets in the coming months, too. Reason: Many of the filing moratoriums put in place at the state and industry levels have expired.

"But the sharpest declines in residential real estate are, for now, mostly behind us. I expect to see sales volumes gradually stabilize on a nationwide basis over the coming year, with total inventory for sale (new plus used) gradually coming down. By mid-to-late 2010, we should see pricing stabilize and gradually turn higher, with the improvement coming in stages depending on location.

"So for those playing the downside in the housing market by shorting residential real estate-related stocks, I'd suggest moving to the sidelines."
Lo and behold, The New York Times is now reporting on the same trend! The headline that confronted me Wednesday morning was "Recovery Signs in Housing Market Stir Some Hope." The story chronicled how the S&P/Case-Shiller index showed a smaller year-over-year drop in house prices and the first monthly gain since July 2006. That report followed others showing the biggest monthly gain in new home sales since 2000, and the lowest for-sale inventory in 11 years.
Is the news great? Of course not! We still have a ton of foreclosure inventory coming into the market. We still have more mortgage defaults ahead of us. Unemployment is still a problem, and rising mortgage rates could slow any recovery.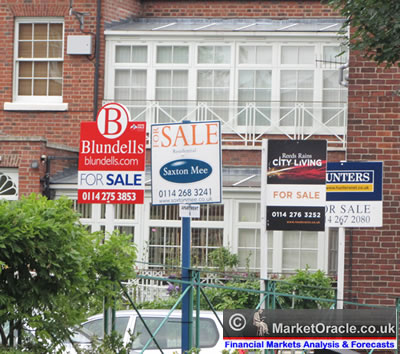 Recent numbers show the lowest for-sale inventory in 11 years. But we still have a ton of foreclosure inventory coming into the market.
But like I said earlier, the sum total and tone of the market data has shifted. So I shifted my suggested investment approach to the sector, too.
A Message to Take to Heart …
Keeping with the flexibility theme, it's important to acknowledge that there are now some upside profit opportunities, rather than just downside ones, out there in the sectors I follow. By using exchange traded funds (ETFs) and options, you can profit from moves higher in strong stocks, as well as moves lower in weak ones.
For the past couple of years, my approach has been to focus mainly on downside plays. So this is a change worth noting.
Now I'll be the first to admit I'm not going to get things right all the time. But remaining flexible is the key to improving our investing results in these changing markets.
Until next time,
Mike
This investment news is brought to you by Money and Markets . Money and Markets is a free daily investment newsletter from Martin D. Weiss and Weiss Research analysts offering the latest investing news and financial insights for the stock market, including tips and advice on investing in gold, energy and oil. Dr. Weiss is a leader in the fields of investing, interest rates, financial safety and economic forecasting. To view archives or subscribe, visit http://www.moneyandmarkets.com .
© 2005-2019 http://www.MarketOracle.co.uk - The Market Oracle is a FREE Daily Financial Markets Analysis & Forecasting online publication.

Only logged in users are allowed to post comments.
Register/ Log in